Sustainable Solutions to Product Packaging: A Focus on End-of-Life
Sustainability is not just a packaging industry issue. Sustainability represents one of the biggest challenges facing all of us today. Consumer products packaging has traditionally been focused on delivering the highest quality products safely and efficiently while attracting and enhancing the consumer experience. Although most packaging accomplishes these goals, it also has contributed to very substantial and serious end-of-life issues, as much of it has ended up as waste. Now, brands are looking for sustainable solutions to revolutionize their product packaging and play their part in driving the world toward a more circular economy.
In Jabil's Sustainable Packaging Trends report, based on a survey of over 200 packaging decision-makers, participants outlined the product-level initiatives they are adopting or evaluating for their sustainable product packaging program. Download the full survey report.
Their initiatives include:
Increasing the recyclability of current packaging portfolio
Reducing packaging weight through a redesign
Implementing reusable and refillable packaging
Funding innovative new materials for enhanced sustainability
Incorporating biodegradable or compostable materials
Leveraging post-consumer recycled materials
Reducing carbon emissions through redesign and material selection
Using concentrates
Typically, there are two categories of sustainable solutions available for your product packaging portfolio today: supply chain and packaging design solutions (including materials). But these solutions depend on many factors, including product stability, quality, safety and consumer use. Let's review:
Locate Sustainability Risk and Impact with Supply Chain Solutions
Fifteen percent of participants from the Jabil survey said their companies don't have a sustainable packaging plan. Six percent of them say they are not even talking about sustainable packaging currently. For those starting out, it may not be a bad idea to begin with a supply chain audit to examine everything from how products are made, shipped and delivered.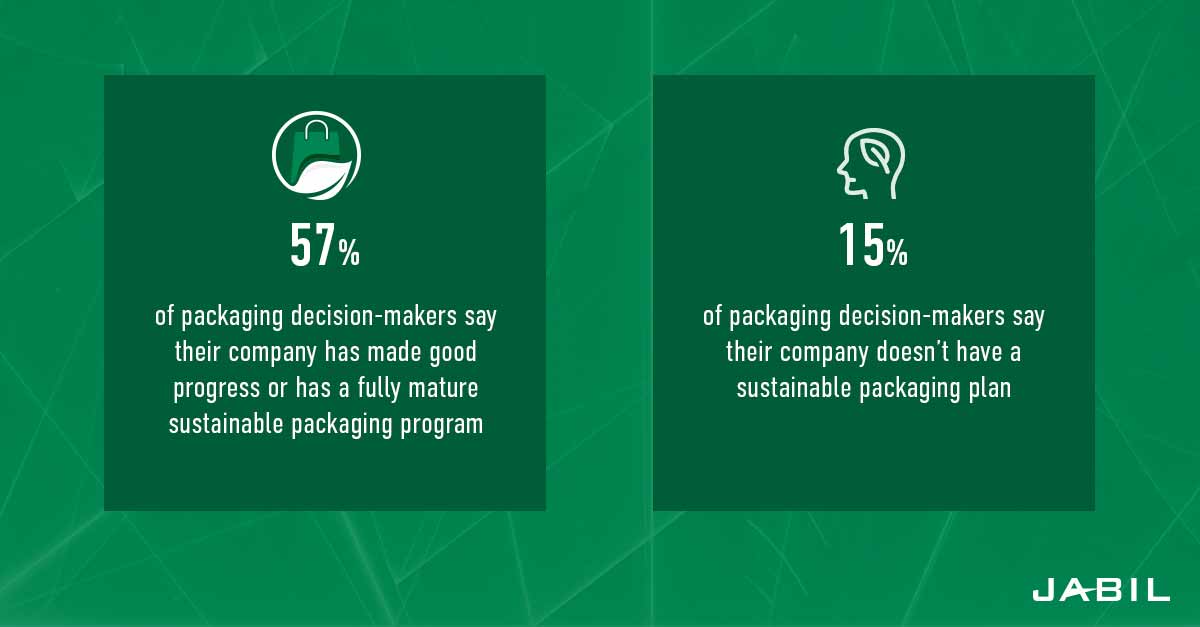 The typical consumer packaged goods (CPG) company's logistics and supply chain create "far greater social and environmental costs than its own operations," according to McKinsey, which account for more than 80 percent of a company's greenhouse gas emissions and more than 90 percent of the impact on air, land, water, biodiversity and geological resources. Therefore, product brands have an opportunity to reduce costs significantly and unravel breakthroughs in sustainability performance through their supply chains.
Your company's environmental impact comprises the ecosystem of suppliers working toward making your product a reality, including the secondary and tertiary suppliers you don't work directly with. Managing the inputs of such a wide group doesn't come easy. But to understand how your work impacts the environment, you must determine how resources are used across the supply chain.
For example, back in 2012 Walmart announced its goal to buy 70 percent of their U.S. goods from suppliers that participated in the Sustainability Index (in categories where the Index is available). The Sustainability Index maps all of their product chains and gathers information around inputs, outputs and processes throughout the value chain – it covers everything from raw materials to distribution and end-of-life. As a result, not only has Walmart met their goal, but the index currently covers more than 125 categories, 1,800 suppliers and 300 buyers.
A carbon footprint assessment, in compliance with the ISO 14067, may be another option. This standard specifies the principles, requirements and guidelines for the quantification and reporting of a product's carbon footprint.
Once you have a foundational understanding of your environmental and social impact, you can begin setting goals and plan for specific steps to reach them, from changing materials to suppliers to packaging design. Since everything along the consumer goods supply chain is designed for high-volume, high-speed and precise efficiency, it's important to chart the course intelligently. Use the data you have on hand to determine incremental next steps, without fully disrupting the whole system. The next step may be to redesign your product packaging to be more sustainable. Watch Jabil's short documentary, The Sustainable Packaging Revolution, for more insight from leading materials suppliers.
Subscribe to the Jabil Blog
Sign up for weekly updates on the latest trends, research and insight in tech, IoT and the supply chain.
Sustainable Solutions to Product Packaging Design
As I mentioned earlier, product packaging is being challenged like no time before. In contrast to just product protection and marketing, brands must now design their products for end-of-life. Many consumer brands have already committed to making their product packaging 100 percent recyclable, reusable or compostable by 2025. P&G, for example, produced the world's first recyclable shampoo bottle with up to 25 percent recycled beach plastic.
Recycling is a challenge of its own. The most recent data from the U.S. Census Bureau outlines more than 19,000 municipal governments in the U.S. alone, most of which have different standards and regulations for recycling. Therefore, recycling has a scaling issue – not just in the U.S. – worldwide. Still, there are sustainable solutions consumer brands can utilize to increase the chances their product will have a desirable end-of-life scenario.
Lightweighting Product Packaging: Either by replacing existing packaging material or cutting down the amount of packaging used, brands can lightweight their products to reduce their company's carbon footprint. While some brand packaging has reached the physical limit in terms of lightweight, there are countless other products in the marketplace that could realize incredible efficiencies with a smart lightweight redesign.
Switching Product/Packaging Format: Another option is to reimagine how you manufacture your product or packaging. For example, many cleaning products are 90 percent water and 10 percent of actual ingredients. Even though water is readily available in homes, companies are packing and shipping these products in single-use, disposable bottles. However, brands can reduce plastic, energy and shipping costs (and thereby, pollution) by as much as 80-90 percent just by selling reusable bottles and concentrate refill pods.
Handling Product Packaging Innovations
While brands have every intention to contribute to a circular economy, they are facing numerous challenges in delivering sustainable packaging. They are struggling with innovation due to a lack of infrastructure as well as keeping solutions cost-effective or convincing customers to accept a higher price tag, given that many existing options are too expensive for the average consumer.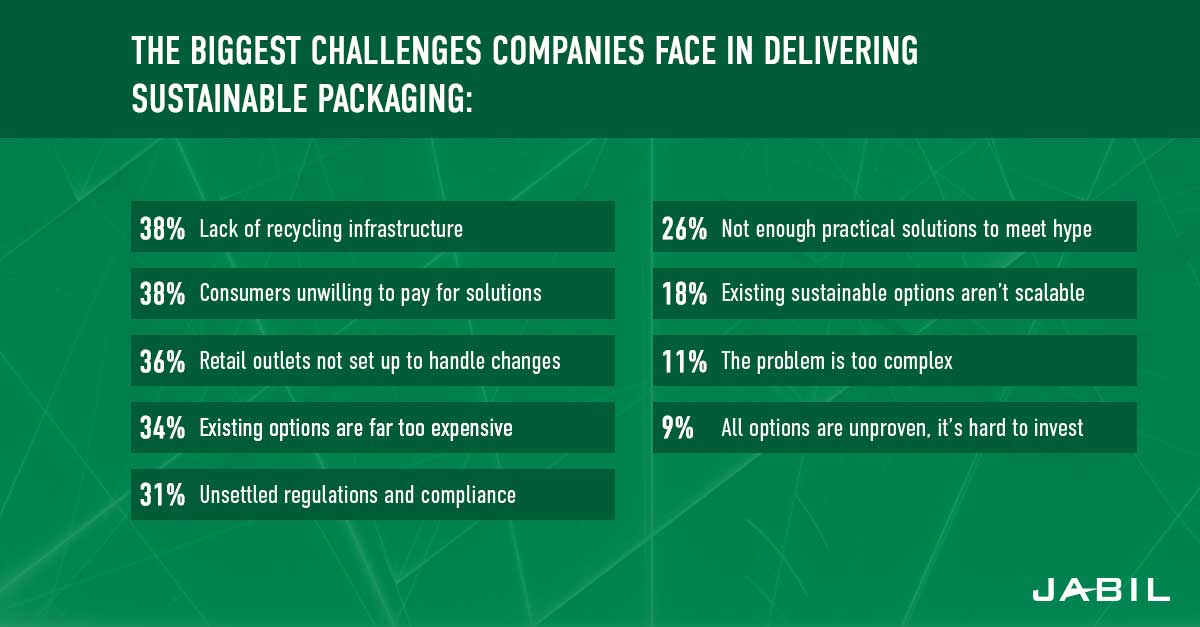 Regardless, brands are utilizing a mix of strategies to address the ongoing need for sustainable packaging. Fifty-two percent of Jabil survey respondents said they are finding partners with expertise, while 51 percent say they are investing in in-house innovation centers. For example, Nestlé announced the creation of its Institute of Packaging Sciences in December 2018, a research group tasked with the discovery and development of functional, safe and sustainable packaging solutions. Finally, 49 percent of participants said they were training their existing staff to address their needs.
Still, it is important to note once more that while consumer brands are playing their part to contribute to a circular economy, the ecosystem is much bigger. From suppliers to governments to consumers, if one group of stakeholders doesn't play its part, the whole system falters. Without doubt, and regardless of the challenges ahead, the next few years will see a flood of new sustainable packaging solutions that check all of the traditional performance boxes while factoring for sustainability.
Download the Sustainable Packaging Trends Survey Report
Insights from over 200 packaging decision-makers at global enterprises on their sustainable packaging goals, initiatives and challenges.