Device and Consumable Systems: An Introduction
We're living in a world where it keeps getting harder to hold onto your customers. Barriers to entry have fallen and marketing channels have become fragmented and unpredictable. In addition, buyers continue to flock to e-commerce in record numbers.
In this new dynamic, the tried and true mindshare tactics just don't work like they used to. Tweaking ads, replacing product labels and modifying packaging elements may nudge the needs—but it's time to rethink the consumer packaged goods (CPG) user experience to convert your customers into loyal, lifetime users through device and consumable systems.

This is the world of no-pump soap dispensers, sustainable, refillable containers and sleek devices that seamlessly meld into a home's feng shui.
What is a Device and Consumable Systems Solution?
A device and consumable systems solution is made up of two parts. The "device" is a durable, molded dispending unit that is predominantly injection-molded and usually includes a printed circuit board assembly (PCBA) and at least one battery. The second part, the "consumable" is a product that is specifically designed to work with its corresponding device. Together, these multi-component technologies provide the consumer with a complete solution.
Device and consumable systems run the gamut from relatively simplistic, low-cost devices to completely connected marvels that tie in with connected packaging (such as sensors triggering automatic reorders). The "system" comes into play as the durable device and the refill consumable come together to improve the user experience, resulting in satisfaction and convenience that inspires brand loyalty.
Some of these systems, like the baby wipes example, may even utilize Cloud connectivity to trigger data gathering and analytics as well as automatic fulfillment. In fact, 63% of U.S. consumers say they are interested in connected packaging solutions that enable auto-replenishment, according to Jabil's Connected Packaging Trends Survey of 1,000 consumers.
Download Now: Durable Device & Consumable Systems: Game Changers for CPG.
of U.S. consumers are interested in connected packaging solutions that enable auto-replenishment
Others focus mainly on the convenience, sustainability and improved aesthetics of durable devices coupled with easy-to-insert refills (the perfect dose of soap released by an automatic pump). These refills, or consumables, help brands focus on the essential customer experience. Gone are the days of worrying about romance packaging or extra primary packaging, easing the burden on the brands trying to move the needle. In an ideal world, the consumable would either be inserted into a dispenser unit or used quickly to refill the durable and then complete its "circular" duty and be reused.
Packaging with benefits: that's the impetus of device and consumable systems solutions for CPG companies. Brands are increasingly embracing this razor/razorblade business model and technology that transforms CPG products into consumer engagement conduits. It is easy to spot the innovators, whose packaging pulls double-duty to offer consumer convenience and brand value. The device and consumable systems marvels of today and tomorrow shine amidst their legacy peers that continue to employ transactional, one-way engagement models.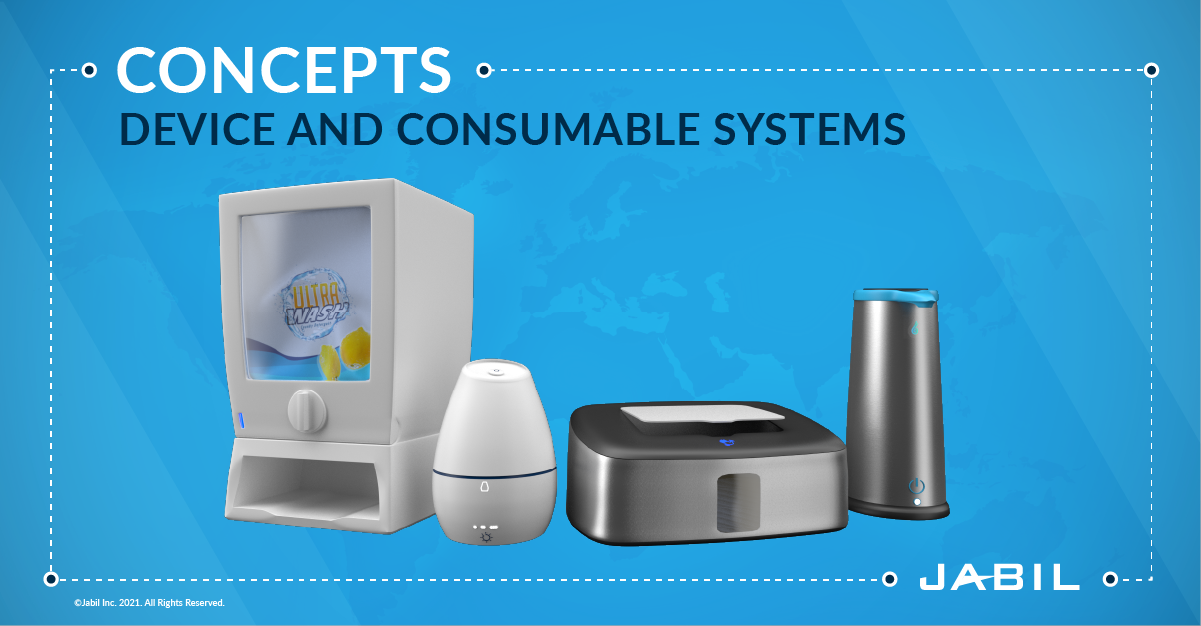 This business model is not just experimental; it's reality and it's here to stay. Today's market conditions demand more from brands that wish to defend (much less grow) market share. Amidst a marketplace full of improving competition and "1-click to buy" purchasing ease, device and consumable systems solutions can streamline household inventory management, pinpoint product integrity and enhance end-user experience, especially if they leverage connectivity. The result is a win-win for consumers and brands alike.
Devices and consumable systems solutions vary, and the possibilities they present are boundless. And all of the above amounts to increasing brand loyalty, perceived value and profitability.
The State of The Market: Why Now?
Pandemic-era purchasing trends continue to showcase the importance of online shopping. The Wharton Baker WisePlum Consumer Loyalty Study noted a 37% jump in consumer online shopping during the pandemic. Yes, brick and mortar sales still exist, but the mantra Be the best-looking box on the shelf and you're set is not as important as it used to be.
With the pandemic gradually decreasing, e-commerce shows no signs of a slowdown, and due to a dynamic market with lower barriers to entry, new competitors are emerging in the marketplace like never before. The Capgemini Research Institute found that consumer preferences are strongly impacted by sustainability, with 53% of consumers reporting a switch to lesser-known brands because they were sustainable. With so much competition for consumer attention, it may not be enough to tweak a brand message or increase media spend. How can market-leading brands continue to dominate?
of consumers switch to lesser-known brands due to sustainability factors (Source: Capgemini)
Device and consumable system solutions offer real answers. Packaging modifications that allow for connection and engagement with the customer are not only novel – in many cases, they're necessary for brand success.
An improved dispensing experience is a way to make a brand stickier, for instance. Loyalty becomes second nature once a consumer has purchased a device and only needs to refill it. Depending on how far the brand takes the connectivity of the packaging, it can make life easier for the consumer.
Why would a customer change brands when the product and experience are already optimal? With a system that incentivizes and rewards recurring use, they won't.
How Device and Consumable Systems Benefit the Consumer
A CPG product with novel features is perhaps a one-time purchase; but a device that solves a problem is in the running toward becoming a household staple. That's the balance consumer packaged brands must find, researching consumer pain points and addressing them in a streamlined, easy-to-maintain product delivery system. The consumer benefits of such systems include:
1. An Enhanced Dispensing Experience
Device and consumable system solutions allow for marked consumer benefits that can move the needle from replaceable item to repeat purchase. Enhanced dispensing features such as metered dosing and touchless dispensing can make a huge difference. When that soap emerges from its container, does this offer a higher quality, cleaner or more hygienic in-use experience? Answer "yes" and you likely have a repeat purchaser of refills.
In the pandemical age, automated or touchless dispensing may make consumers more comfortable than touch-based pumps. This not only makes the consumer experience more sophisticated; it also offers increased safety and assurance to the user.
2. Improved Aesthetics
Purchase a refillable dispensing device and that device itself is a sunk cost. It's much easier to justify the refill cost if the dispenser enhances the counter space. Consumers looking to achieve a streamlined look appreciate a well-designed, high quality device that blends seamlessly with the décor. Brand billboard packaging has become the expectation for CPG products. What is less widely available is a dispenser that blends in, and even complements the interior design.
3. Everyday Sustainability: Addressing the Plastics Plethora
According to Ocean Conservancy, 8 million metric tons of plastics are shed into the oceans each year. Consumers are aware of the waste – and consequently, they are making purchasing decisions that correlate with a renewed commitment to the Earth and its future. Sustainability is most definitely informing consumer purchasing. And this means companies that offer a reusable device solution and sustainable packaging stand to benefit by inspiring consumer confidence while lessening the carbon footprint.
Yes, those detergent bottles that end up in the recycling bin after 60 loads still exist. Homeowners used to perhaps feel a twinge of guilt at the waste, but what could they do? Now, consumers are increasingly seeing options on the shelf that offer more than use-and-toss. Today is the time for embracing new devices on countertops used time and time again that decrease the amount of packaging material consumed by a household.
How Device and Consumable Systems Benefit the Brand
The consumer benefits translate to several opportunities for brands. These new device and consumable system solutions will transform the user experience and drive market share gains for the pioneering brands that develop and launch them at scale.
1. Ecosystem Lock-in for Stronger Brand Loyalty
The investment in a durable device and an improved dispensing experience combine to create a powerful sense of brand loyalty with your best consumers. This enhanced loyalty is supercharged when we connect devices to the cloud for convenient, seamless auto-replenishment. When done right, this razor-razorblade business model can predictably drive repeat purchases and dramatically reduce brand switching.
2. Enhanced Profitability Through Recurring Revenue
Standing out is not a challenge for products that perform better, look better and offer an improved user experience. Product refills that are optimized to perform with your durable device can command a higher unit price due to higher perceived value.
These premium device and refill product ecosystems allow CPG brands to effectively target and gain market-share with discerning consumers who will happily pursue the best possible user experience, often regardless of price.
3. Improvements to Brand Equity
The improved user experience, enhanced aesthetics and reduced waste that result from using device and consumable systems ultimately lead to brand image. Brands that begin to offer compelling device-based packaging across their portfolio will enjoy brand equity improvements as they prioritize the creation of products that consumers love. These well-received device and refill products can help elevate brands that are struggling to differentiate and rise above the swelling sea of competition.
Connected Packaging: Exciting Advancements, Greater Engagement
Devices that lessen household waste and simultaneously add a consistent decorative element offer obvious benefits. Taking this a step further is the cloud-linked device, also known as connected packaging. It's an emerging model, spurring repeat purchasing and making life so simple and seamless for the consumer there's no need to consider alternatives.
For brands that suddenly find themselves treading water in a sea of competitors, device and consumable systems can mean the difference between brand elevation and stagnation. It's prime time for the shift toward these devices to occur; electronic and connectivity costs are now low enough to be harnessed by the industry.
The future is exciting for CPG brands that embrace the new normal of packaging that is as well-though-out (if not more so) than the product the packaging dispenses. According to a 2020 McKinsey Report, 75-83% of consumers who tried new shopping behaviors plan to stick with them. The lowered cost of connectivity, coupled with a shopper preference for an experience that is personalized, is ushering in a consistent era of device and consumable systems solutions.
Durable Device & Consumable Systems: Game Changers For CPG
Download this point-of-view paper to get up to speed for the device and consumable era. This paper outlines how device and consumable systems begins to address today's major trends that have led to a consumer that is more focused on sustainability, value and convenience.