How Digital Twins Lead to Manufacturing Profitability
What if you could keep your assets working properly, secure and well-maintained — all without an actual physical inspection? According to the Gartner report "Prepare for the Impact of Digital Twins," half of large industrial companies will be reaping such benefits and consequently enjoying 10 percent greater effectiveness, by 2021.
Digital twins are virtual representations of a process, product or service derived from sensor information. They create a bridge between the physical and digital worlds, making it possible to optimize operations, detect issues, test settings, simulate scenarios and predict performance. The concept has been in existence under different names for several decades now - and it is one of many building blocks in a digital transformation.
Subscribe to the Jabil Blog
Sign up for weekly updates on the latest trends, research and insight in tech, IoT and the supply chain.
Where did Digital Twins Begin?
Interestingly, the University of Michigan Professor Michael Grieves, Ph.D., first wrote about digital twins in a 2002 whitepaper. More than a decade later, several factors — including constant connectivity, the cloud, the Internet of Things (IoT), machine intelligence, Industry 4.0 and related competencies — have converged, making it possible for companies of all sizes and in all kinds of industries to tap into the concept he originated.
Because we have been able to overcome digital technology limitations, such as prohibitive data storage and bandwidth costs, each day, an increasing number of digital twins are enabling users to oversee the life cycle of any process, product or service and establish an essential base for digitally connected offerings within the organization.
As I mentioned, the concept of digital twins has been around for several decades, but recent technological developments have driven its evolution significantly. Whereas where we used to use models and teach them how to work, now the digital twin understands how things work, continuously learns and provides us with the insight.
How do Digital Twins Work?
The digital twin can de-risk new product introduction or help you determine efficiencies in existing processes. It enables you to conduct a series of experiments in a virtual setting. Companies can create digital twins to remove the variability associated with the physical world, allowing them to manipulate variables based on existing knowledge. Of course, it should go without saying that none of this would be possible without a strong IT foundation.
In simple terms, the digital twin is a virtual sandbox of digital building blocks that allows you to test a list of hypotheses that needs to be resolved before going into production.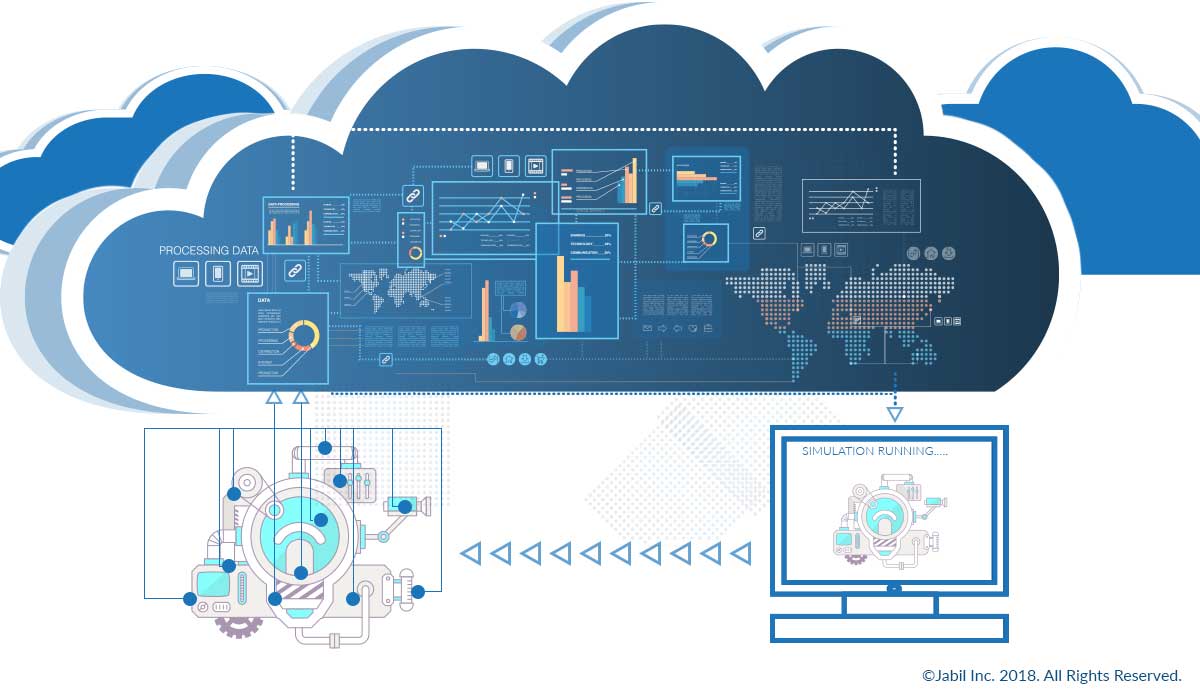 In the Deloitte article "Industry 4.0 and the Digital Twin" the authors write: "The digital twin is based on massive, cumulative, real-time, real-world data measurements across an array of dimensions. These measurements can create an evolving profile of the object or process in the digital world that may provide important insights on system performance, leading to actions in the physical world such as a change in product design or manufacturing process."
Digital twins enable data analysis and system monitoring to head off problems before they occur, prevent downtime, develop new opportunities and plan for the future with simulations, writes Bernard Marr in Forbes. "Lessons are learned and opportunities are uncovered within the virtual environment that can be applied to the physical world — ultimately to transform your business. Imagine [digital twins] as your most talented product technicians with the most advanced monitoring, analytical, and predictive capabilities at their fingertips," writes Marr.
Where to Start with the Digital Twin
You will want to run pilot programs because they are necessary to establish the boundary conditions, the goals of the projects, necessary assets and funding requirements. Before you even begin to build a digital twin, there are two essential questions that must be answered:
What is the purpose of the digital twin?
What are the insights you're trying to gather and utilize through the digital twin?
Then, developing a digital twin involves other key elements: designing the twin's information requisites and procedures; and developing the technology to integrate the twin with the actual physical asset. For the information and procedure step, it's critical to consider and diagram what processes and integration points the twin will be modeling, as well as how efficiency, cost and time can be improved. With this information, it's possible to create a baseline, from which meaningful enhancements can be instigated.
It is important to remember that the digital twin is a living entity. It learns and grows intellectually to be able to mimic the physical state. And the only way for it to mimic the physical state is to experience every single nuance of the physical world. Therefore, the digital twin must balance likely behaviors with realistic variables and exceptions to deliver the best results.
Here at Jabil, we consider the digital twin process a critical building block of advanced manufacturing. For each project, we start with a framework that guides us through essential discovery, development, industrialization and deployment phases.
What are the Benefits of Digital Twins?
Beyond operability, safety and maintenance, there are numerous additional benefits associated with using digital twins. First, they can significantly advance existing processes, products and services and often lead to new business opportunities. They can significantly cut operating costs, leading to real bottom-line improvements. Digital twins also propel traditional manufacturing to a new competitive level via intelligently connected products.
Early adopters of digital twins typically focus on the opportunity to dramatically improve a product's performance while mitigating both the cost and risk of a new product introduction. Additionally, digital twins can dramatically speed product realization time as you decrease or eliminate the most time-consuming aspects of building products in the real world.
This leads to increased profit margins because manufacturing efficiency grows quickly when variables that could impede the process are identified and removed. Ultimately, there's an important monetization benefit to be realized if product companies can use digital twins to demonstrate a product's value proposition before it's built.
One of the ancillary benefits of assimilating cross-functional teams to drive digital twin project success is the opportunity to link organizational tools, skills and knowledge bases. It's becoming increasingly apparent that different manufacturing mindsets and methodologies are needed to take a product idea to commercialization.
Empowering Internet of Things Solutions with Digital Twins
As companies embark on their digital transformation journey, a vast amount of work is being completed on IoT solutions. According to the 2018 Digital Transformation Trends Survey sponsored by Jabil, half of the respondents produce the type of analog solutions that could benefit from IoT capabilities. Among these companies, there is aggressive movement toward enabling product connectivity.
While 35 percent of respondents are actively shipping IoT solutions, 65 percent are either evaluating options or planning to produce them. This presents the perfect opportunity to integrate digital twins – to model your hypothesis and resolve challenges before you go into production.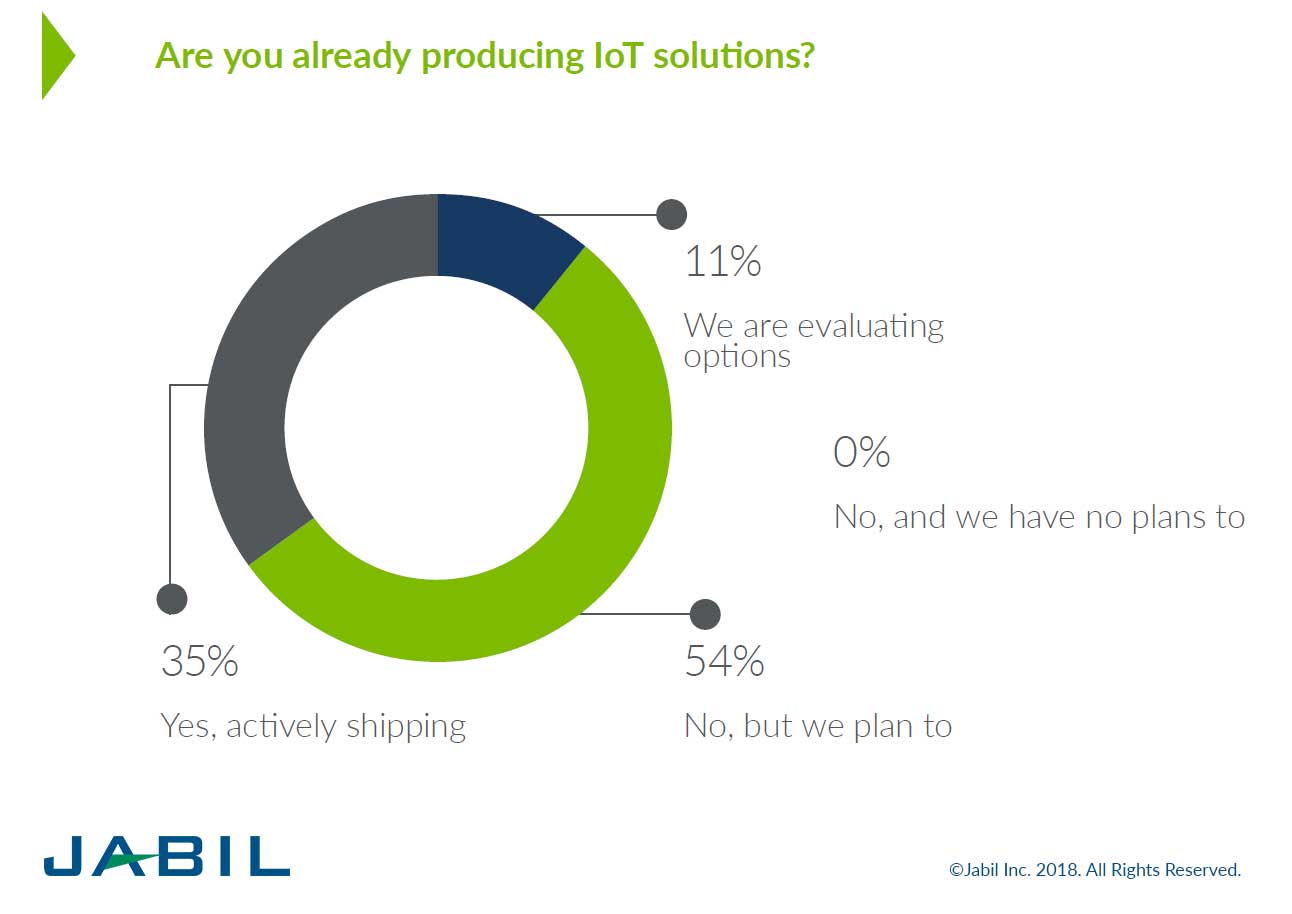 Digital Twins for the Supply Chain
Supply chain management stakeholders must be engaged early on, starting with the discovery process. Their global point-of-view, unique supplier and sourcing perspectives, as well as carefully honed troubleshooting skills, play a pivotal role in defining and refining digital twin project and product variables. At Jabil, this ability to weave a digital thread connecting multiple disciplines and cross-functional teams has driven the success of recent digital twin projects.
As the role of digital twins gains momentum, manufacturers may be motivated to create a set of digital twins for each customer and even each product, depending on variability and functionality. Manipulating vast data lakes is cumbersome and costly and the process of building the twin itself is time-consuming. However, the discovery phase has the potential to be the most valuable step of the entire process as building an extensible framework upfront is the key to unlocking benefits for all key stakeholders.
Jabil's 2018 Digital Transformation Report
Click the download button to get Jabil's report, based on a survey of more than 200 business and technology stakeholders.