Why IoT Protocols are the Foundation of a Smart Home
How many smart home devices do you have? If you looked around your house, you probably wouldn't find too many; maybe you have a smart doorbell, a voice-activated assistant or a connected medical device. When you only use a few IoT (Internet of Things) devices, you can get by without having common IoT protocols or data communication standards to govern the ecosystem. After all, there is no reason your doorbell needs to "talk" to your coffeemaker and having two different apps to manage two different devices isn't a huge hassle.
Although most of us could probably count our smart home devices on one hand, they are becoming increasingly integrated into our everyday lives. In fact, the smart home market – which was worth $55.65 billion in 2016 – is projected to shoot up to $174.24 billion by 2025.
But as IoT technology evolves and our homes become more connected, we'll need all of our devices to be able to interact with each other, their controller and the local wireless connectivity system (e.g., Wi-Fi, Bluetooth). Otherwise, the typical IoT ecosystem doesn't flow as smoothly as it should. And isn't the whole point of a smart home to make our lives easier?
Why Do We Need to Establish a Common IoT Protocol?
Smart devices manufactured by different brands often speak slightly or even very different languages because there is no generally accepted data communication protocol. This makes it difficult for devices in the IoT ecosystem to communicate with each other, thereby hampering semantic interoperability. It is almost as if they understand every other word or a small cluster of words the other device is transmitting. This poor interoperability diminishes the convenience and efficiency these devices are supposed to offer users.
To ensure a strong IoT ecosystem, some consumers and businesses might become brand-aligned and purchase devices from the same product families. For example, a homeowner might upgrade his or her home with a refrigerator, washer and dryer from the same brand and use a smartphone to control all of them. However, these devices still need to connect with the user's home Wi-Fi in a plug-and-play fashion to enable easy setup. From there, the devices need to effortlessly maintain that connection to ensure that they are ready to work when the user needs them.
It is likely that users will want to integrate a product from another brand into their IoT ecosystem at some point. This opens up the inter-device data communication issue again. Many smaller devices are intended for self-installation by the user, and if installation and integration are not simple enough, users will have more headaches than they bargained for. In addition, if the devices do not follow the same cybersecurity protocols, the smart network could have holes that allow hackers to steal information or alter the IoT system.
IoT Protocols Would Benefit OEMs and Users Alike
In Jabil's 2020 Smart Home Technology Trends survey, 99% of 215 decision-makers at companies that produce smart home products agreed that there is value in having data communication standards. The specific potential benefits to tech companies are wide-ranging. IoT protocols would:
drive the opportunity to build hubs that manage all connected devices
speed up user adoption of smart home and business devices because users will not have to grapple with device integration challenges
allow companies to focus on their core strengths instead of worrying about connectivity issues
enable brand owners to capture rich data sets by correlating with other types of connected devices
simplify payments for up-selling and cross-selling opportunities
Of course, data communication standards would also benefit the end-customer. Ideally, after a user plugs in a new device and turns it on, the device will connect with the local network to seamlessly join the IoT ecosystem. This hassle-free, user-friendly network protocol strategy would allow consumers to easily install a connected device on their own.
Simplifying things could prove beneficial to the 96% of our recent survey participants who reported challenges in delivering the desired customer experience with their solutions. If nothing else, it could lead to a big pay-off for the 98% who acknowledged that delivering an exceptional customer experience opens up opportunities for smart home solutions.
of decision-makers at OEMs agree that customer experience creates opportunity for smart home solutions.
Furthermore, the smart home market is growing rapidly. In just two years, 57% of survey participants have seen overall market opportunity more than double. In fact, opportunity has been growing more quickly than a third of our respondents expected.
That means that the perfect time to solidify these standards is right now, while the number of consumers adopting connected devices is skyrocketing. At some point, most — or even all — devices in a home or building will be smart. Establishing a common language for these products will ensure top-quality IoT connectivity, allowing new devices to integrate into smart homes or networks effortlessly and work together in harmony.
Developing an IoT Protocol: A Work in Progress
To accomplish a fully connected IoT ecosystem with established data communication standards, industry experts need to find or develop a commonality among all devices – whether in the home or car – to establish a language that devices from different brands could use to communicate with each other throughout the entire IoT ecosystem. In addition, the standards should establish a common security protocol to ensure that there are no cybersecurity holes.
Already, progress is being made in this area. Tech giants Amazon, Google and Apple have teamed up to create a smart home standard that will operate through the Zigbee Alliance. Zigbee offers a stable IoT platform and various technologies, such as their full-stack, an IEEE 802.15.4-based specification for a high-level IoT communication protocol. It is used to create personal area networks with small, low-power digital radios, suitable for a wide range of applications, from home automation to individual electronic health records (EHR).
The project – called Connected Home over IP – is designed to simplify development for device manufacturers and increase compatibility for consumers. The project strives to make smart home devices secure, reliable and seamless to use. By building upon Internet Protocol (IP), it aims to enable communication across smart home devices, mobile apps and cloud services and to define a specific set of IP-based networking technologies for device certification.
It is a good start, but until these standards are finalized, smart home manufacturers still have some crucial decisions to make.
The Different Types of IoT Protocols
One of those decisions includes settling on an IoT protocol or IoT architecture. Let's take a moment to dive into the specifics of different protocols, standards and technologies. Here is a quick summary of the most popular:
Bluetooth technology: a short-range communications technology integrated into most mobile devices, thereby offering a major advantage for personal products. Because it is scalable, power-reducing and flexible to market innovations, this technology is foundational for the IoT. A significant protocol for IoT apps is Bluetooth Low-Energy (BLE) and Bluetooth Smart.
Wi-Fi: the technology for radio wireless networking of devices. It offers fast data transfer and can process large amounts of data. This is the most popular type of connectivity in LAN environments.
ZigBee protocol: a low-power, low-data rate wireless network, primarily used for industrial applications. By creating the universal language for IoT (Dotdot), the ZigBee Alliance made it possible for smart objects to work securely on any network and seamlessly understand each other.
Z-Wave: a wireless communication protocol, mostly used for home automation. It is a mesh network that uses low-energy radio waves to communicate across appliances, enabling wireless control of residential appliances and other devices, such as lighting control, security systems and thermostats.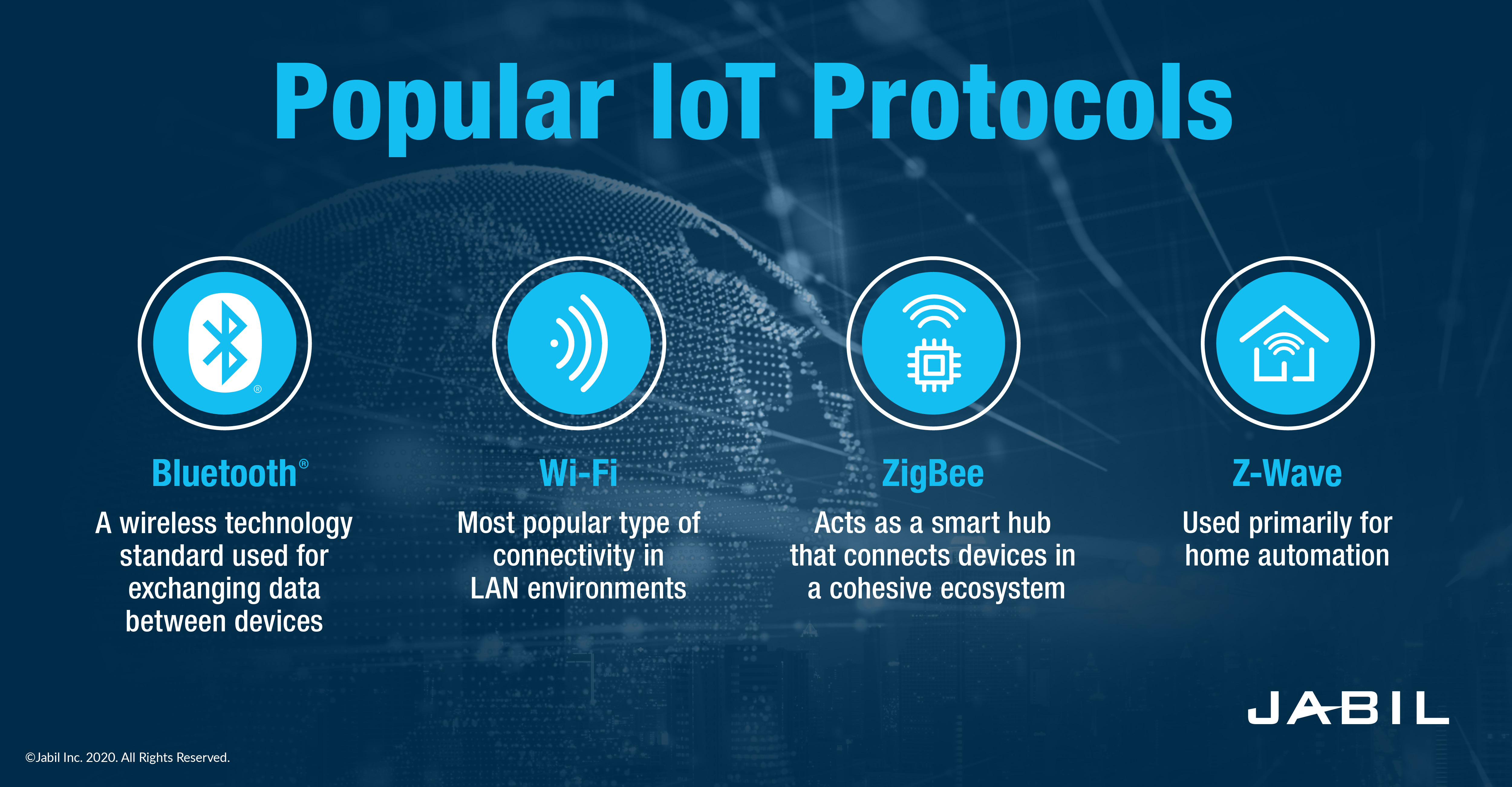 Subscribe to the Jabil Blog
Sign up for weekly updates on the latest trends, research and insight in tech, IoT and the supply chain.
The following IoT protocols are not as popular as the ones I just discussed, but they are still noteworthy:
MQTT (Message Queue Telemetry Transport): a lightweight protocol for sending simple data flows from sensors to applications and middleware. MQTT suits small, cheap, low-memory and low-power devices.
DDS (Data Distribution Service): an IoT standard for real-time, scalable and high-performance machine-to-machine communication. You can deploy DDS both in low-footprint devices and in the cloud.
AMQP (Advanced Message Queuing Protocol): an IoT application layer protocol for message-oriented middleware environments. It is approved as an international standard.
LoRaWAN (Long Range Wide Area Network): a protocol for wide area networks. It is designed to support huge networks (e.g., smart cities) with millions of low-power devices. It can provide low-cost mobile and secure bidirectional communication in various industries.
Cellular network: the basis of mobile phone networks and ideal for IoT apps that need to function over longer distances. They can take advantage of cellular communication capabilities, such as 4G and (soon) 5G. It can transfer high quantities of data, but the power consumption and the expenses are also high. This makes it perfect for projects that send small amounts of information.
Choosing an IoT Ecosystem Approach
For now, different manufacturers have different approaches to semantic interoperability, leaving the industry with a few starter options for building a data communication standard. Some are opting for a controlled approach, which means their brands deliver all the needed functionality within their own managed IoT ecosystem. This gives a brand full control over the customer experience.
Considering that 96% report challenges with delivering the desired customer experience, it is understandable why a controlled IoT ecosystem may be appealing. Solution providers that exercise this approach are known to have an ecosystem of devices that are easy to use. However, tight controls make it more difficult for devices with one brand to communicate with devices from another brand, so this does not solve the interoperability problem.
Other companies are choosing an "interoperable" approach, meaning that they design their IoT solution to work with devices across brands, allowing the user to create their own IoT ecosystem. In fact, our 2018 survey showed that B2B companies overwhelmingly preferred an interoperable approach while B2C businesses were evenly split.
The survey went on to prove that companies that manufacture connected devices for businesses are more likely to adopt this approach. These manufacturers are more interested in functionality than user experience, so they do not need as much control.
Which of the following best describes your company's culture of enabling your customers to integrate and connect your devices with other home and building solutions? (By type of customer)
Preferred Ecosystem Approach
Finally, a smaller number of companies are using an open-source system that enables users to do whatever they want with their IoT device. This system is for more advanced users and might be too complicated for the average user, at least for now.
There are multiple factors that play into which approach companies prefer, such as the types of products they produce or plan to produce and – maybe most tellingly – their cybersecurity approaches.
Security and privacy are top-of-mind concerns for smart home and appliance brands. In fact, our survey participants listed it as the top challenge their organization faces in meeting business objectives for connected home solutions. Taking this into consideration, a controlled approach offers more options for better device and IoT network security, but it doesn't allow for interoperability with devices from other brands.
The smart home sweet spot must lie somewhere in the middle of these approaches. Consumers shouldn't have to be IT experts to work their smart coffeemaker; they expect a plug-and-play experience and devices that are easy to operate and control through a friendly and intuitive interface or through voice commands. At the same time, they do not want to compromise their privacy and home security by installing devices that could leak their personal information or give hackers digital access to their home networks. Companies must establish an IoT network protocol that takes these and other user interests into consideration to help build truly connected homes and buildings that add convenience and tackle daily challenges for users.
Download the 2020 Smart Home Tech Trends Survey Report
Insights on technology adoption, industry opportunities and biggest challenges from over 200 IoT decision-makers at smart home and appliance OEMs.