Epilog and Jabil: A Case Study in Automotive Imaging
In an ideal world, navigating congested roads would be a breeze and driving would be a stress-free activity. Unfortunately, that's not always the case as there are an average of 6 million car accidents in the United States alone every year, according to the National Highway Traffic Safety Administration.
Automotive imaging technology is changing this reality.
Autonomous vehicles, enabled by automotive imaging technology such as cameras, radar and LiDAR, have the potential to make roads safer for everyone. That's why auto manufacturers are on the journey to gain a competitive advantage through this imaging technology. Thirty-six percent of auto manufacturers say being one of the first to mass produce autonomous vehicles is part of their differentiation plan, according to Jabil's Managing Automotive Technology Trends survey. Still, 71 percent of the participants don't believe mass adoption of autonomous vehicles will hit before 2030.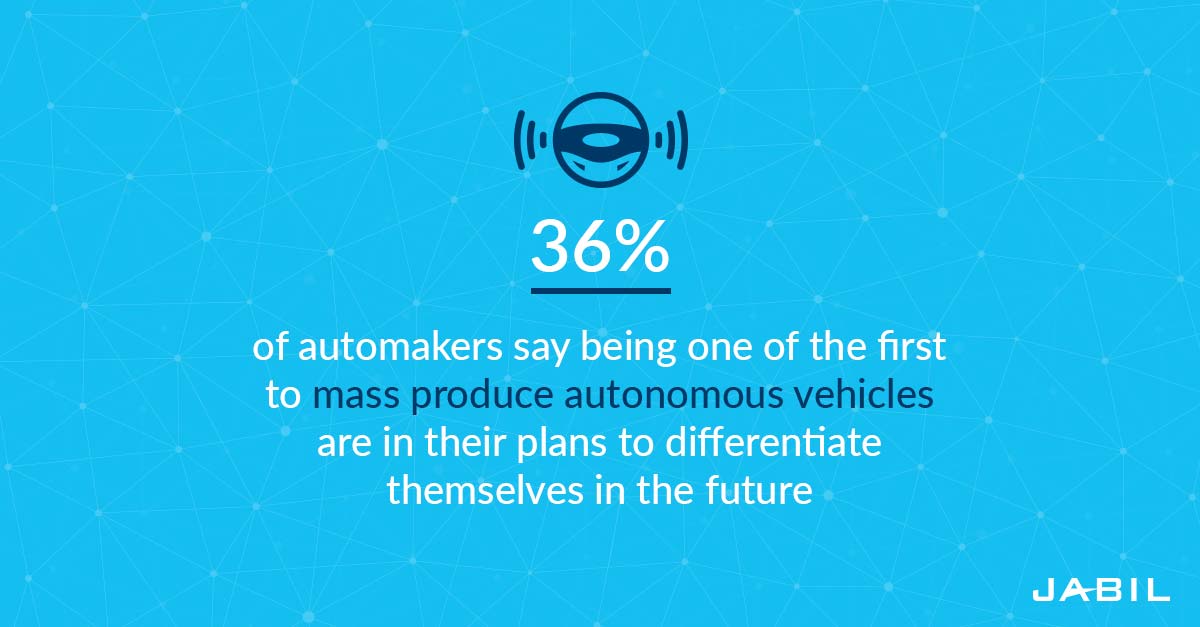 In the drive toward fully autonomous vehicles, using the right technology mix to enable the car to operate safely, even when visibility is limited, is a key focus for today's automotive supply chain.
Gaining Vision in Autonomous Vehicles
Sensors and vision systems are not a new concept in the automotive industry. They have been instrumental to the development of Advanced Driver Assistance Systems (ADAS) such as advanced emergency braking, back-up camera systems, emergency stop signals and lane-keep assistance.
But autonomous driving requires newer generations of technologies that are high-quality, ruggedized, precision imaging solutions that can scale to millions of cars and work in diverse weather and lighting conditions. Though the human eye is complex and difficult to replicate, these newer vision systems will need to deliver 360-degree horizontal coverage, 3D object resolution, static and dynamic object screening and real-time data. It's time for the next generation of automotive imaging technology.
In a recent report, Yole Development (Yole) predicted that the value of the market for sensors on autonomous vehicles will be $2.6 billion by the end of 2025, increasing to $36 billion (with $12 billion in imaging sensors alone) by 2030. Price wars between light detection and ranging (LiDAR) and radar sensors are the primary factors triggering market growth, laying the groundwork for an affordable autonomous vehicle sensor landscape.
Radar technology, which has been used in cars for several years now, can be used for object detection. It can handle functions such as adaptive cruise control, forward collision avoidance, blind-spot detection, parking assistance and pre-crash alerts. Though this technology may not be capable of distinguishing a cyclist from a dogwalker, it can detect movement and direction, helping drivers (or cars) make safer decisions when on the road.
Both LiDAR and digital video cameras require incredibly powerful computers to turn their output signals into a 3D map of the world around the car with static objects identified as well as moving ones, which are tracked in real-time. Such processing power is becoming available in single-board formats, small enough and cheap enough to support SAE autonomous driving levels 4 and 5.
LiDAR operates on the same principle as the conventional microwave radar. Because the beam of light is very narrow and the scanning rate sufficiently fast, accurate 3D representations of the environment around the car can be built up in "real-time." Although it doesn't capture the resolution a camera would, it does capture shapes well. LiDAR is still expensive and difficult to outsource, but integrating these three technologies to create a seamless imaging system for autonomous vehicles is achievable.
One company is revolutionizing the autonomous vision with automotive imaging technology: specifically, with advanced 8K panoramic capabilities.
Epilog and Jabil: A Case Study in Automotive Imaging Technology
Automotive Imaging Technology Case Study
Epilog developed a technology dubbed Quantum Definition, which is patented automotive imaging technology that fuses multiple image sensors into one virtual unit capable of surpassing the resolution of the human eye.
The human eye is a complex feature, an organ that reacts to light and pressure to enable an extraordinary set of abilities – observing distinct colors, detecting motion, identifying shapes and gauging distance and speed. For most people, vision acts as the primary sense driving their perception of the world. Its abilities would be valuable for optics in devices.
"Our mission is to match human vision quality for machines," explains Michael Mojaver, CEO for Epilog. "This is especially important in autonomous vehicles, where you have the problem of being able to identify objects on the road at distance and all around you."
So far, automakers have placed multiple 4K or HD cameras around a car to improve visibility. In some cases, they have stitched together up to 20 video cameras to aggregate multiple HD or 4K video streams. Some of these cameras are high-end and can be very costly. In an industry that is highly cost-sensitive, cheaper and more efficient solutions are favored.
Epilog's Quantum Definition technology emerged from years of video imaging experience and powerful software that transforms video cameras into smart edge-compute devices with a super high-resolution lens capable of delivering 8K panoramic images. To bring this innovation to market, however, Epilog needed to integrate advanced optics, superior image sensors, trustworthy electronics, innovative software, adaptable packaging and ample computing power.
"That's a very difficult order to fulfill," says Marc Munford, vice president of business development for Epilog. "There is no blueprint to follow here. It requires true out-of-the-box thinking and world-class sourcing skills."
That's when Epilog turned to Jabil. Read the case study.
Collaboration: The Heart of Innovation
With challenges such as meeting market timelines, creating a versatile product that will work for every autonomous vehicle and doing all this at a low price point with high quality, Epilog needed a trusted partner that could help overcome these obstacles.
Epilog's partnership with Jabil resulted in an industrial-strength video camera that delivers high-speed HDR, 8K+ panoramic video using a single lens, produced at very low cost. In addition to reaching their goals, Epilog was able to welcome new growth opportunities as a function of its production success.
Partnerships like these are becoming more common in the automotive industry. Because numerous problems are difficult and require approaches from different perspectives, major automotive OEMs and tier one players are changing their development plans to make space for multi-faceted collaborations.
The growth of sensor technologies, such as automotive imaging systems, continues to rise, bringing the future of truly autonomous vehicles closer than we think.
Read the case study.
Read Now