Advanced Driver Assistance Systems
Driving Safety Forward
Using technology to increase safety is a concept that we can all get behind. Especially when it comes to increasing safety on the road. And with global safety regulators and consumers aligning in their demands for increased safety, the automotive & transportation industries are introducing advanced driver assistance systems (ADAS) that provide the driver and vehicle with greater situational awareness to help reduce crashes.
Powered predominantly by cameras, LiDAR, radar, and infrared sensors, these ADAS technologies enable systems such as automatic braking, blind spot monitoring, lane assist, speed alerts and driver attention assist. Not only does this increase the safety of being on the road today, these active safety systems will enable the autonomous vehicles of the future.
Accelerating Time-to-Market of ADAS Sensor-based Technology
Jabil's deep experience in the automotive industry, coupled with our manufacturing and optics expertise, uniquely positions us to enable our automotive & transportation customers to implement the next wave of ADAS innovation.
Our portfolio of optics technology and automotive-grade manufacturing helps our customers accelerate time-to-market of ADAS solutions, enabling them to improve vehicle safety and deliver SAE levels 3 – 5.
Jabil Solutions Enabling Interior and Exterior Sensing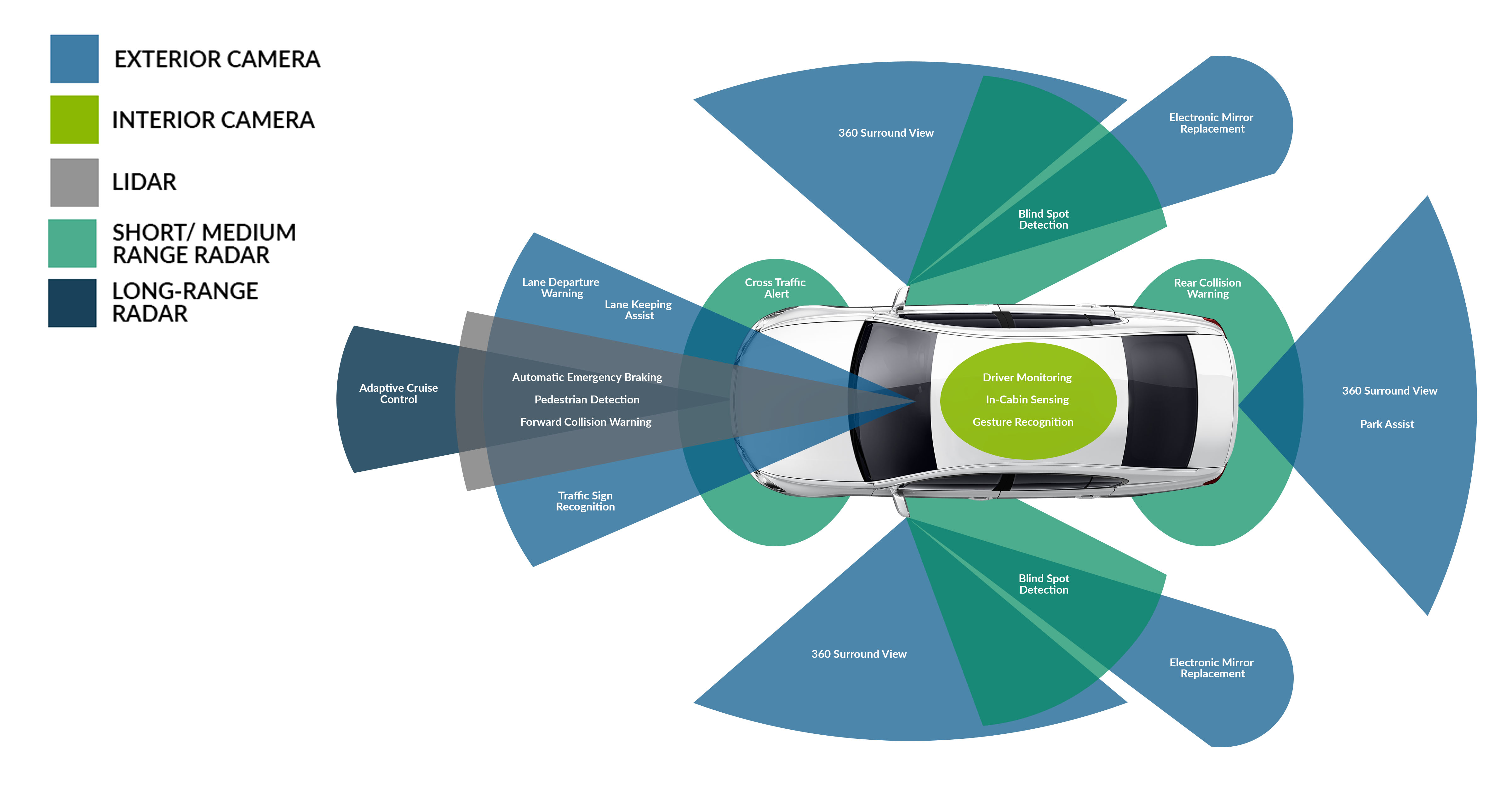 ADAS Cameras
Jabil's platform portfolio of automotive front and surround view cameras enable the highest level of detection & recognition in diverse weather and lighting conditions, and across all automotive operating temperatures. Our camera technology delivers high resolution, excellent image quality and high dynamic range, allowing software to quickly and accurately interpret information and tell the vehicle how to react safely.

Learn More
Automotive-grade Manufacturing
Jabil is a complete solutions provider for bringing products to market reliably, cost-effectively, and at scale. Customers benefit from world-class optical design, customized solutions, design and development expertise, and scalable production infrastructure.
Actively-aligned Optics
Jabil's high-performing cameras are enabled through active alignment manufacturing processes. This allows Jabil to maintain tight control of optical properties, reduce image quality variability, ensure edge focus, and provide customizable focal distance.
Strategic Partners
Jabil's ADAS camera technology and next-generation product roadmap is enabled by an ecosystem of strategic automotive-focused partners including ON Semiconductor, and Innoviz. This ecosystem enables Jabil to stay ahead of the market by informing the development of cameras that leverage new-generations of technology. It also enables Jabil to bring product to market quickly and efficiently, and with a protected supply chain.
Driving Safety Forward
Jabil is committed to enabling our customers to implement the best performing ADAS sensor-based technology, that meet industry, consumer, and regulatory demands. Our optics-based technology, innovation partners and scalable automotive-grade manufacturing uniquely positions us to drive safety forward across the automotive & transportation industries.