Precision & Complexity: Manufacturing Advanced Driver Assistance Systems
Like most things, it started small. We began using cruise control to monitor driving speed. Then back-up cameras appeared on our consoles. Soon, we were trusting sensors to help us merge across busy lanes. And now? Demand for advanced driver assistance systems (ADAS) is at an all-time high, and with it, the need for evolving manufacturing and sourcing protocols for the automotive industry. Manufacturing ADAS technology to eventually enable fully autonomous driving is no small feat.
Currently, the ADAS market is at Level 2.5 autonomy and moving ever-nearer to Level 3, when eyes off the road offers drivers the opportunity to become just another passenger. Arriving at Level 5 (also known as the age of fully autonomous vehicles) depends upon valuable partnerships in the supply chain that bring experience, capability and scale to the assembly process.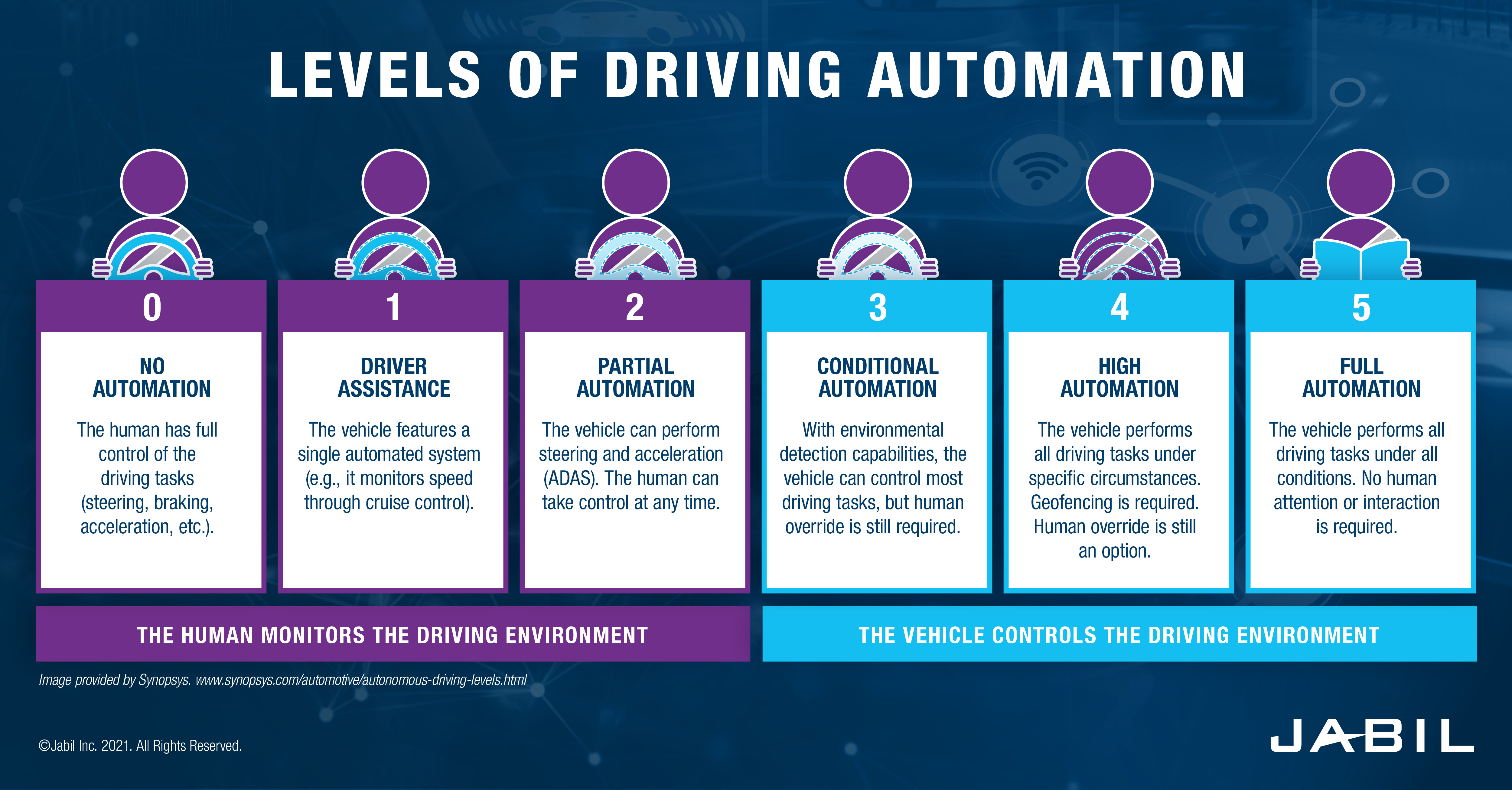 Already, continued improvements in ADAS technology are reducing costs and showcasing practical benefits. Features that once were considered premium upgrades to high-end vehicles are trickling down to the mass-produced car. For example, millions of drivers can barely remember a day when that trusty backup camera did not save them from dents.
Advanced driver assistance systems — like the backup camera, forward collision warning and lane departure warning— continue to offer an optimized driving experience that increases vehicle safety and lessens active driver responsibility. Examples of other ADAS technologies include radar, one of the oldest ADAS technologies deployed. When it first came to market, radar was expensive and rare. Now, it's fairly commoditized as the primary sensor used in adaptive cruise control, rear cross traffic alert and emergency braking systems.
Yes, there are roadblocks to overcome as partially automated driver assistance systems serve as a bridge from non-autonomous to fully autonomous vehicles. The precise nature of driver assistance system technology translates to challenges and opportunities in manufacturing. Estimates vary regarding how soon the roadways will be full of driverless vehicles; it depends on a myriad of factors surrounding technology advancement, market dynamics, manufacturing partnerships and more.
Technology Development Enabling ADAS Standard Adoption
Features migrating from high-end vehicles to mass-produced cars push the "new normal" closer to the ultimate goal of fully autonomous vehicles. These vital ADAS features may work alone or, more commonly, in tandem. A few of the most visible include:
Sensors – Light Detection and Ranging (LiDAR) is an intense development area for ADAS technology because it has not yet been standardized. When volume adoption does occur, costs will decrease, and that means the opportunity for widespread adoption and further synergistic appeal. It is by no means a single solution. According to Tech Briefs, LiDAR, though impressive in its ability to offer resolution at range, is likely just one of multiple technologies that must be integrated to create a multi-faceted ADAS solution. On its own, LiDAR lacks the resolution offered by a 2D camera; radar, conversely, showcases an ability to operate even in adverse weather conditions.
Processors – With the increasing requirements for processing speed in ADAS applications, processors are used for everything from building a real-time 3D spatial model of a car's surroundings to calculating proximity and threat levels based on the environment. However, due to the length of qualification processes in the automotive industry, the adoption of advanced manufacturing technologies trails smartphone processors by several years.
Software – Automotive technology deployments are increasingly reliant on software development. After all, the software makes the hardware work. The hardware can be significantly simplified with software, especially when machine learning and artificial intelligence can be implemented to manage different situations. The development effort behind software is huge in the industry.
Mapping – The ADAS mapping function stores and updates geographical and infrastructure information gathered via vehicle sensors to determine its exact location. This function maintains the information and communicates it to system control even if GPS coverage fails. Since automotive OEMs and other players search for lower-cost options, third-party applications generally meet this demand.
Actuators – The electrification of the actuator system has been a major enabler of ADAS because it has facilitated interaction with other electrical components in the vehicle. With processors to analyze data from vehicle sensors, the ADAS system can make decisions executable by actuators. This system allows everything from electric power steering to autonomous acceleration and braking.
Market Dynamics Shaping ADAS Development
Consumer technology companies continue to enter the ADAS space to offer their expertise and partnership. Automakers are joining forces as well. For example, Honda, Cruise and GM are joining forces to produce a purpose-built autonomous vehicle to enable their global mobility service business. Volkswagen and Ford both invested in Argo AI, an autonomous vehicle company. The goal? To harness the company's self-driving system offerings—within vehicles from both Volkswagen and Ford.
Traditionally, automakers would develop technology for their own use. Having a differentiated product in the market was advantageous—and it still is. As ADAS developments continue, though, OEMs are realizing that competing in the technology field has not—and will not—be their new modus operandi. It takes billions to develop these technologies. A partnership with a technology developer makes much more sense.
Manufacturing Challenges Are Hindering ADAS Adoption
A typical ADAS platform features a suite of sensors. As the complexity and capability of these sensors increase, so does the cost. Supply challenges affect the timeline of widespread adoption. Components needed for ADAS may also see competition from other sectors, as the world increasingly becomes more technology-driven. Below is a brief examination of current ADAS manufacturing challenges:
Component Shortages - A major manufacturing challenge is component shortages due to the widespread supply chain impact of the pandemic; these are broad and trickle down to almost every ADAS component. There is a major constraint in the market around fab capacity, which takes years and significant investment to establish and was re-allocated to consumer applications instead of automotive when the automotive industry experienced a downturn with the pandemic.
Development costs – Examine the development around the LiDAR space, and it is clear that there is no consensus in standardization. Development cost for any ADAS technology is significant until standardization. When that is achieved, volume adaptation should occur, and then costs decrease – but that may not be for some time.
R&D spend – The prevalence of increased R&D spend in ADAS attracts high-tech companies from the consumer space that have not traditionally been automotive suppliers. Via partnership and/or acquisition, these companies present opportunity, as new players in the space make it possible to accelerate the adoption of consumer technologies into the automotive space.
Supply Chain Issues Weigh Heavily on Automakers
The technological components harnessed in ADAS require precision engineering. They are complex, sensitive to environmental effects and thus require protection. For example, the mechanical housing of ADAS element must be resistant to the effects of corrosion, humidity, shock and vibration. A truck driving off-road cannot have a failing mechanical housing. Weather can't affect ADAS performance. Software must operate seamlessly and without glitches.
Consistent sourcing is also paramount for a successful ADAS supply chain. The precision level of these parts, coupled with software capabilities, has to be optimized. To purport that a vehicle can perform a task instead of its human counterpart is going to take plenty of consistent evidence that results in consequent consumer trust. How many of us still looked over our shoulders for months after first using a backup camera? It's a valid point to remember as we forecast any mass public acceptance of ADAS elements.
Supply chains that deliver quality components on a constant basis can help automakers to achieve mass adoption of ADAS systems. As they evolve, consistency and quality are key. The more passengers sit back and let the vehicle do the work, the more tightly controlled that automotive supply chain must be.
Leveraging Partnerships to Overcome ADAS Manufacturing Challenges
Take a company that has years of experience in optics manufacturing and automotive (specifically in application areas such as head-up displays, LiDARs and cameras), and such a partnership can speed up time-to-market and assure quality control. There are many ways companies can work together to make advanced driver assistance system developments occur: automotive companies may partner with one specialist for design and another for manufacturing, for instance. The system complexity within ADAS is massive, and companies with different areas of expertise may need to join forces in order to produce complementary hardware solutions.
The main premise is that no one can really succeed in this space alone. It takes a tremendous amount of money to develop and bring-to-market technology, including the systems that harness it. Accomplishing this at scale takes expertise from multiple sides.
When automatic emergency braking prevents a from hitting a pole, a driver benefits from ADAS functionality that is fast becoming the automotive norm. While Level 5 autonomous vehicles are still a distant reality, ADAS cameras and technology are progressively shortening the distance. In the meantime, we must focus on our capabilities surrounding infrastructure and connectivity to enable a world where progressively, all of this is possible.
Bring Your ADAS Solutions to Market
Jabil's deep experience in the automotive industry, coupled with our manufacturing and optics expertise, uniquely positions us to enable our automotive & transportation customers to implement the next wave of ADAS innovation.
Learn More