The Impact of the COVID-19 Supply Chain Disruption
At this point, I hesitate to use the word "unprecedented" because it's been so overused to describe the events of the past two years. But from my experience in the supply chain industry, the COVID-19 pandemic is a disruption of extraordinary scale and magnitude. Every single company — whether original equipment manufacturers (OEMs), suppliers, distributors or service providers — has felt the coronavirus supply chain impact in some way.
As we saw in the global supply chain survey Jabil conducted in partnership with IndustryWeek in January and February 2022, supply chain professionals across a wide swath of industries are still dealing with these ramifications, and COVID-19 has permanently altered their future supply chain plans. Supply disruption has become synonymous with COVID-19, as labor shortages, logistics backups and demand increases add to the complexities of doing business during the global pandemic.
Loading image ...
How Has the COVID-19 Pandemic Caused Shortages in the Supply Chain?
The supply chain disruptions we're still facing began with control measures put in place between January and March 2020 meant to prevent the spread of COVID-19.
Factories worldwide have, for the most part, been back in production since mid-2020, but continued virus outbreaks still present challenges to companies throughout the supply chain. While the vaccine has led some regions of the world to relax protocols, misinformation and a lack of availability in some areas, plus new emerging variants, means control measures persist. Nearly a quarter of our survey respondents (23%) expect unplanned supplier shutdowns to persist even as the virus becomes endemic. As COVID-19 endures, so too do shortages of the supply chain's most critical commodities — including labor.
All this volatility amplified the impacts of electronic component shortages worldwide. Accessing components has been one of the biggest pandemic-era challenges our survey respondents faced. More than a third (36%) said component and material shortages had a moderate negative impact on their operations, while 28% said shortages caused a significant negative impact. Respondents also reported long order to delivery lead times for components and materials, with 34% experiencing a moderate negative impact from this issue and 30% facing a significant negative impact.
Driving this shortage was massive growth in the 5G, artificial intelligence and cloud computing markets. The world's rapid digital transformation during the pandemic has meant a huge increase in demand across industries like consumer electronics, automotive, healthcare, and industrial and energy. Even as the pandemic ebbs and flows, the long-term demand for these end markets is here to stay.
Coupled with the existing shortages from factory shutdowns and a lack of experienced labor, these demand spikes helped fuel a supply chain nightmare.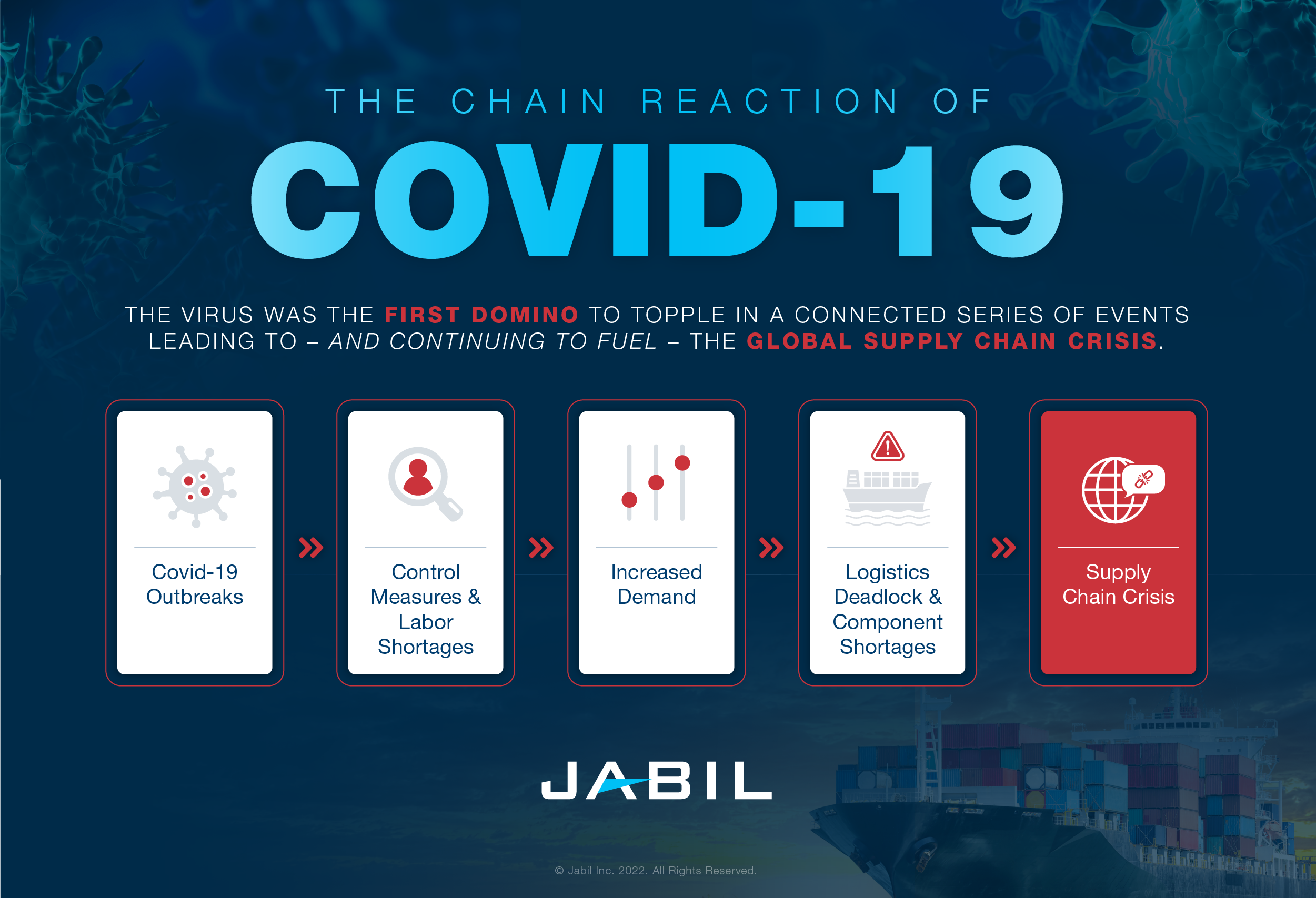 As COVID-19 Drove Up Demand, Labor Shortages Strained Supply
When production facilities started coming back online in China, many experienced a skilled labor shortage on top of it all. With parts and components on hand, some simply did not have the expertise to carry out the backlog of demand.
This labor shortage has only gotten worse at factories and logistics operations around the globe. According to U.S Bureau of Labor Statistics, as of February 2022, the United States had more than twice as many manufacturing jobs open as it did before the pandemic and a quit rate higher than any other industry. The U.K.'s manufacturing industry had 90% more vacancies between November 2021 and January 2022 than it did between January and March 2020. In the Jabil and IndustryWeek survey, 36% of respondents reported a moderate negative impact from labor shortages and costs during the pandemic, while 24% experienced significant negative impact.
The ongoing risk of contracting COVID-19, combined with a slow vaccine rollout and vaccine hesitancy in some parts of the world, makes it tricky for manufacturers and logistics companies looking to hire workers. Then, company or government-mandated quarantines can further reduce production capacity.
At the same time manufacturers are coping with a lack of labor, they are receiving an unprecedented number of orders spurred by massive demand and a global economy that rebounded significantly faster than anticipated. The global GDP grew 5.5% in 2021, driven primarily by demand from major economies like the U.S. and China.
As people in the Western countries shifted to work from home where possible, demand for consumer electronics and telecommunications products and services has continued to increase. 5G and cloud computing, digital healthcare, smart home and IoT devices, and automotive and transportation have all seen massive shortages and delays that do not appear to be ending anytime soon.
The global chip shortages has been spurred largely by the massive growth of these industries and thus are the driving factors in the challenges faced by each of them. While leading-edge semiconductor manufacturers are racing to invest tens of billions of dollars in new foundries, they will take a few years to build; these facilities will add wafer-building capacity over time, but for now, allocation is the best short-term solution to meet current, and rising, demand.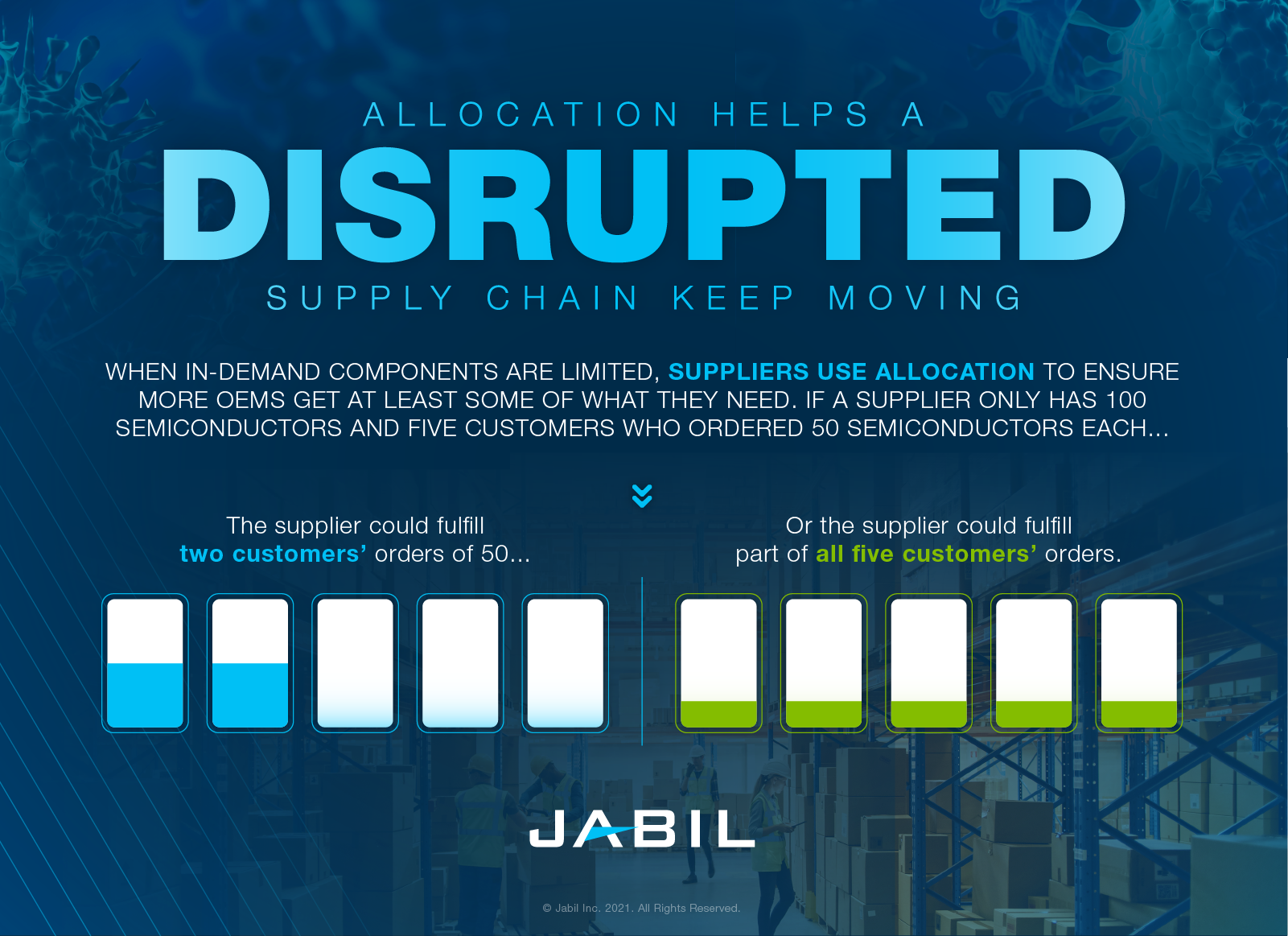 The crisis doesn't end with component shortages, either. Just as there isn't enough labor to produce the commodities and products customers demand, there isn't enough labor — nor transportation — to get them to their intended destinations on time.
COVID-19 struck the logistics industry early, and it has yet to ease up.
The COVID-19 Pandemic Creates Logistics Deadlock
By April 2020, many intranational COVID-19 lockdowns were eased, going back into place only at the onset of new outbreaks. However, border controls have still limited transportation and travel to some regions, creating impediments for international trade and transportation. This was an area that really kept our teams up at night. Considering that more than half of survey respondents (59%) reported a moderate or significant negative impact from these travel restrictions, our team was not alone.
Logistics issues related to quality, payment terms and air cargo capacity became major obstacles when attaining personal protective equipment (PPE), most of which was located overseas, and other components. Pre-pandemic, around 40% of annual global air cargo (approximately 700,000 tonnes per week) was transported in the belly of passenger aircraft. This method of transport is crucial for global supply chain management — everything from semi-finished assemblies to finished products are transported using these aircraft.
More than two years after airlines first reduced or canceled their international flight schedules, capacity has yet to return to pre-COVID normal. According to the airline data tracker OAG, April 2022's global passenger airline capacity is still down 22% compared with April 2019, while passenger belly cargo is growing year-over-year, but it is still constrained by almost 6% compared to February 2019.
In my estimation, between heightened demand and the lack of belly cargo space, freight is the most at-risk area of the supply chain besides commodities like semiconductors. Shipping lanes are increasingly clogged as more consumer demand requires more goods to be sent across the world. Throughout 2021, we saw backups at ports in Los Angeles and Long Beach, less labor available at the docks and in warehouses to unload containers, and too few truck drivers to pick up the cargo. As of April 2022, the delays have moved to ports in eastern China, as lengthy lockdowns along with China's "Zero Covid" strategy have caused critical goods like copper and iron to wait off the coast of Shanghai, Ningbo-Zhoushan and other port cities.
As a result of these shortages, demand and growing inflation, freight prices are skyrocketing; according to the Freightos Baltic Index, which measures global shipping prices, the average price for a 40-foot container ship as of April 2022 is about $9,300, more than double the cost of the same ship a year ago. The price tag skyrockets to roughly $16,000 for a ship on the common China–U.S. West Coast route.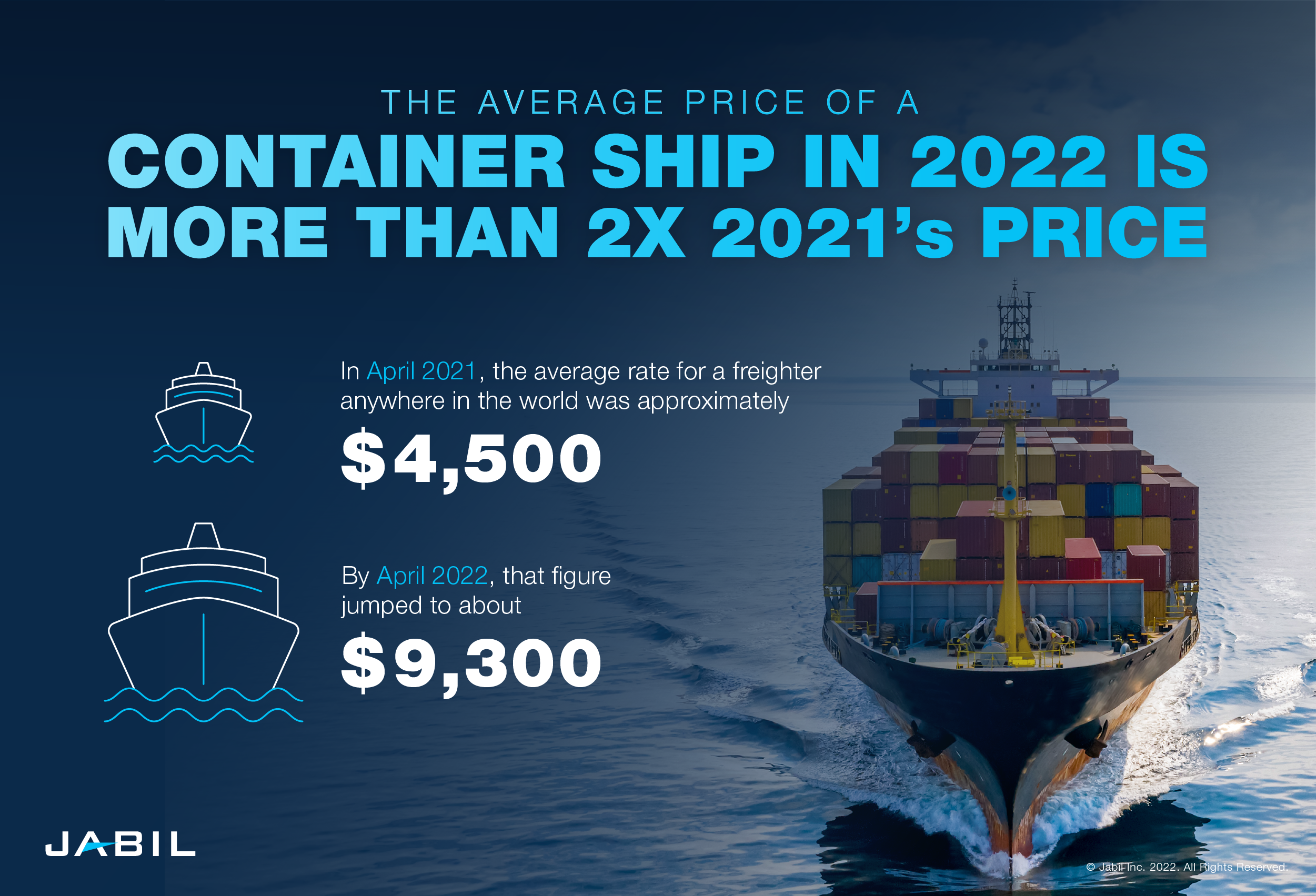 As long as demand stays anywhere near its current levels, the global logistics disruption will only grow. Respondents to the Jabil and IndustryWeek survey said delayed shipments are the top supply chain challenge they expect to persist beyond the pandemic. Additionally, the travel restrictions companies have implemented to save costs and keep their teams safe have complicated the ways those of us in the supply chain industry would traditionally have worked with our partners to navigate disruptions.
Whether the pandemic's evolution means you choose to meet with supply chain partners in person or through virtual means, the focus should always be on sustaining and building strong supplier relationships. This is crucial for supply chain operations, which is a people business at its core.
What is the Future of Supply Chains After COVID-19?
A supply chain disruption of this magnitude has impacted every industry across every geography. Though it's too soon to assess the full aftermath considering the pandemic is still impacting companies worldwide to some effect, the financial effects of COVID-19 and the resulting shortages have already been substantial. Supply chain leaders from seven impacted industries indicated in the Jabil and IndustryWeek survey that the pandemic was a turning point in their strategies. According to the survey, 66% of decision-makers said they diversified their supply base during the pandemic or have plans to do so.
As we attempt to narrow the widening gap between supply and demand, we must first make our way through the continuing logistics deadlocks and commodity and labor shortages. These challenges have awoken the entire world to the fact that global supply chains are not as resilient as they may have believed. Resilient supply chains will be table stakes going forward. More survey respondents (27%) have implemented supply chain risk management technology than any other technology to improve their supply chain performance since the pandemic began. Risk management must be top of mind, with an integration of people, processes and technology.
First, ensure you have two, three or even four approved suppliers for the commodities on your bill of materials. Engage experts, either in house or through a partnership, with the knowledge to assess the risk carried by each of your suppliers. Where are they located? How resilient is their supply chain? Then, invest in technology that gives you end-to-end visibility of your component or product. Just like you can pull up the Amazon app and see exactly how many stops away your package is, an intelligent supply chain platform can tell you where your product is in transit, how long it will be until it gets to the next location, where it is in the warehouse — whatever you may need to know to keep your customers informed and your supply chain moving.
We're starting to see companies make these changes to strengthen their supply chain against future turmoil. In addition to diversifying their supply base, 53% of survey respondents have already implemented supplier scorecards or some other method of evaluating their existing suppliers, while 29% plan to implement this type of system. They are also planning to adopt technologies that will help them create a more intelligent, visible supply chain within the next five years, including: predictive analytics (77%), transportation management systems (76%), artificial intelligence and machine learning (75%), warehouse management systems (75%), track-and-trace solutions (72%), and virtualization/digital twins of the supply chain (68%).
Most importantly, keep building relationships with your suppliers and logistics partners, including with their C-suite. Close to three-quarters (71%) rate the importance of supplier relationship management to the effectiveness of supply chain resiliency as a 4 or 5, with 5 being "extremely important." A commanding 91% are taking some type of action to improve collaboration with their suppliers, including extending or sharing technological capabilities to increase visibility (46%); evaluating supplier manufacturing practices (45%); increasing on-site visits to suppliers (41%); conducting supplier surveys to address their pain points (39%); and implementing supplier relationship management programs (31%). We aren't even through the current disruption, yet the next one is around the corner. When it comes, you want to be top of mind for allocation or space on a container ship.
Still, the pandemic has exposed flaws with some of the foundational ways modern supply chains operate — from a reliance on just-in-time manufacturing to a dependence on overseas production. Surprisingly, the majority of our respondents have implemented strategies like supplier relationship management and supply chain technology to mitigate supply chain disruptions. While these can be short-term, "band-aid" fixes, drastic transformation is necessary to future-proof supply chains.
Respondents showed more resistance to these dramatic changes, with 29% saying they have no plans to reshore or nearshore production and 28% indicating they don't plan to reevaluate just-in-time manufacturing. They also perhaps haven't considered the benefits of partnerships, as 29% said they have no plans to outsource procurement and 30% don't plan to outsource supply chain management. Manufacturing solutions partners with expertise in these areas could help supply chain teams boost their confidence; while 31% of respondents rated their organization's ability to weather supply chain disruptions as "excellent," 68% rated it "good" or "acceptable."
As we continue deploying vaccines and wait to see what the pandemic holds for us, it is important to remember that supply chain is a profession that requires resilience. While the responsibilities of supply chain teams did not change during the COVID-19 crisis, the urgency and speed at which they had to work was amplified dramatically.
The implications of this pandemic will be a defining moment in the future of supply chain strategy, how we ultimately orchestrate and manage future disruptions and facilitate business continuity. The lessons we learn and apply to our supply chains will make the biggest difference. Is supply chain resilience top of mind for you?
Global Supply Chain Readiness Report: The Pandemic and Beyond
Insights from over 700 decision-makers at OEMs across seven key industries that pinpoint how the pandemic has been impacting supply chains and how organizations are changing in response.