Trends in the Retail Industry 2021: What is in Store?
Innovative retailers are steering the marketplace from fragmentation, complexity and confusion toward an increasingly integrated future. These smart, agile businesses are collaborating with partners to use the latest technologies and supply chain optimization tools to streamline processes and really get inside the heads of their omnichannel customers. The result is competitive advantage at the first mile, the last mile and everywhere in between — an essential weapon on the customer experience.
To achieve these advantages, retailers must invest in modern business strategies and in leading technologies. As technology finds itself more deeply integrated into omnichannel retail, it is more important than ever for retailers to show customers exactly why they should visit their stores and truly elevate their experiences.
The following 10 trends in the retail industry will transform in-store retail operations and customer experience over the next year:
1. The Future of Retail is at the Edge
As consumer shopping behaviors continue to evolve, retailers must provide their products at the right time, place and context that intersect with these new behaviors. Blossoming from the intersection of smart kiosks and automated boutiques, new edge retail solutions are becoming part of a brand's omnichannel strategy.
According to a Jabil survey on digital transformation trends in retail, 89% of participants are implementing or considering technology that would improve the customer experience, while another 94% say the same for tech to improve analytics. Nearly half of participants say they are considering specialty kiosks or edge retail to improve the customer experience. Download the full survey report on digital transformation trends in retail.
In this context, the popularity of edge retail solutions like pop-up shops and specialty kiosks will increase in 2021. Intended to catch the shopper's eye, these offerings give people a fun new way to access products. At the same time, the businesses enjoy flexibility, low startup costs and digital analytics in a physical offering.
As brands extend their presence in these new forms, improved analytics can provide key insight into what omnichannel customers want and expect as well as help retailers identify loyal customers and ensure they receive the right mix of information. Begin by establishing a real connection with customers, then use the right tools and technologies to maintain it digitally. Edge retail is sure to be one of the elements bringing omnichannel retailing to life.
2. Retail Robots are Growing in Popularity
The talent shortage and consumer demand for both lightning-quick service and always-stocked shelves continue to escalate the need for automation. Autonomous robots can man grocery store and warehouse aisles, identifying trip hazards and can clean those floors. They can scan and sort inventory, pinpoint ways to improve shelf layout, and lead workers to a particular shelf or bin, thereby automating tedious tasks, improving day-to-day operational efficiency, saving considerable time and freeing up employees for more value-added activities. But perhaps most importantly, robots can create smart stores that enhance the shopping experience.
In 2019, we saw the rollout of nearly 500 multi-purpose robots from Badger Technologies in a grocery retail setting, automating hazard detection and improving in-store operations. This year, look out for additional deployments in other retail settings, shifting the conversation from "why is there a robot in this store?" to "of course there is a robot in my store."
Nearly one-third of participants in Jabil's omnichannel retail strategies survey said they were implementing or considering robotics and automation to improve the customer experience in their stores. Nearly another 20% said they were looking at autonomous robots to improve operations and efficiencies.
"In retail, an industry always on the knife-edge of thin margins, the promise [of automation] is hard to ignore," Nikki Baird writes for Forbes. Keep in mind, though, that technology alone is not enough; retailers must prepare their people. It is essential to have team members who can program, repair and work with these tools."
3. Refitting Stores for Customer Engagement
Stores are no longer merely a location for the physical handling and exchange of goods. To create authentic connections with today's customers, retailers must design compelling, personalized in-store encounters.
With more shopping options than ever before, people do not visit traditional, mall or street-side businesses for convenience; they go for the experience. To remain relevant, retailers therefore must find inventive ways to delight, entertain and inspire consumers as part of their omnichannel strategy.
Furthermore, stores should be part of a unified omnichannel retail strategy that provides a seamless customer experience across physical and digital touchpoints: in short, they should be customer-centric AND data-driven.
In the coming year, cutting-edge retailers will deliver on their omnichannel retail strategy through unique digital and physical experiences. Jabil's retail survey reflects this as well as retailers continue to shift their focus toward an omnichannel approach, whether it's fully integrated or separated with unique touchpoints.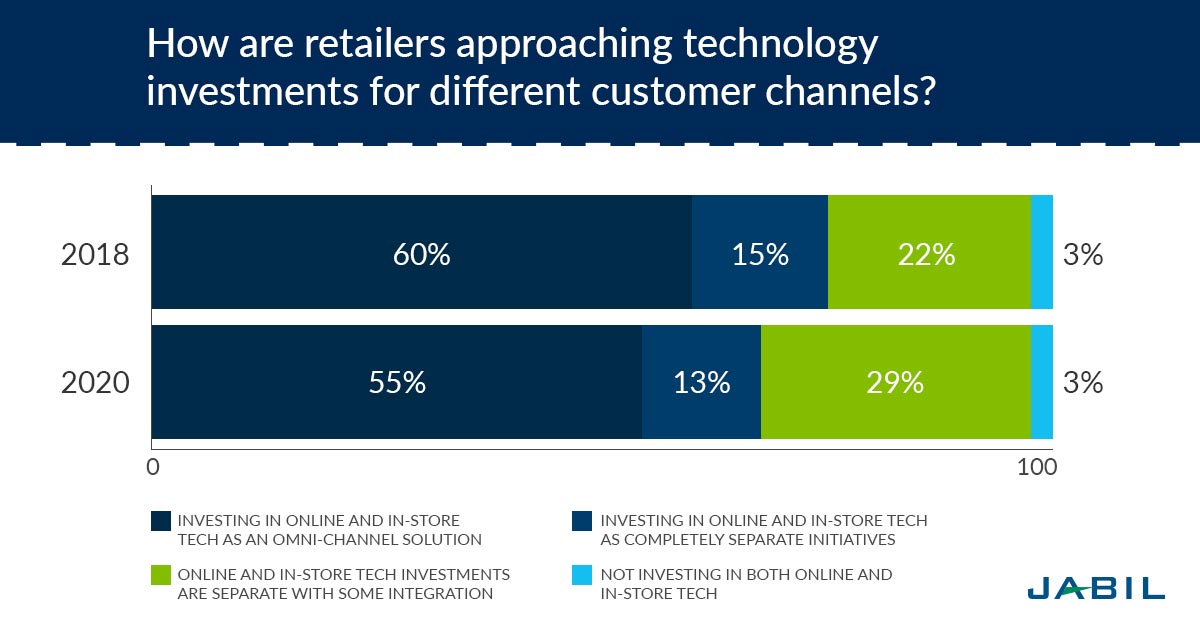 Begin by considering everything consumers see, hear and touch when on their journey through the store. Then, reflect on how the in-store customer experience can be heightened. By leveraging technology, retailers will create meaningful, lasting connections with their target audience.
4. Augmented and Virtual Reality Find Their Place in the Customer Journey
In 2021, more companies will take advantage of augmented and virtual reality (AR and VR) to satisfy customers in the long-term as top customer engagement strategies. Rather than just reading a label, these tools are bringing products to life — and significantly augmenting sales. A recent Forbes article notes: "Any application of AR or VR in retail needs to fit into the customer shopping journey. Every customer goes through some manifestation of that journey, from awareness to exploration, to selection and purchase, and even post-purchase service and advocacy."
The first step in using AR or VR is brainstorming how they can help make people's lives easier. Then, retailers should determine where these technologies fit inside the shopper's journey and how to incorporate them into the retail experience.
For instance, AR will allow people to try on products virtually. Whether a piece of clothing, a pair of shoes or even makeup, retailers are offering this interesting alternative to the in-store experience. Rather than having to wait for a fitting room and go through the hassle of trying on, AR lets brick-and-mortar shoppers see how something will look on them by simply standing in front of a camera, allowing them to try on goods seamlessly. Retailers like Kendra Scott, a jewelry and home décor brand, are trialing mirrors that augment virtual reality where customers can "try on" their accessories.
Additionally, AR can help customers visualize how a product such as a piece of furniture will fit and match a room or other space. IKEA provides consumers with an app where they can see how a piece of furniture will look like in their room. Similarly, some companies are allowing shoppers to upload pictures of a room in order to test out different decorations, such as paint colors, before purchase.
5. There is Strong Focus on Computer Vision
Since the first Amazon Go store was announced in 2018, all eyes have been on the concept of line busting at check-out. One of the ways Amazon accomplishes this is through computer vision. Therefore, it is no surprise that the 2020 National Retail Federation Big Show was home to numerous solution providers looking to capitalize on this trend.
Computer vision in retail is one of those technologies that can cut across the many facets of a business. It can help improve retail operations through shelf management and compliance. It can help improve customer experience by monitoring store traffic to shift resources, recording baskets and track buyer behavior. It can help improve retail analytics and collect data. These are just a few examples!
While many retailers are still not at the level of using camera vision for an automated store concept, they are investing in the infrastructure and capabilities to be ready for it. As retailers make early investments in computer vision, however, they are struggling to scale the operations currently with current service cost models. However, the enablers in optics, electronics and the cost of edge and cloud will make the solutions affordable in the next few years.
Subscribe to the Jabil Blog
Sign up for weekly updates on the latest trends, research and insight in tech, IoT and the supply chain.
6. Automated Distribution Centers Make Pickups Easy
This year, click-and-collect solutions also will continue to proliferate. Many customers want to be able to place an order online and pick up the purchase at a designated location either at an unattended edge retail location on in dedicated locations in stores.
"In a warehouse or on a factory floor, smart design minimizes the amount of movement — and, therefore, time — needed to get the job done," writes Anne Goodchild, Ph.D., of the University of Washington (UW) for the ASCM blog. "The same principle holds true for last-mile urban goods delivery."
In fact, in a recent UW study, Goodchild and her research team found that a locker delivery reduces total delivery time by 78% when compared to at-home delivery. Clearly, retailers would be wise to consider how this medium can be used to facilitate online orders and augment omnichannel.
7. Smart Packaging is on the Rise
Before dot coms, much of the product learning and selection process took place at a retail shelf. That's why Consumer Packaged Goods (CPGs) companies have traditionally made major investments in R&D and marketing to win store-buying consumers. But in an omni-channel world where consumers purchase goods in every way imaginable, the market dynamics have changed for CPGs and retailers to connect with consumers and track their product path.
Smart packaging offers noteworthy retail opportunities this year — even the opportunity to disrupt the industry. "Smart packaging is becoming the new standard in the manufacturing space," David Roberge writes for Industrial Packaging. "The possibilities for utilizing printed electronics in packaging are almost endless, from labels that offer exclusive content and information for customers to bags that assess produce freshness."
Imagine a shipment leaving the production facility with an embedded sensor inside the packaging that monitors its location, temperature, any incidents of damage and even evidence of tampering. This may not be a real-world example yet, but the potential is clearly there. In these ways and more, smart packaging has the potential to transform supply chains, ensure product integrity and heighten the overall customer experience. And, smart packaging can extend the retail ecosystem to the home by providing product usage tracking data and opening new doors into auto-replenishment for brands and retailers.
Three in 10 retailer decision-makers said they are implementing or considering smart packaging to improve the customer experience, according to the Jabil survey. Realizing the impact smart packaging could have on the retail industry, these decision-makers are also interested in new business models. Half of the respondents say they are considering home integration such as auto-replenishment and usage tracking as part of their future.
8. Direct-to-Consumer Communications Make Retail Personal
More retailers are seeing the importance of building relationships with shoppers and capturing vital consumer data. As a result, direct-to-consumer communications will continue to rise in 2020. Companies will be investing in e-commerce, messaging sites and social networks to control their brand story and talk directly to shoppers.
Direct-to-consumer communications give businesses better insight into who is buying their products and why. This nonstop line of communication with shoppers is invaluable for understating what consumers want and need, with the data to back it up. In addition, direct-to-consumer communications enable a retailer to offer a more authentic brand experience based on the intricate knowledge of its consumers.
"To succeed, brands need clear purpose and a realistic path to scale," Sandy Livingstone writes for Global Brand Index (GBI). Brands need really deep consumer insight to create a truly differentiated value proposition — and then have the ability to drive the right kind of high lifetime-value consumers through digital channels."
According to GBI, consumers value the direct approach because they want to take charge of their purchase journey, appreciate authentic brand experiences and enjoy using a brand's own site.
9. Data is the New Currency
In business, data is the new currency. Retail is no exception.
With a skill gap and disparate systems, the challenges to working with data can seem overwhelming. But if retail is to deliver a seamless experience through a next-level digital transformation, data is going to be an important piece to that success. Then again, data for data's sake is not useful. Retailers should determine what data they deem most valuable to their organization, find a way to efficiently collect that data and then make meaning out of it to deliver a unique customer experience.
That's why 94% of retail decision-makers from Jabil's survey affirm they are implementing or considering technology to improve analytics.
10. Strategic Partnerships and Collaboration Make Today's Retail a Reality
To build a successful retail ecosystem, the importance of superior partners and collaborative efforts to implement these retail changes cannot be overstated. According to the Jabil survey, retailers are approaching partnerships and collaboration in different ways now.
Just over 30% said the best approach is to work with a manufacturing solutions provider; 23% said it is to buy existing solutions from an electronics company; 10% say it is to build in-house expertise to do it themselves; and 36% say a mix of these practices are necessary to leverage the entire ecosystem's expertise. Unfortunately, when asked to rate their organization's in-house capabilities to innovate and implement technology, only 16% said they had everything they needed.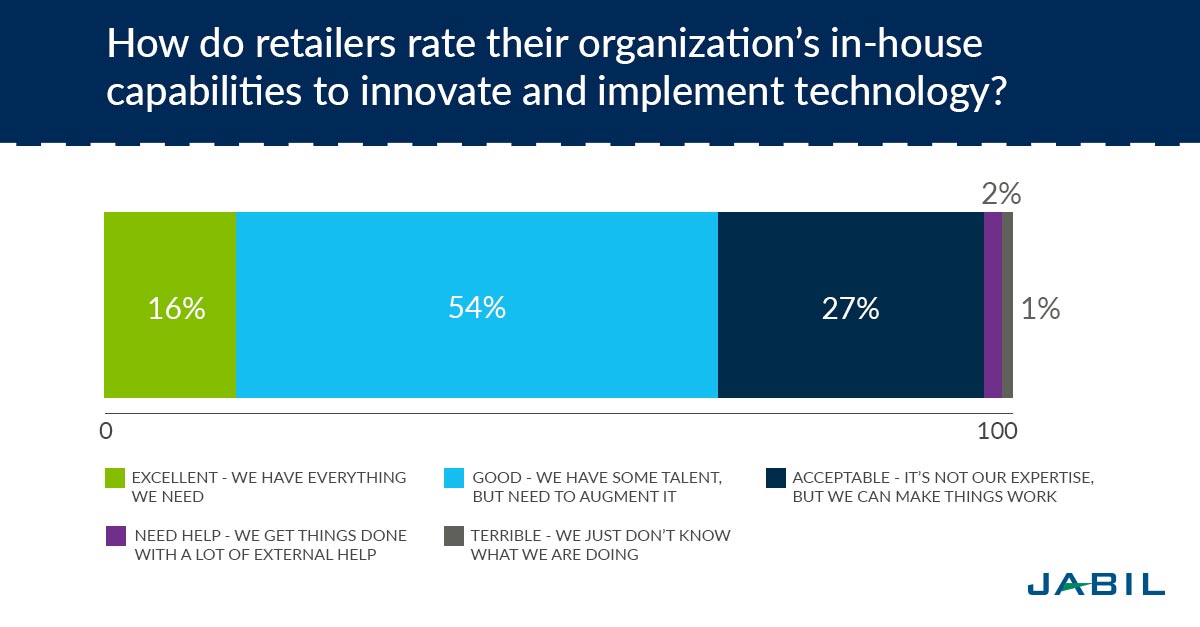 Strategic partnerships will be instrumental to overcoming a wide variety of omnichannel retailing challenges in the coming year. Look to collaborate with an organization that has essential knowledge of software capabilities, such as analytics, marketing platforms and systems integration, as well as deep supply chain expertise. In 2021, retailers simply cannot go it alone.
Shopping isn't just about the products anymore; it's about the experience. Consumers want seamless experiences that stretch seamlessly across every channel. They expect royalty-level ease, service and personalization. In this "king customer" landscape, it is no longer the buyer who must beware, it's the seller. Retailers can navigate these changes if they pay attention to these key trends in the retail industry.
Download the 2020 Future of Retail Technology Survey Report
Insights from 306 global retailers on their technology investments, omni-channel strategies, technology implementation experiences and more.