Why Energy Storage Systems are Poised for Growth
In 2015, a local school in Angola had zero access to electricity, making it difficult for students to focus on their education. However, the school was eventually the first to receive off-grid electricity through an installed Energy Storage System (ESS) consisting of off-grid lighting coupled with electricity generated from solar photovoltaic (PV). The ESS allowed the school to stay open later, provide more school services and save energy.
Since the integration of these solutions, over 16 million new households and businesses in Africa have received ESS. By 2030 they hope to enable 25-30 million more off-grid energy connections across the continent. Leveraging renewable energy sources to produce and store electricity has been a game-changer for the continent's businesses, communities and the environment.
A conventional one megawatt (MW) generator can produce electricity to power 400-900 homes. With the kind of growth estimated for the energy storage systems market by 2027, we'll be able to store and provide electricity through solar and wind power to over two million homes with no carbon footprint. Saving renewable energy through storage systems is convenient, cheaper and more efficient than depending on the electrical grid to power a geographical area when energy infrastructure is limited. The global renewable sources market is expected to reach $1,512.3 billion by 2025 and demand is increasing rapidly.
Residential Energy Storage Systems Enhance Grid Stability
As the installations of commercial and utility scale wind and solar will demand energy storage, grid scale and commercial systems will experience continued growth and lead the overall market. But it is important not to overlook residential energy storage systems.
Residential communities are integrating solar energy and storage equipment installations because they can reduce or eliminate your monthly utility bill and allow even more flexibility in adjusting demand and supply to reflect market rates, potentially reducing the cost of a battery system by more than 25% compared with a stand-alone storage pack.
Unfortunately, too many residential solar panels can affect how the grid operates and may cause grid instability and imbalance. If one home connects to the grid through solar, there is little to no impact on the electricity grid. But if an entire subdivision gets connected through solar, the resulting electricity flow back to the grid could lead to localized grid imbalances in voltage and frequency.
Installing battery backup systems in homes will not only address the electric grid stability issues, but will also lessen the chances of homeowner electricity loss due to grid issues caused by power outages, hurricanes, snowstorms, etc.
Since 2010, the U.S. Energy Information Administration reports that the amount of storage capacity in the U.S. has increased by a factor of more than 10, doubling in 2020 alone. Energy storage capacity is expected to triple in 2021 and sextuple by 2025, according to Wood Mackenzie, a firm that focuses on energy analysis. The increase in storage capacity comes from battery backup systems people have already installed in their houses.
In August 2020, California faced a massive blackout. There were only a few key hours where peak demand outstripped capacity by about 50 to 100 megawatts. Unfortunately, only some of the 30,000 batteries across the state got called upon for help and the utility failed to make up the shortfall. The situation could have been avoided if there were more battery storage capacity from residential owners. California government officials developed the Self-Generation Incentive Program and its goal is to install one million home batteries by 2028.
Norm Taffe, executive vice president of North American residential sales for SunPower, believes that it is only a matter of time until all new solar installations include a storage component. As battery technology continues to improve, attachment rates will reach 50% in California and 25% across the U.S. in the next two years.
Supercharged Batteries Come at a Cost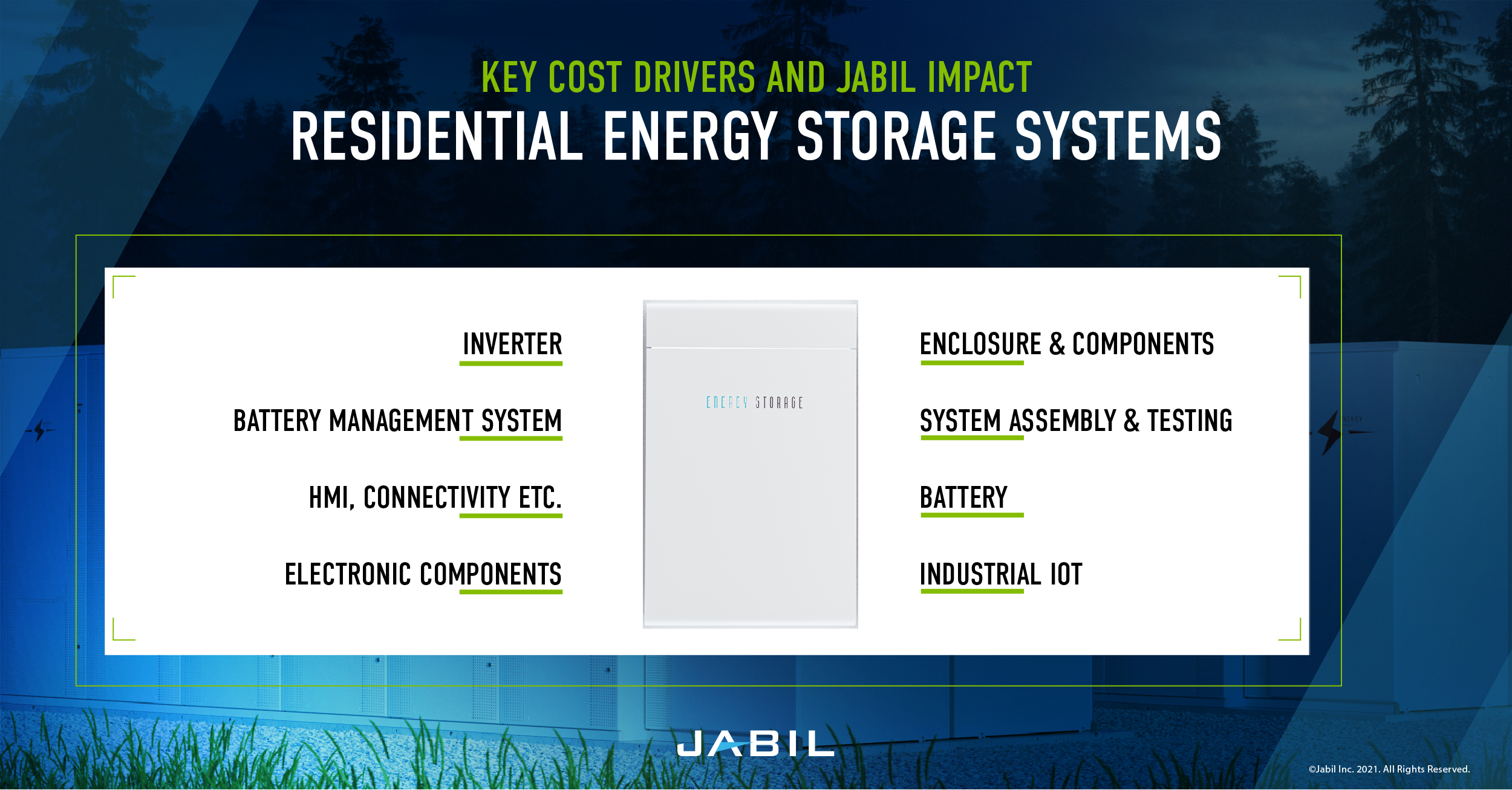 An energy storage solution depends on the capacity and rate at which the energy flows in and out of the system. Each battery storage system compartment comes with unique costs. The battery cell itself, the mechanical components around the battery and the modules used for the battery energy storage system all play into the production costs of energy storage technology.
After the battery cell and inverter, the enclosure is the most expensive element of energy storage systems. Enclosures are typically manufactured to spec to meet the weight and size requirements for a particular project. But other elements must be considered for each enclosure including ventilation, insulation and fire suppression, all of which contribute to the final price tag. Battery enclosures are very important to system performance—they protect the batteries from damage, provide safety to end users, and can help maintain the battery's temperature. Batteries lose their charge faster when too cold, and they could catch fire if they get too hot. It's crucial that batteries hold a steady temperature at all times.
High level system assembly and testing are critical to scaling ESS manufacturing effectively. Energy storage systems need to be produced at the lowest possible costs to maximize system value to end users, but at the same time be manufactured with exacting specifications and high quality levels as they will be placed in the field and operated for a decade or more with minimal to no maintenance. Importantly, end of line testing before shipment is required to detect any potential defects before a system leaves the factory. Companies that leverage Jabil's testing and assembly capabilities are able to bring their product into manufacturing and deliver at the lowest landed cost.
As assembly and testing ramp up for ESS, so does the demand for Industrial Internet of Things (IIoT). The IPS Group Inc., for instance, developed a solar power parking meter combined with an industrial-grade rechargeable LI-ion battery to store the harvested energy, and the entire thing is wireless. There is a lot of potential for IIoT in the energy systems storage market because of the convenience and efficiency it adds to the battery storage products.
Current lithium-ion pricing is about $137 per kilowatt-hour and will drop as low as $100 per kWh by 2023. However, the costs of energy storage systems will vary depending on the size of the project and the features required. As far as solid-state batteries are concerned, there is still a lot to figure out, but their potential is attention-grabbing.
Solid-state batteries are the holy grail of batteries. It doesn't contain a liquid electrolyte, which takes up more volume and is flammable. You also get higher energy density that will last longer. Overall, solid-state batteries take up less space, provide more energy and are the safer option. Unfortunately, these batteries are not available on the market just yet, but many companies are hard at work to make them a reality. Many businesses have invested in their battery technology, and because solid-state batteries are incredibly promising, many are willing to take a bet on them. What battery manufacturers and OEMs have yet to figure out is how the prices of lithium-ion batteries and solid-state batteries will compare.
One thing is for sure, there will not be a replacement for lithium-ion batteries in the near future, but there will surely be additional options, especially as other technologies become price competitive with the lithium-ion battery.
The ESS market is rife with possibility and growth. As we look ahead to an all renewable energy source future, we will need to move from energy storage systems that store energy for hours to systems that store energy for days or months. The issue with today's lithium ion battery systems is finding enough landmass for that kind of electricity storage. Engineers are constantly working on new energy storage options that are environmentally friendly. Some experts will say that hydrogen is the future because it uses renewable energy to break water apart into hydrogen and oxygen, allowing energy to be stored if needed. The future of energy storage systems will need to be accessible and affordable.
Energy-storage-as-a-service is a valuable concept and is something I could see in the future. It can curb the barrier of high upfront investment costs, help aggregate multiple storage revenue sources and allow the public to test a solution without committing to long-term investment.
The future of ESS is gleaming with potential. Streets will be flooded with battery-powered electric vehicles, fuel cells and we very well could experience heating and cooling in our homes, all produced by thermal energy storage grids. One thing is for sure; there is still plenty of work to be done.
Jabil's Energy Storage Solutions
Jabil engineers, builds and ramps some of the most innovative and complex Energy Storage System products in the world.
Learn More