Hybrid Packaging Boosts Food and Beverage Sustainability
The pandemic changed how we work, how we socialize and how we think about our health. But it also changed how we eat. Demand for packaged foods is on the rise, which means we are now faced with disposing more food and beverage packaging than ever before. The need for more sustainable food packaging solutions, like hybrid packaging, has become critical.
According to Research and Markets, while rigid F&B packaging continued to have the largest market share out of all plastic packaging formats in 2020, flexible pouches are expected to experience the highest growth through 2028. Overall, due in part to the pandemic and consumers' increasingly busy lives, packaged foods made up 70% of the total food and beverage market in 2020 and is expected to grow nearly 5% year over year. Consumers are continuously buying more food products that come in packaging that they then must get rid of somehow.
As the consumption of packaged groceries continues to grow, CPG companies now face even greater pressure to improve the sustainability of their product portfolios. In Jabil's 2022 Sustainable Packaging Survey — a research study done in partnership with SIS International Research, which included 186 participants from leading CPG brands — 31% of respondents from food and beverage companies said their organization has at least piloted sustainable packaging options. Another 47% say they are actively learning and have made good progress on their solutions, while 20% report having a fully mature program.
Download the full report: 2022 Sustainable Packaging Trends.
For food and beverage companies, that usually involves rethinking the role of plastic in packaging: How much plastic is necessary? Where should it come from? And what should it look like? For some brands, the answer has come in the form of innovative hybrid packaging. Flexible and lightweight but recyclable across material recovery facilities, this new packaging could be the solution to food and beverage brands' biggest sustainable packaging challenges. Before looking ahead to innovations in high-barrier food and beverage packaging, let's first look at the current state of barrier packaging.
Types of Barrier Packaging
Whether it's a pizza being kept warm during a short trip from a restaurant to a consumer's doorstep or frozen seafood staying fresh in the freezer over a few months, the food or beverage being stored — along with the length and location of that storage — dictates the type of protection it needs from the outside world. A variety of packaging materials are commonly used to provide that barrier:
Metal: Aluminum and coated steel (like cans) offer a strong, durable barrier and the top level of safety for food and beverages. Metal containers protect from light, oxygen, microbes on the outside while keeping liquids and solids on the inside.
Glass: Providing an excellent moisture and oxygen barrier, the overall package barrier depends on the security of the closure system. Colored glass (like the typical dark green of red wine bottles) can also provide a light barrier.
Plastic: Depending on the type and formulation, plastic can provide a variety of barrier properties. The permeation of plastic depends on its properties, the properties of the permeate and the external conditions. The important properties are crystallinity, molecular orientation, chain stiffness, and density. The biaxial orientation process (performed for many of the most commonly used polymers) increases plastic toughness, stiffness, clarity, oil and grease resistance, and barrier to moisture and oxygen.
Paper: Paper and cardboard commonly appear in "bag in box" form (think cereal boxes) and cartons (dairy and nut milks, soups and stocks). Paper and cardboard on their own have a high degree of recyclability, but to provide barrier protection, they need some type of added material- like the plastic bag inside cereal boxes or polymer coatings or laminations (e.g. the coating of a milk carton. However, coatings can render the container non-recyclable.
Composites: This packaging is made up of layers of paper, foil and plastics. Foil lining in pouches (think chip bags), canisters and other containers provides a light, oxygen and microbe barrier in lighter packages.
Perhaps unsurprisingly, the most commonly used material in food and beverage packaging is plastic. Thanks to its light weight, flexible physical properties and low cost, about 42% of all plastic produced is used for packaging. For consumers looking to reduce their plastic consumption and CPG companies that have made public commitments to doing the same, this poses a challenge.
Sustainability Tradeoffs Across Packaging Material Types
In short, waste and environmental impact are the biggest hurdles for food and beverage companies to overcome.
A full two-thirds of participating food and beverage companies in the Jabil survey (66%) said general concern for the environment is motivating their sustainable packaging efforts, with more than one-third specifying their pursuit of reduced carbon emissions goals as a reason for the adoption of new packaging. In 2019, transportation and freight made up the largest portion of total U.S. greenhouse gas (GHG) emissions at 29%. For CPG companies, the best way to reduce their emissions from freight is to reduce the weight of their products, allowing more products to fit on one truck or plane and therefore fewer trucks or planes to go out.
CPG companies are evaluating how their packaging portfolios can help them meet their sustainability goals, including plastic reduction and cutting carbon emissions. The first step might be considering alternative, more recyclable packaging materials, like paper, metal or glass. While aluminum cans have a worldwide recycling rate of about 69%, according to Resource Recycling Systems, 20% or less of plastics are recycled — making aluminum, on its face, seem like the more sustainable option.
But it's not that simple. The carbon emissions generated by the production of more recyclable, but heavier, aluminum are much higher than those released when making lightweight plastic. According to a 2016 study by the EPA, the production of one ton of aluminum cans creates 12.22 tons of CO2, while the same amount of plastic bottles releases just 2.23 tons — a 449% difference.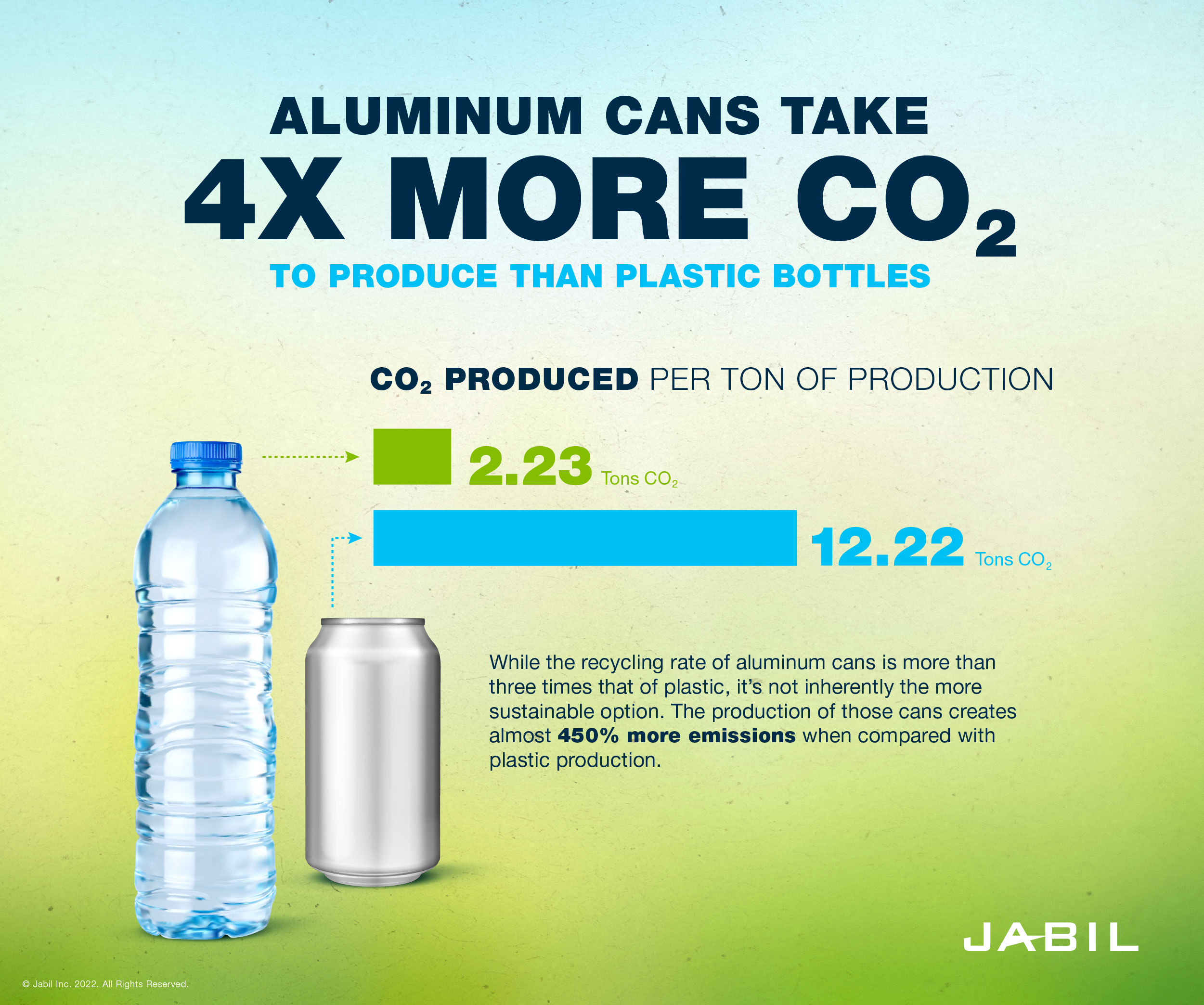 Common plastics like polyethylene (think grocery bags) require fewer carbon emissions, less energy and less potable water to produce than other, more recyclable packaging options, like paper, or compostable plastics. You simply need less material to package a product in plastic than in paper, metal or glass. Using a smaller quantity of lighter material often results in plastic packaging having a smaller overall carbon footprint than heavier, more recyclable materials.
Smaller packages are, indeed, one waste-reduction method already in use. In our survey, 30% of respondents said that redesigning packaging to reduce its weight — also known as lightweighting — was one of the steps they were taking to improve the sustainability of their portfolio. However, lightweight packaging is not the only sustainable packaging solution.
The Need for Recyclable Food and Beverage Packaging
Heavier materials do have some advantages over lightweight film plastic, including the potential for reuse and, most importantly, recyclability. The average plastic food and beverage packaging is composed of multiple materials that give it its flexible, lightweight characteristics. However, flex packs, made from this lightweight film plastic, are not recyclable in your typical home recycling bin. These plastics cannot be easily separated at a commercial material recovery facility (an MRF, also known as a recycling center). Although it varies between facilities, as a general rule of thumb, any objects smaller than a credit card should not be recycled, as they will literally fall through the cracks at MRFs.
As it stands, most plastic packaging is not recycled. According to McKinsey, around 28% of food-service plastics in the U.S. are recovered, while approximately 40% are in Europe. Nor, as previously mentioned, are most food-service packaging plastics recyclable, especially multi-material packaging. Of the plastics that are both recycled and recyclable, the most common are high-density polyethylene (HDPE) — milk jugs, juice containers and the like — and polyethylene terephthalate (PET), the material used for water and soda bottles. Both have a U.S. recycling rate of approximately 27%.
Globally, only about 16% of plastics are reused to make new plastics. Compare this to the infinitely recyclable aluminum, the most-recycled packaging material on earth. On average, 73% of an aluminum can is recycled content — though, like we've discussed, those cans come with their own environmental impacts.
As consumers demand more sustainable packaging options, CPG brands are seeking solutions that marry performance and a responsible end-of-life plan.
Hybrid Packaging: Where Rigid and Flexible Packaging Meet
To meet the need for recyclable but functional plastic food and beverage packaging, scientists and designers have had to create and innovate new materials and package configurations. With materials science, companies have been able to create new blends, coatings and additives to enhance the properties of packaging. Let's say a material has a very high oxygen barrier but a very low moisture barrier. Materials scientists can create a blend of additives that compensate for the characteristics a substrate lacks.
From a sustainability perspective, materials science is being used to create plastic packages that offer integrity for a food or beverage's intended life — whether it's two weeks, 12 months or five years — with a thoughtful plan for their end of life. Scientists are working on additives and blends that can enhance the intended life of the product as well as the package's recyclability or compostability.
Creating a package that is durable enough to maintain product shelf life but that still can compost is a tricky balance. There are also consumer behavior challenges (is the product easy to compost?) and economic challenges (compostables are more expensive than traditional plastic) that can limit the applicability of compostable packaging. It works best for hard-to-recycle, easy-to-dispose-of products like single-serve coffee pods; consumers can throw the entire pod, grounds and all, into their home compost bin. For the most part, though, it appears CPG brands have turned their focus to package weight reduction, the use of PCR materials and creating recyclable packaging.
A newer, innovative solution brands are exploring is hybrid packaging. This packaging solves many of the problems posed by options that use just plastic, paper, metal or glass. A hybrid packaging solution allows brands to create lighter versions of heavy packages and recyclable versions of already-lightweight packages, like pouches (think snack bags or zip-top packaging for dry ingredients).
Jabil Packaging Solutions has created a hybrid package called FusePack, combining the benefits of a lightweight flexible pouch and a rigid container. FusePack's rigid interior frame defines the container's shape and provides structural integrity, while the in-mold or paper panels enclose and protect the product as well as a traditional plastic container. This combination of materials allows the package to be handled, sorted and reprocessed in a standard recycling center or MRF. FusePack is smaller, and on average, 50-70% lighter than comparable rigid packs.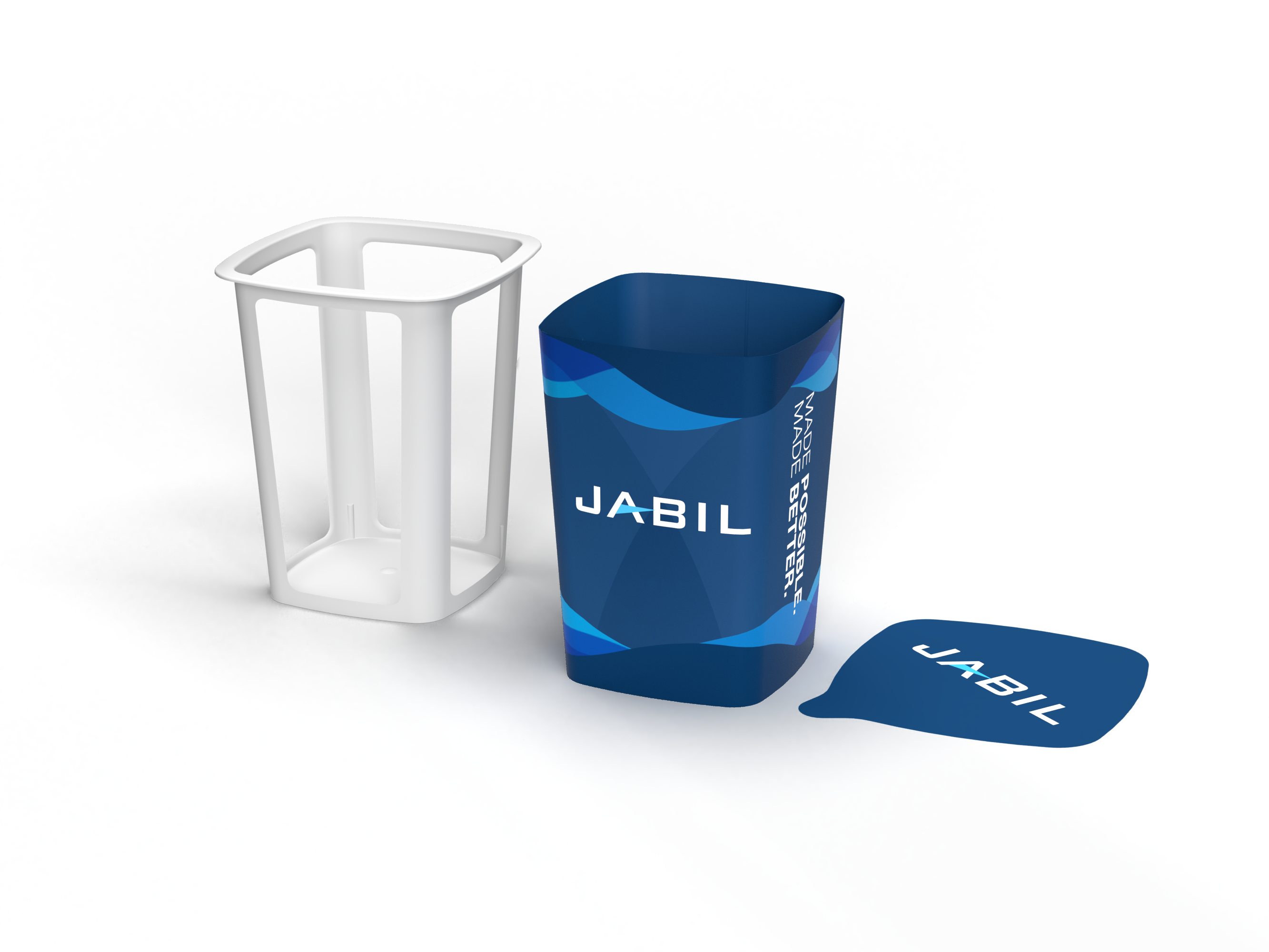 With the ability to be recycled in a consumer's regular bin, FusePack could be a potential sustainable solution to package food and beverages like snacks, candy, baby cereals, coffee, seasoning mixes, and dry ingredients, like flour and sugar — replacing the lightweight, non-recyclable or heavy, emissions-intensive containers that typically hold these products. Other innovative packaging options food and beverage companies are exploring include tethered closures, which allow bottle caps and lids to be recycled alongside their bottle, and high-barrier paper packaging.
As the need for sustainable solutions to end-of-life continues to grow, the pressure is on the food and beverage industry to end their reliance on single-use, non-recycled packaging. In fact, 40% of the plastic produced worldwide is single-use packaging, much of which is created for the food and beverage industry.
From takeout containers, cups and straws to plastic beverage jugs, bagged snacks and produce containers, plastic surrounds us at the grocery store, at restaurants and in our own kitchens. Reimagining sustainable food and beverage packaging will require action from all of us: demand from consumers who want to easily recycle their used containers, governments pushing for greater environmental responsibility, and manufacturers putting resources behind the development of bright ideas to make our next meal a little greener.
Download the Sustainable Packaging Trends Survey Report
Insights from over 180 packaging decision-makers at global enterprises on their sustainable packaging goals, initiatives and challenges.