Sustainable Packaging Solutions
Meeting the Challenge Head-On
Companies producing consumer packaged goods (CPG) are at a turning point — find smart ways to make their products and packaging sustainable, or potentially face increasing regulations, taxes, and consumer backlash.
Jabil Packaging Solutions (JPS) has the resources and experience to deliver innovative, sustainable packaging for virtually any consumer product — from food and beverage to home and personal care.
We give you packaging choices by applying a threefold approach to your product:
Use assessment techniques and material science to design product solutions that meet customer-specific sustainability goals
Assess carbon footprint, recyclability, sustainability, and other factors throughout the product life cycle
Assess and source sustainable materials based on price, supply chain optimization, and technical performance.
Design for Sustainability
Drive Faster Time-to-Market and Eco-Friendly Validation with our Proven Design Innovation Process
To achieve practical sustainability, brands need to carefully consider all phases of development and production to combine the highest functionality, lowest cost, and least environmental impact. With so much of a product's success directly affected by its design and manufacturability, JPS experience and expertise in every aspect of sustainable packaging is a priceless asset for any company rethinking its green strategies.
Sustainable Packaging Assessment
Iteratively Assess Key Sustainability Factors such as Carbon Footprint, Recyclability and More, Before Moving into Full-Scale Production
Accurately calculating a carbon footprint or lifecycle assessment requires a quantitative understanding of the end-to-end supply chain — adding the impacts of source materials, transport, manufacture, as well as end-of-life considerations. JPS can assess your current product's carbon footprint and provide different options to increase sustainability — from using recyclable, bio-based, or biodegradable content and light weighting to simply changing source material vendors or locations.
Materials Sourcing & Development
Drive Holistic Procurement Strategies that Factor for Price, Supply Chain Optimization and Performance
Determining the right design and packaging materials – from biodegradable fibers to a specialized polymer resin – for a particular product or component is just the first step. Finding dependable, competitive sources is the next. JPS prioritizes strong supplier relationship management to provide reliable access to diverse sources of recyclable, PCR, bio-based, and biodegradable/ compostable resins worldwide – ensuring an uninterrupted supply chain while minimizing the environmental impact of long-distance shipping.
Why Jabil Packaging Solutions?
As a division of Jabil, the world's third-largest contract manufacturer, JPS is uniquely positioned to help you win in digital consumer markets. Jabil engineers combine innovation, disruption, collaboration, and deep industry expertise to build and ramp some of the most successful consumer products in the world. By providing leading expertise in consumable packaging, device manufacturing and software and application development, we are uniquely positioned to offer a true end-to-end solution.
Watch The Sustainable Packaging Revolution: A Jabil Documentary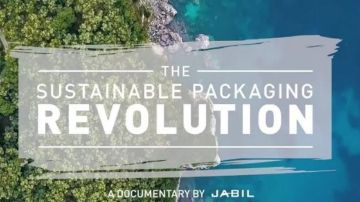 THE SUSTAINABLE PACKAGING REVOLUTION
According to Jabil's Sustainable Packaging Trends survey, 44 percent of packaging decision-makers say the biggest obstacle CPGs have in being able to meet their goals are the lack of technical solutions. But while materials roadblocks have been the most difficult challenge to overcome to date, the industry is at a tipping point with new sustainable materials surging into high volume commercial projects.
Sharing insights and perspectives from leading material technology suppliers about this dynamic environment, the documentary illuminates how these new advances will move the industry closer toward a circular economy. With input from industry leaders Danimer Scientific and KW Plastics, the documentary looks beyond traditional sustainability challenges--regulatory, recycling infrastructure, assurance of supply and others—and explores solutions for complex material science limitations.
Join the Webinar on Sustainable Packaging
This interactive discussion highlights the key challenges facing packaged goods companies and explains how our Sustainable Packaging Services empower you to accelerate the transition to the circular economy.
Solutions for Packaging Transformation