Jabil's 2018 Shareholder Meeting
On Thursday, January 25, 2018, Jabil held its Annual Shareholder meeting in St. Petersburg, Florida, where shareholders, media and business partners interacted with company management and Jabil's Board of Directors. Attendees and viewers had the opportunity to hear remarks from Jabil CEO, Mark Mondello, who provided an overview of the vision and the company's plan to achieve its long-term goals.
Mondello began his presentation by talking about the true core of what makes Jabil what it is today: the people. He thanked all employees for their dedication, commitment, focus on taking care of Jabil's customers and making safety a priority.
"We have a lot of decisions to make and business can be awfully complicated," Mondello said. Turning his attention to the business content, Mondello started by sharing what is top of mind for the leadership team and how they consider actions to make decisions.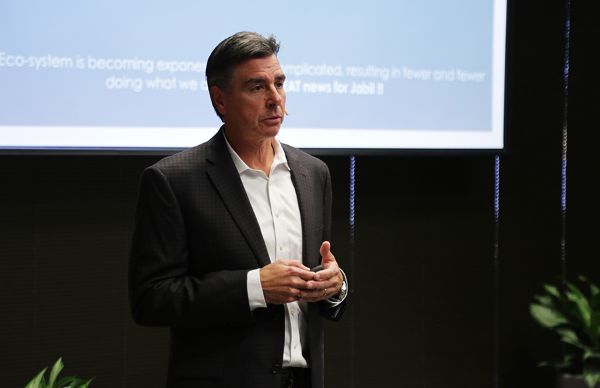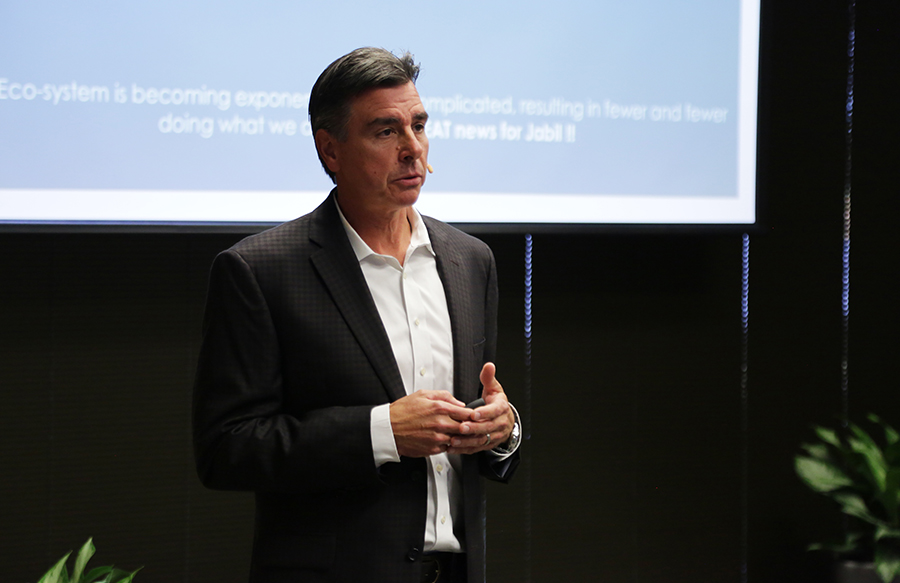 Jabil's Teams are Very Results-Oriented
Acknowledging that as a public company, outcomes are very important, Mondello said that "results are very natural to our team." However, he elaborated that results alone tend to prevent the company from going down the most optimal path from a sustainability standpoint and that a balanced approach is the way to reach company goals.
People are What Make Jabil, Jabil
Jabil is a large company encompassing 100 facilities across 30 countries, with 42 million square feet of manufacturing space and more than 170,000 dedicated employees who take great care of Jabil's customers. "Why do I think that's important?" asked Mondello the audience. "Because I think it is a tremendous barrier to entry for companies to try and do or duplicate what Jabil does."
Jabil doesn't brand its own products and therefore doesn't have its own product IP. "As a service business that takes care of great brands, the most important asset we have are our people," Mondello said, sharing a video highlighting Jabil's people and culture.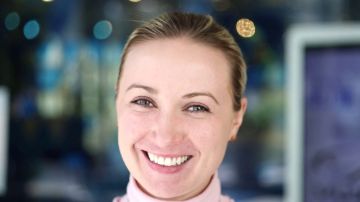 We Are Jabil
Mondello talked about Jabil's efforts to making the world better, safer and healthier, by focusing on four areas:
Caring for our employees
Giving back to the communities in which we work
Focusing on diversity of thought and inclusion
Fixating on always doing what's right
Thriving in a World of Unrelenting Change
"Why do we do what we do and why do we deserve to do what we do" Mondello asked. With an incredibly broad base of domain experts and capabilities across the company, "we are focused on standing side-by-side, shoulder-to-shoulder with some of the greatest brands on the planet and help them bring the greatest solutions and products to market," said Mondello.
According to Mark, Jabil is privileged to join these brands in their quest, because it takes tenacity, ingenuity and passion to thrive in a world of unrelenting change. That is why Jabil invests for today and tomorrow. "I think the investments we make are the number one catalyst to the sustainability of the company," explained Mondello.
"If we're going to be a manufacturer then we need to be the best at it and therefore we make a lot of investments in smart factories, automation and robotics, as well as material sciences such as additive manufacturing." He stated the importance of additive manufacturing for the future, sharing that Jabil will continue to make investments to be a leader in this area.
Finally, Mondello talked about Jabil's focus and investments on digital platforms, saying these advancements are built upon a foundation of sizable scale, a disciplined approach and an autonomous market-facing structure.
The Future Direction of Jabil
Jabil's vision is to be the most technologically advanced and trusted manufacturing solutions company. "I call this a destination, but I think it's more a journey," stated Mondello, emphasizing the importance of trust for the company's future success. He elaborated that shareholders can count on Jabil to:
Keep our people safe
Always respect the environment
Conduct our business with trust and integrity
He ended his remarks by sharing one of his favorite quotes from C. S. Lewis: "Isn't it funny how day-by-day nothing changes, but when you look back so much is different?"