Four Essential Elements for a Strong Retail Business Model
Retailers aiming to build a strong retail business model are facing a choice - what we could call the "Starbucks/Dunkin' Donuts dichotomy."
With thousands of locations across the world, Starbucks and Dunkin' both serve coffee and baked goods to millions of customers a day. However, these two prominent coffee providers operate under diametrically opposed business models.
One can walk into any franchise location to see the glaring differences between these caffeine empires; Starbucks leans heavily into offering a congenial experience for their customers. The music, furniture and aesthetic are designed to provide an atmosphere that invites people to sit down and savor a vanilla latte while catching up with a friend, finishing up some work or just enjoying a bit of alone time.
Dunkin' Donuts takes the opposite approach. Over the past year, they have driven a rebrand, starting with shortening their name to Dunkin', that's focused on conveying the company's dedication to offering the best coffee-on-the-go. They are augmenting their sales process through an app and self-serve kiosks.
Most brick-and-mortar retailers are working to implement a combination of these two concepts-experience and convenience-where customers can quickly purchase what they need within an ambiance of specialized offerings. For example, office supply store Staples is providing their customers with co-working spaces, an extra commodity that their client base of students and business professionals can appreciate.
According to Jabil's 2018 Future of Retail Technology survey, 77 percent of retail decision-makers are interested in new retail technology because of the new business models it will enable. Consumers aren't discarding brick-and-mortar like an outdated trend, but physical retail locations must dramatically shift to keep pace with the evolving retail market.
Retailers will have to adjust their business models to accommodate the changing needs of customers. Here are four approaches to retail that will produce the most effective and sustainable retail business models. Download Jabil's Future of Retail Technology Report.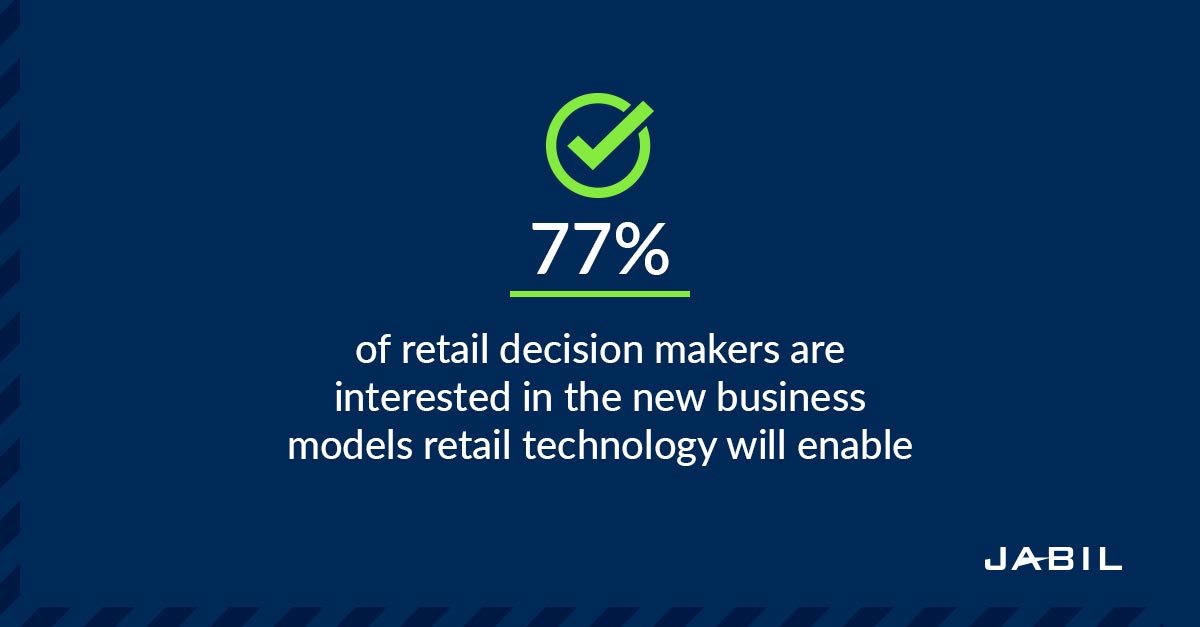 Build a Strong Foundation with Data
Data has always been important to any business operation, including the retail industry, informing every aspect of the business, from marketing to operations to the customer journey. But with an increasing emphasis on personalization and convenience, data has become the backbone for supporting a successful retail operation.
Gathering data also allows retailers to provide customers a personalized experience with targeted advertising and suggestions based on purchase history. Consumers already expect this kind of customized service; 71 percent of shoppers express frustration with an impersonal experience.
For years, online and ecommerce retailers have understood the importance of click-through analytics that track how the shopper navigates the website, what attracts their attention, what they buy and how they behave in the retail space. However, this data is equally crucial for brick-and-mortar stores. The right information can help retailers determine customer pain points and plot retail store planograms, armed with knowledge of the most strategic locations to place products. Thankfully, evolving retail technology is allowing better opportunities for more comprehensive data collection and a myriad of ways to utilize this information to improve physical store functions and consumer experience.
When omnichannel retailers combine online and in-store data, they can glean a 360-degree view of their customers, encapsulating information such as their product and brand preferences, budget, marital status, age and other information that can be used to segment customers into relevant groups. This will translate into better margins, higher profits, and increased efficiency.
Subscribe to the Jabil Blog
Sign up for weekly updates on the latest trends, research and insight in tech, IoT and the supply chain.
Bring Products Closer to the Customer with Home Integration
Retailers are looking for ways to bring their goods closer to the customer, eliminating the hassle of an extraneous trip and providing a degree of the comfort that digital shopping supplies. In Jabil's survey, retailers responded that home integration is the retail business model innovation that interests them the most. One way to accomplish this is through home delivery, forcing the customer to go no further than their own doorstep and making brick-and-mortar retailers as convenient as online.
Auto-replenishment services will likely boom in the next few years. This service offers some distinct advantages to retailers. First, it results in lower out-of-stocks, which correlates with higher sales. When a product is out-of-stock, retailers risk customers deciding to take their business elsewhere. It also decreases inventory costs, a major pain point for many retailers.
Several companies have already implemented this model. For example, Giorgio Armani offers an auto-replenishment option with several of their makeup and fragrance products. While purchasing online, customers can choose to have a product delivered to them every three, six or nine months, with complimentary shipping and deluxe samples offered with every order.
Voice-activated devices are also being utilized to harness this capability. Last year, Google and Walmart announced a partnership that enabled customers to use Walmart's "Easy Reorder" feature through Google home. As the popularity of voice assistants like Siri, Alexa, and Bixby rise, this collaboration may point to more streamlined ordering and delivery enabled through voice-activated devices in the future.
Strengthen Brick-and-Mortar with Retail Technology
With the current retail landscape and minimal use of technology in brick-and-mortar, digital stores maintain some distinct advantages over physical stores. Online shopping provides greater visibility, both for the retailer and the consumer. Retailers can more easily track the customer's journey through the site and customers can determine with a couple clicks whether an item is in stock.
Contrary to popular belief, the need for physical stores are not dying. But it is shifting. According to the Jabil survey, almost 100 percent of retailers are investing in both online and in-store technology, and 47 percent of retail decision-makers are investing in the two mediums equally. Additionally, 60 percent of retail decision-makers are investing in online and in-store technology as an integrated omnichannel solution.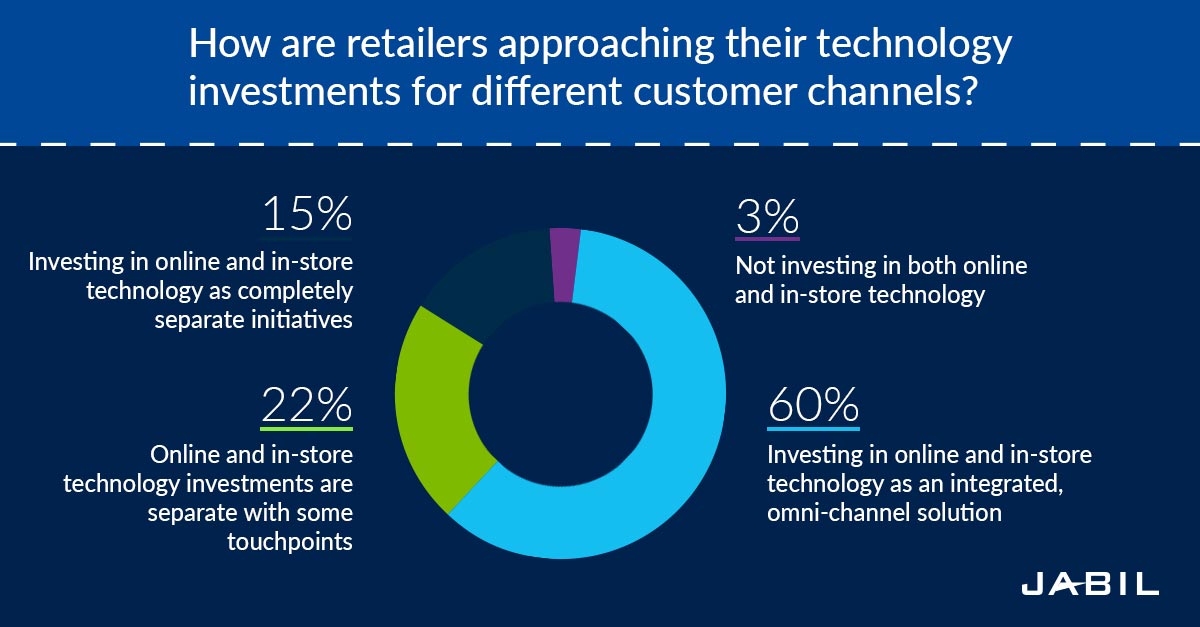 Although this indicates that retailers realize the importance of maintaining both an online and in-store presence, they need to produce a cohesive message across all platforms; online and in-store purchases are closely linked. Research conducted by Bazaarvoice shows that 82 percent of smartphone users consult their phones before making an in-store purchase and almost $5 is spent in-store for every dollar spent online, following online research.
Not only is it important to have both an online and physical presence, but they also need to maintain cohesive messages between the two mediums. One challenge for retailers is that consumers are not judging their shopping experience by what happens in the store; they're comparing it to their experience on Amazon or through their iPhone. External factors are coming into play. Physical stores alone cannot catch up to the experience that consumers are having outside the traditional retail environment. If brick-and-mortar retailers want to stay in business, they need to learn how to incorporate technology to craft the ideal customer experience and optimize their store operations.
With the retail technology revolution, retailers need to figure out how to use the latest retail technology to translate the advantages of online shopping into the physical medium. For example, offer an app or kiosk that a customer can check to quickly discover if an item is currently available. Whether it's through technology or customer service, there is a definite expectation from consumers that information should be instantaneously available to them.
Automate the Sales Process with Self-Serve Kiosks
Kiosks can serve two purposes: supply customers with information and allow them to purchase products. Although survey participants perceived this as the least valuable business model for technology investments, kiosk technology may prove to be a valuable tool in brick-and-mortar's efforts to keep pace with the convenience of e-commerce.
Millennials, who are more accustomed to using technology to acquire information, especially tend to gravitate toward kiosks to glean information and place orders, rather than standing in line and interacting with salespeople who may need to check a computer or consult with another employee themselves. As people increasingly become reliant on technology as a source of information and gratification, this trend will likely continue.
Even a cursory glance at the quick service restaurant market shows the growing popularity of self-service kiosks. McDonalds, for example, has been using this model. By empowering consumers to order through a kiosk, their employees are freed to focus on delivery and other value-added tasks. Other markets, such as mass merchandisers and drugstores, are ripe for this type of technology, especially for high-end personal items to help avoid shrinkage problems due to theft, damage or administrative or cashier error.
Kiosks themselves have changed significantly over the last few years. Whereas they used to resemble PCs, they now offer a sleek, easy-to-use interface. In addition, kiosks are no longer bound to store locations. Retailers can offer their services in a variety of locations (again, potentially moving closer to where the consumer naturally gravitates) without the cost of investing in traditional brick-and-mortar. Remote kiosks can open new revenue channels and distribute products that retailers may not be able to sell in-store. Placing kiosks in high-traffic areas helps extend retailers' reach and shopping hours.
This innovation also increases operational efficiency by better managing inventory accuracy - a pain point that almost 70 percent of survey respondents mentioned - and allowing stores to cut down on staff. This both saves money and opens new opportunities for employees. Salesclerks can evolve into consultants who offer specialized knowledge on store products, able to field any questions or solve any problems that customers may have, a retail model like Apple's "geniuses." Retailers are also freed up to focus more on customer-facing and customer service tasks.
As technology advances, retail is changing, and business models are changing with it. The only way for brick-and-mortar to stay relevant is through technological innovation and embracing the new, competitive business models that this technology offers.
Download the 2020 Future of Retail Technology Survey Report
Insights from 306 global retailers on their technology investments, omni-channel strategies, technology implementation experiences and more.