The Power of Partnerships: Scaling Your Sustainability Startup
There is no shortage of sustainability startups and emerging eco-focused brands with innovative ideas, especially in the consumer packaged goods (CPG) market. Many have the potential to make a significant impact on our environment, but only if they can scale efficiently, without sacrificing the concept their business is built upon. Although there are challenges to overcome in the process, sustainability-minded startups don't have to choose between protecting the environment, scaling up and being profitable.
This is accomplished through mutually beneficial partnerships with manufacturing solutions providers. Startups can offer value to the market and our environment with their innovations, while manufacturers can increase that value by using their extensive resources, networks and overall support to expand market access.
Speed Bumps for Sustainability Brands
As a trade-off for the agility of startups or smaller brands with quick decision-making processes, they typically have relatively low revenue and must constantly raise capital to fund their concepts. And while being nimble means that innovations can take place more quickly, emptier coffers means that money can run out before hitting the sweet spot of full-fledged production.
Even though finances are one of the biggest challenges to startups' growth, it's not the only issue. As a new business, the existing supply chain that a startup relies upon may not be able to support scaled operations — and the startup may not have easy access to a more established supply chain that could meet their needs. This creates a bottleneck that can bring growth to a screeching halt.
Other hindrances include low-volume production (which increases cost per package) and limited capital for large-scale production. In addition, small companies may only have a few choices in sustainable packaging materials, form factors and sizes, since commissioning custom products isn't financially feasible. These common challenges can often be addressed by choosing the right manufacturing partner.
High-Volume Manufacturers Need a Sustainable Mindset and Infrastructure
Although larger companies have the capital, workforce, equipment and expertise needed to generate significant output, many are risk averse. Not only do the executives need to meet the expectations of shareholders and a board of directors, but it can also be difficult to get a larger group of employees on board with new concepts. Moving from the point of an initial idea to getting consumer packaged goods (CPG) on the shelf can be a long process in a large organization.
Consumers are another crucial group of stakeholders — and their demands for sustainable practices and products are growing louder by the day. In fact, according to Jabil's 2022 Sustainable Packaging Trends survey of CPG and sustainability decision-makers, 57% of them are motivated by customer demand to deliver sustainable packaging.
Without equipment designed for sustainability materials and output, some manufacturers may try to shoehorn sustainable packaging solutions and processes into their existing systems. Imagine trying to fit a square peg into a round hole; it might eventually fit, but it won't be easy.
Download Jabil's 2022 Sustainable Packaging Trends Survey Report.
Without equipment designed for sustainability materials and output, some manufacturers may try to shoehorn sustainable packaging and processes into their existing systems. Imagine trying to fit a square peg into a round hole; it might eventually fit, but it won't be easy.
Fortunately, there are companies, like Jabil, that already have sustainability practices imbued into their culture and built into their processes. Through technology leadership, manufacturing excellence, and time-to-market advantages, a manufacturing partner can help sustainability startups end-to-end.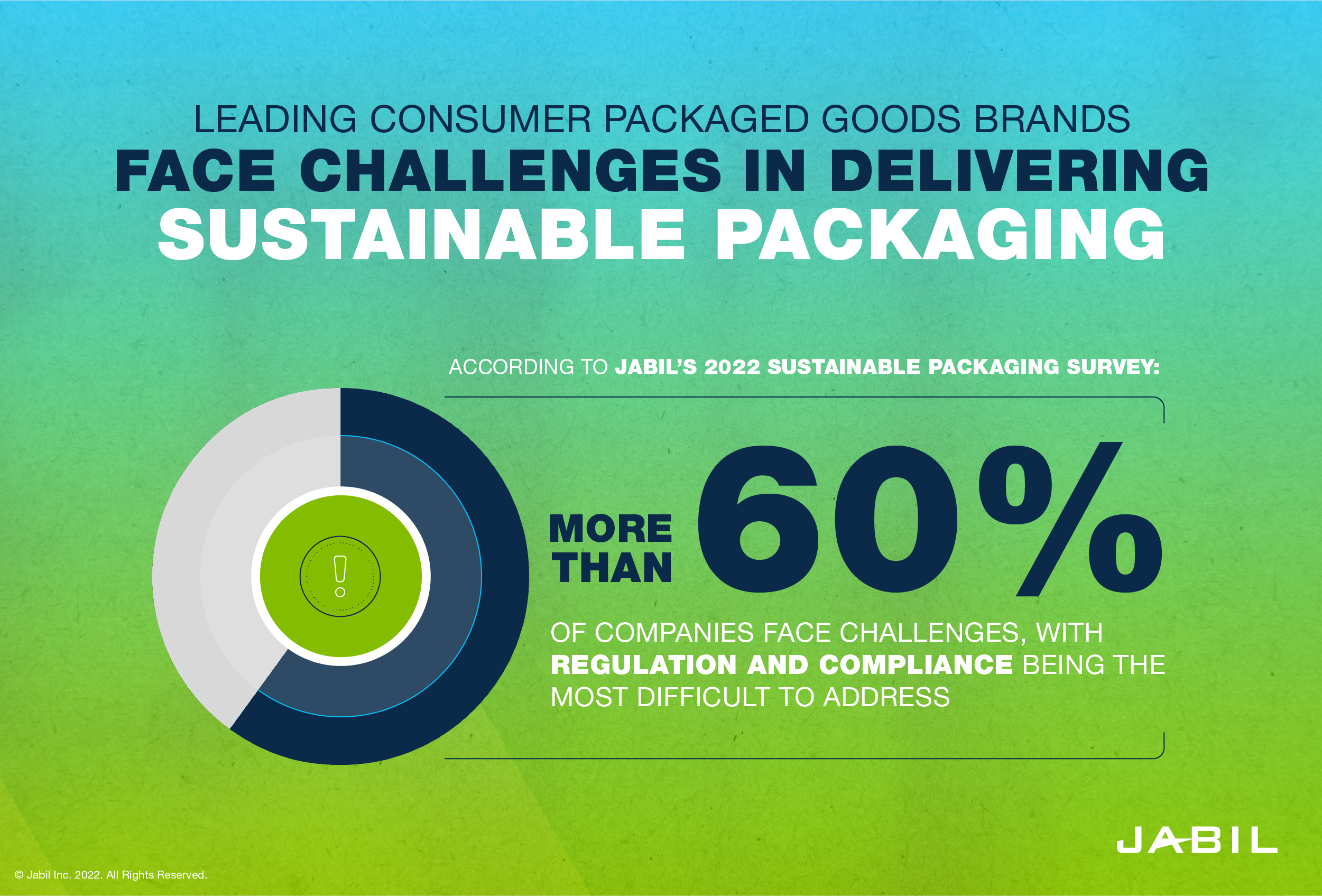 Synergy Creates Sustainable Packaging Solutions
Partnerships between smaller eco-focused CPGs and established manufacturers can make great strides in reducing the environmental impact when they work together to leverage each other's strengths. Let's look at a few key examples:
Faster Failure
Startups and small companies typically invest a significant amount of their time into innovating and implementing new concepts and products. With a smaller circle of decision-makers, startups have enviable agility and faster failure. "When you put yourself in the habit of failing fast and failing often, you'll also put yourself in the habit of getting better about finding multiple ways to win from every choice you make in the long run — even if it doesn't produce an immediate financial payoff," says futurist Scott Steinberg, who also calls this fast failure concept an ethos for high growth.
The nimbleness and "fail fast" mentality of emerging sustainability brands can help drive innovation when working with their manufacturing partner. In addition, when smaller companies bring products with proof of concept and small-scale fulfillment to the manufacturer, they have effectively completed many of the early stages of new product introduction, like design and prototyping, that can sometimes lag in larger manufacturing providers.
Size Matters
Manufacturers have access to more capital, a larger workforce, bigger facilities and multiple sites strategically located near consumer markets. These expansive resources can activate "hockey stick growth" for a small CPG that has already achieved product market fit.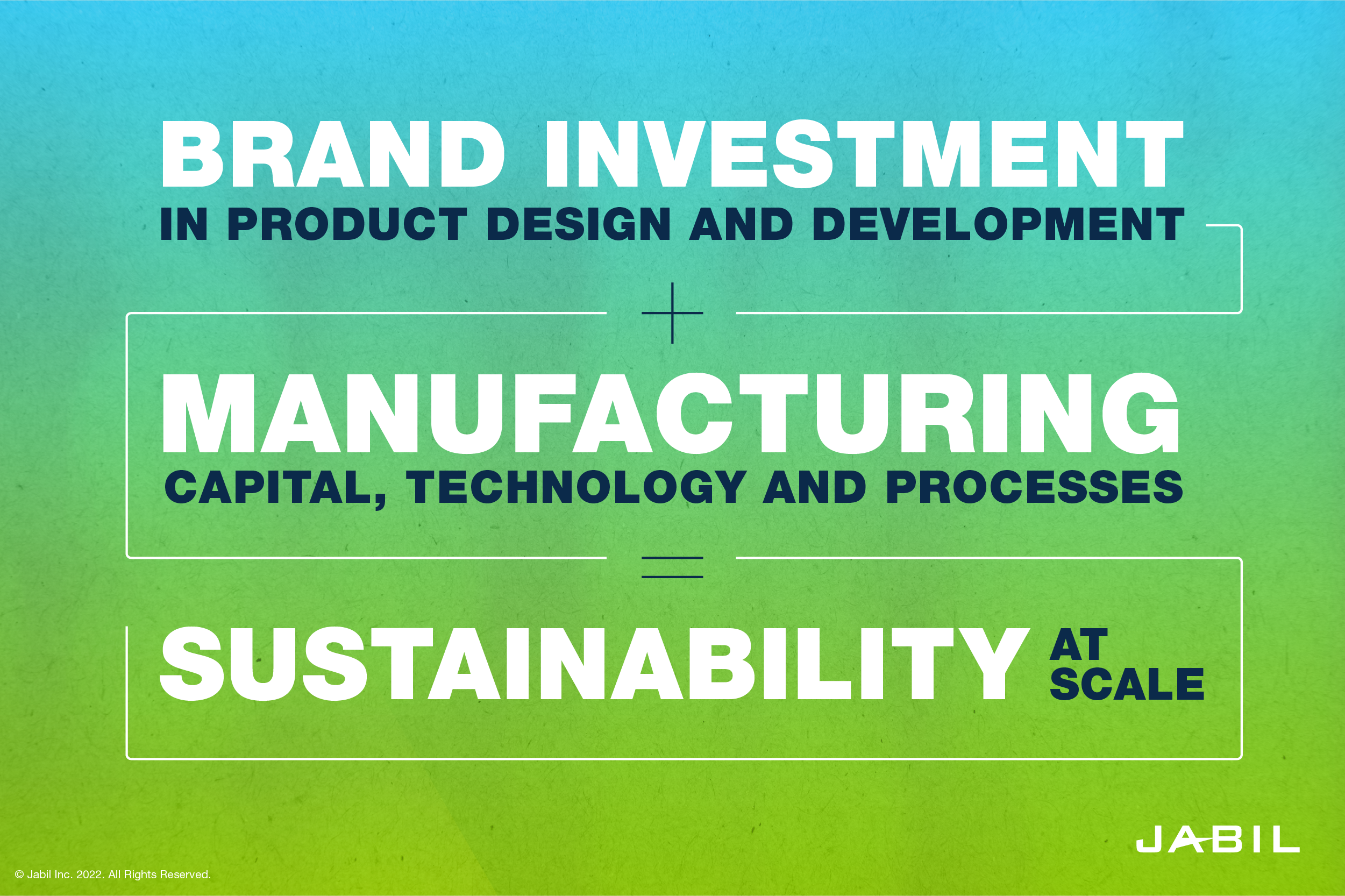 Although the startup and manufacturer may need to work together to tweak the startup's proposed design, a great deal of the concepting and testing has already been done. The manufacturer can then leverage their size advantage in procurement, process design and more to turn the product from concept to reality.
For example, it is much more cost effective for manufacturing solutions providers to procure materials like alternative resins as part of their larger spend with a particular supplier than it would be for a smaller CPG to attempt to purchase the material on their own. Similarly, a manufacturer can use their expertise in processes like high volume molding to design larger cavitation tooling with faster cycle times — bringing new products to market faster — or creating custom automations to reduce labor costs and increase efficiency in the manufacturing process.
The Power of Process
Companies that apply manufacturing standards, like ISO or Lean Six Sigma, to their operations can be stalwarts in the realm of processes, quality control and problem-solving. This is especially true in the sustainable packaging space, which requires significant understanding of certifications and standards, alternative material procurement, alternative material conversion and many other critical factors.
With expertise across many disciplines, a portfolio of existing solutions and well-established supplier relationship management programs, manufacturers with experience in sustainable packaging production can build upon the success of the startup and deliver scale. Having multiple manufacturing facilities closer to end markets reduces carbon footprint with efficient deliveries and further accelerates production scaling.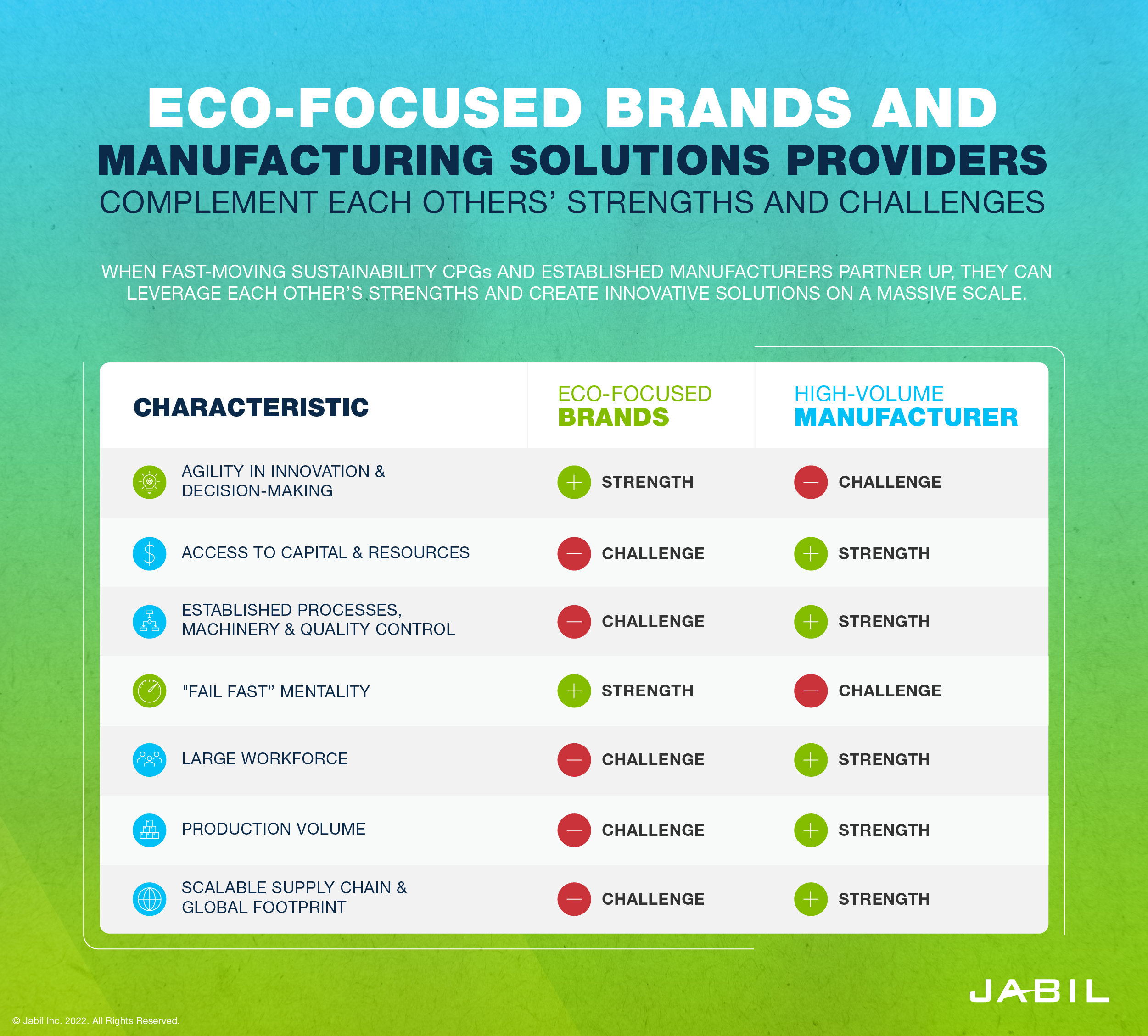 The Best of Both Worlds
In 2008, I envisioned a world in which my family had choices for their household products that didn't involve single-use plastic packaging. After seeing the possibilities of fiber molding, I created the eco.bottle®, a hybrid bottle made of a thick paper outer shell and a thin plastic inner liner, and launched Ecologic.
In the early years of Ecologic, we spent time inventing and iterating molding, assembly and die cutting processes, which was time-consuming and took me away from other key aspects of the business. When we partnered with Jabil, they were able to significantly accelerate this process and increase overall output by leveraging their current infrastructure and relationships with suppliers. And since they already had ambitious sustainability goals and KPIs in place, it was a powerful combination.
With financial, supply chain and manufacturing support from Jabil — which acquired Ecologic in 2021 — Ecologic continues to grow in sustainable packaging adoption and in size. This relationship has empowered us to continue improving and innovating eco-friendly products that enhance recyclability and reduce waste.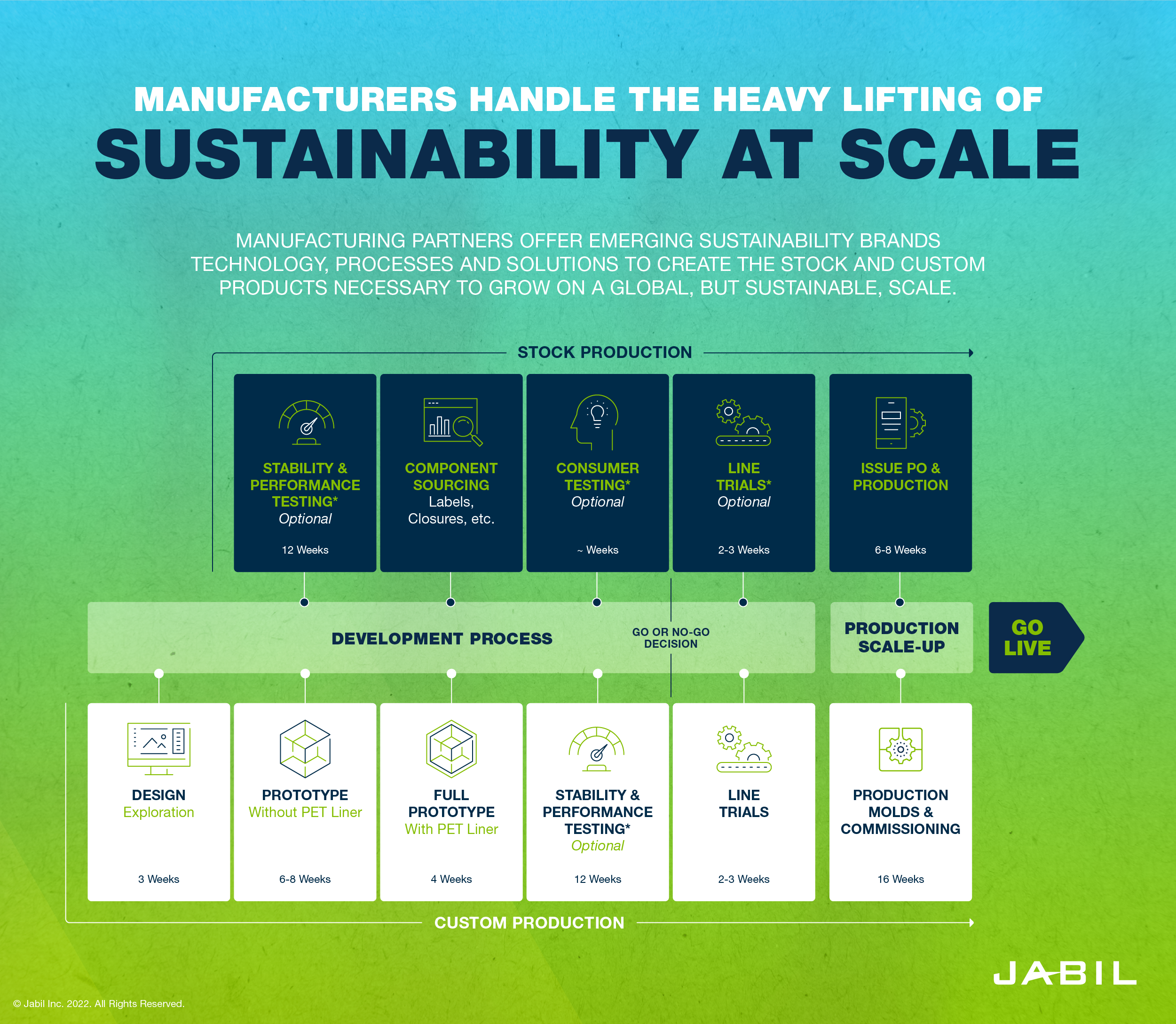 Finding Your Ideal Partner
Ecologic isn't alone. The 2022 Jabil Sustainable Packaging Trends Survey revealed that 67% of companies plan to work with partners that have expertise in sustainable packaging, up from 52% in 2019. Partnerships are a big trend in the sustainable packaging landscape — many companies recognize reducing waste is not something one company can accomplish on its own.
Emerging sustainable brands should consider the impact of their current manufacturing footprint, such as:
Material selection
Existing equipment and machinery to produce sustainable packaging.
Existing processes (such as molding and packout) can also be revised, or automated for enhanced efficiency.
Increased production capacity through bigger tools and faster cycle times.
Stock packaging formats that optimize recyclability, leverage alternative materials and minimize material usage.
Reduced carbon footprint with packaging that prioritizes volumetric efficiency.
As with any relationship, it's critical to make sure the partnership is mutually beneficial. Combining the agility and innovation of eco-focused CPGs with the expansive, scalable capacity of a global manufacturer, the end result is powerful.
When both organizations place a high value on increased sustainability, they're able to move the needle faster when working together — and contribute to greater environmental protection sooner.
Download the Sustainable Packaging Trends Survey Report
Insights from over 180 packaging decision-makers at global enterprises on their sustainable packaging goals, initiatives and challenges.