Five Ways a Manufacturing Partner Can Support Your Sustainability Goals
As time ticks away on a crucial decade for slowing the effects of climate change, original equipment manufacturers (OEMs) are under enormous pressure to demonstrate tangible progress toward their own sustainability goals. For years, OEMs across geographies and industries have been developing sustainability strategies in response to consumer pressure and, increasingly, because it's the right thing to do. Through our expertise, knowledge and innovation, manufacturing solutions providers can help OEMs find the answers they need to reach their goals.
Companies are recognizing the importance of integrating sustainability into their overall business strategy as consumers grow increasingly critical of a lack of meaningful action on environmental issues. According to Edelman's 2023 Trust Barometer, a survey of consumer sentiment across 28 countries, 53% of respondents said businesses are not doing enough to address climate change. More than two-thirds of U.S. adults (69%) surveyed by Pew Research in April 2021 said they believe large companies and corporations aren't doing enough to help reduce the effects of climate change. Meanwhile, PwC's June 2022 Global Consumer Insights Pulse Survey found that, for 30% of consumers, environmental factors like a company's emissions reductions commitments often or always influence their decision to purchase a product or service from that company.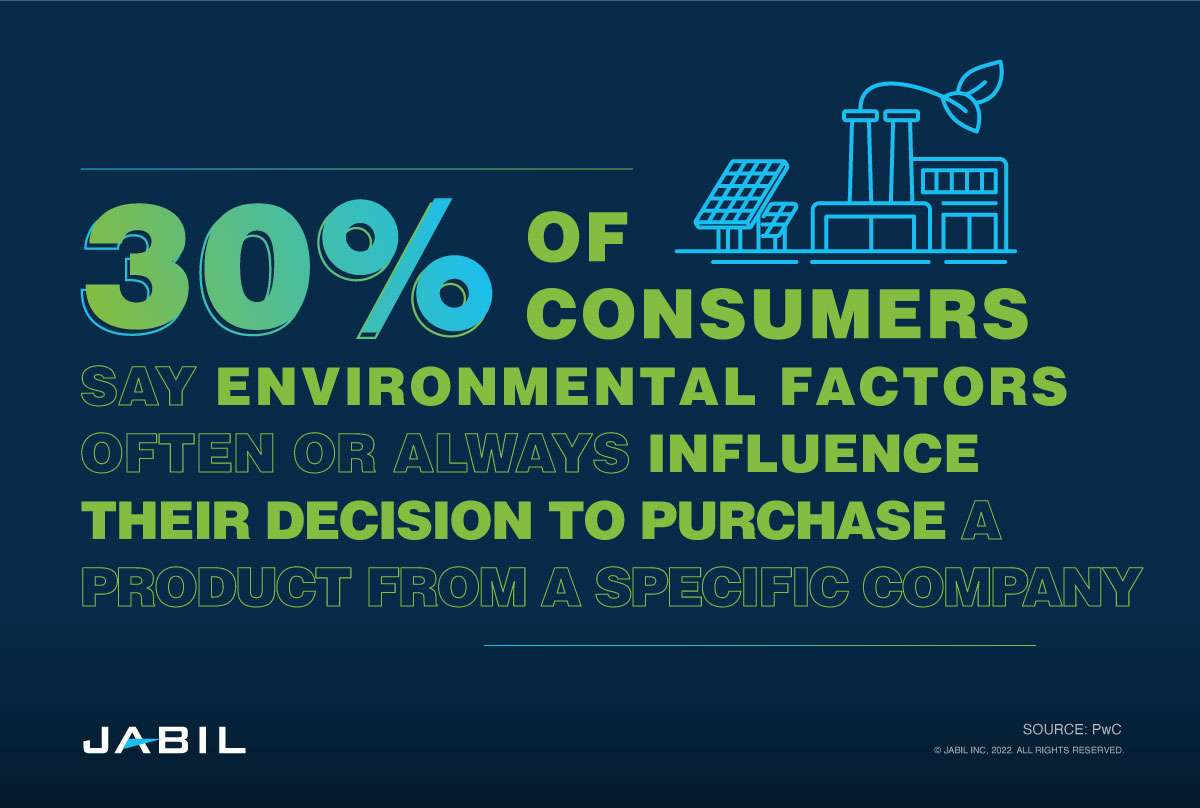 Many companies, including 96% of the S&P 500, have started issuing sustainability reports to publicly identify their targets for reducing their environmental footprint. But it's unclear if these reports matched data and goals with action items for meeting those goals. While the Harvard Business Review found that the number of corporate sustainability reports issued annually skyrocketed from essentially none in 2000 to more than 4,000 by 2016, that increase in reporting has corresponded with a steady increase in carbon emissions.
Consumer packaged goods companies (CPGs) have been at the forefront of tangible sustainability actions, as plastic packaging predominantly used by this industry has long been demonized for its long lifespan and proclivity for ending up in the natural environment. Plastic's many strengths, including sterility and light weight, have pushed companies to explore methods of plastic reduction as well as more environmentally friendly methods of its creation and disposal, rather than full scale elimination of the material. That's why 41% of CPGs have clearly defined sustainability goals — many integrating recycled materials into their packaging — with measurable targets, including timelines and reduction targets, based on a Jabil survey of packaging decision-makers. In fact, that's why many of them are committed to march toward building a circular economy.
It isn't just CPGs who are responsible for improving their sustainability. OEMs in a variety of industries, including consumer electronics, automotive and transportation, and even medical devices, are similarly engaged. Across the board, these companies are looking to reduce their greenhouse gas (GHG) emissions by creating climate action plans and integrating sustainable practices into their products and operations in order to meet consumer demand and ensure compliance with rapidly shifting government regulations.
We regularly engage with customers to help them do just that through:
Reducing a product's carbon footprint.
Redesigning packaging to be recyclable or reusable.
Integrating sustainable materials into product design.
Creating more sustainable logistics operations.
Ensuring a socially and environmentally responsible supply chain.
The tactics listed above are just one piece of the puzzle and they typically roll up into a larger enterprise strategy. Some of the most common sustainability strategies companies undertake include:
Reducing or reformulating packaging to incorporate materials like paper and compostable or biodegradable polymers.
Implementing sustainable design practices that use fewer natural resources.
Revamping the supply chain and suppliers to achieve industrial decarbonization.
Identifying opportunities to create efficiencies in order to reduce Scope 1 and 2 emissions.
Collaborating with suppliers and vendors along the value chain to reduce Scope 3 emissions.
Reducing the amount of material sent to landfills and moving toward zero waste to landfill through a strategic waste diversion program.
Communicating products' sustainability benefits and proper product disposal methods to consumers.
These, of course, can be challenging tasks. Achieving them requires overcoming obstacles posed by logistics, innovation and regulation, as well as time and effort from an ecosystem of stakeholders. But from a production perspective, a manufacturing partner like Jabil can help make them a reality.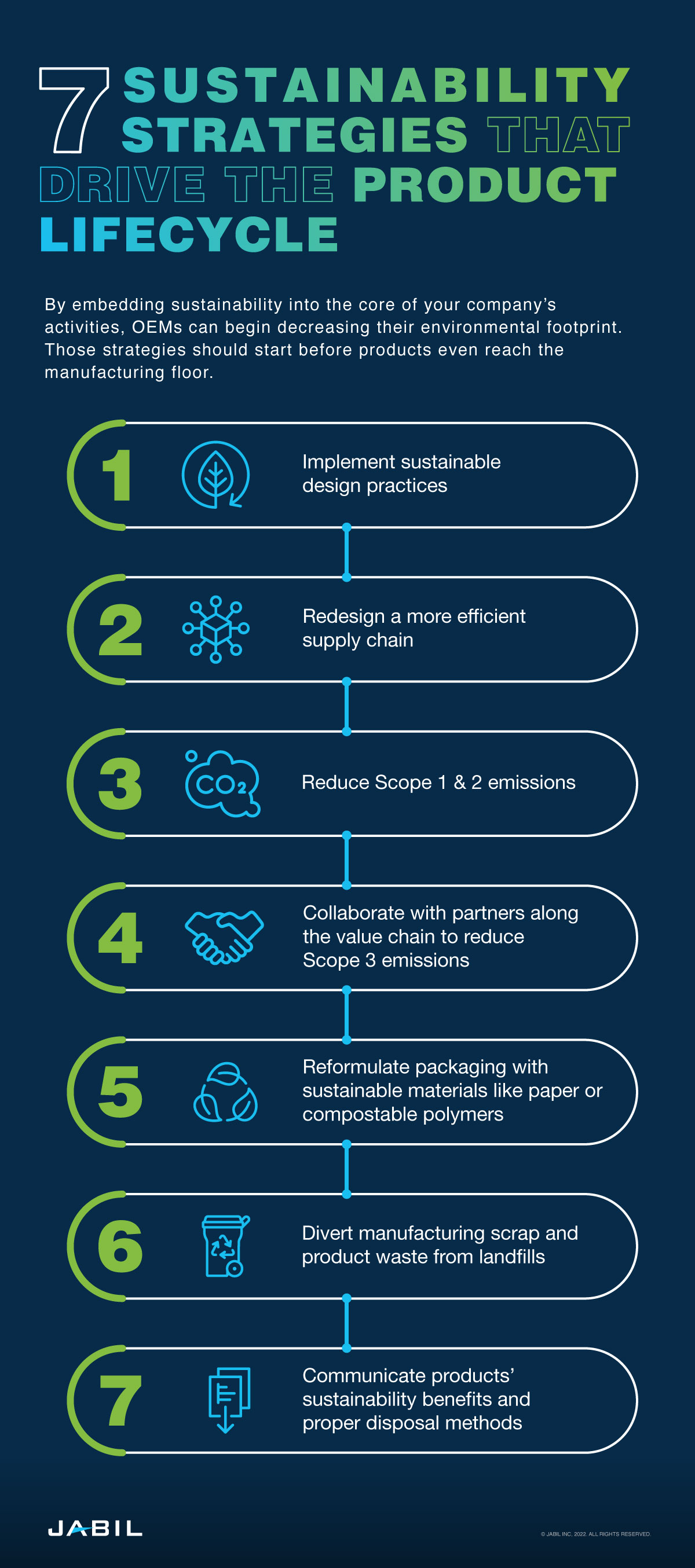 How a Manufacturing Partner can Support Your Sustainability Goals
Manufacturing solutions providers like Jabil have a unique perspective in the sustainability landscape. While we proactively manage our own environmental impacts, supporting our customers has provided us with deep knowledge of the unique sustainability challenges faced by a wide variety of industries, as well as best practices and expertise from which to draw.
At Jabil, we approach sustainability initiatives and discussions from a broad, end-to-end perspective. That includes examining how minimizing our environmental footprint can maximize our business outcomes; perhaps that's why Forbes ranked Jabil #6 on its Green Growth 50 2021 list, recognizing the 50 U.S. companies that have both grown their profits and cut their greenhouse gas emissions by the largest amounts since 2017.
This expertise we've garnered by working toward our own sustainability goals can also be leveraged to help our partners and customers reach their targets. Here are five ways manufacturing solutions providers can support your company's sustainability efforts:
1. Access to Best Practices and Experts Across Industries
Your manufacturing partner should have broad exposure in many industries. If your company is focused on telecommunications or healthcare, it is not uncommon to develop a sustainability plan based only on the strategies and innovations within your peer group.
The value of working with a diversified manufacturing partner is having access to sustainability best practices and capabilities that transcend industry silos, while protecting customer IP. A partner like Jabil will have in-house expertise in end-to-end solutions across industries, from sustainable product and packaging designs that reduce carbon emissions to creating new, sustainable materials and redesigning logistics for energy efficiency.
We have delivered millions of dollars in savings from sustainable packaging solutions, including optimized processes, packaging design and sustainable logistics for world-leading products and consumer brands. We also help customers throughout the product life cycle, from product design and development to the end of life. By partnering with customers in the early design stage, we can design for sustainability, taking the product's entire lifecycle into consideration and driving circular economy principles.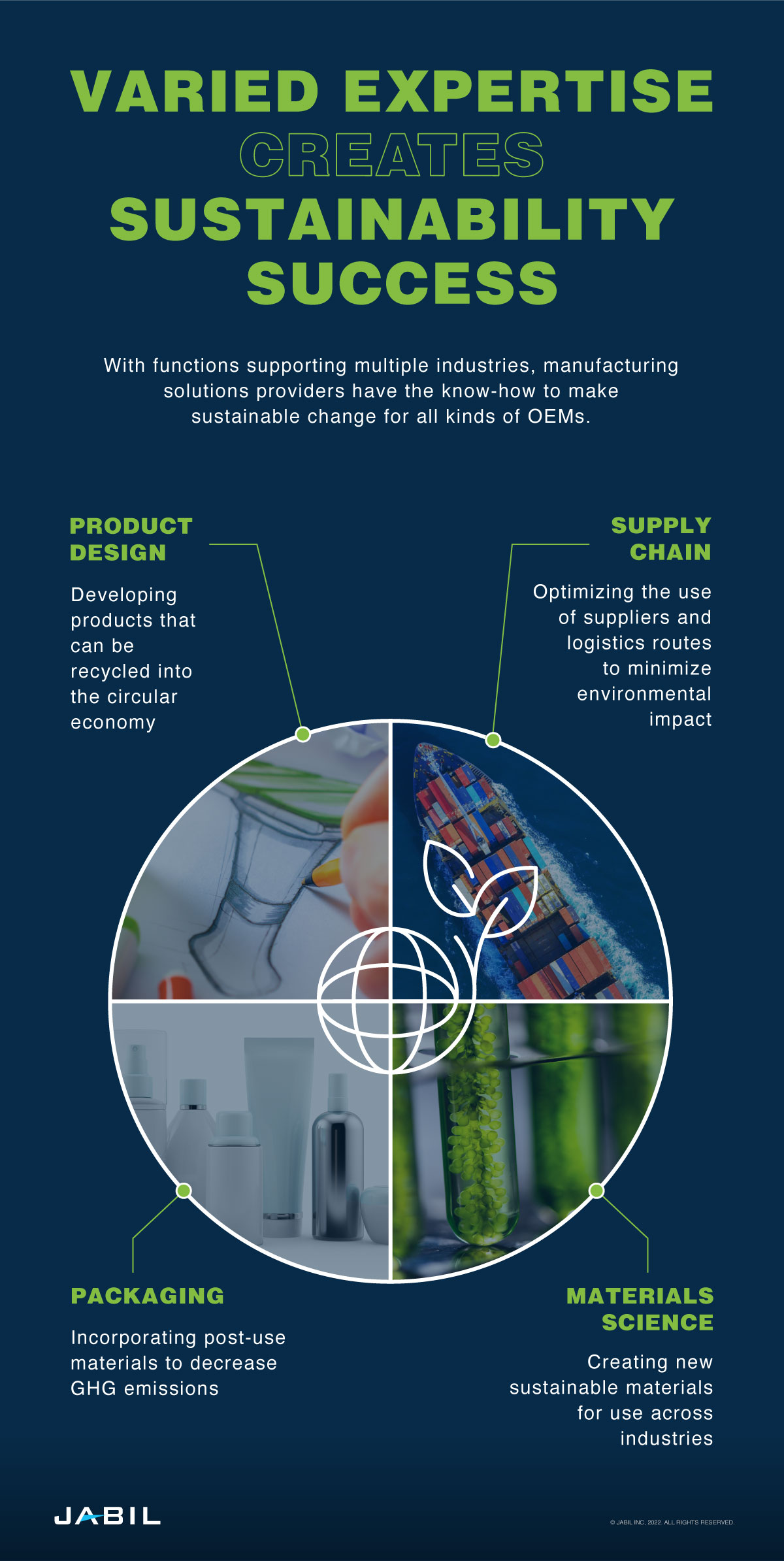 A manufacturing partner can bring you the agility needed, with the best practices that could give your company an edge against the competition. Collaboration between brands and manufacturers provides access to the industry's best design, engineering and next-generation technologies at an incredible scale and lasting partnerships which are essential to maximizing sustainability.
2. Shared Sustainability Commitments and Values
Fighting climate change through emissions reduction cannot be accomplished by organizations working independently from one another. In today's interconnected global supply network, collaboration between companies committed to sustainability is required to meet reduction targets. Because a company's Scope 3 emissions consist, in part, of the Scope 1 and Scope 2 emissions of the companies throughout their value chain, manufacturers can help organizations develop and implement reduction strategies that can be shared among their suppliers and vendors.
For most organizations, this process starts with a self-assessment of current emissions. Partnerships with environmentally conscious manufacturers who already measure and report their own emissions will help this part of the journey happen more seamlessly. They can also offer guidance and support the implementation of automated software and data management tools that will be necessary for ongoing emissions reporting.
Additionally, by partnering with manufacturers, brands can address the sustainability of their product's entire life cycle from the time it's just a sketch on a white board. By optimizing product design through sustainable design principles like using materials with low carbon footprints, incorporating recycled materials, increasing recyclability and using fewer materials overall, companies and manufacturers can accelerate the movement toward industrial decarbonization. Manufacturing partners who manage huge numbers of parts and suppliers have the relationships and purchasing power necessary to help you find responsibly sourced materials from reliable suppliers.
At Jabil, we have put these ideas into action. As we outlined in Jabil's 2022 Sustainability Report, our strategies have generated a 23% decrease in GHG emissions from the fiscal year 2019 baseline. In FY22, approximately 1.17 million metric tons CO2e were avoided using renewable energy. We are also dedicated to sharing these values and being a sustainability partner for customers. For example, over the last few years, we have supported content delivery network (CDN) services provider Akamai Technologies to improve efficiency, reduce cost and reduce greenhouse gas emissions by an estimated 800 metric tons CO2e.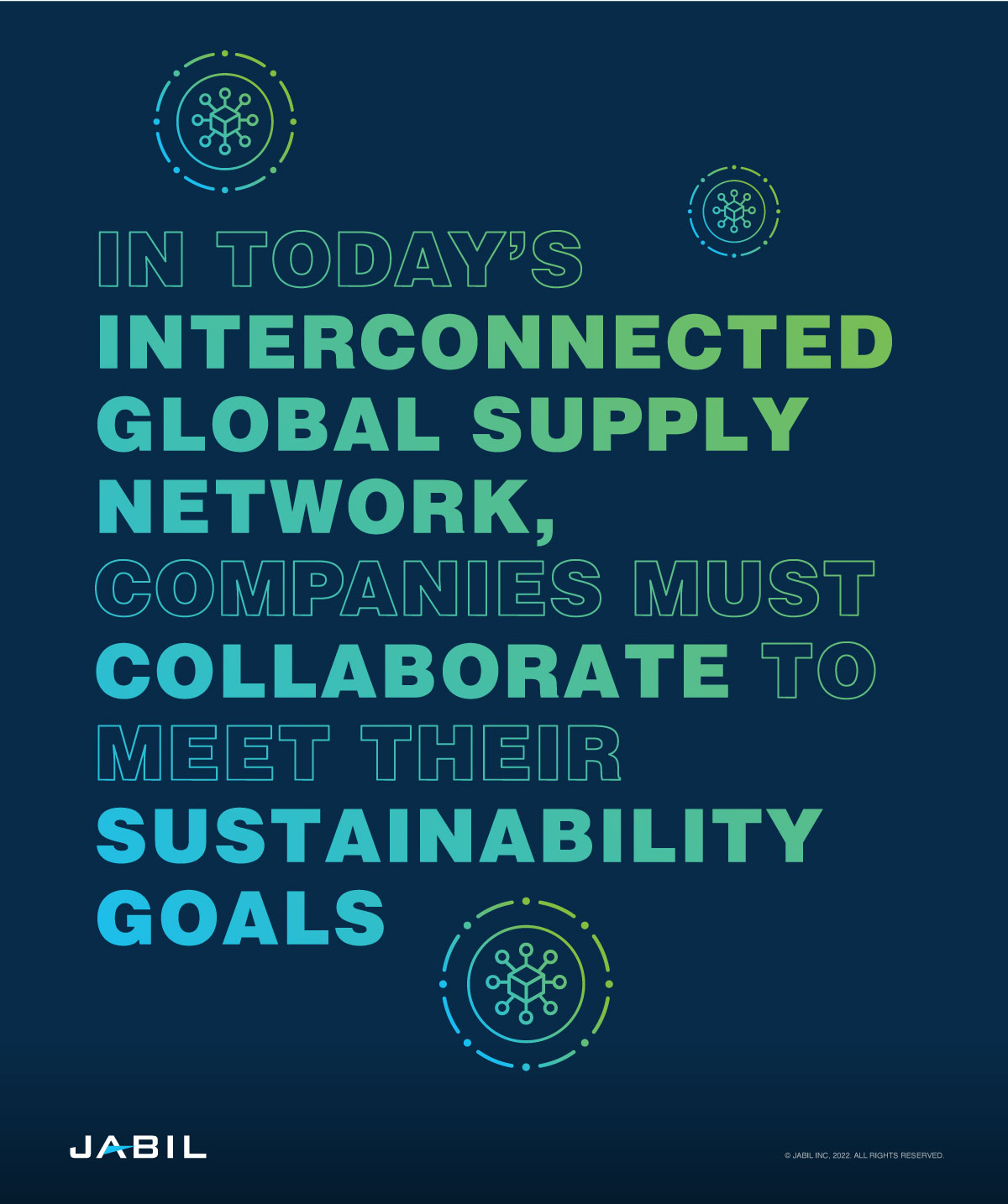 3. Supply Chain Optimization for Sustainability
When optimizing for sustainability, companies must consider both the upstream and downstream supply chains. For procurement, a supply chain network optimization tool that provides end-to-end visibility is critical for gathering standard data (price, life cycle curves) as well as for determining the most environmentally conscious supply decisions.
Jabil InControl provides real-time visibility and actionable insights into the company's massive global supply chain, spanning 27,000 suppliers, 700,000 part numbers, and over 100 manufacturing plants in 30 countries — offering our customers the lowest landed cost and the lowest logistics-related emissions factor. As a result, we achieve millions in emissions savings through process optimization, packaging design and sustainable logistics for the world's leading consumer brands and products.
Once consumers have finished using those products, manufacturing partners can help develop a structured waste diversion program to ensure materials and components are reintegrated into the circular economy and little or zero waste ends up in landfills. For example, in FY22, 99% of Jabil sites adopted a standardized waste stewardship tool — aligning all sites' waste management programs and goals, while also identifying mature site programs that could be replicated at other locations and pinpointing those that may require improvement. This type of waste diversion standardization is particularly important for electronics brands generating e-waste, the world's fastest growing source of trash.
We help our customers address two main challenges when it comes to e-waste: managing a complex reverse supply chain and a fragmented web of suppliers, and doing so in a manner that is transparent, secures IP and data, and protects their brand's reputation. Today, Jabil's Circular Services provide brands with confidence, capabilities and vision to transform their electronic sustainability operations by:
Deploying solutions that protect brand, data and IP security in a fully transparent manner.
Plugging into our comprehensive, single-sourced end-to-end capabilities tailored to meet electronics sustainability needs.
Creating a circular economy from raw material harvesting and reuse to part harvesting and profit sharing ensuring financial gains are inseparable from a sustainable future.
Recovering materials through an environmentally friendly process.
Ensuring materials are recycled properly is critical for cutting emissions and building more resilient supply chains. Manufacturing solutions providers are perfectly positioned to help companies create a more efficient, sustainable end of life for their products through the circular economy.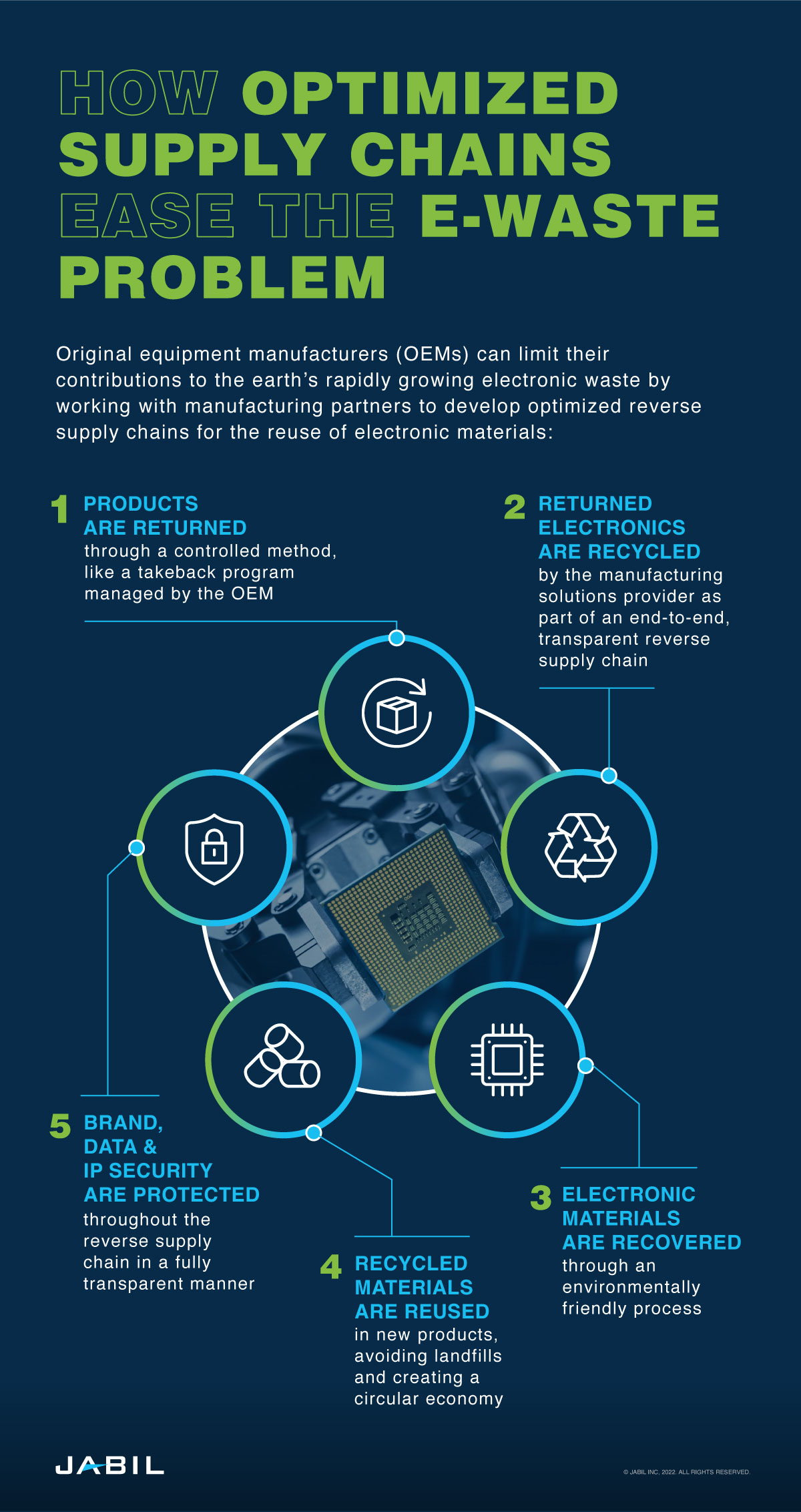 4. Creating a Circular Economy
The circular economy is the area where I think we can have one of the biggest impacts on sustainability. Every time we make something, materials are taken from the earth, with — typically nonrenewable — resources like energy and water used to convert those materials into a new component and ultimately a finished product. Historically, I believe we've all been a bit too keen to throw away products into a landfill once we've finished using them. Often, at least some of the materials in that product are still functional, and if we can return them to a useful purpose, that will reduce the impact of the water and energy used to make the original product. It will also reduce our reliance on virgin natural resources to create new products, thus lessening the environmental degradation done to the land and sea through mining and oil drilling.
From our experience of creating six circular economy projects within Jabil, our teams have learned that reusing materials in the manufacturing of new products uses about 90% less energy than using raw materials in that same process. That is a win-win situation for both manufacturers and our customers. Through the circular economy, brands can recapture parts of their products through our manufacturing processes, while manufacturers spend less on raw materials — delivering a cost savings for brands that they can pass on to the final consumers.
One example of those circular economy projects is at Jabil's Maple Grove, Minnesota, facility, where we reprocess medical devices as part of our partnership with SterilMed, a Johnson & Johnson company. At the facility, our team collects, cleans, inspects, functionally tests and packages specific invasive and noninvasive medical devices, including imaging catheters, laparoscopic devices, compression sleeves and patient monitoring devices. A third-party facility completes the final sterilization before the devices are sent back to the Maple Grove facility for shipping to the customer. Reprocessed devices must meet or surpass the standards OEMs have for their new devices — but they cost 40–60% less than new devices and eliminate waste from landfills. In a circular economy, business wins and sustainability wins go hand-in-hand.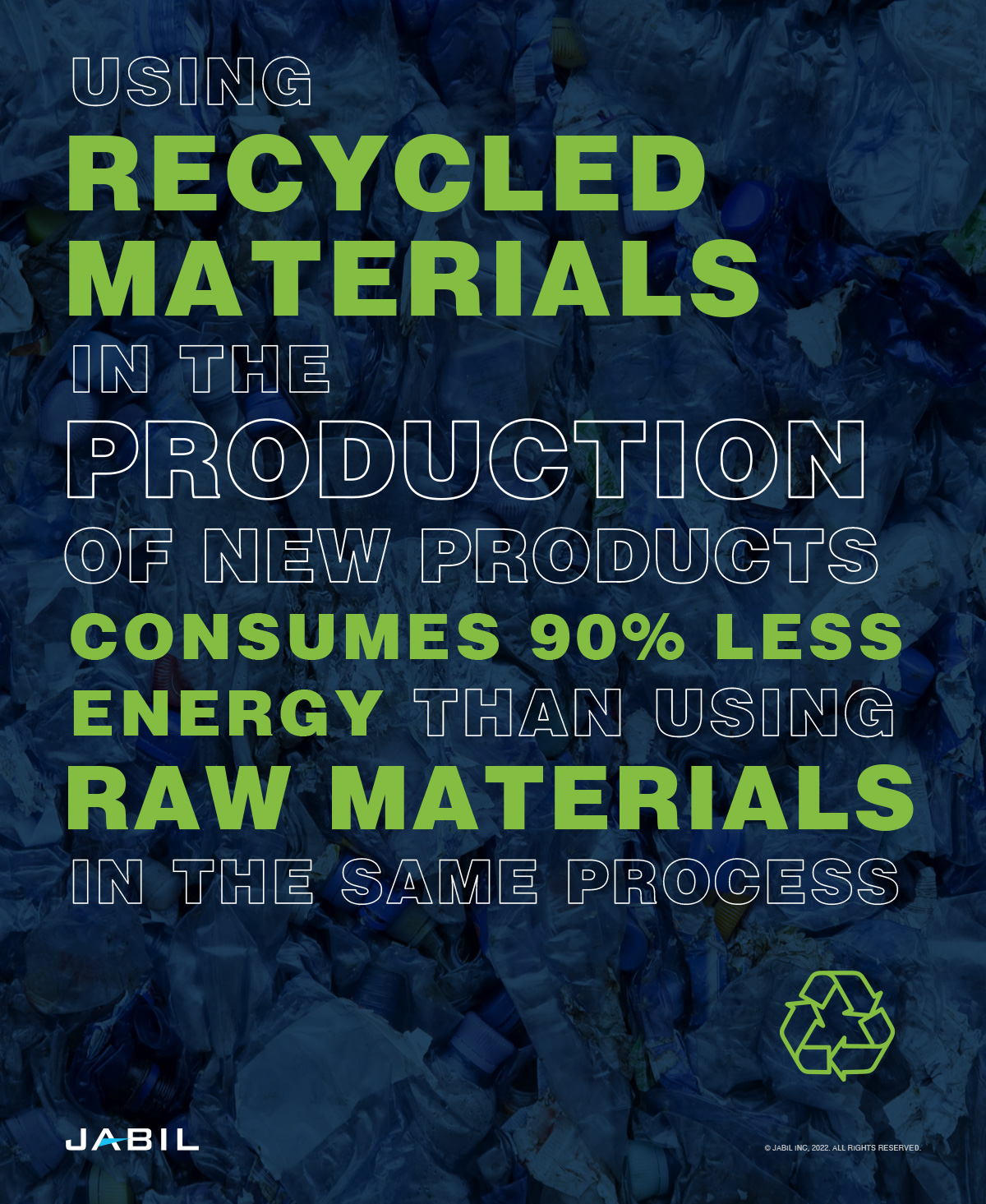 Developing circular economy solutions for customers is challenging, but the more you work with your partners to create those opportunities through innovation, the more that other companies can see the possibilities and will be interested in a similar solution for themselves.
5. One Source for Your Sustainability Needs
When you outsource your manufacturing, you put your trust in another company to play a vital role in achieving your sustainability (and business) goals. Working with a manufacturing partner like Jabil ensures sustainability is well integrated into every aspect of the product lifecycle — from materials and design to distribution and end-of-life. By keeping design, manufacturing and even recycling in-house Jabil can offer customers a seamless, end-to-end sustainability solution for their products. That's one way to ensure you don't have to work through the chaos of dealing with numerous solutions providers at once.
Mature manufacturing solutions providers can work with you throughout the entire product life cycle to develop a deep, end-to-end understanding of your product. If we help you determine the best practices for building it, we can also help determine the best practices for taking it apart, recycling it and reincorporating its post-use materials into the design of that or another product. Sophisticated manufacturers also understand the risks associated with the mishandling of products at the end of their life cycle, including potential penalties for violating environmental regulations. Considering manufacturers like Jabil must follow the same or similar sustainability policies as our customers, we prioritize compliance, transparency and trust among our partners.
Here's the bottom line: Sustainability is not a nice-to-have. It's a requirement of doing business today. While it's nice to set goals, the most important thing is to actually make progress on those goals. It is difficult for one company to source the necessary knowledge, juggle the moving parts and perfect the various processes on its own. As more companies outsource various parts of their operations, a manufacturing partner can be a strong ally and position them toward reaching their sustainability goals.
How can Jabil help you meet your sustainability goals? Contact us.
No matter how complex or demanding the project, we're helping today's eco-conscious innovators solve it. Get started with a trusted partner.