The disruptions in retail are no industry secret. Retail is changing faster than ever and with it will come new challenges and opportunities for consumers and brands alike. The good news? Traditional retail will survive, but in a new reality. The bad news? Uncertainty about the top retail trends and best technology investments is inhibiting many retailers from advancing into this reality.
When retailers are implementing new technology, they need to make sure that they're not just grabbing at the trendiest gadget or software; it needs to offer sizable value to the company. With the increasing emergence of affordable technology, many retailers are struggling to figure out where the biggest opportunities are and what can be most useful to them.
Even as disruptions continue, a knowledge of the industry is essential to corporate success. We determined eight of the most prominent trends in the retail industry:
Brick-and-Mortar Isn't Dead
At the end of 2017, more than 6,700 planned store closures were announced, surpassing the all-time high of 6,163 following the 2008 financial crisis. While an external economic force caused the 2008 closures, the recent closures were a result of changing consumer shopping behaviors and changes in retail technology. Even high-profile department stores such as Macy's and Lowe's have closed numerous locations. And with constant news of declining retail sales and bankruptcies, you wouldn't be remiss to assume that there is a retail apocalypse occurring.
However, all is not what it seems. E-commerce provides convenience, but brick-and-mortar provides an experience. Not only is retail surviving, but by some accounts, it's flourishing. In fact, a report from IHL found that U.S. retailers are opening 4,080 more stores in 2017 than they are closing.
Online stores—such as Amazon and Warby Parker—are moving into physical locations. For stores that sell clothing or accessories, this has the practical appeal of allowing customers to try on products before making a purchase. For other retailers, this provides a tangible experience for customers and opens an opportunity to engage consumers' spontaneity and desire for instant gratification. A physical presence also helps to fortify brand perception, serving as an effective marketing tool and giving an impression of confidence and financial stability.
Traditional stores aren't dying, but they are changing to take advantage of new technology as it advances, incorporating omni-channel solutions. In fact, 60 percent of retail decision makers in Jabil's 2018 Future of Retail Technology survey have affirmed that they are implementing omni-channel solutions. Download Jabil's Future of Retail Technology Report.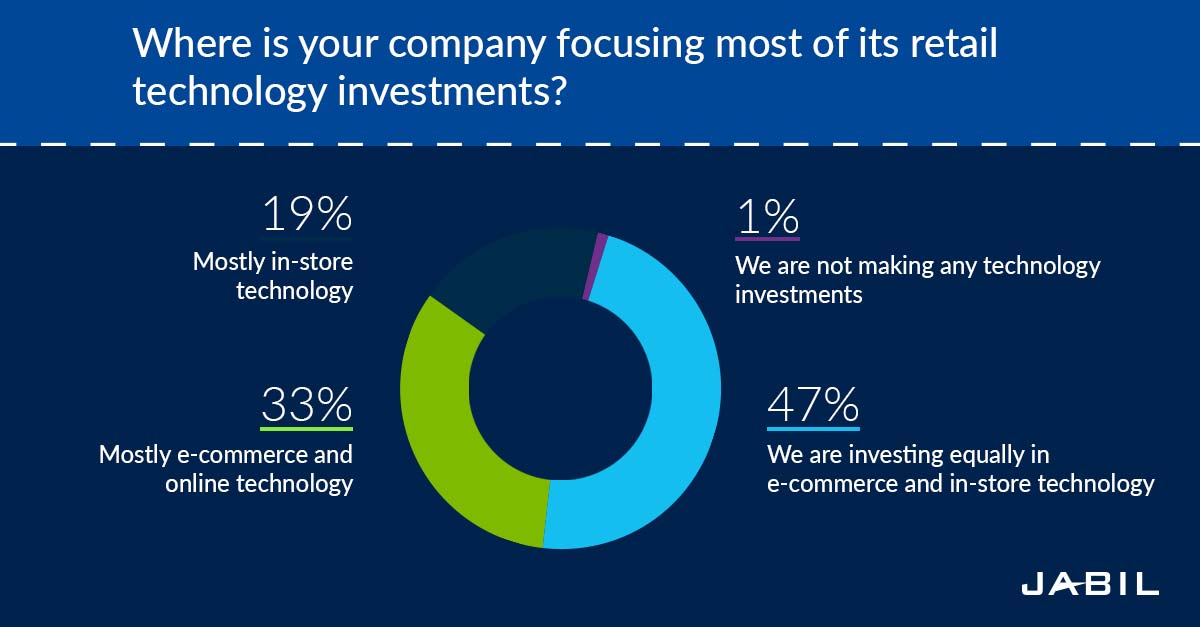 Personalization is Key to Retail Success
An increasing number of consumers are seeking a retail experience that has been tailored to suit their own personal shopping preferences. According to a study from Accenture, 75 percent of consumers are more likely to buy from a retailer that recognizes them by name, recommends options based on past purchases or knows their purchase history. Personalization also impacts how a consumer views a brand; 63 percent of consumers would regard a brand more favorably if it gave them content that was more valuable, interesting or relevant. For example, some makeup companies are experimenting with facial recognition technology. By peering into a smartphone app or a digital mirror at a cosmetics counter, the tech will recognize you, pull up your purchase history and offer personal makeover advice.
For digital stores, personalization is relatively simple. Many online retailers can utilize algorithms that remembers what shoppers purchased at previous sessions and offer similar products. For brick-and-mortar stores, personalization can be a bit more challenging, but with a spike in automated shopping experiences, retailers are striving to cater to the individual preferences of shoppers through methods such as targeted advertising and reward programs.
Changing the Retail Environment
Stores are no longer merely a location for the physical handling and exchange of goods. Customers don't go to stores for the convenience; they go for an experience. To remain relevant, brick-and-mortar stores need to create inventive ways to entertain and provide a pleasing environments for shoppers.
Many of us already see coffee shops as our "third place" after home and office. Retailers of the future will need to find new ways to bring people together and bring them into the brick and mortar locations where retail lives.
Two of the largest coffee providers in the world – Starbucks and Dunkin' – illustrate some of these changes. Starbucks leans more heavily on providing an experience; they offer an inviting ambience, nice seating areas and a cozy environment that entices people to stay while enjoying their beverage or snack. Dunkin' Donuts, on the other hand, is completely rebranding (starting with shortening its name to Dunkin') to be the coffee-on-the-go place. Customers can order in-store through kiosks or at home through an app, then pick up their joe on the way to work.
Coworking spaces will also become a part of the changing retail environment. Office supply store Staples partnered with Workbar, a coworking company, to launch spaces in three of their locations. Complete with a happy hour and retro music, the spaces have already drawn more than 200 people to sign up for the $130 per month memberships. This new business model helps shed light on how retail stores will survive moving forward, especially as brick-and-mortar becomes more of a pick-up location.
Automated Delivery Strategies are Turning Stores into Warehouses
Many companies are investing in one of the most prominent retail trends: automation. For example, many stores offer "click-and-collect," which allows customers to place an order online, then pick up their purchase at a designated location.
Target has introduced this concept with their "Drive Up" service. After making a purchase through the Target app, customers will receive a notification when their order is ready. They can then drive to the store, park in the designated spot and employees will load up their car.
There has also been a rise in vending machine applications and usage, and this surprising trend may prove to be key to future of automated retail, allowing customers to simply arrive at an established location, tap a few options on a screen, swipe their credit card and leave. Already, in Japan, vending machines are being used to purchase anything from flying fish soup to underwear to kittens.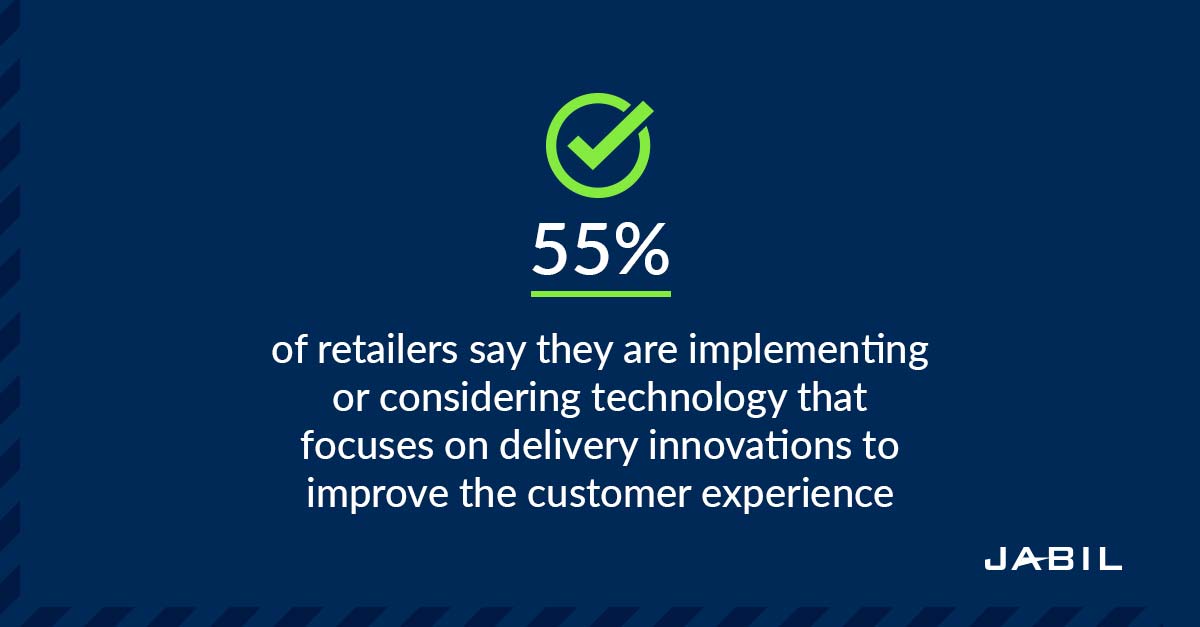 Lines and Cashiers Become Obsolete
Some stores are taking the automation trend beyond robotic employees. Retailers are investing in cashierless options, such as self-checkout machines and kiosks. Additionally, more stores may be following the Amazon Go model, which allows customers to simply pick up what they want to purchase and walk out the door; overhead cameras, weight sensors and deep learning technology detect the items each person is taking, and the "Just Walk Out" technology automatically charges their Amazon account for it.
This model has been amazingly successful, raking in approximately $2,700 of sales per square foot, surpassing virtually all other retailers, except for Apple and a few other specialty stores. The success of this store proves that Amazon has disrupted even the established self-service model of shopping with a model that makes better use of inventory and the retail footprint.
New Packaging Strategies Will Foster Loyalty
The path to purchase is complex and changing fast, whether it is online, mobile or in-store. The first and second moments of truth (selection and delivery respectively) need to be integrated. Packaging plays an important role in that integration, whether that be sustainable packaging, smart packaging that enables replenishment, or just packaging that delivers a great brand experience and ensures the product arrives in perfect condition.
One company that's leading the way in this space is Amazon. In the holiday season of 2017, it celebrated 10 years of frustration-free packaging, an initiative to delight customers by shipping products in easy-to-open boxes that use less excess materials and are 100 percent recyclable.
Amazon has also integrated auto-replenishment. Although some customers may enjoy the experience of going to the store to pick out a new outfit or prowl for the perfect accessory, few people relish the time it takes to buy detergent, diapers and other household necessities. Through solutions like Amazon's Dash Replenishment Service (DRS), for which Jabil Packaging Solutions was named a solutions provider, companies can offer a level of comfort and habit for the consumer, thus driving customer loyalty.
"Amazon works with manufacturers worldwide, helping them re-think and re-build their packaging, reducing waste throughout the supply chain while ensuring products are delivered to the customer undamaged," the company stated in a press release. All those factors have helped the company delight millions of customers and lock in their loyalty. Alas, while progress is being made on this front, there is far more needed to accommodate the new realities of the digital shelf through packaging innovations aligned to ensuring delivery of break-proof, leak-proof products for deep and wide e-commerce adoption and auto-replenishment for automating brand loyalty.
Using Beacons for Proximity Marketing and Analytics
Already utilized by several major retailers, including Macy's, Target, Urban Outfitters and CVS, beacons are small, battery-operated wireless devices that transmit Bluetooth signals to nearby smartphones. In a retail environment, these beacons can reach out to customers with phones that are Bluetooth-enabled and have the corresponding retail app downloaded. The retailer can then supply the customer with a wealth of information, such as promotions and new products that might interest them.
Retailers are also using beacons to track traffic flow throughout the store and pinpoint the busiest areas. This allows retailers to plot the placement of promotional items to high-traffic areas or create more space to accommodate shoppers.
Overall, this retail trend helps provide a quick, convenient shopping experience for time-poor consumers, thereby increasing brand loyalty, coaxing in customers and driving profits.
Major Growth for Voice Assistants
Although mass adoption is still out of reach, use of voice-activated assistants is on the rise. According to Juniper Research, voice assistants will be found in most U.S. homes in the span of just a couple of years. From the estimated 25 million in 2018, forecasts anticipate a jump to 275 million U.S. household voice assistants by 2023. That's a growth of 1,000 percent in five years.
These impressive statistics help illustrate how retail is changing into a more convenient experience with the help of Artificial Intelligence (AI). As AI becomes as ubiquitous as the smartphone did a decade ago, retailers must work with third parties like Alexa, Google Home and Siri, to stay in the game.
In our survey, 96 percent of retail decision makers believe that technology innovations will continue; 70 percent say that we should expect major disruptions. In just a few years, these slightly sci-fi seeming trends may be the norm; robots will be polishing grocery stores' linoleum floors, checkout may be entirely automated, stores may resemble theme parks more than the traditional retail space. This much is sure: retail is changing, the technology is growing and these retail trends are leading the way.
Walmart, for example, partnered with Google to offer hundreds of thousands of items through voice shopping by using Google Assistant. This increased level of automation will raise the bar for brands to encourage consumers to break habits and switch products based on voice-activated preferences.