Jabil Chihuahua Engineer Recognized as One of Mexico's Promising Engineers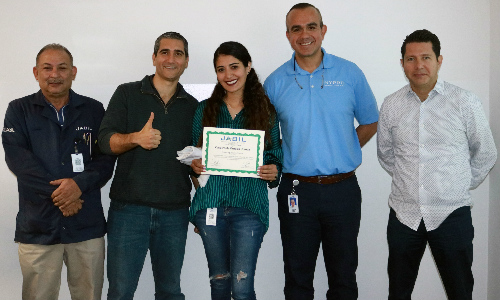 Gaining recognition as one of Mexico's "Promising Engineers" under the age of 30, or "Promesa de la Ingeniería Mexicana", Paola Ornelas is making big moves and bringing innovative changes to Jabil Chihuahua.
An aerospace engineer who joined Jabil after graduating college, Paola hasn't wasted time positively impacting our customers, employees and manufacturing processes. Demonstrating her passion for solving problems and using ingenuity to do so, Paola initiated a project that increased the number of units created for a customer, while reducing manufacturing time by 50%, saving thousands of dollars per month without increasing shift times.
Now as a manufacturing engineering supervisor, Paola's recent achievements and recognition have provided her work ethic some exposure to leadership, creating to a chance to work on future regional projects with business and operations.
As a Teenager
Since high school, Paola knew she wanted a career in a math-oriented field and went on to pursue an education in aerospace engineering in Chihuahua. She was fueled by the challenges the industry offered while also feeling passionate about representing women in a predominantly male industry.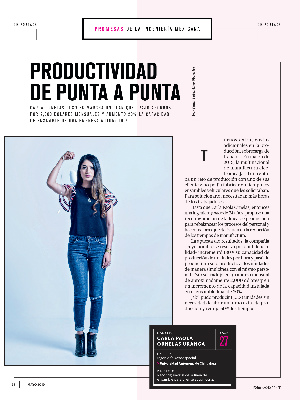 As she told Manufactura, the publisher that showcased Paola's achievements nationally, "Ever since I was in high school in my math course, there were four females versus 35 males" (Manufactura, May 2019). However, being outnumbered in class didn't stop Paola from pushing on to be an example for other women to achieve their greatest potential in mathematics and engineering.
Paying It Forward
One thing Paola liked best about the project that gained her recognition as one of Mexico's "Promising Engineers" was pushing people out of their comfort zones by leveraging her education background and career development of soft skills such as collaboration and communication. She hopes to continue to push others to achieve great goals, especially women in the field.
Paola was nominated along with 20 other young engineers across Jabil's Mexico sites, and she was chosen by the Expansion Group, one of the most prestigious and popular business publications in the country. Congratulations, Paola, and thank you for being a Jabil Joule!