Auburn Hills Regional Power Forum: Create Opportunities, Create Success
In a continuous effort to Educate, Mentor, and Connect employees, the Joules Regional Power Forums provide career development conversations and opportunities for Jabil's workforce. At the fifth and final Regional Power Forum of this fiscal year, 150 employees from our Auburn Hills facility spent an afternoon with peers from other U.S. sites and regional leadership learning how to take responsibility for their career to create their own success.
With a theme of "Create Opportunities, Create Success," event topics ranged from career planning, skills development, mentoring and personal growth. Insights were shared from multiple leaders in the organization, including Chief Executive Officer Mark Mondello.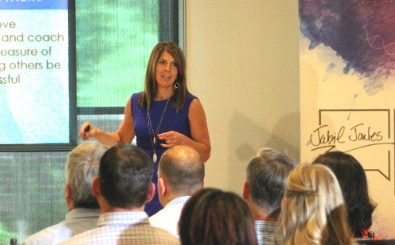 Brenda Chamulak, senior vice president and chief executive officer of Jabil Packaging Solutions, kicked off the event by highlighting her career journey, including the expectations versus realities of a successful career. She shared personal stories from her post-graduation idealistic approach to climbing the career ladder to her realization that a career is anything but linear. Chamulak inspired the attendees to embrace opportunities and take the twisting path that leads them to what their own success looks like.
The event also presented a panel session with Sharon Vinci, vice president of human resources, who led a discussion on how attendees can take control of their career journey. "Always make a point to reflect and learn from your own stories. Your career is not one straight line upward. It's personal," she said.
The panelists shared tactics employees can implement in their life. The first thing to keep in mind is to "not look at your career path in a vacuum because it will always change when you least expect it, and looking back, I wish I hadn't stressed so much," said John Mahaz, vice president of operations for Jabil's healthcare division. Mahaz shared how he became a single parent and had to redirect his career goals to include what was best for his family.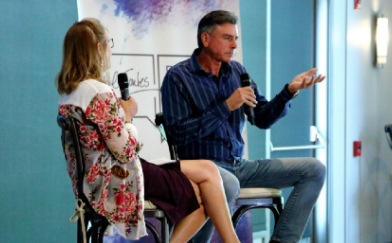 Sometimes your career doesn't always start how you want it to, as Anna Timms, director of marketing and panelist, explained. "When I started my career, I wasn't intentional because I was disappointed that I couldn't find a job that would use the degree that I studied hard for. Then, I became more involved at work and volunteered to join diverse projects with different teams. I was happy to find new career paths that were equally rewarding and fulfilling."
It's important to appreciate what you've accomplished thus far in your life and embrace your own diverse experiences. All employees should feel empowered to take charge of their career and not wait for someone else to do it for them.
Mondello added on, sharing things to keep in mind while you take charge of your career: "Be vulnerable. Understand what you've done, what's worked and what hasn't. It's what makes a good servant leader."
On creating your opportunities: "You want to kick down the door, but then realize there's no door. So, build one and then kick it down," our CEO shared, empowering the audience to go find new ways to do things, start a program that doesn't exist, or find a solution that has yet to be discovered.
On being a leader: "Be vulnerable, be consistent, take time to reflect on the wisdom you've accrued over the years and lead with empathy and compassion," Mondello said.
Senior Business Unit Manager Amie Angel also encouraged employees to think about the big picture, "You need to practice being a leader every day. Don't go in looking for a promotion without showing those around you each day how you're prepared to be a servant leader."
"Motivating employees to take charge of their career and find success – whatever that may look like for them individually – was the main goal of the Auburn Hills Regional Power Forum," said Senior Vice President Beth Walters, founder of Jabil Joules. "But so much more was shared...including authentic insights, personal setbacks and triumphs. It really was a great learning event!"
The inspiring support speakers gave the attendees demonstrated what the Joules program and Jabil Culture is all about, empowering the Jabil workforce to be the best versions of themselves.