A Leadership Toolkit: Empowering Your Teams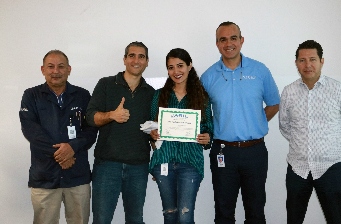 I began my Jabil career in our Jabil Emerging Leadership
Development Program, which gave me a special opportunity to test out different career paths and move around the company's core functions. Having that firsthand, grounded experience right away really helped my career growth and gave me confidence in my understanding of the Jabil business.
It's not only important to have diverse experiences for the sake of your career, but also it's important to share what you've learned along the way with others to help empower their career growth. Empowerment is an important part of the job description for any manager of people, turning you into a leader not just a manager. I have always considered Jabil's empowerment model and culture to be one of the core strengths of the company.
1. Empower is not solutioning
Along my career path, I've seen a few things work and not work in regard to empowering a team, things I learned by testing theories and observing. Here are a few lessons I learned that I hope inspire the next generation of our leaders:
Coaching your team on how to find a solution to their own challenges, not correcting their mistakes for them, is empowering them. It's about guiding them around the decision-making and judgment process. A simple way to implement this is when they come to you asking what they should do, encourage them by asking "What do you think?"
2. Acknowledge the passion
Real empowerment occurs when your team is passionate about doing something you don't believe will work, but you let them go with it anyway! I've done this many times, and sometimes I end up learning a lot myself since the employee's plan worked better than I could have expected. This also really builds their confidence and allows great teaching moments, whether it's for the leader or the direct report.
3. Encourage career exploration
People too often limit themselves on who we think they must be, and fear others can only see that employee as being good at the work in the function they are in now. This is a shame. There is not one size fits all career path, so it's great for people earlier in their career to try new things. I took full advantage of this mentality, joining Jabil's Leadership Development program and working in manufacturing, purchasing, business, etc. and I share this with my employees, encouraging them to do the same. The more exposure to diverse customers, industries and functions, the bigger your toolbox is and the stronger foundation you can build.
4. Rotating within your team
As for managers, a great thing I always encourage is to rotate folks. If you have two employees doing different jobs well for some period of time at the same level, then have them switch roles for a certain time period. I have done this on many occasions, switching production line managers between customer accounts, switching buyers and planners, and so on. It creates a more robust team and leaders can learn a lot about their team's agility. It also empowers employees to solve problems more inclusively with the more diverse experience they have in their toolkit.
Again, it's important to have your own diverse experiences and skillsets while also sharing those lessons learned along the way with others to help them continue to grow. Empowerment is a very important tool to have in your toolkit.
"I have always considered Jabil's empowerment model and culture to be one of the core strengths of the company."