Prioritizing Mental Health Globally
World Mental Health Day - October 10
The week of October 3-9 is recognized as Mental Health Awareness week with October 10 being World Mental Health Day, as observed by the World Health Organization. The goal is to put mental health and wellbeing in the spotlight, encouraging people to breakdown the stigma of mental illness and to get help that they or a loved one might need.
Jabil employees around the world have been promoting mental health and wellbeing throughout the year, providing programs, education and resources to help their colleagues.
Learning Together
Mental Health Day is a great opportunity to not only improve others' awareness and knowledge of mental health topics but to also improve your own.
At our Auburn Hills site in Michigan, employees are working to bring awareness to mental health issues and educate each other on best practices for improving mental wellbeing.
They've designed a wall decal for the factory to bring attention to mental health while mitigating the stigma surrounding mental illness. It also provides resources and tips to better take care of yourself.
The site has also started a three-month campaign focusing on different topics surrounding mental health each month. The first month, October, focuses on depression and dealing with loss. They're educating employees on the link between mental and physical health. The site has made an outdoor reflection area and invited a dietician to speak on the importance of a good diet and its connection to mental health.
In November, the site will focus on stress management with a heavy emphasis on recognition for veterans, while the third month will focus on work-life balance. They plan to recreate this campaign every year to provide a continuous learning opportunity for everyone at the site around mental health issues and how to improve them.
Helping Each Other
We're proud of the caring culture our employees have created for one another.
Employees at Jabil Chengdu have continued to support their colleagues through their localized Employee Assistance Program. This program includes monthly newsletters that give employees resources on varying wellbeing topics. For example, one recent newsletter focused on how to respond to emotionally-driven conversations and how to revive one's mental health afterward. These newsletters come with information for a 24/7 counseling hotline, which can be used in any situation an employee feels they might need assistance with their mental health.
The site has also started online courses to help get their employees grow their knowledge around various mental health and wellbeing topics, including employee engagement, sleep quality and self-care.
Stress management is another key area the site's leadership wants to focus on by hosting regular 'tea talks' where employees can discuss self-care and mental health. Another activity the site promoted, pictured below, was 'the mask knows my heart' activity, encouraging employees to use a creative outlet to relieve stress.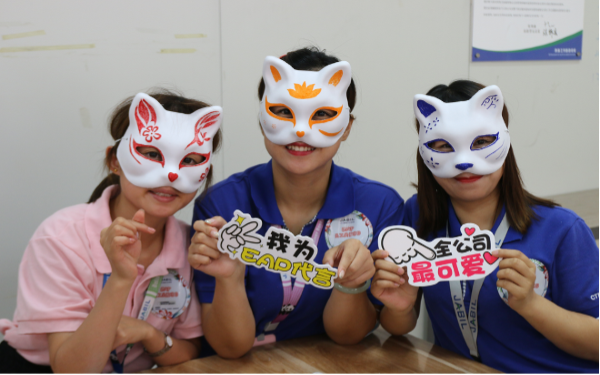 Chengdu's wellbeing initiatives have successfully engaged employees and showcased how our people help each other improve their mental health.
Educating For the Future
Training can have a significant impact on the way people handle mental health emergencies at the workplace.
Jabil Switzerland has also set mental wellbeing as a priority through their mental health trainings, as of March 2020. These trainings targeted people leaders, providing them guidelines in dealing with mental stress in the workplace. Nearly 150 people leaders throughout the Swiss-German sites have been training according to the "early detection approach" to promptly respond to cases of severe stress. These trainings were established in partnership with IRADIS, a local organization promoting mental distress prevention.
Jabil Switzerland didn't stop at training people leaders though. They also added mental health to their apprenticeship program. Vocational trainers at Jabil Bettlach and Hägendorf sites were introduced to the IRADIS workbook Look After Yourself: 10 Steps for Mental Health. Apprentices were taught to keep physically active, make time to be mindful and other stress management activities to incorporate in their daily routines.
On November 2, they're continuing their efforts with a panel discussion on the effects of the coronavirus pandemic on young people, including two of their own apprentices and a doctor from the Children and Youth Psychiatric Clinic Solothurn. They also plan to continue training their leaders on global health and wellbeing.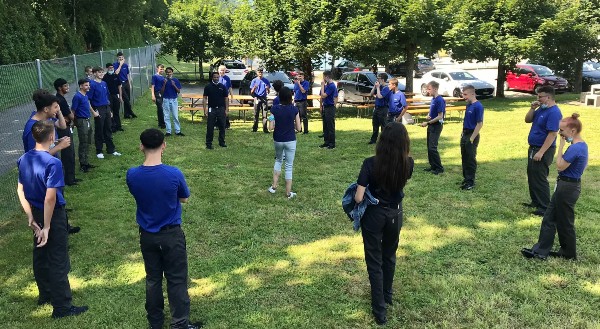 Providing Resources
In some cases, receiving medical resources and help from professionals can be the key to improving one's mental health.
Our team in Chihuahua, Mexico has been prioritizing the mental health of their employees by providing access to onsite psychologists. This project arose from the need to provide our employees with an easily accessible way to take care of their mental health.
This project is over a year and a half old and has been very successful, with human resources advertising services through internal communications to employees. The site currently has two psychologists who provide free care to our employees on an appointment basis. In the last year alone, they held 576 therapy sessions that supported 310 employees. Additionally, they support self-care in the workplace and teach wellness-related courses.
These sites, in addition to numerous others around the world, are helping to ensure Jabil employees feel safe, healthy and included, both in and out of work. Whether it's through education, resources or group activities, employees are making the lives of their peers better and stronger. Thank you to all the employees who have worked to improve the mental wellbeing of their peers!