Stepping Forward: Jabil Leaders, Women, Role Models
Female Leadership Development Program
Female leaders across our organization are driving success for our business, our customers and the communities in which we operate. We are proud to recognize some of these leaders who were nominated by Jabil leadership for the Manufacturing Institute's 2021 STEP Ahead Awards.
Each year since 2015, Jabil has participated in the Awards, which recognize women leading innovation and progress in the areas of science, technology, engineering and production (STEP).
This year's diverse group of nominees have been recognized for their outstanding achievements in the manufacturing industry, especially during the overwhelming challenges of last year, and for their dedication to helping others achieve success. These inspirational role models have challenged stereotypes throughout their careers and are paving the way for a more inclusive workforce.
These 14 women also make up the second cohort of an internal leadership development program that provides in-depth development in the areas of authentic and inclusive leadership, change management, and executive communications. They spend time with Jabil's CEO discussing topics related to the business, our customers and servant leadership. Integrated with the Jabil Joules platform, the six-month Stepping Forward development experience gives these women unique access to resources, guidance and internal networking opportunities to ensure they continue to grow in their careers.
A McKinsey study found that women, more often than men, demonstrate leadership characteristics that are highly applicable to future global challenges (2019), including: collaborative decision making; people development; effective communication; and expectations and rewards. Our Stepping Forward program works to continue to bolster these skills among the women participating, as well as to showcase these and more with their managers, other leaders at Jabil and the larger organization. This will ensure not only the sustained success of the 14 Stepping Forward participants and also help inspire the next generation and pave the way for future leaders to grow and succeed at Jabil.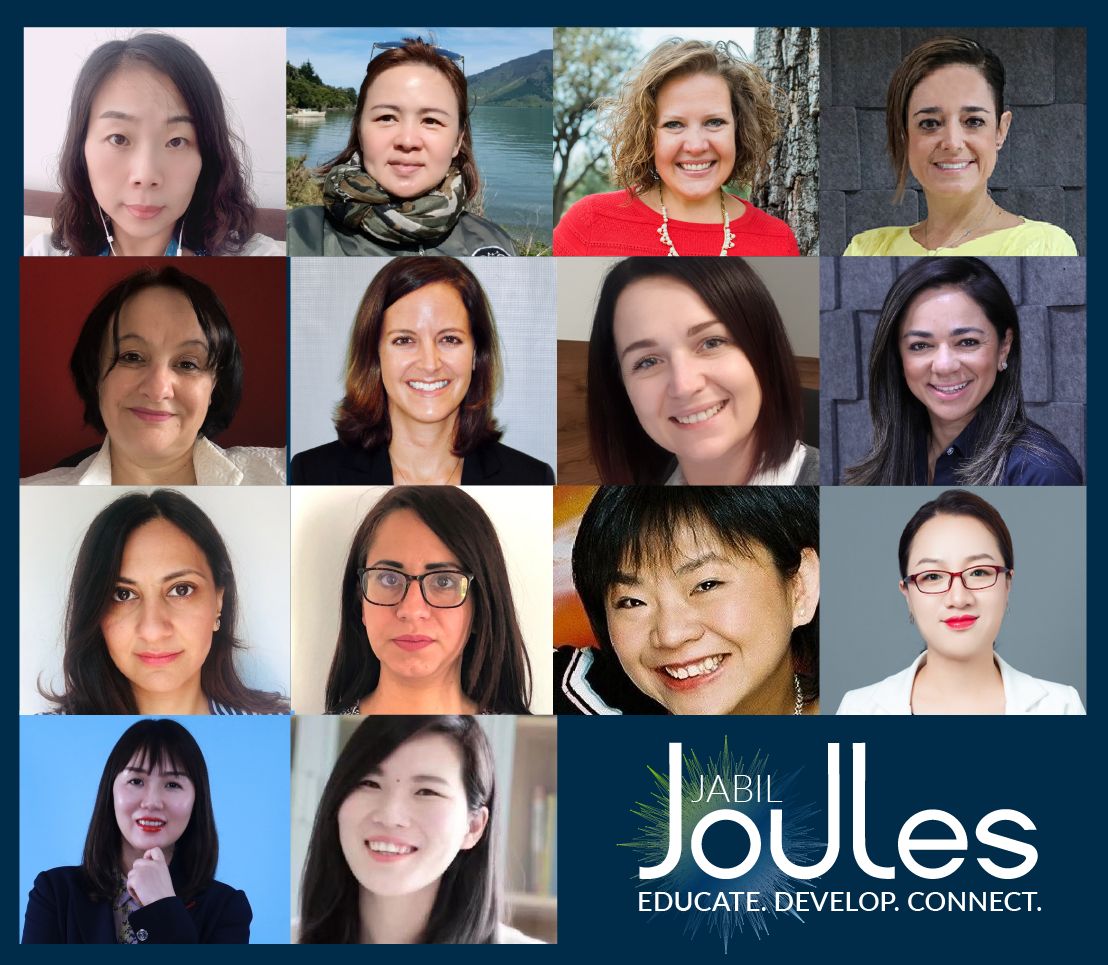 First Row Left to Right:
Amy Lv, Plant Lean Six Sigma Manager
Callie Neo, Supply Chain Management Director
Cheryl Goodwin, Business Unit Director
Cristina Ibarra, Senior Regional Human Resources Manager
Second Row Left to Right:
Dalila Jaganjac, Senior Strategic Planning Manager
Heidi Wirtz, Senior Global Lean Six Sigma Director
Joanna Janiszewska, Manufacturing Operations Manager
Josye Santiago, Senior Materials Manager
Third Row Left to Right:
Krishma Keshwara, Senior Strategic Planning Director
Maria Urias, Manufacturing Engineer
May Yap, Senior Vice President and Chief Information Officer
Meibao Xu, Manufacturing Engineering Operations Manager
Fourth Row Left to Right:
Nina Yang, Environmental, Health & Safety Manager
Yoyo You, Senior Business Unit Director