Wuxi's Regional Power Forum: The Power of Beauty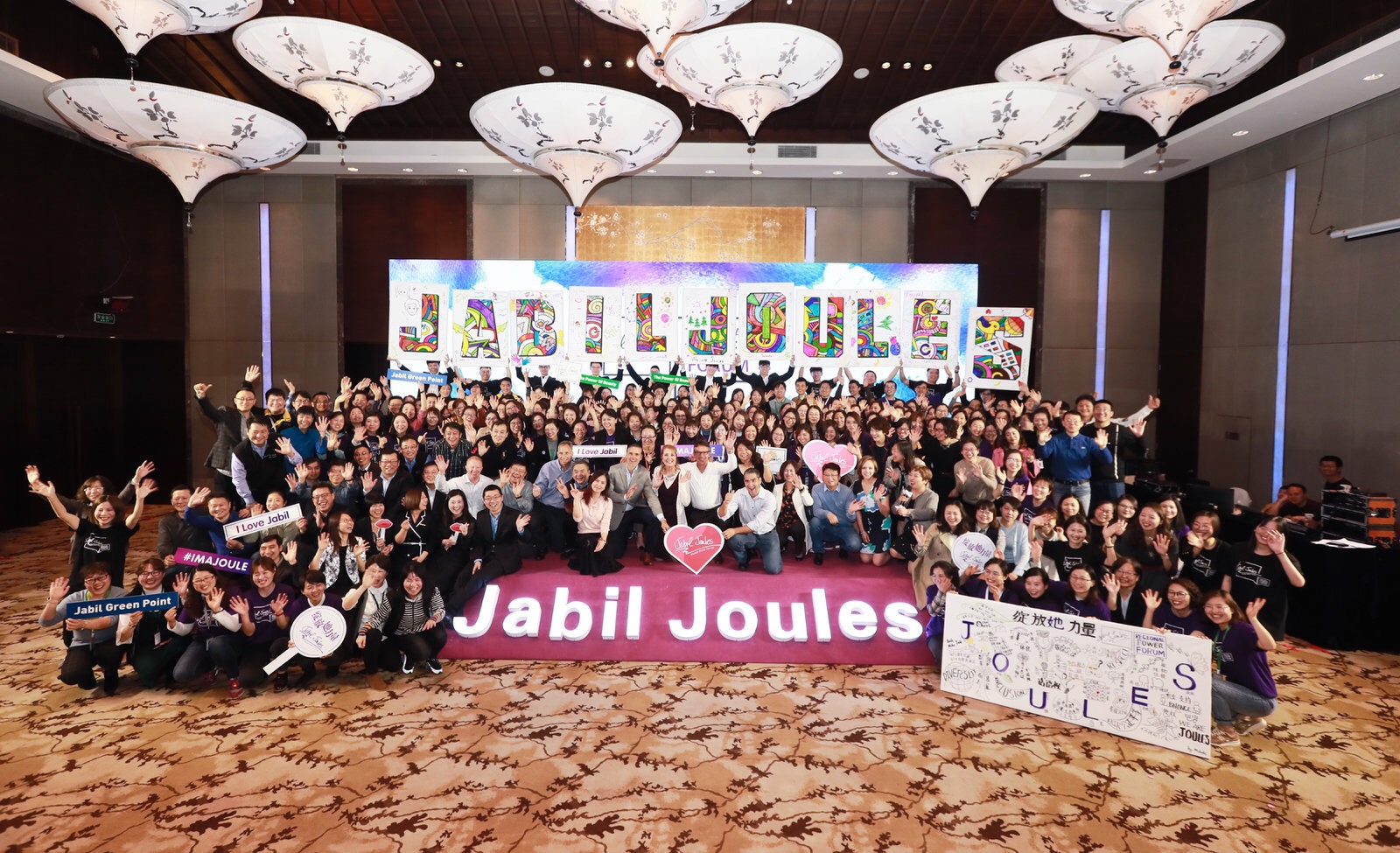 At each Jabil Joules Regional Power Forum, the goal is to educate and connect employees within a region, opening communication channels and igniting future Joules support. Regional Power Forums began in 2018 and have quickly become a popular opportunity for our workforce to grow professionally and personally. The events consist of internal and external leaders speaking to topics around a locally-selected theme. The conversations in Wuxi centered around the strong, positive presence that females have in the workplace and the balance of professional and personal lives.
The topic of balance was not only spoken about during the event regarding work and life, but it was also demonstrated by the attendees, which included employees from various sites and departments at every level. Jabil's corporate support was represented by executive leadership, including Beth Walters, Mike Loparco, Kenny Wilson, Todd Munson, Jessica Shyu, KA Lee and much of their team from the region. Support also extended across divisions and beyond Wuxi's city limits with site senior management from Shanghai and Suzhou in attendance.
Operations leaders from Jabil's Green Point facility in Wuxi and representatives of Suzhou participated in a panelist session, reaffirming the support female employees have in the organization. Weii Ye, operations director of Wuxi Metal, spoke of how the recruitment and care of female employees is a top priority for him and his teams, ensuring women have equal opportunities and equal time to learn and develop their careers.
While leadership supports equal opportunities, it's also important that employees leverage their varying talents and skills to bring success to their teams. Jocelyn Zhao, operations manager of Suzhou Green Point (Wuxi EPZ), credits communication skills and attention to detail as beneficial qualities that women bring to their teams. Whether male or female, each employee brings something important to the table, and it's crucial everyone feels empowered to be themselves and showcase their abilities in an inclusive environment.
As Weii said, "Women have certain skill advantages while men have others. Our company is about collaboration and teamwork, so when everyone comes together and uses their skills for the better, success is made at Jabil." This type of empowerment is what brought the idea of the Regional Power Forums into fruition and has since brought more energy to the Joules program.
While the strengths of employees were a focus of the day, there was also an open conversation around barriers to success that women sometimes face, including a lack of confidence in their abilities. Spring Xu, assistant operations manager of Wuxi Plastics, reminded participants, of which more than half were women of Jabil, that around 65% of the working population in China are females, so attendees shouldn't lose confidence in their ability. Spring shared, "Everyone, whether male or female, needs to find what you're good at, learn from those around you – whether it's your leaders, suppliers or peers – to broaden your knowledge, and maintain positive energy for yourself and your team."
No matter what one's gender, skill level or background is, Dan Wang, vice president of operations for Wuxi Green Point, shared that developing professional skills has no shortcuts, rather it "consists of learning your role at the company and continuously practicing and developing – this is the same process for both females and males to progress."
In addition to the panelist session, there was an on-stage interview with Gu Yijia, Sales Management Support Leader from IBM, moderated by Jabil's May Yap, chief information officer for Jabil's Green Point division. The panelists, such as Dan, echoed the conversations Yijia and May had about what is needed for women to feel powerful in their careers. May mentioned, "Women can do what men can do, but the thing to know about promotions and success is that it's not about what you are – everyone has to be devoted to learning."
Yijia reminded participants that success is constant, and there are ups and downs in life, adding, "When you're in the 'valley' phase of your career or life, you must accept it; don't criticize yourself while you're there and learn from it."
The event highlighted the support for employees from site, regional and executive leadership while also talking about the power of diversity – i.e. the beauty of our workforce – as Todd Munson, senior vice president and chief operations officer of Jabil Green Point, said in the beginning of the event, "It doesn't matter if we're talking about our capabilities, customers, geographies or our teams; the more diverse we are, the better Jabil becomes."
Whether diversifying and showcasing unique skills for individuals to achieve success with their careers or building inclusive teams as managers and leaders, we can each play a part in the overall success of Jabil.