REAFFIRMING OUR COMMITMENT TO MENTAL HEALTH
According to data from the Institute for Health Metrics and Evaluation (IHME), roughly 13% of the global population – some 971 million people – suffer from some kind of mental illness. Moreover, stress, anxiety, fear and isolation brought on by the COVID-19 pandemic have exacerbated mental health issues and further highlighted the need to prioritize mental health.
At Jabil, we understand good mental health is vital for a fulfilling life, at work and at home, and that it is a fundamental element of the resilience that enables people to cope with adversity and reach their full potential. That's why we've placed a heightened focus on mental health and are committed to ensuring all employees have access to the information and resources they need to look after their mental well-being.
Leaders play a unique role in safeguarding the mental health of our employees. In early 2021, we rolled out Mental Health Resilience Building trainings for leaders across the organization. These workshops, which are led by trained subject matter experts within the company, explore how stress builds up in us; the physical and mental implications; and ways to create long-lasting stress management habits. Participants are also trained on healthy leadership practices and ways to detect and address issues in the workplace to maintain engagement and well-being in the workplace.
Similar educational opportunities are taking place at our sites:
Auburn Hills, Michigan
Employees designed a wall decal for the factory to bring attention to mental health while mitigating the stigma surrounding mental illness. The site has also started a three-month campaign focusing on different topics surrounding mental health, such as depression and dealing with loss; stress management; and work-life balance.

Chengdu, China
Jabil Chengdu is offering online courses to help employees enhance their knowledge around various mental health and well-being topics, including employee engagement, sleep quality and self-care.

Chihuahua, Mexico
The team has been prioritizing the mental health of their employees by providing access to onsite psychologists. In the last year alone, they held 576 therapy sessions that supported 310 employees.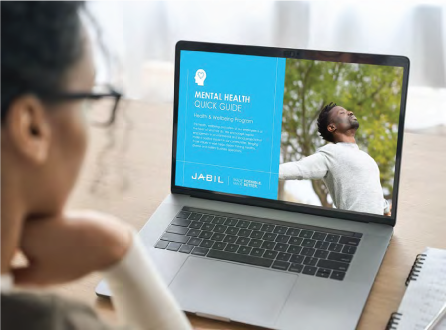 These sites, in addition to numerous others around the world, are helping to ensure Jabil employees feel safe, healthy and included, both in and out of work.
To further demonstrate our commitment to employees' health and well-being, we are offering all full-time employees two additional days of paid time off for mental wellness beginning in 2022. We hope this will help build mental health resilience so our employees can live happy and meaningful lives.