3D Printing in Healthcare Makes It Personal
We all know one thing to be true: "hips don't lie." But the fact that hip ball replacements come in just a few standard sizes means that sometimes "hips don't fit." That's where 3D printing in healthcare comes in.
The standard size options of the femoral head (the ball that goes in the hip socket) have changed over the years based on patient outcomes. For a time, surgeons used a ball that was much smaller than the anatomical ball to reduce pain and movement issues, but then post-surgery dislocations became more prevalent. Gradually, the standard size has gotten bigger with fewer problems, but it is still a one-size-fits-many solution. The solution can be improved with a 3D printed model ready for use.
As consumers and laypeople become more and more tech savvy, they wonder why the same personalization they see in their daily lives isn't available in their medical care. One of the tools for more personalized medicine is additive manufacturing. In the case of a hip replacement, someday surgeons could actually 3D print a hip ball with the size and shape to fit a patient's anatomy—one that improves their anatomy—for the healthiest outcome.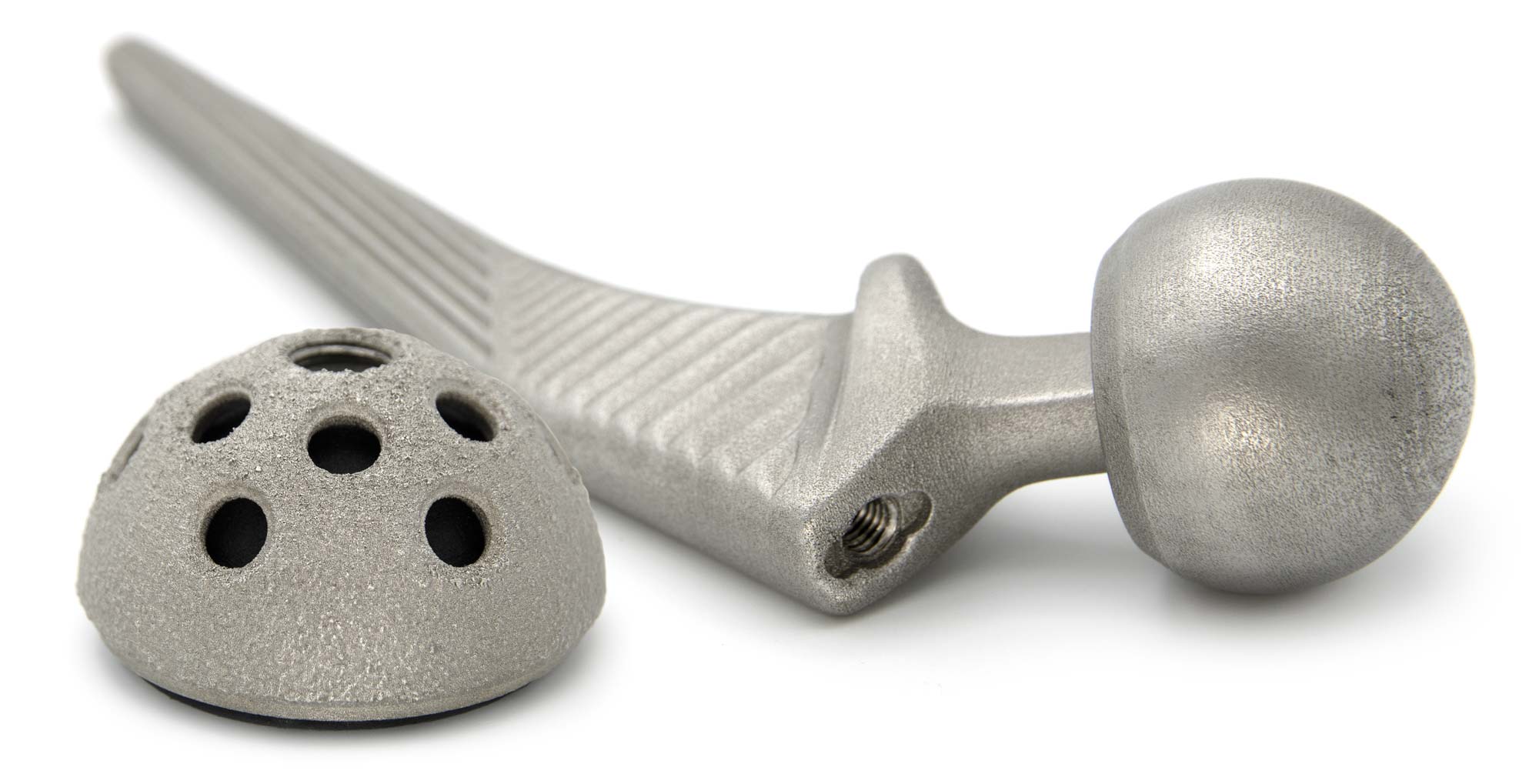 3D Printing Benefits Both Health & Business Outcomes
Additive manufacturing is uniquely capable of facilitating product designs that are complex and intricate with unparalleled specificity at lower costs than traditional production methods. For medical device companies and manufacturers striving to keep up with the fast pace of innovation today, additive manufacturing pays out big dividends with greater design freedoms. The technology's capacity for delivering customization also brings the industry dramatically closer to the promise of truly personalized or precision medicine.
As captured in Jabil's recent survey of 3D printing technology trends, respondents across industries were unanimous in calling out the many distinct benefits of additive manufacturing, with particular focus on the technology's ability to create personalized and customized goods. In the healthcare 3D printing market, decision-makers outlined the following as advantages of additive manufacturing:
Healthcare and orthopedics manufacturers expect to gain numerous benefits from the mass adoption of 3D printing.
In recent months, industry outlets have reported on various exciting breakthroughs in the development of bio-printed tissue and organs utilizing hydrogels. In April of 2019, a team of scientists at Tel Aviv University, Israel, 3D-printed the first vascularized, engineered heart using a human patient's own cells and biological materials.
Such regenerative 3D medical printing applications will grab headlines, but just as awe-inspiring are the advancements and innovations in prosthetic and orthopedic implants, as well as surgical tools custom designed to a specific patient or even a particular surgeon.
Although the healthcare market has lagged behind others in adopting additive manufacturing technology, the shift in this dynamic has the potential to radically change and, in some ways, democratize the practice of medicine over the next decade. Falling costs for hardware have made 3D printers a relatively inexpensive technology.
Lower cost barriers will drive greater deployments—whether that means community hospitals empowering surgical teams with their own dedicated 3D printer or mobile medical units bringing state-of-the-art healthcare solutions to remote or underserved populations. Additive is a perfect solution for producing to the unit of one—limited runs of products which can be aimed at smaller, less historically profitable groups of patients with unmet needs.
In terms of dollars and cents, the market opportunity is extraordinary. According to reports by SmarTech Analysis, the market for medical 3D printing is currently estimated to be worth well over $1 billion. By 2027, the market value is set to grow to over $13 billion, with $4.9 billion in hip replacements alone. Additionally, the report estimates that, by 2026, close to 3.2 million 3D-printed medical implants may be in use throughout the world.
Multiple sectors within the medical field are benefiting from 3D printing, including orthopedics, dental and podiatry. The technology is offering exciting new ways to provide personalized care and 3D printed medical devices.
Personalizing Orthopedics with 3D Printing
Of the many surgical arenas, orthopedics lends itself most to 3D printing solutions. The sector has been one of the fastest growing in medical device manufacturing and includes reconstructive devices, spinal implants, arthroscopy, ortho-biologicals, hip implants and knee replacements. The following is a deeper dive on how 3D printing is being put to work in the ortho-domain:
Spinal implants are used by physicians when there's a need to restore intervertebral height in their patients, resulting from a range of medical conditions, including degenerative disc disease, herniated disc, spondylolisthesis, spinal stenosis and osteoporosis.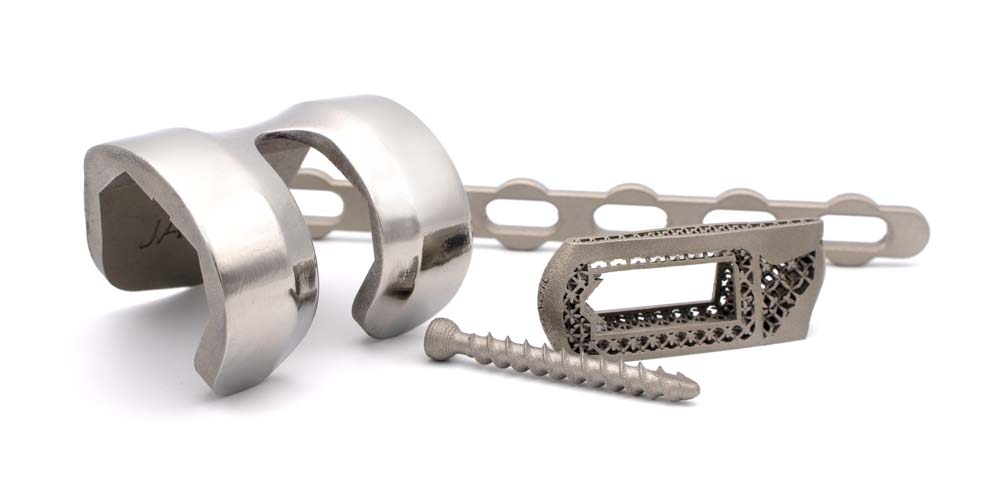 While traditional metal manufacturing processes (CNC, casting and forging) can be challenged by complex product geometries, additive manufacturing has demonstrated incredible facility in building these rigid, corrosion-resistant and bio-compatible structures, incorporating complex and precise lattice geometries unattainable by traditional machining and manufacturing processes.
For over a hundred years, surgeons have been using metal implants in healthcare, typically to treat bone diseases (including osteoarthritis and inflammatory rheumatoid arthritis), as well as in reconstruction therapy. The incorporation of additive manufacturing and the use of a 3D printer to produce these devices have proven to dramatically improve the form, fit and function of implants, whether in the spine or other joints, such as shoulders, knees and hips.
Designed and manufactured according to a patient's CT scan, implants produced with additive manufacturing are far more successful integrating with the patient's bone—osseo-integration—due to their open, porous composition. The technology delivers a range of unique benefits, in terms of matching not just shape and size, but improving on other factors as well, such as bone stiffness, density and trabecular structure, which can reduce stress shielding, encouraging osseo-integration, resulting in greater physical function.
Titanium alloys remain the gold-standard material for various implants used in the fixation of craniofacial or extremity fractures, but polymers and ceramics are showing increasing promise for these types of applications.
Clinical studies consistently cite joint misalignment as the top reason for joint implant failure. Up to 27% of hip surgery re-revisions are due to poor fixation and biomechanical reconstruction of the initial implant. Personalized, patient-specific implants dramatically improve revision rates, reduce hospital and post-acute care costs and generate consistently higher marks in patient satisfaction.
And while each implant may have aspects that are unique to the end patient, the success of the device is due, ultimately, to consistency within the production process. Manufacturing metal-printed parts requires a combination of carefully managed post-processing steps to ensure the parts achieve the ideal surface, maintain their biocompatibility and conform with quality and sterility requirements. Automating the steps is critical for controlling costs, as there can be upwards of a dozen different pieces of equipment required for a robust post-processing system, purposed for cleaning, fixing, curing, surfacing and even coloring the end product and readying it for market.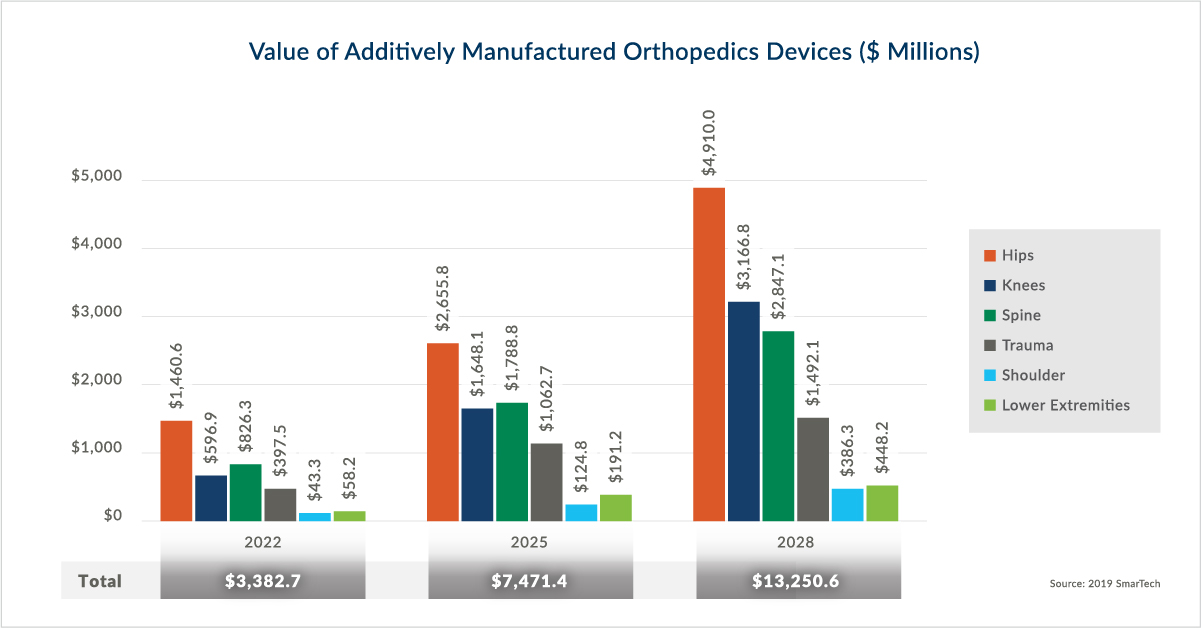 Beyond Metal 3D Printing: Polymers in Healthcare
While metal may be the go-to 3D printing material for orthopedic applications, polymers have been gaining ground and are poised to supplant metal for overall utility as an additive manufacturing material in healthcare. In our recent 3D printing trends survey, we see that polymers and composites are the most commonly used additive manufacturing materials in healthcare and orthopedics.
Healthcare and orthopedics manufacturers currently use a variety of additive manufacturing materials.
Versatile and extremely lightweight, polymer-printed parts are unmatched for producing complex product geometries at low cost and with minimal product lead time. This makes them ideal for maximizing patient customization capabilities for use in implantable devices, as well as tissue engineering, bioprinting and other applied manifestations of personalized medicine.
For producing the intricate, honeycomb structures required of medical device impellers, and manifolds, traditional manufacturing methods cannot compete with additive manufacturing on price, speed or precision. Polymer-based designs enable far more utility and 3D printing application range due to dramatically decreased weight with increased surface areas.
Impellers function in a wide range of medical applications by optimizing pressures in pumps for different fluids. Traditional assembly includes laser cutting, epoxy-bonding and interim balancing processes for dozens of the impeller's separate parts, including bond blades, fins and turbines. This bill of materials results in sluggish production schedules. Additive manufacturing produces extraordinary durability and consistency at a fraction of the cost with far less complicated post-processing requirements.
Manifolds used in medical applications provide a range of distributive functions within the devices themselves. Traditionally machined from aluminum block with multiple parts, the weight characteristics can be a limit on a device's utility and increase its production cost, including transportation. Intricate tube fittings present potential product failure risk as well as extending production cycle time. Polymer-based additive manufacturing processes essentially help manufacturers do an "end-around" confronting these limitations and reducing the number of parts significantly, as shown in this comparison image.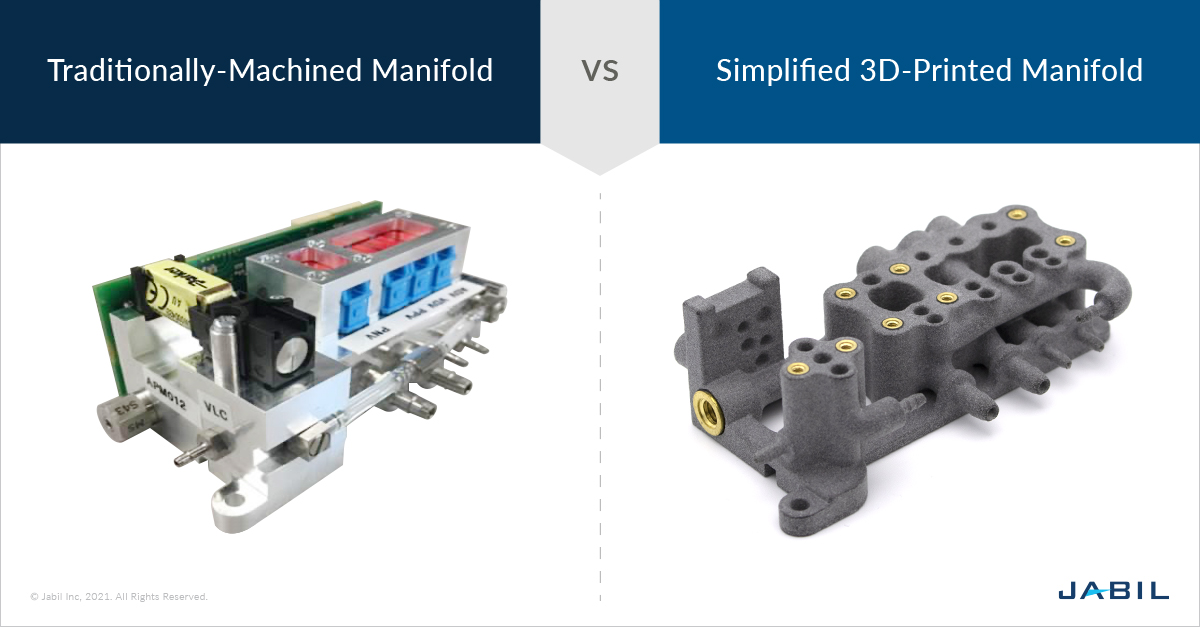 In the dental field, use of additive manufacturing is a winner for both patient and provider: custom-designed mouthguards, produced from biocompatible materials provide long-term stability by combining the strength and toughness needed to protect teeth while optimizing patient comfort.
Elsewhere in the clinical space, one of the largest growth areas for additive manufacturing technology is in the design and production of surgical instruments and technologies customized to specifications of the patient, the procedure, the physician or all three.
This segment includes dilators, sutures and surgical robotics as well as other custom-produced instruments that help optimize a surgeon's performance. Key technologies include micromachining, surface treatments and materials. Essentially, additive manufacturing makes every surgery exceptionally "personal."
It's almost amusing to consider that had author Mary Shelley written her legendary tale 200 years later, Dr. Frankenstein might have availed himself of 3D-printed cranial surgery "covers" to plug the holes he'd drilled into either side of his namesake's neck.
3D Printing in Healthcare: The Time is Now
Across the entire range of healthcare stakeholders, from product team designers and engineers to the medical specialists working in the field, 3D printing technology has proven itself an extraordinary tool for improving outcomes for patients.
Also, to the extent designs are distributed directly and instantaneously from a CAD system, digitally, to a network of printers around the world (with no overhead for handling individualized products) there's a frictionless advantage conferred in the mix as well. If additional design complexity or revisions will improve product performance, these iterative steps can be embraced without reservation as overall material cost will not be impacted to the degree it would be in traditional manufacturing.
Reducing time-to-market and speeding up design revisions have significant value in today's globally competitive healthcare industry. Lifecycles for healthcare products are quickening. As nimble new competitors-with expertise in fast-paced consumer markets-continue to enter the ring, additive manufacturing provides a formidable hedge against these challenges. Narrowing down to healthcare and orthopedics respondents from the Jabil survey, the personalization of products is a benefit widely expected from using additive manufacturing.
It's a perfect time to seek out partnerships for informed insight on how to fully harness the potential of additive manufacturing as a dynamic catalyst in product design and production processes. Or to get help with the technical challenges that need to be addressed—i.e., understanding additive manufacturing's materials, the processes and the very important post-processing steps required for prepping devices for market.
Reductions in inventory costs, transport, shorter and simpler supply chains, plus other sustainability-oriented concerns are an additional bonus to the growing list of additive manufacturing's benefits. But for those of us with years of experience in the field, it still feels exciting to watch important medical equipment and products being built just-in-time, at point of need, with no loss in quality or reliability. 3D printing medical devices is now possible. And for us as patients, we look forward to a future where implants are customized precisely for the one single individual whose quality of life may depend on it.
Download the 3D Printing Technology Trends Report
Jabil's third biennial report includes insights from over 300 individuals responsible for decisions around 3D printing at manufacturing companies on technology adoption, opportunities and challenges.