Partnership Models: Accelerating the Launch of A.C.E. Technology for Commercial Vehicles
The commercial truck industry is on the threshold of a technology revolution. The mass adoption of new functionality — enabling increased safety, connectivity and energy efficiency — is within sight. And while there may be discussions about precisely when the adoption will occur, there are many more about exactly how the new technology will be developed, manufactured and scaled.
Adopting New ADAS, Connectivity and Electrification (A.C.E.) Technology in Commercial Vehicles
Driving the development of new A.C.E. technologies in commercial vehicles is a raft of international agreements and regulations. These pressures combine with the industry's ongoing efforts to improve safety, gain operational efficiency and reduce emissions while meeting the accelerated demand for transporting goods around the world.
In June 2022, environmental ministers from the E.U.'s 27 member states agreed to introduce a 100% CO2 emissions reduction target by 2035 for new cars and vans. An intermediate objective of 55% for cars and 50% for vans was set for 2030. Meanwhile, the U.S. EPA, under President Joe Biden, released a clean trucks proposal that would cut smog-forming nitrogen oxide pollution from commercial trucks by as much as 60% by 2045.
From a safety perspective, E.U. institutions have reached a provisional agreement on the revised General Safety Regulation. As of 2022, new safety technologies will become mandatory in European vehicles to protect passengers, pedestrians, and cyclists. From improvements to bus and truck drivers' vision, removing blind spots, front and side vehicle detection, and warnings for vulnerable road users, a new era of expectation around safety is driving the responsible deployment of ADAS technologies across a variety of vehicle types.
While a definitive launch date for autonomous trucking remains murky, Deloitte published an article in December 2021 indicating that autonomous truck technology will soon be commercialized around the U.S., and the annual value of automated shipping could exceed $300 billion. Autonomous trucks are on the road now, even if primarily for demonstration and testing purposes, and will be needed by OEMs to meet the rising demand for transporting goods, Deloitte says.
Meanwhile, connectivity in commercial vehicles is continuing to proliferate. More and more vehicles are being equipped with telematics devices capable of transmitting data essential to facilitating fleet operations and logistics complexities. Connected services are becoming the key factor for optimization. They address fleet operators' specific requirements for asset management, tracking, driver training, insurance, and other necessities. As the demand for transporting goods continues to expand against the backdrop of significant driver shortages, it becomes even more important to have tools to maximize routing efficiencies and utilization.
The traditional commercial vehicle value chain and corresponding models of engagement are being challenged to provide development and manufacturing solutions that support mass adoption of advances in A.C.E. technologies.
However, a shift is underway in this value chain. New business models are emerging that enable vehicle manufacturers to gain more control over product lifecycles and intellectual property, thereby providing the required flexibility to address challenges. By using specialized partners who are investing in the capabilities, processes, equipment and supply chains required to bring these new technologies to market, vehicle manufactures can accelerate their technology deployment across the globe.
Overcoming the Challenges of Designing & Manufacturing New A.C.E. Technology
Historically, vehicle manufacturers have relied heavily on tier-one suppliers to provide off-the-shelf technology solutions, rather than taking an end-to-end approach of owning and/or managing all product development and production activities. Consider that manufacturing lines have traditionally been built for internal combustion engines (ICE). Converting these production lines to support electric or hybrid powertrains requires capital, expertise and time.
In addition, new supply chain networks are required — especially for things like optics or sensor-based ADAS and high-powered electrification and charging. These supply chains are increasingly challenged with component availability and lead times.
With the advent of new A.C.E. technologies and associated requirements, a new model is beginning to emerge. Where there are product gaps in the market, vehicle manufacturers are investing in building expertise internally or working with specialized design partners while retaining control over their own design-critical IP.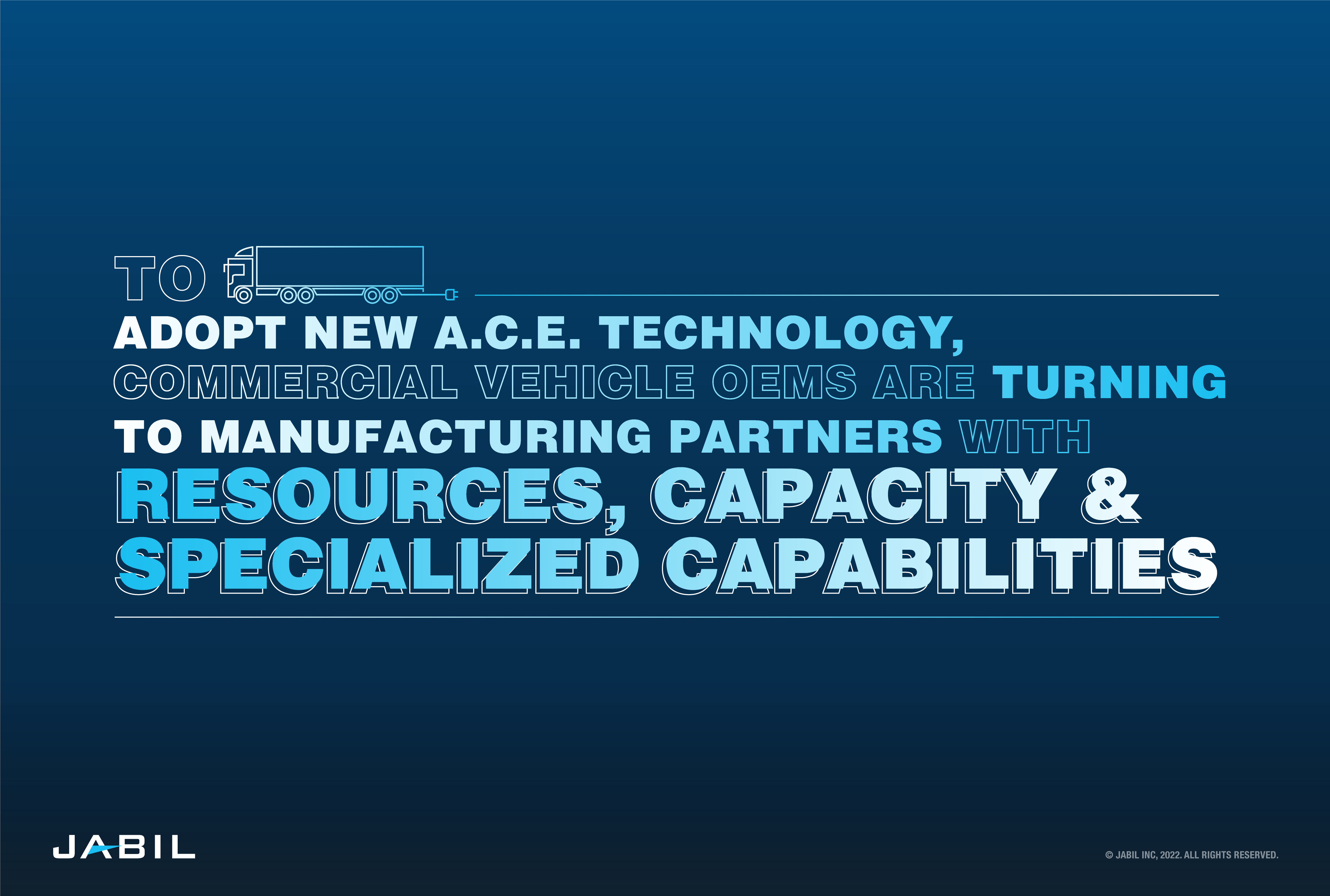 This enables automakers to outsource industrialization, manufacturing and supply chain functions to competent partners that support a new, collaborative model of engagement. The same choice is being faced by larger tier-one suppliers. They are also facing the need to develop and produce an extensive range of new technology required by their customers. Likewise, they seek partners to address the resource, capacity and capability challenges that come along with successfully manufacturing and deploying new critical products.
Therefore, it is no surprise that many vehicle manufacturers and suppliers are choosing to focus on core competencies and higher margin activities. New value chain models featuring capable partners who will perform non-core functions and supplement the required capabilities associated with the production and manufacturing of complex technologies. These models include:
Working with specialized partners for design and development that support critical IP retention and product ownership while outsourcing industrialization, manufacturing and supply chain activities to an EMS partner
Designing in house and working directly with an EMS partner to provide supplementary engineering support along with industrialization, manufacturing and supply chain services
Under both of these models (which are already firmly established in the passenger car automotive industry), vehicle manufacturers and large tier ones can properly address the challenges associated with accelerated, new technology development.
How Does the Electronics Manufacturing Services (EMS) Model Work for Commercial Vehicles?
Using an EMS partnership model allows companies to:
Leverage specialized design capabilities that do not reside internally
Optimize product development, manufacturing processes and supply chain activities
Access advanced manufacturing, automation and process capabilities to ensure repeatable quality
Efficiently introduce and launch new technology products
Manage supply chain activities and mitigate risk
Scale production globally using IATF certified locations
The EMS model does not eliminate or assume the role of a traditional tier-one supplier, which will continue to provide market-critical products and services. Rather, it addresses current challenges in the market driven by the need for accelerating the launch of new, complex A.C.E. technology. This model delivers required flexibility and access to specific, supplementary engineering services only where they are needed. Vehicle manufacturers and their suppliers will be often spared major investments in time and resources that would otherwise be required in-house.
OEMs and tier-one companies can further optimize design for testing, manufacturability and supply chain through these models. A competent manufacturing solutions partner can provide the additional support required to take an initial design concept through prototyping, testing and approvals. This improved design can help reduce costs and enable higher quality levels while expediting the ramp to mass production.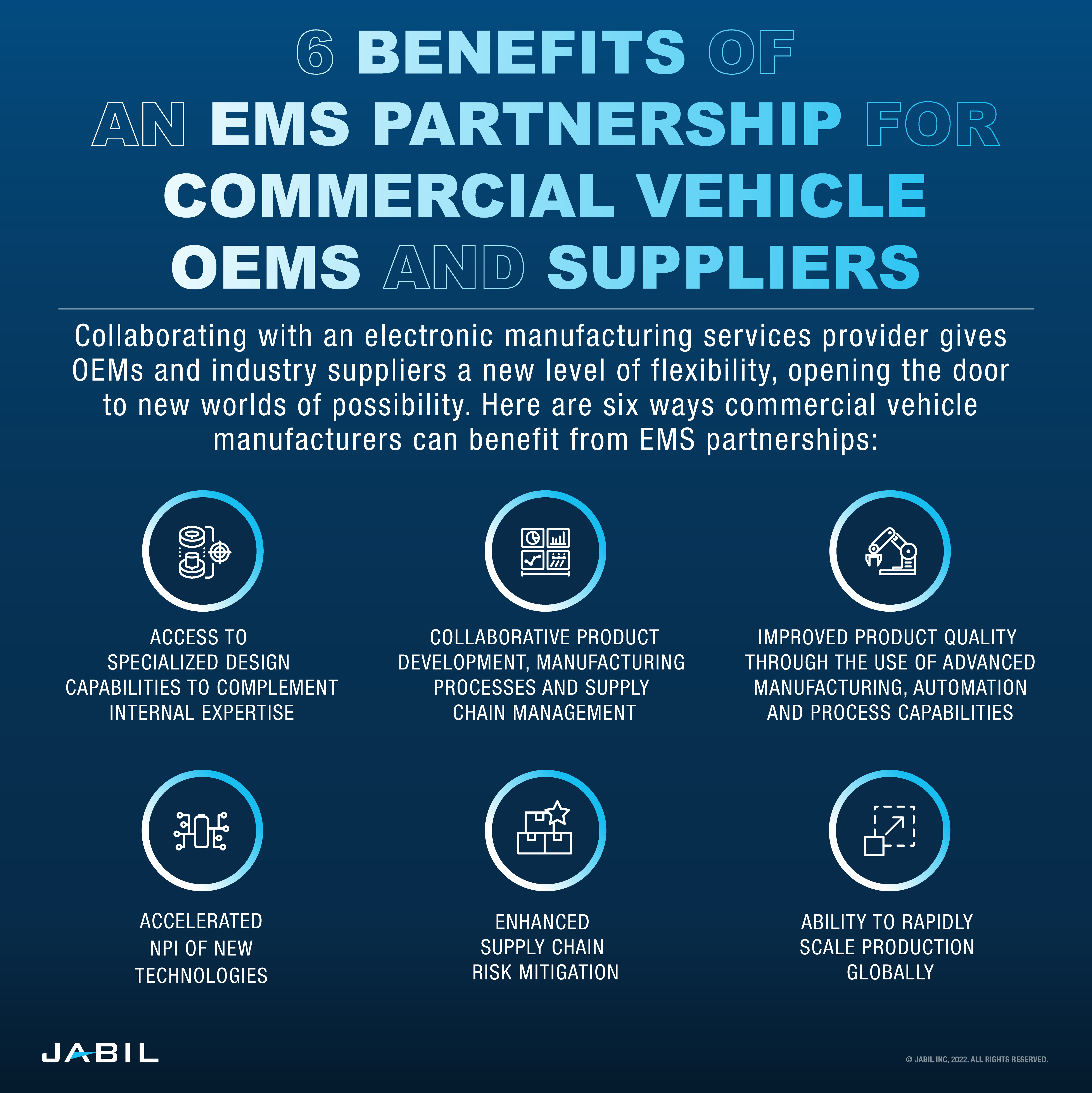 An example of this approach is the EV traction inverter. It is not surprising that a vehicle manufacturer wants control of the design and characteristics associated with the overall powertrain system but does not want to invest in manufacturing capabilities and equipment for producing the relevant electronic and mechanical subsystems.
This leads the vehicle manufacturer to design the product in house or work with a specialized designer, then outsource industrialization and manufacturing to a partner with production scale, automotive expertise and quality standards. One of the primary advantages of using a manufacturing solutions provider to assist with industrializing a product is to access their expertise early in the development lifecycle to ensure the product is ready for mass production.
Establishing New Supply Chains & Managing Risk
With the advent of highly complex technology, traditional supply chains are also in a state of change. New commodities are becoming increasingly significant, such as high voltage interconnects like busbars, cables and connectors for electrified powertrains and lenses for ADAS sensors. From a supply chain point of view, vehicle manufacturers and tier ones must ensure that their direct suppliers — and manufacturing partners' suppliers — have the right sourcing expertise, strategies and capacities to meet flexible production requirements.
A global manufacturing partner can identify reasons why a part or component may not be ideal for a particular application, such as:
Lifecycle management issues
Component end-of-life timing
Geo-redundancy
Multiples sources or inexpensive alternatives
Shipping challenges associated with heavy parts
Working with a partner that has deep knowledge of component lifecycles related to A.C.E. technologies can help mitigate supply chain disruptions.
A good example of this is Jabil's work with EVBox, a vehicle charging OEM. EVBox's scalable product portfolio spans electric vehicle charging infrastructure for residential, commercial and public applications. The company's leadership developed a vast array of solutions in charging technology that have allowed them to grow from a small team in the Netherlands into a global company with multiple offices across Europe and North America.
To better support global expansion and increased product demand, EVBox needed to elevate its supply chain and manufacturing operations. Becoming a key global player in their market required a partner that could support steep ramp-ups in production. By partnering with Jabil, EVBox increased production capacity by 300% and was able to ramp production from zero to 5,000 units per month within a two-month period.
The EMS model, combined with the development of localized supply chains, works well as an alternative to traditional single source models. This is especially true for the development of select new technologies where product or platform solutions are not available in the market and where unique requirements dictate the development of new engagement models.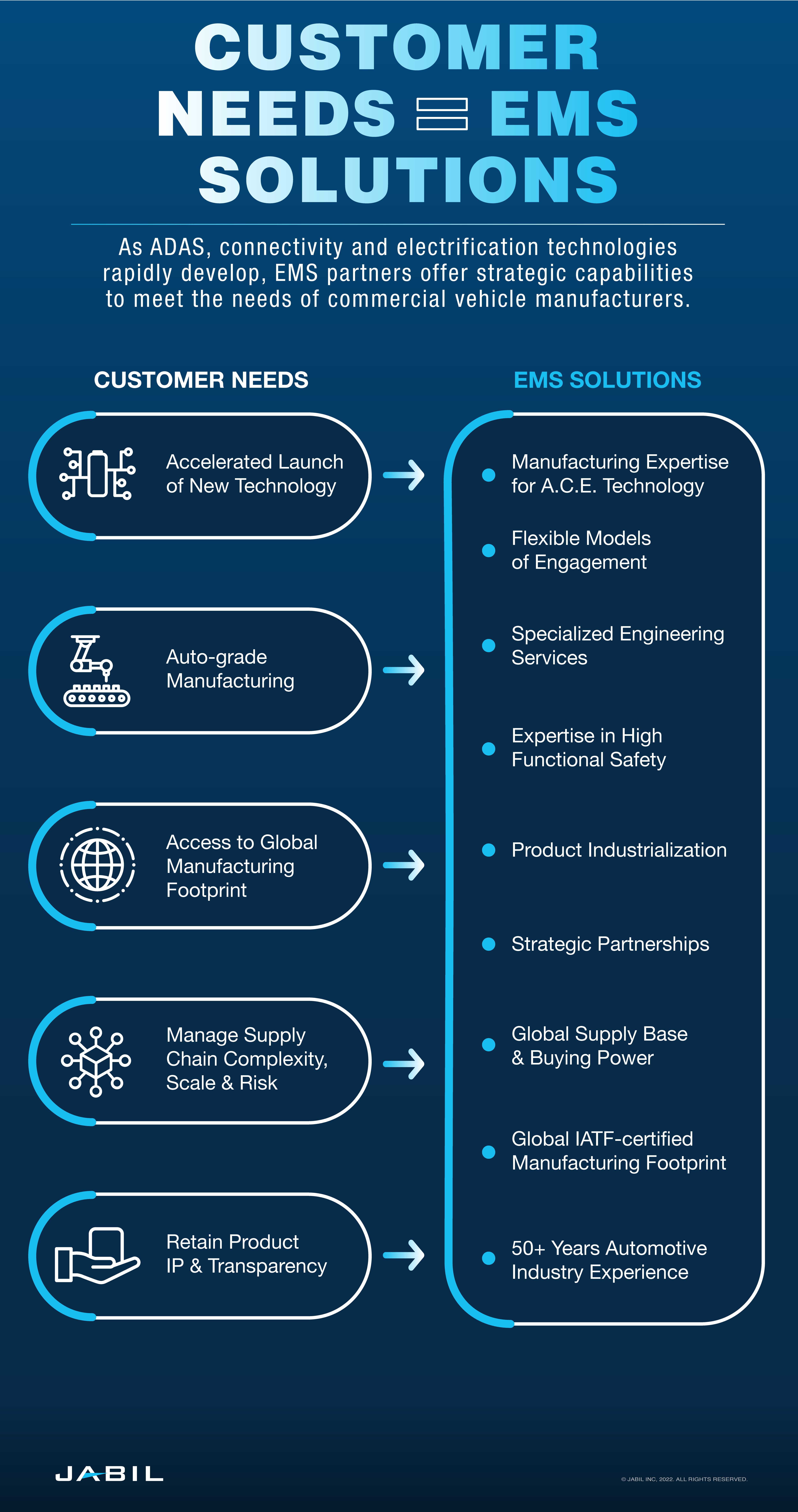 As power and charging, telematics, and sensor-based technologies are adopted by the commercial vehicle industry, it is important that vehicle manufacturers and their strategic suppliers find ways to manage the demands of new product development lifecycles. Leveraging partnership models is an excellent option to gain access to valuable expertise and experience in launching new technologies at scale.
Working with a qualified, proven partner can help mitigate the risks associated with bringing new technology to the mass market including cost management, quality controls, and supply chain optimization. On the road to a world with more automated, connected, electrified commercial vehicles, it will be good to have a solid partner along for the ride.
How can Jabil support your commercial vehicle project? Contact us.
No matter how complex or demanding the project, we're leveraging our expertise in bringing automotive A.C.E. technology to market. Get started with a trusted partner.