Top 10 Digital Health Trends in Technology
We've been talking for a while about the transformation coming to healthcare. Digitization has already reshaped industries like consumer goods, automotive and banking as more and more sophisticated digital technology has become embedded into their products and service offerings. Now digital health trends are guiding technology's way.
In healthcare, the pace of technological advancement will be slower than it has been with consumer technology. Phone model upgrades don't have life or death consequences. Yet, the change in healthcare—what we refer to as digital health—is increasingly pushing companies in the industry to pick up the pace with urgency. Market growth in digital health is projected to hit nearly $660 billion by 2025, with an expected CAGR of almost 25% between 2019 and 2025, according to Statista.
With an estimated one trillion dollars in waste in just the US healthcare system alone, the need for digital health technology and innovations has never been greater. There are deep and systemic challenges to overcome. People are living longer; chronic conditions diminish too many people's quality of life; adequately trained healthcare workers are in limited supply, stressing physician workloads; escalating costs are squeezing patients, payers and providers alike.
All of these macro trends are paving the way for value-based care (in which reimbursements are driven by health outcomes) models. The market is rewarding those who can transform healthcare to be predictive and preventative and moving care beyond the walls of a hospital, driving the ramp in the adoption of digital health innovations.
To gain insight on where we are on this ramp, Jabil Healthcare partnered with Dimensional Research to conduct a survey of more than 420 healthcare professionals with decision-making responsibility at companies with existing or planned digital healthcare products.
Download Jabil's 2020 Digital Healthcare Technology Trends report.
The themes emerging from the digital healthcare technology trends survey tell a very optimistic story. There has been substantial progress since we first conducted this survey in 2018. The future holds exciting potential with extraordinary opportunities, despite the presence of remaining challenges.
Here are the top digital healthcare technology trends we identified:
1. Progress in Digital Healthcare Solutions is Undeniable
One of the most direct questions we asked was simply: what's the status of your company's digital health program?
Comparing the results from 2018 gives us tremendous insight into the progress being made. In 2018, only 21% of respondents affirmed that their digital health solutions were in production. In fact, more than half were still in the ideation, development or design phase. But as healthcare solution providers have started to adapt to the new normal, many ideas have come to fruition. Today more than double (44%) of healthcare solution providers say their products are in production.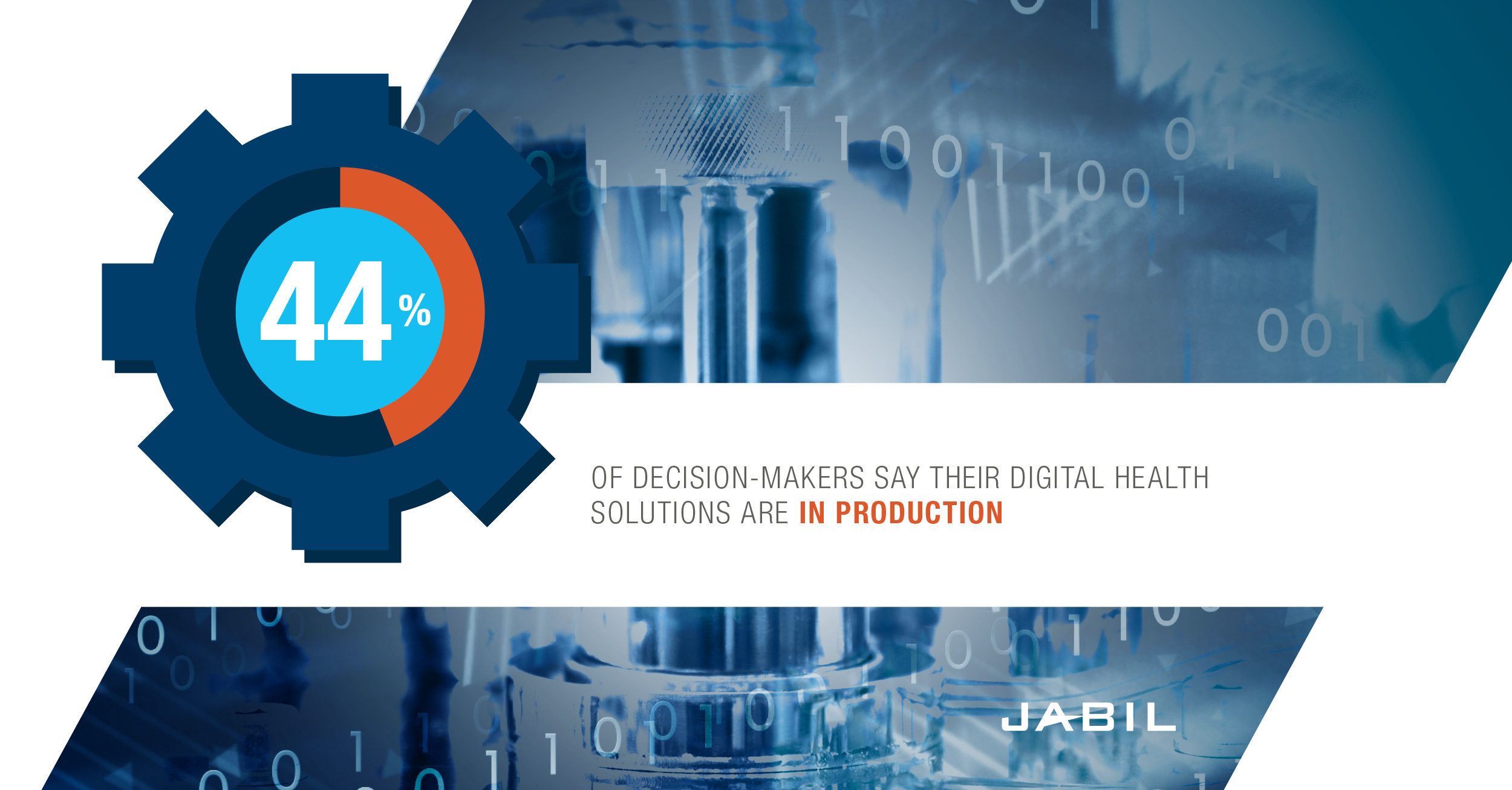 While it is encouraging to see this level of progress and collaboration in digital health solutions, it's not enough.
For digital health to fulfill its promise, these tools must be developed with a lot more external collaboration to ensure users can derive value from the solutions. External collaboration could enable interoperability across devices and platforms. Through patient data captured from this ecosystem, the healthcare industry can get one step closer to predictive analytics and precision medicine, which drive better patient care. These capabilities also can be used to innovate on more intelligent healthcare devices and other solutions.
2. New Business Models are Emerging (and have Emerged) Within Healthcare
This is such a dynamic period for healthcare companies. The ecosystem that's been holding them back for years is finally opening up, facilitating the industry's move towards digital solutions. At the same time, new business models and market pressures have emerged, including business models driven by healthcare data management, value-based care (VBC) reimbursement models and personalized medicine.
VBC has the potential to revolutionize patient care and medical infrastructure, but they require data to prove health outcomes. Digital healthcare products and the aggregate patient data they produce are critical to supporting this trend.
The Jabil survey shows that most companies are well down the road in implementing changes to their business model in response to value-based care. In fact, 31% of participants say their company is already addressing this business model while another 43% are seriously considering their options.
Devices within the digital healthcare landscape that are designed to monitor, communicate and analyze healthcare data are sometimes referred to by the phrase, Internet of Medical Things (IoMT). Given the importance of IoMT devices in the changing healthcare landscape, 73% of participants say they are already leveraging data-based revenue streams. After all, IoMT devices collect data for the broader ecosystem, communicate with care providers and facilitate timely interventions—all while cutting down on unnecessary hospital visits.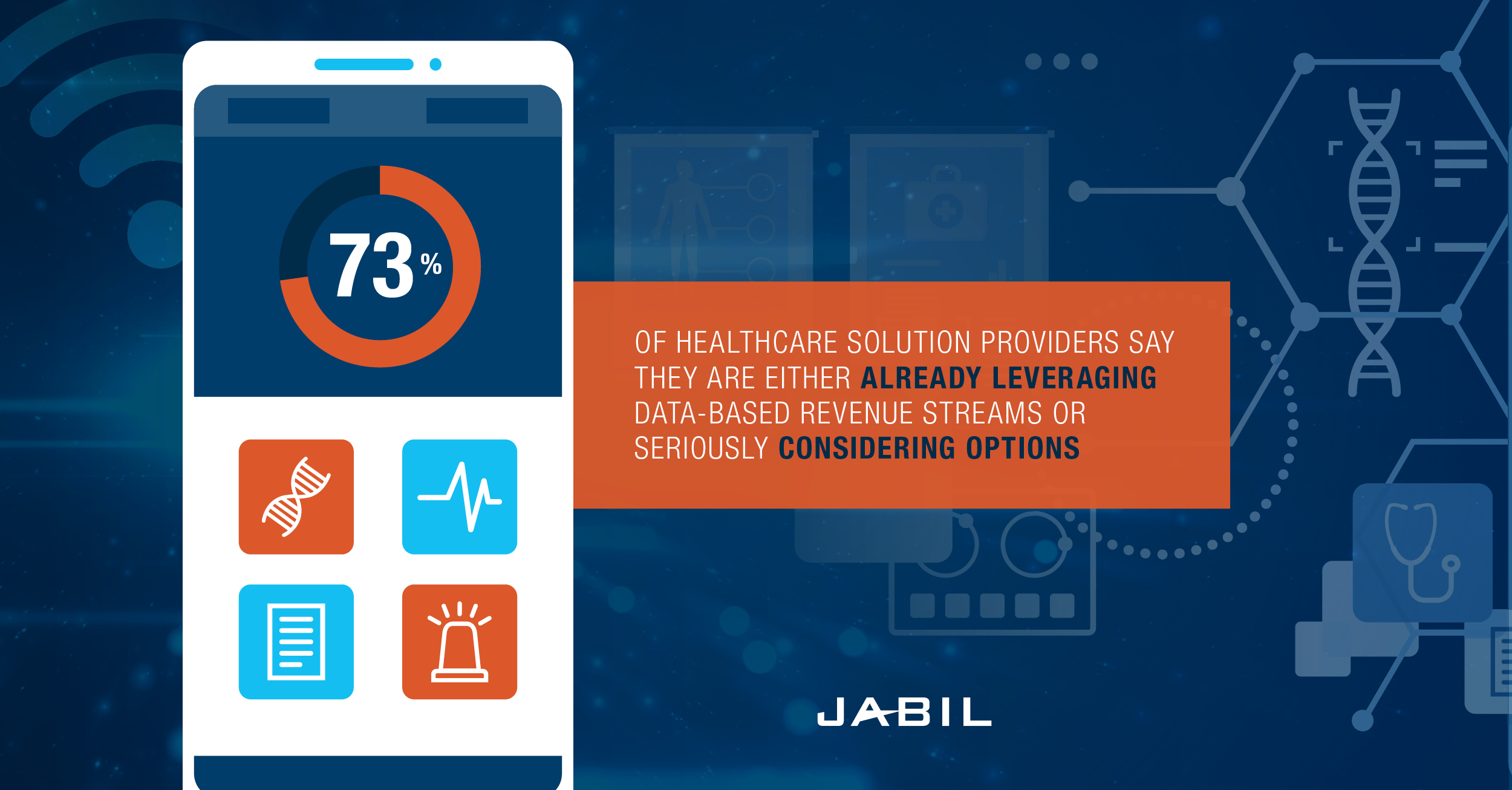 Finally, personalized healthcare capabilities are prominently on the radar for three in four participants. As healthcare consumers increasingly sit at the center of a 'digisphere' of inputs, curating health experiences through their personal devices and their own health cloud, personalized medicine is the ultimate catalyst for VBC.
Technology is enabling treatments per the individual and their unique set of genes and/or health history, resulting in focused therapy and less time spent chasing down diagnosis or in hospitals receiving expensive treatments and possibly putting oneself at risk for infection. Precision therapies are meant to reach the right people at the right time and more and more pre-emptively.
3. Healthcare Solution Providers are Making Organizational Changes That Support Digital Transformation
Change management is a monumental task for any organization but perhaps most daunting in a traditional industry like healthcare. What changes are needed in your company to promote an innovative culture? How can new ideas be generated more quickly and vetted more efficiently? How do you work through this process so that the best ideas with a long-term potential rise to the top? How do you ensure employee engagement for a digital transformation?
Serving as FDA Commissioner at the time, Scott Gottlieb put the challenge succinctly in his 2017 announcement of the FDA's "pre-certification" program for medical software and digital health startups, "Historically, healthcare has been slow to implement disruptive technology tools that have transformed other areas of commerce and daily life."
Traditionally, healthcare companies aligned new products to market roughly in synch with changes to therapy, not technology. But the digital health landscape has catalyzed the need for more dynamic, adaptable product lifecycle management. Today's emerging digital health solutions require new organizational structures, more cross-collaboration and fresh thinking. Tomorrow's will unveil more unknowns. Are we prepared to face them all?
According to the Jabil survey, more than nine in 10 have looked to organizational changes to support their digital healthcare strategies and solutions. But there does not seem to be a one-size-fits-all solution. Healthcare solution providers are experimenting with numerous approaches.  
Just over half of the participants say they are building new teams with technical expertise, the most common organizational change affirmed by this group. Another 44% say they are putting in organizational structures to ensure better coordination and 41% are adding new supply chain roles to focus on technology sourcing and component providers. But one thing is certain: there is a need for more collaboration—internally and externally.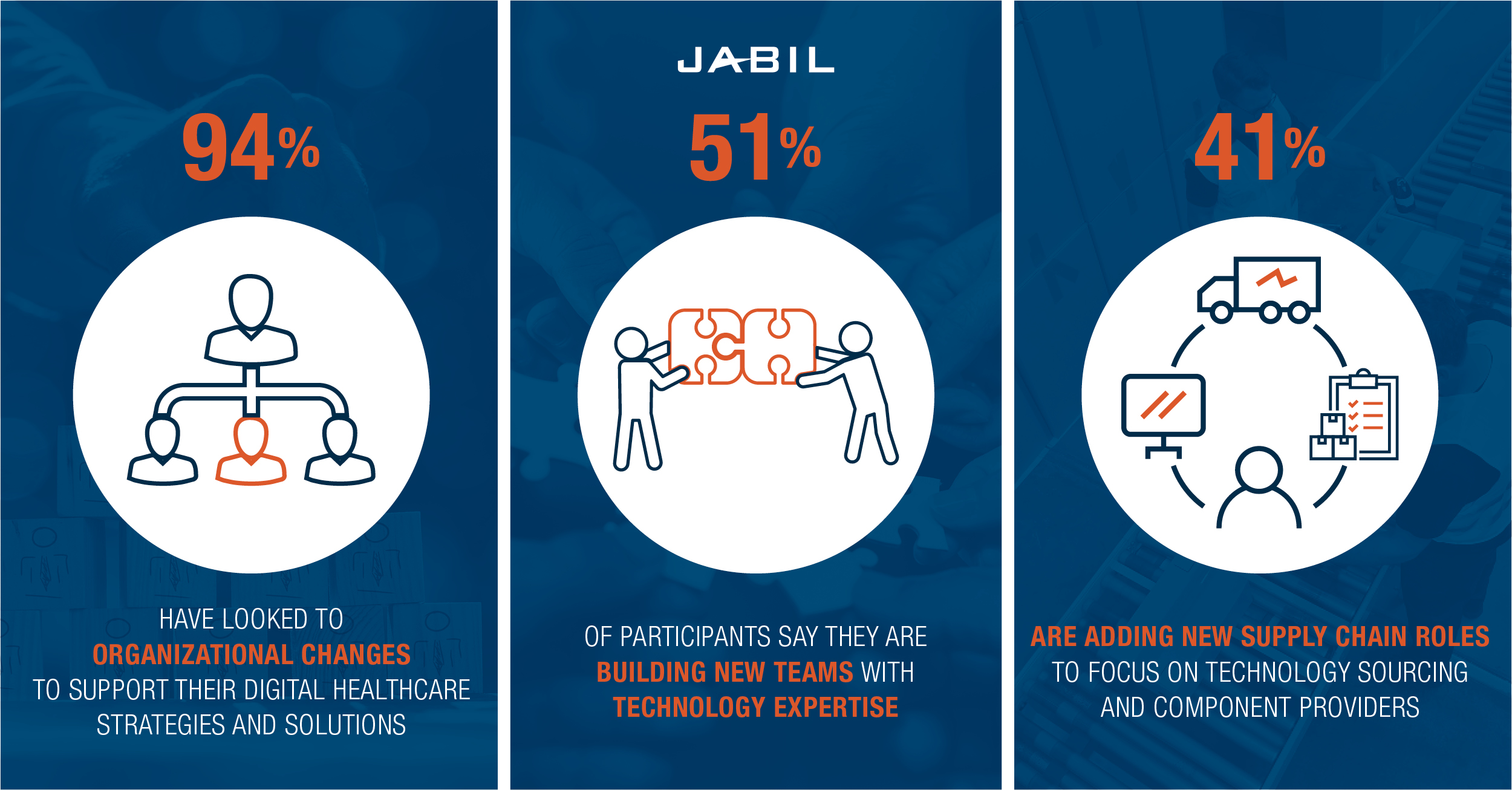 One of the best ways for these companies to maintain stature and leadership within the industry is to conduct a self-examination of the accretive build of the company's culture. Facilitating culture change is key to developing the new digital health business models we discussed earlier. Put a program in place that will answer some of these critical questions:
How are new ideas being vetted?
How are budgets being allocated?
How is success being measured and rewarded?
Discoveries can be revelatory, drilling deep into the fabric of how things are being done. Impediments will be addressed, unleashing far more agility throughout the organization. The result is a company culture that is bolder, more innovative and less captive to "silo" mentality.
4. Medical Device OEMs are Turning to External Partners for Digital Health
Enlisting outside expertise is one of the most effective ways to solve challenges with your solution ecosystem. Partners help to identify trends in how markets will progress over time, which can be tied to investment plans supporting product lifecycles. Encouraging collaboration with expertise outside your own is a vital strategy for better navigating change and disruption.
Almost all digital healthcare solution providers indicated that they would seek partnership for digital health expertise across numerous areas. Nearly half of digital healthcare solution providers say they will need partners to help overcome challenges in regulations, certifications and approvals. As the connected nature of healthcare evolves, 42% say they will need their partners' expertise in big data capture, security and analytics. Similarly, as the healthcare supply chain becomes increasingly global and sophisticated, 42% will need expertise in this area.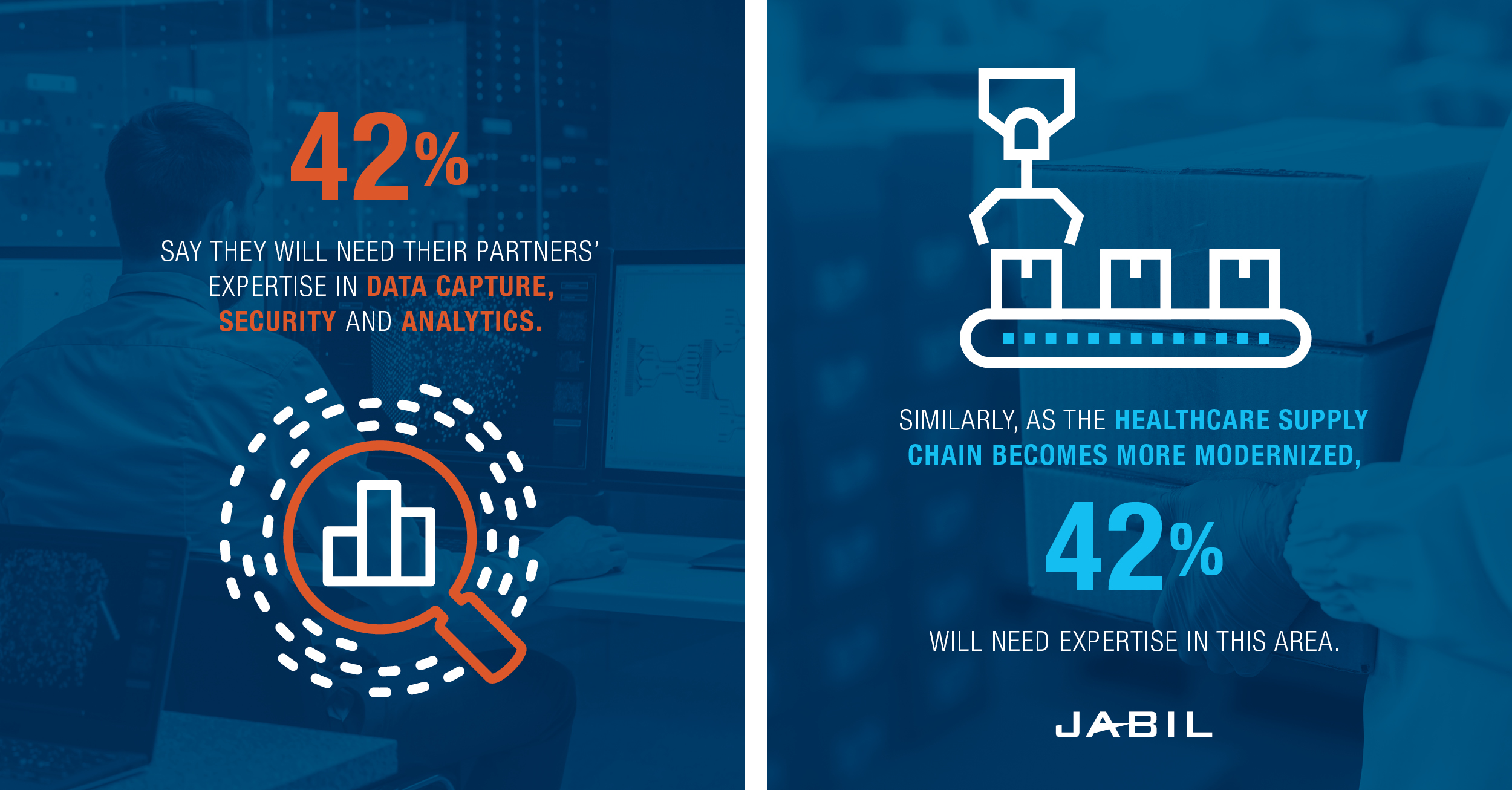 Considering the centrality of IoMT devices and digital health platforms to the future of healthcare, it's a good idea to make them the primary lens through which you evaluate potential strategic partnerships. After all, these IoMT devices and digital health platforms will get us to the predictive analytics that will be applied to the digital twin of each patient. Only then will VBC also be personalized.
5. Regulatory Processes Continue to be the Most Frequently Reported Digital Health Challenge
Product development, launch and even update cycles look vastly different for digital health solutions as compared to traditional medical devices. In fact, per the Jabil survey, 59% of participants say their digital healthcare solutions are more likely to be updated more frequently and 48% say their solution is more likely to be updated after the sale.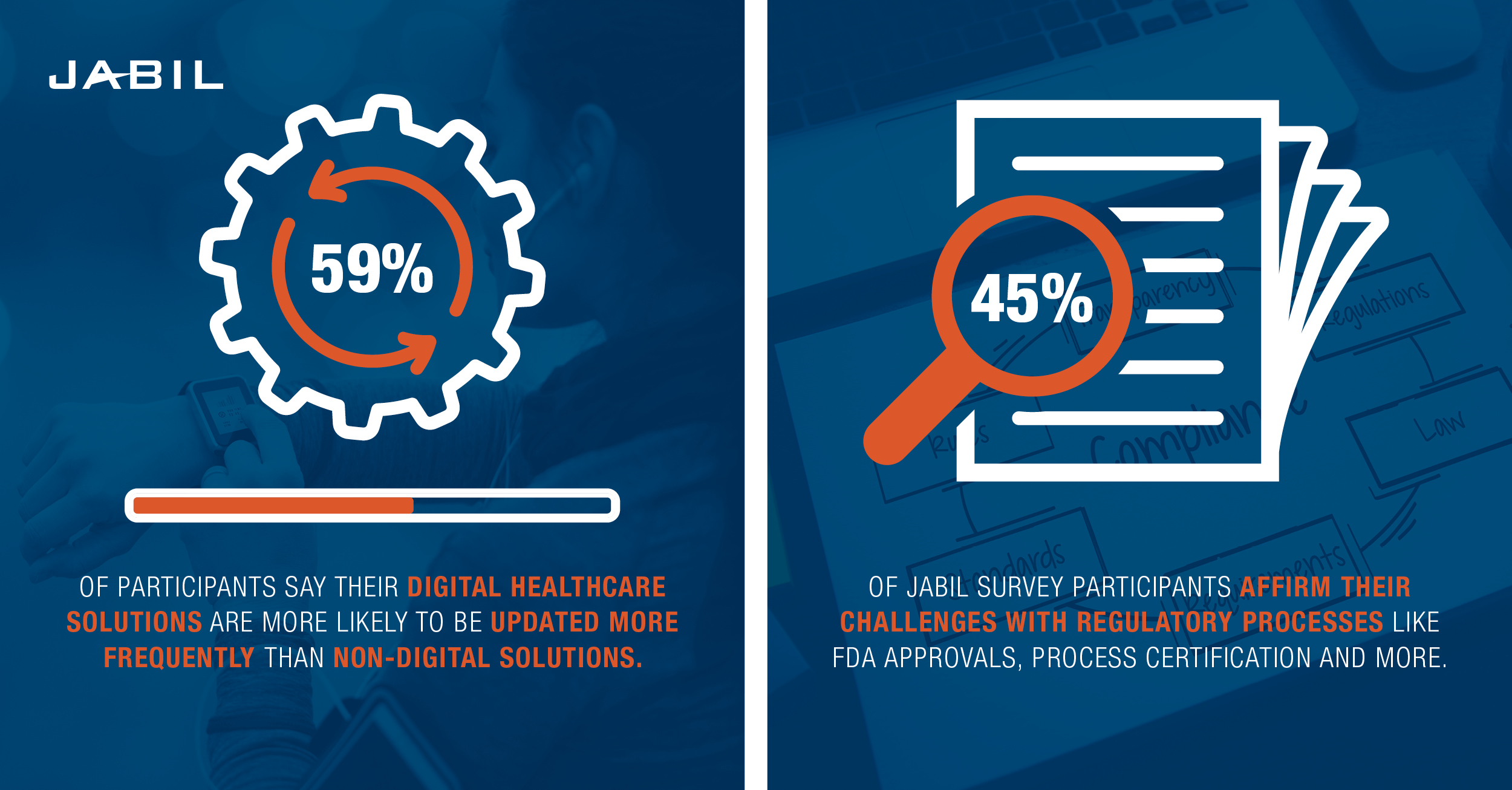 Regulatory concerns help put these answers in context. Other industries will typically implement technology innovations into updated products at lightning speed, but the regulatory responsibilities native to healthcare force a slower pace. So, it's not surprising to see that regulatory processes continue to be the most frequently reported challenge in the slow development and delivery of digital healthcare solutions. Nearly half (45%) of Jabil survey participants affirm being concerned or challenged with regulatory processes like FDA approvals, process certification and more.
Regulatory bodies worldwide are currently in the works to address the challenges arising out of digital healthcare solutions. The FDA's "pre-certification" program for medical software start-ups announced in 2017 was built to transform the "regulatory model to assess the safety and effectiveness of software technologies, without inhibiting patient access to these technologies." In essence, the program validates and encourages a more diverse set of players into the healthcare arena, enhancing and accelerating even more constructive disruption and transformation for the industry.
In March 2020, Pear Therapeutics, one of the 9 original companies in the pre-certification program, announced the regulatory clearance of its prescription digital therapeutic for chronic insomnia, the first product evaluated within the program. According to a recent interview with Dr. Yuri Maricich, chief medical officer at Pear Therapeutics, the program has expanded the scope of regulatory interactions beyond the quality and clinical teams to include engineers and product development.
"I think the FDA is also trying to right-size this for different types of companies, with different levels of products that have different risks and intended use," Maricich said. With the inclusion of product development teams, the healthcare sector has an opportunity to help accelerate the regulatory approval process.
Meanwhile, the European Union has decided to prolong the transition period for the Medical Device Regulation (MDR) by one year to May 2021 due to the extraordinary circumstances created by the COVID-19 outbreak. Early predictions have indicated that there will be a strong focus on the clinical evidence of how digital health solutions can support healthier outcomes.
Subscribe to the Jabil Blog
Sign up for weekly updates on the latest trends, research and insight in tech, IoT and the supply chain.
6. Technology Company Presence in the Healthcare Industry Creates Urgency
When tech giants show up on the horizon with interest in a particular market, it's more common to see them playing the role of disruptor. These companies have great ideas and great tech but still have significant gaps and barriers in understanding the clinical and regulatory process. They are (and will continue to be) willing to collaborate and partner with healthcare incumbents.
By and large these new entrants are not inventing new therapies but enhancing what's already available in the market. The digital health innovations they bring also still leave much work to be done in terms of privacy issues, as well as cybersecurity risks which are likely to be an ongoing source of complication.
Bold and strategic moves by tech giants in the healthcare space have been peppering the news in the last few years: Apple has been acquiring health startups and companies since 2015 to elevate their health tracking capabilities. Amazon acquired Health Navigator in October 2019 and launched Amazon Care to its employees. The company is also expected to reveal a full scale electronic medical record system to care for their employees in the next year. A week after the Amazon acquisition, Google acquired Fitbit in November 2019 to make its mark within healthcare wearable devices.
Acquisitions make it possible for these companies to enter the healthcare industry methodically, presenting new opportunities to integrate some of the cutting-edge technology used in their consumer products into healthcare. At the same time, these initiatives send a powerful message to the rest of the industry to speed up their product development cycle and get better aligned with the pace of technology. Ultimately, the convergence of "big tech" and healthcare will allow for technological solutions that will drive precision medicine. The medical device industry will need to embrace this convergence wholeheartedly.
Although consumer technology companies are creating urgency in an emerging digital health space, opinions on the driving force behind technological change are split. Nearly half (47%) believe healthcare manufacturing companies that understand certification and production will drive transformational technology innovation, according to the Jabil survey. Just over half (53) said that external players like enterprise tech companies or consumer tech companies would drive innovation. It is the collaboration between all of these players that will transform the way healthcare is delivered.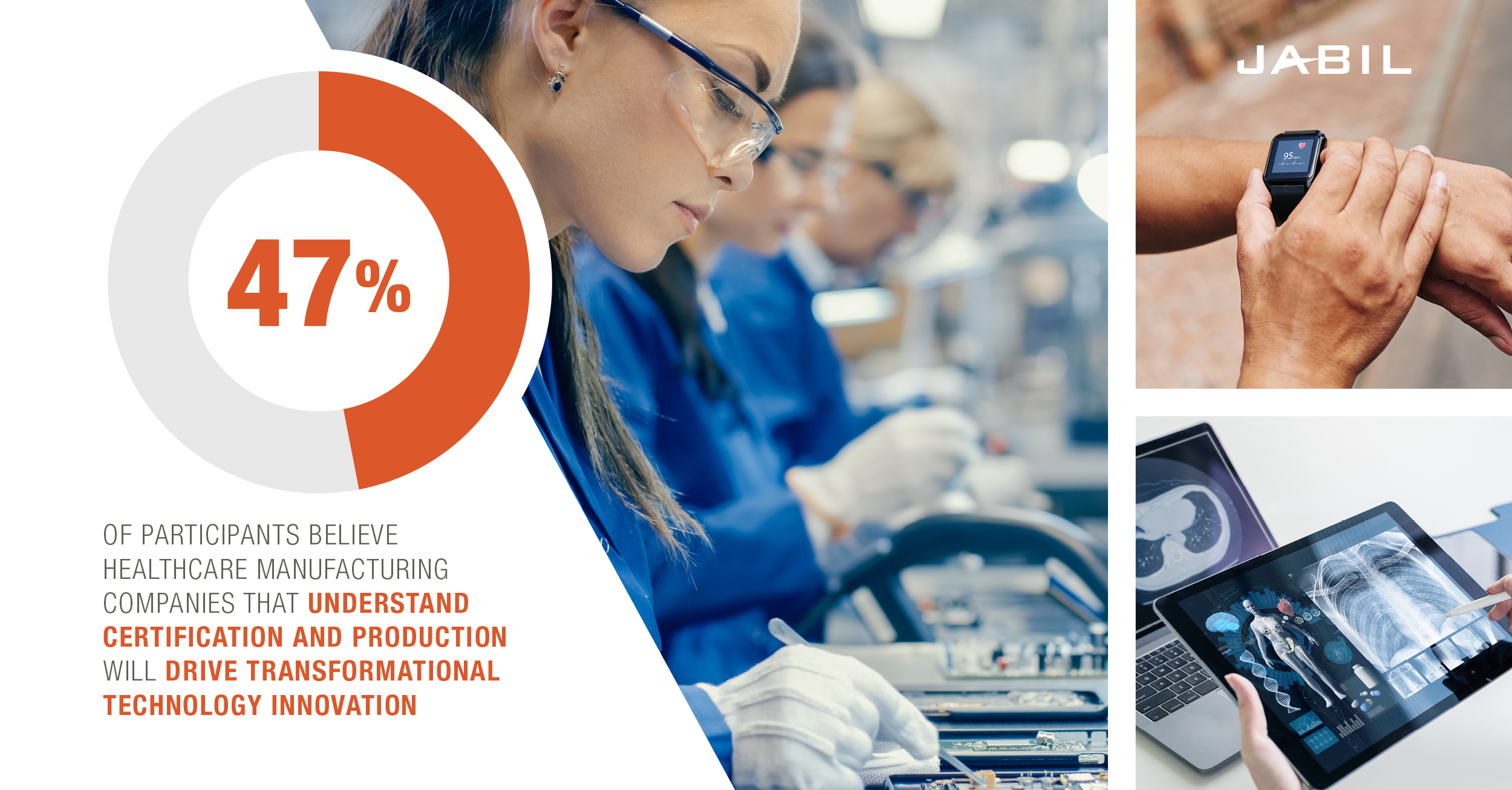 7. Consumer Demand is Driving Healthcare Innovation
Consumer businesses are driven by the need for constant innovation. The automotive industry, despite being heavily regulated, has still managed an evolution towards progressively shorter product development cycles. Each new model year may not represent a change in the drivetrain, but the bells and whistles (think CarPlay) are sure to be updated. Our cars have synched up with the pace of consumer electronics.
As healthcare makes the focus shift from "patients" to "consumers," expectations have changed in this industry as well. In Jabil's survey, 92% of respondents said that consumer demand is increasingly pushing for digital health innovations.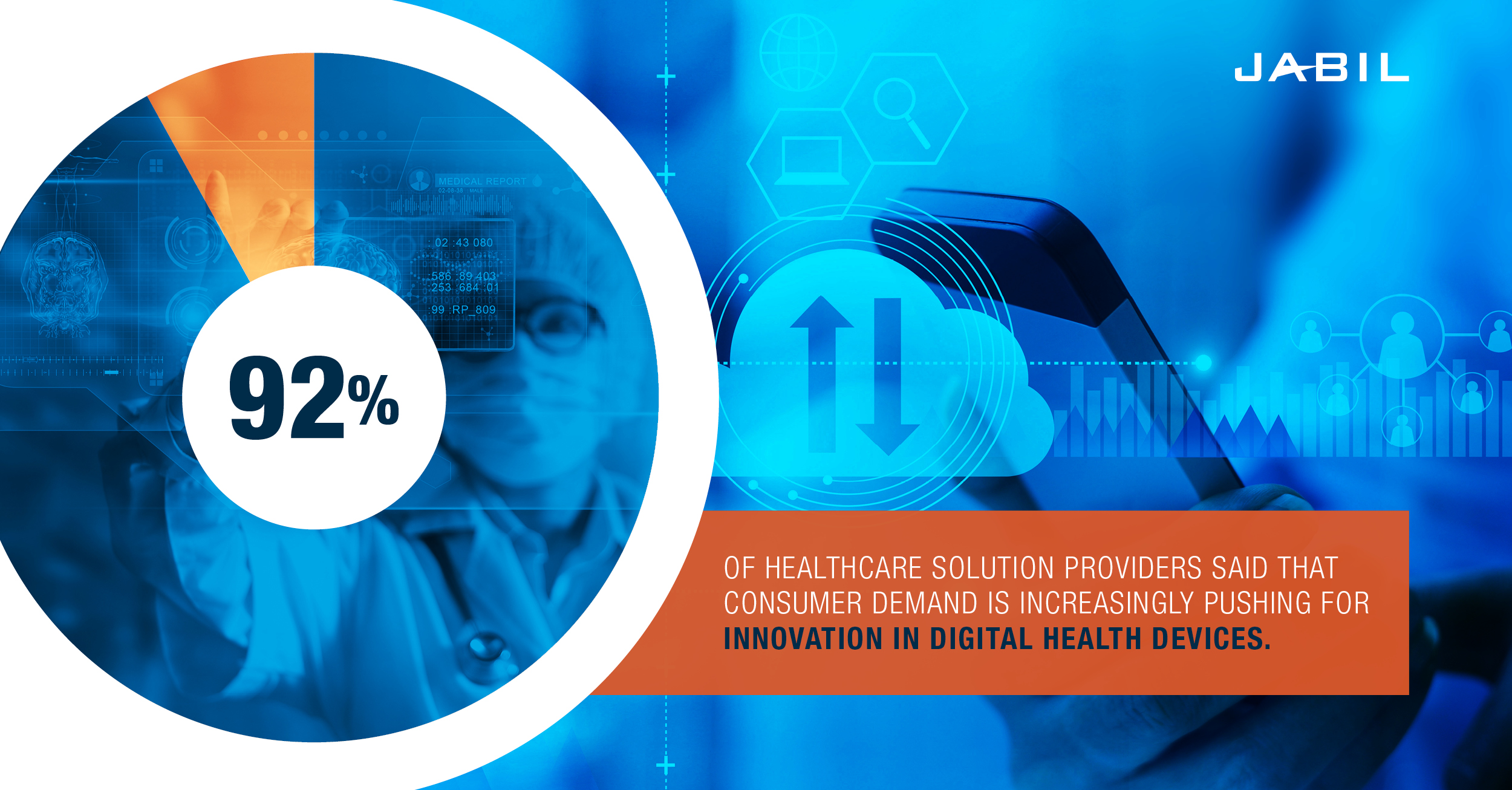 In pursuit of success, healthcare solution providers must first focus their efforts on understanding consumers, which requires the industry to develop stronger user design and ethnographic research capabilities. The best way to help consumers from becoming patients is to keep them well in the first place. These are the resources that are going to help bridge the worlds of traditional and preventative medicine, leading to healthier outcomes.
8. Wearable or On-Body Devices are a Priority for Digital Health Solution Providers
One of the clearest areas of excitement now and into the future is the sector of healthcare products referred to as wearables. These are devices, like fitness trackers, heart monitors and other devices which record in real-time and communicate biometric data either directly to the user or to a connected platform for a variety of purposes, including coaching, intervention, analysis and even clinical trials.
More than half (52%) of survey participants said they are currently developing or planning to develop on-body or wearable devices. Consumers are already familiar and comfortable with these solutions (Apple watches, FitBit, Garmin etc.) so as they are increasingly paired within IoMT platforms, such as telehealth or telemedicine, post-op vital monitoring or even digital twin studies—healthcare wearables will certainly be playing a starring role in the future of digital health. Combining these devices and new ones with digital health platforms will provide the industry with the ingredients to fuel precision medicine.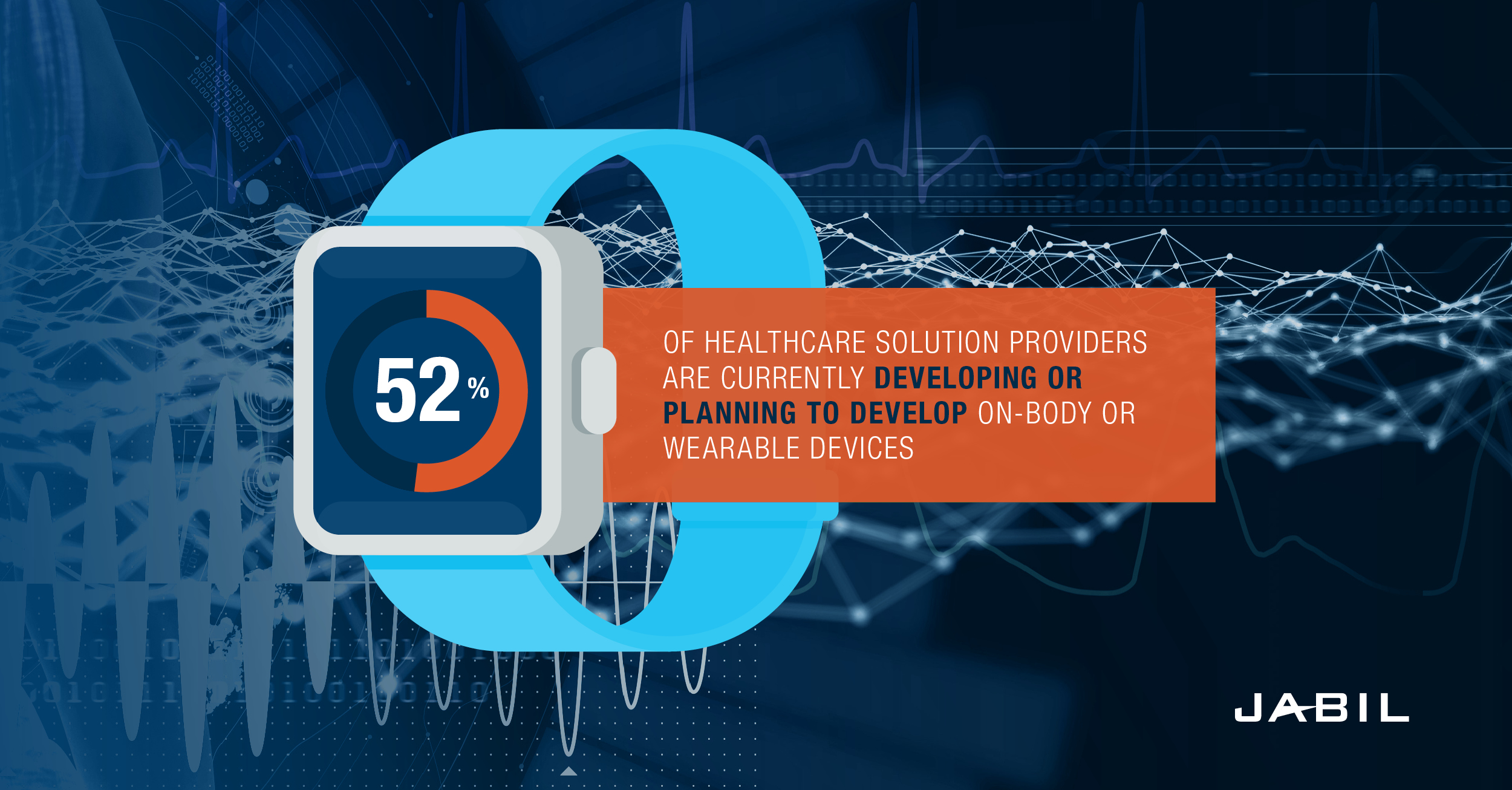 Mobile healthcare is an emerging trend, where patients download health apps to their smart phones. These apps optimize patient engagement by allowing the user to contact their healthcare facility or keep steady track of different attributes of the user's health including sleep patterns, steps and blood sugar levels. The number of mobile healthcare apps continues to increase with the goal to prevent, manage or treat diseases. But with few barriers to entry, anyone can develop and launch an app. How do you ensure that the apps available are robust and safe to use?
For instance, there are more than 1,100 diabetes management apps but only about four of them have been rated clinically acceptable. "There is a clear need to involve patients, clinicians, relevant professional bodies and policy makers to define what makes an app a 'diabetes management' app, including specifying the minimum features an app should have to be classified in this category," an academic article examining diabetes management apps recommends.
As more people start the real-time monitoring of their health data through apps, standards will have to be developed to ensure these apps are clinically approved to provide consistency across the larger ecosystem. Respondents found the next largest opportunity to be in patient monitoring for activities including fall detection and heart rate monitoring.
9. Digital Health Solution Launch Cycles Have Shortened Substantially
In Jabil's 2018 survey, digital healthcare solution providers unanimously agreed that digital health was lagging other industries and their product development and launch cycles were simple proof. Only 29% said that they were achieving development and launch cycles that were less than 18 months. Today that figure has improved to 41%.
Medical device manufacturers are turning their focus to consumers and digital solutions, resulting in much closer alignment of their product development cycles with customer expectations. Considering that development and launch cycles for healthcare companies in traditional product domains have for years stretched out to over a decade, things are moving along much more quickly.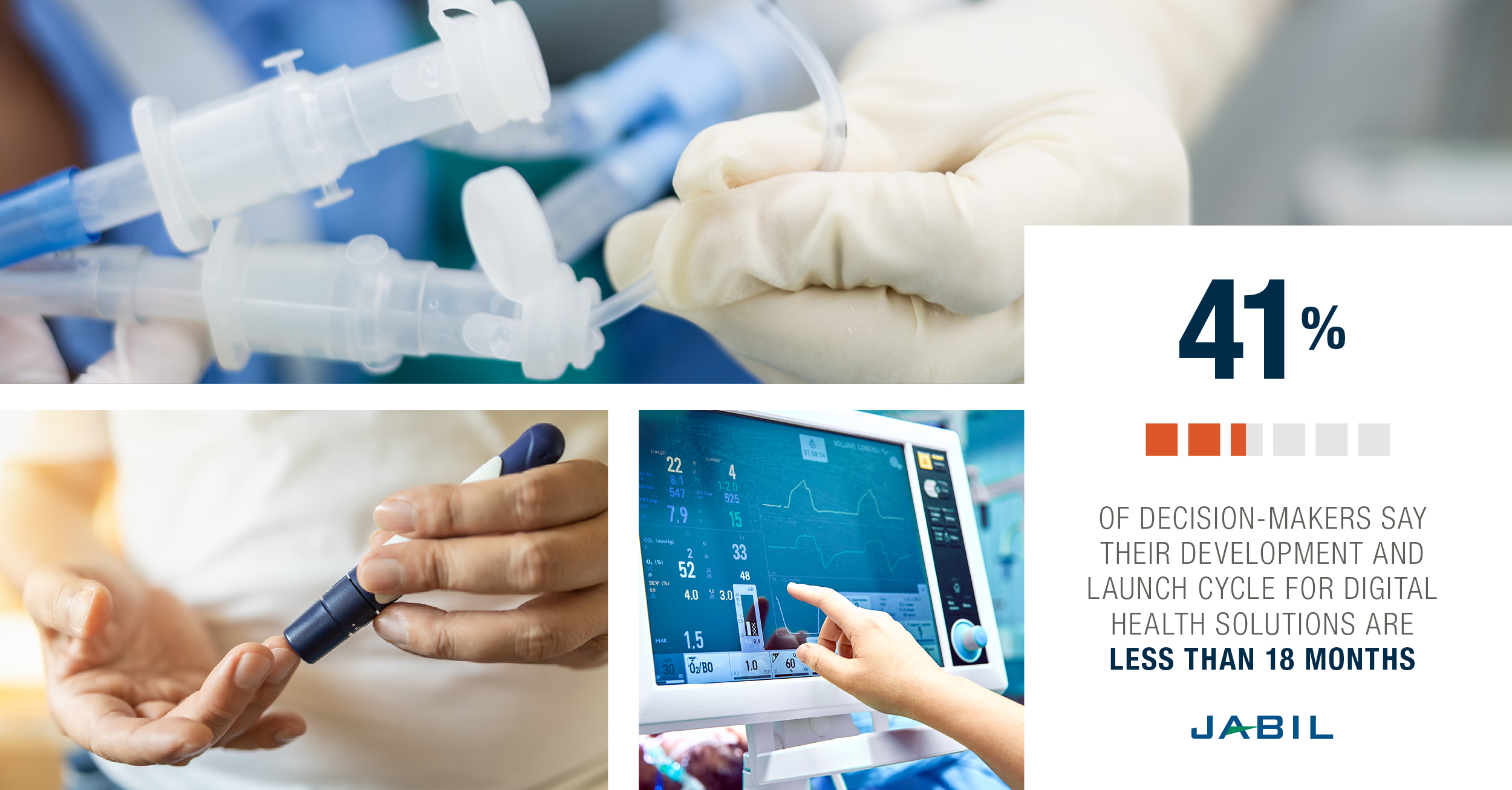 The market indicates that healthcare solution providers need to iterate every two to three years, or risk losing market share. Synching up with product launch and upgrade cadences at this pace is truly a culture shift for the industry.
10. Technology Integration is Key to Digital Health Success
Seamless technology integration is a big part of delivering optimal digital health experiences for patients and consumers. At CES 2020, much enthusiasm and expectation again centered on artificial intelligence (AI), 5G, cloud-based platform applications and the ever-growing roster of IoMT devices.
All of these new developments have and will continue to require collaborative cross-industry synergies and input to further their development. Bringing a digital healthcare platform to market relies on a variety of service providers to combine their unique expertise towards a single solution. Interoperability must also be built into the offering to truly unlock the platform's potential. The tools and information all exist in the market currently; they just need to be connected.
In fact, according to the Jabil survey, 93% of healthcare solution providers agree that the collection and purposing of data should be standardized to enable interoperability between devices and within product platforms. This perspective, however, doesn't exactly align with the split approach solution providers are currently pursuing.
Just below half (46%) plan to deliver all needed functionality within their own controlled ecosystem to provide a more consistent customer experience. Approximately four in 10 say they prefer to follow generally accepted industry standards that enable interoperability within product platforms. Finally, 13% say they plan to be open and enable their customers to do anything they want.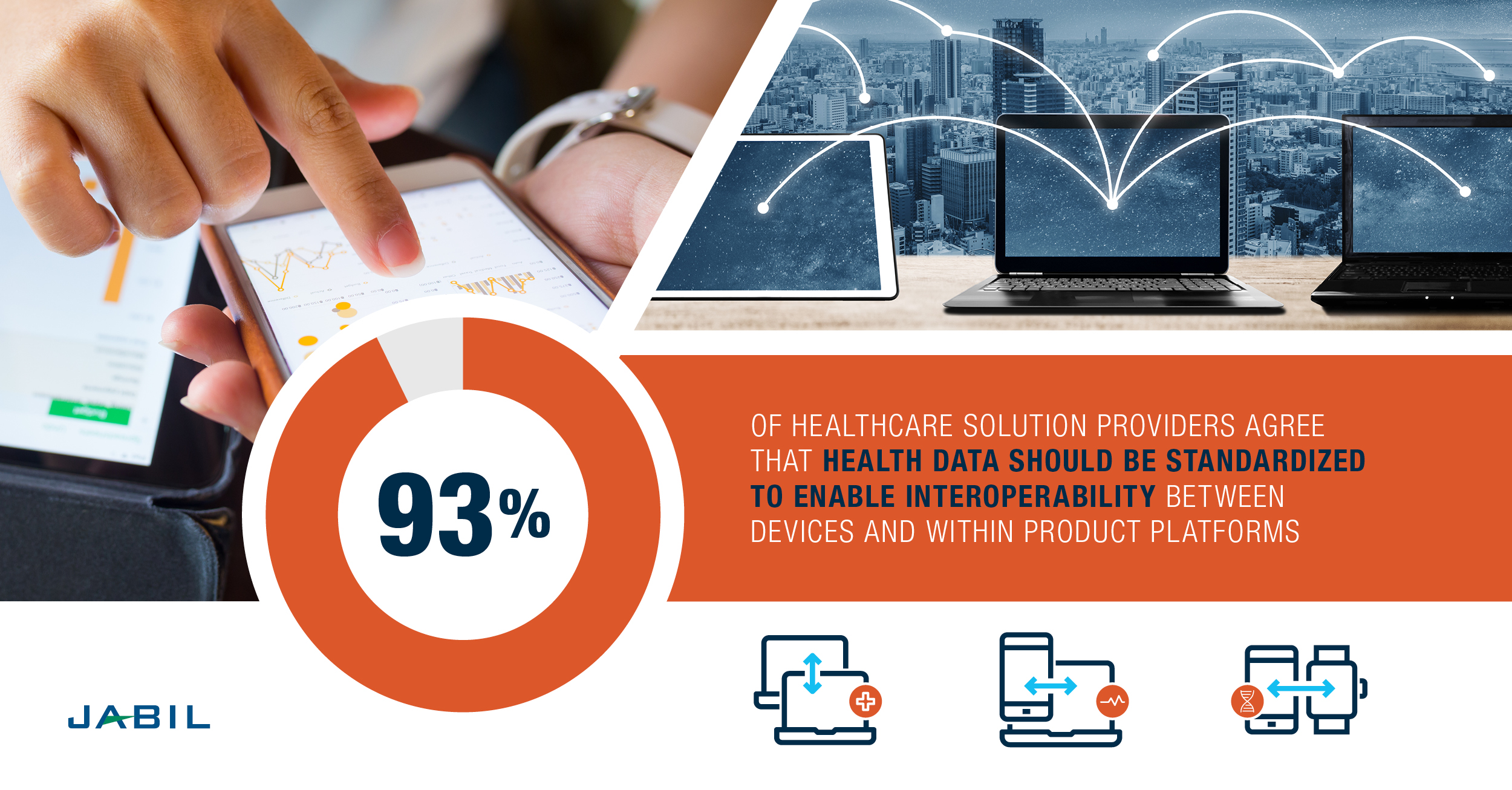 While the industry determines the best interoperability approach, it's important to note that the industry will not be able to deliver truly predictive models and fully leverage AI without interoperability. IoMT devices monitor, collect data for the broader ecosystem and communicate with care providers. They must also be configured within an interoperable system that harnesses the platform's interconnectivity and centralized algorithms so that patient and provider are working together supported by a highly individualized healthcare delivery ecosystem for managing disease and improving patient wellness.
Digital Health Progress is Still in the Early Stages
Most industry observers and stakeholders agree that technology innovation within healthcare is still likely in its nascent phase. The digital health market has blossomed in recent years, yet there's still so much more room for growth. Artificial intelligence, 5G's dramatic upgrade on the infrastructure of wireless connectivity, the adoption of wearables and other emerging technologies, are all truly going to deliver a digital revolution right before our eyes. It's coming along and picking up speed. But there's more to it. In order to create an ideal environment that enables precision medicine, we must also invest in practices like ethnographic research. Our ultimate destination (for now) is VBC.
Given the top digital health trends we discussed above, what are you doing to embrace these opportunities and position yourself for the ones coming next?
Download the 2020 Digital Health Tech Trends Survey Report
Insights from over 420 digital health decision-makers on the barriers, opportunities and the future of digital health.