Automotive Industry Trends: Are Automakers Prepared to Support the Technology Evolution?
The automotive industry is currently weathering a perfect storm of change. With multiple new technology innovations and market shifts hitting the industry at the same time, car manufacturers are facing one of the most challenging environments of the last century. Are automakers prepared for the evolution that comes with today's automotive industry trends?
The original cars of the 1800s and 1900s-which have remained relatively similar up until today-are transforming and will operate differently in the next two or three decades. As a result, change now is part of the core culture for automakers. They must keep up with the latest technologies, adjust their operations and explore new business models to achieve growth. On top of this, automakers are expected to release new products faster than ever.
In the recent Managing Automotive Technology Trends survey sponsored by Jabil, half of the respondents affirmed that their product development and launch cycles are 18 months or shorter on average. With representation from companies of various sizes from four different continents, a total of 126 executives, managers and individual experts completed the survey. All participants were very knowledgeable about go-to-market issues at their own companies as well as innovation and auto industry trends.
Download the Automotive Industry Technology Trends survey report.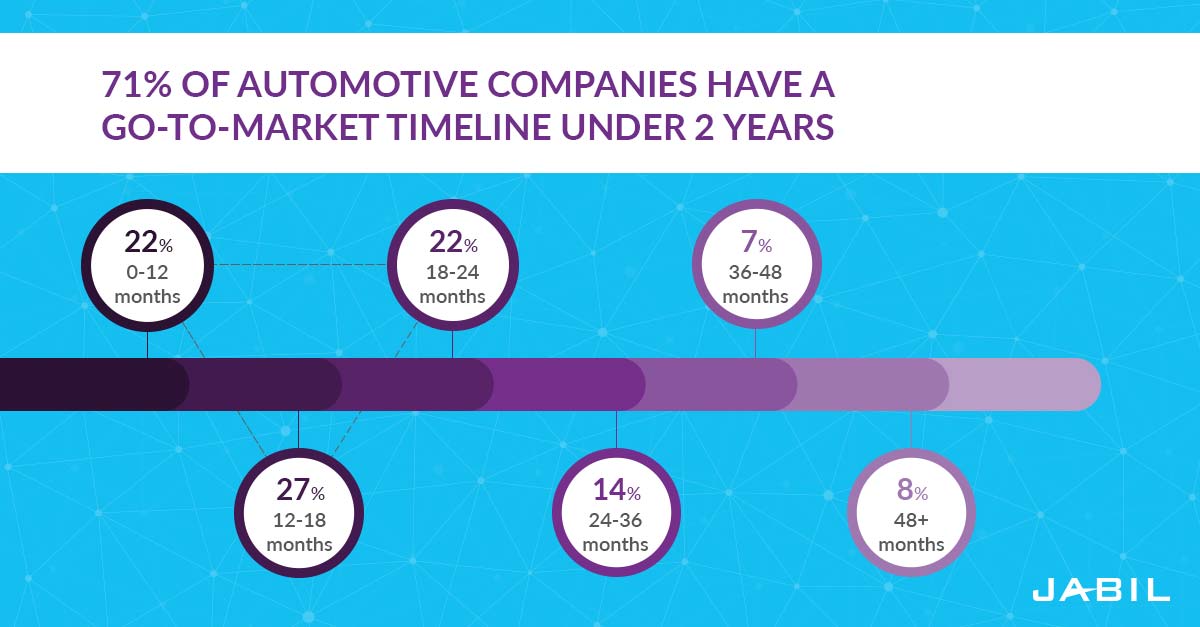 Some automakers, particularly newer companies that bring a different approach to the automotive sector as well as companies that are actively investing in and acquiring new technological capabilities, are handling these changes well. For example, Tesla is making significant progress in the electric vehicle space because its co-founder and CEO Elon Musk took a novel approach to automotive engineering; he essentially built a computer and put a motor vehicle body around it. The company recently reported a $312 million quarterly profit - its first quarterly profit in two years - for the three months ending Sept. 30, 2018, according to The New York Times .
However, most automotive executives are facing hurdles. The traditional automotive infrastructure centers on core elements such as powertrains, interiors, electrical systems and safety systems. Now, implementing new technology that also meets consumer and regulatory demands requires automakers to have an information technology focus. As a result, automakers have been shifting their attention accordingly. This is a cyclical trend we see in the automobile industry as priorities change. We saw in the late 1990s when Delphi spun off from GM to focus on infotainment technologies. A similar move took place recently when Delphi further split into two companies, Delphi Technologies and Aptiv . While Delphi Technologies focuses on the powertrain with an emphasis on vehicle propulsion systems, environmental efficiency and vehicle performance, Aptiv focuses on active safety, autonomous vehicles, smart cities and connectivity.
Technology Challenges Yield Growth Opportunities
Virtually all participants in the recent Jabil survey reported a range of challenges with the mass-market adoption of fully connected, autonomous and electric vehicles. For connectivity, challenges ranged from security; to developing a global solution that meets differing regional needs and regulations; to grappling with competition from companies outside of the automotive industry, such as those in the consumer mobile device industry. With autonomous vehicles, most surveyed automakers are working to address liability challenges, cybersecurity issues and safety concerns, among others. Finally, top challenges for electrification include an infrastructure for consumers to charge their vehicles, the high cost of designing and building electric vehicles, managing power grids to support mass adoption and calming consumers' anxieties about vehicle battery life.
But companies across the automotive industry are not letting these challenges stop them. Instead, they are using them as opportunities for growth. Jabil's research revealed that automakers are prioritizing growth strategies to differentiate themselves in the future. For example:
51 percent are focusing on technology to make low-cost, efficient transportation possible
48 percent are aiming to be market leaders in fully electric vehicles
37 percent are investing in high-end, luxury vehicle performance
36 percent want to be one of the first to mass-produce autonomous vehicles
28 percent are exploring shared mobility models for taxi-type services, like Uber and Lyft
These growth plans are driving change in nearly every aspect of the automotive business, transforming the foundation that has been cemented since the original Benz Patent Motor Car.
Subscribe to the Jabil Blog
Sign up for weekly updates on the latest trends, research and insight in tech, IoT and the supply chain.
Automotive Sourcing Models are Changing
The automotive industry trends can be cyclical in outsourcing. But we're seeing a change across the value chain with the development of new technology. For starters, automakers that used to outsource parts design and manufacturing to Tier 1 suppliers now are doing some design work-in electrification, advanced driver assistance systems (ADAS), connected vehicles and other areas-themselves.
Other automakers are acquiring technology companies, forging new partnerships and heavily investing in technology transformations. This gives them more control over the design process and greater ownership of the data collected by that technology.
For example, Volkswagen is in the process of acquiring a majority stake in WirelessCar, which currently is owned by VolvoGroup AB. The Swedish telematics and connectivity company will help Volkswagen develop a safe and stable data exchange between VW vehicles and the automaker's cloud-based services, which are supported by Microsoft. Volkswagen also is partnered with Diconium to design a customizable marketing platform. The Volkswagen-WirelessCar deal is expected to close in early 2019.
At the same time, the Tier 1 suppliers that used to handle design, engineering and manufacturing for automakers are now outsourcing manufacturing so that they can focus on designing and engineering technology innovations. With the industry shift toward connectivity, ADAS, electric and autonomous driving, demand for technology solutions is projected to be massive.
Millennials will make up 40 percent of new-car buyers by 2020, Brandwatch contributor Kristian Bannister reports. These tech enthusiasts are increasingly opting to buy new cars instead of used cars to take advantage of the latest technology trends, according to an article by Igor Ilunin, head of Internet of Things at DataArt. These potential buyers also are more likely than other age groups to be willing to pay more for the newest automotive technology.
For example, 70 percent of millennials who plan to purchase a new vehicle within the next three years reported that they are willing to pay extra for a state-of-the-art infotainment system. By comparison, only 52 percent of consumers overall and only 30 percent of baby boomers are willing to pay extra for this feature.
However, it is not possible for any one company to invest in everything. In line with this, survey participants noted that they plan to increasingly outsource design within the next five years. Of the participants currently managing the design function in-house, less than half expect to keep control of electrification and user experience design. Similarly, the vast majority expect to outsource ADAS, connected vehicle and infotainment design within the next five years.
Beyond design, participants indicate they will consider outsourcing automotive manufacturing in the next five years. In fact, four out of five respondents say they are considering outsourcing manufacturing.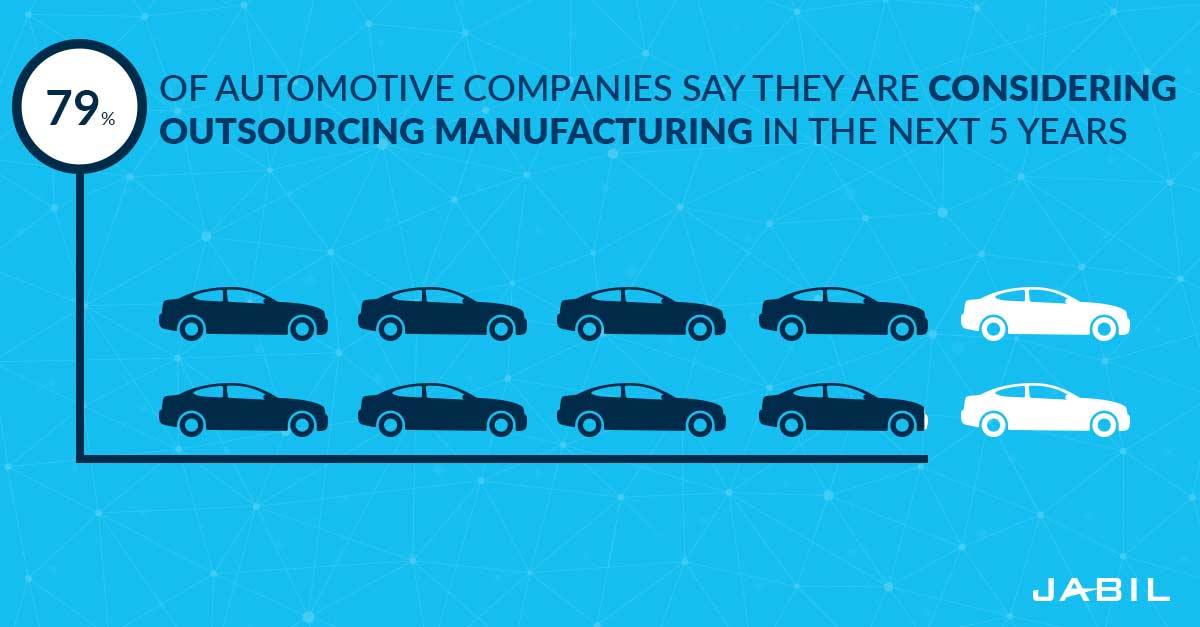 Part of the reason for outsourcing could be that more than half of automakers expect technology innovation for the automotive industry to come from other players. Nearly 40 percent of survey participants expect automotive suppliers that understand regulation, production and other factors to be the primary drivers of transformational technology innovations. Furthermore, 22 percent predict that technology vendors that understand consumer electronics and user experience will drive innovation. This amount is up from 7 percent in last year's survey.
3D Printing Enables Faster Prototyping and Customization
Manufacturing technologies also are driving growth and change in the automotive industry. All of the survey participants expect additive manufacturing, or 3D printing, to impact the automotive industry. Forty percent envision that 3D printing will help with mass production, 35 percent see value in using it for early prototyping and design, 21 percent think it will influence tooling, and 4 percent say it will support vehicle service and maintenance.
Consumer interest in customization also opens opportunities for automakers and Tier 1 suppliers to utilize 3D printing to create a personalized look and feel for a given consumer. Soon enough, buyers may be able to completely personalize their cars to reflect their individual preferences, beyond just the features they can select for their car.
To keep pace with this change, 94 percent of participants are planning to expand their 3D printing capabilities. About half expect to add this ability to their supply chains by outsourcing to partners, 47 percent plan to gain this capability through acquisitions and 44 percent are investing in building in-house staff and infrastructure to support 3D printing.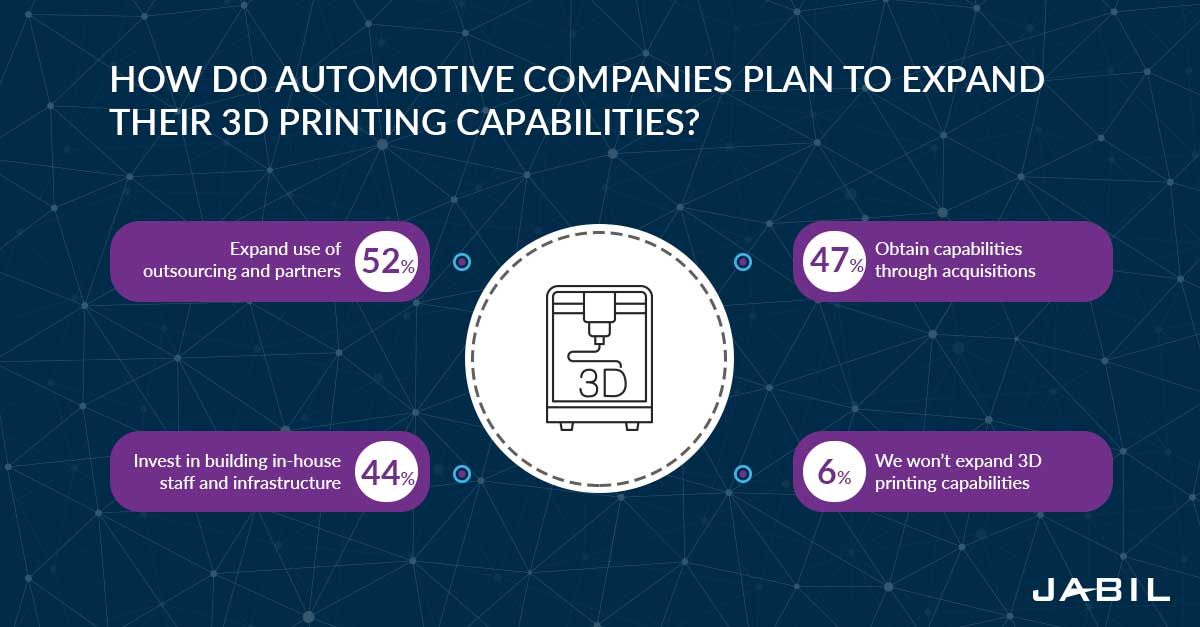 Connectivity Drives New Business Models
Along with these shifts in design, engineering and manufacturing capabilities, automakers must also focus on new business models to create additional revenue streams and propel their growth. Nearly 60 percent of survey respondents plan to offer more vehicle customization and personalization; 56 percent are creating new ownership models, such as shared vehicles or flexible leasing; 40 percent are planning to sell vehicle service data to dealerships; and 30 percent are looking to capture and sell data to third parties.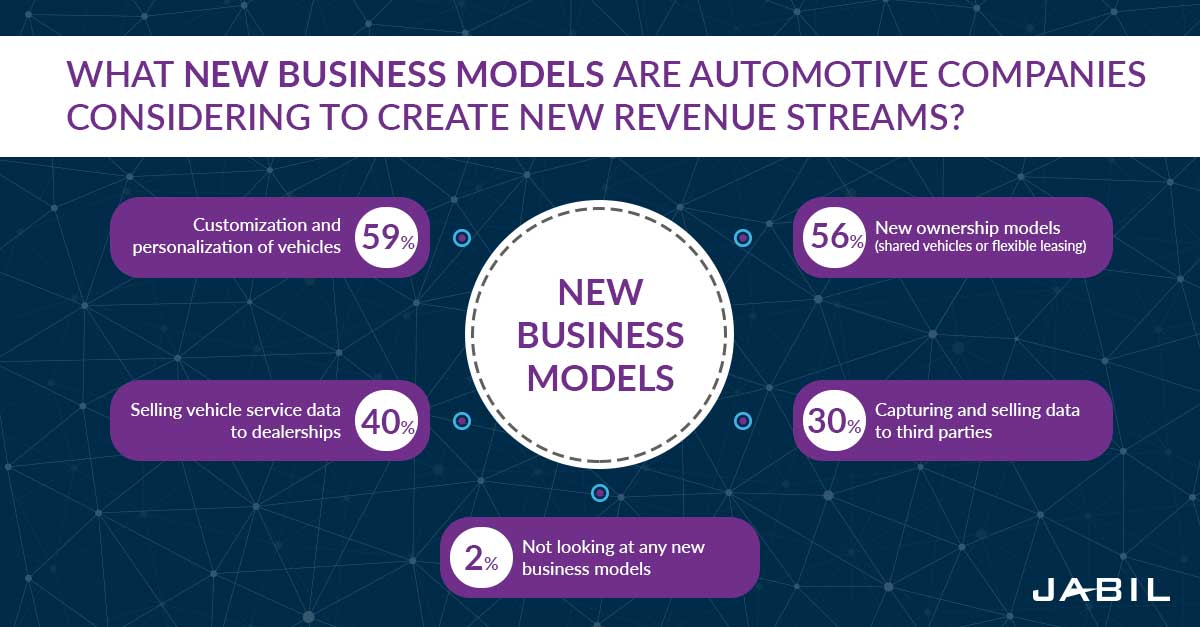 Connectivity is a key aspect of these emerging business models. In fact, 29 percent of Jabil survey respondents cited it as a primary driver of technology innovation in the automotive industry. Potentially, dealers can use connectivity to know when a specific car is having problems, such as low brake fluid or tire pressure; automatically schedule that car for maintenance; and order the necessary automotive parts and supplies to complete the job, thus creating a more efficient service experience for the car owners. Similarly, third-parties can use the data gleaned through connectivity solutions to offer targeted push-notification advertisements as consumers drive past a store, restaurant or other points of interest.
What's on the Road Ahead?
All of these trends, changes and possibilities create an exciting future for original equipment manufacturers (OEM) the automotive industry. Innovations happening in the near term will deliver a safer, more efficient and more comfortable driver and passenger experiences.
Automotive manufacturers still think some of the bigger changes, like mass adoption of autonomous and electric vehicles, are at least 10 years down the road. After more than a century of having humans at the wheel, it can be a bit unnerving for passengers to give a car total control of the drive. Similarly, with electric cars, infrastructure will need to change to give drivers more opportunities to charge their cars. This will also require a behavior shift from routinely pumping gas. Of course, as these technologies continue to develop, consumers' concerns about them will be assuaged, including the economics of owning and buying an electric vehicle.
These emerging technologies are creating a whole new experience for automakers, too. Without question, companies will need to be able to manage all of the technological and automotive industry trends - as well as the related operational and manufacturing changes - of this new era for the automotive industry. Automakers will have to reinvent and re-strategize their goals and investments in this evolving environment. The ones that will succeed will prioritize innovation, stay ahead of the investment curve and put the pedal to the metal in adapting to industry change.
Download the Managing Automotive Technology Trends Survey Report
Insights from 126 automotive OE decision-makers on technology adoption, opportunities and challenges.