The Future of Healthcare? It's Digital.
When we examine some of the biggest technological trends and developments in healthcare over the past decade, the report card on what's been accomplished is an impressive one. So too is the roadmap for what lies ahead. Yes, challenges remain, but the elements are in place for an enduring transformation. Looking back just within the last couple of years, I'm particularly conscious of two macro trends driving much of the change impacting the healthcare industry.
The first is the acceleration of healthcare systems worldwide, working towards value-based care (VBC) models - a future in which the focus shifts away from treatment, to prevention and early intervention. This dynamic can in some ways be a shift from a thing - a product or a pill - for solving health issues, to a process. It's less about reacting to disease and more about helping you manage the disease, or better yet, developing predictive structures, to help optimize wellness and health.
The other dramatic shift that's taken place in healthcare is simply, physical location or point-of-care. Digital technology's capability to keep us connected, despite physical distance, has been one of the main stories in the world's response to the COVID-19 pandemic. Digital health enables healthcare providers to engage directly with their patients, regardless of the actual location. Sensors, trackers, remote patient monitoring (RPM) technologies and other elements of digital healthcare make the point-of-care the patient themself, and as such, simultaneously close the distance between patient and healthcare provider while also opening up opportunities for how, when and where these interactions take place.
Consideration of both these trends provides a broader framing for more specific insights into the exciting opportunities in healthcare today. Let's take a closer look at how much progress we've made in the last few years, and what the next few might offer.
What is the Future of the Digital Health Industry?
The digital health industry is booming, with some estimates, valuing the sector at more than $500 billion by 2025 with an annual growth rate (CAGR) of 27.7%. Our own research bears this out as well.
Earlier in spring 2020, Jabil surveyed more than 420 healthcare professionals with decision-making responsibility at companies with existing or planned digital healthcare products. Many of our questions were reframes of ones asked in the 2018 survey and the results support the growth story.
Download Jabil's 2020 Digital Health Technology Trends report.
More than twice as many companies have digital health solutions in production today than in 2018. But it's also interesting to note that only a third of the providers surveyed describe their company as being fully capable of delivering on their digital healthcare plans. Clearly, there's still much opportunity for improvement and significant potential for momentum accruing to those companies executing on well-defined digital strategies.
of healthcare decision makers describe their company as being fully capable of delivering on their digital healthcare plans.
So, considering the current and future outlook of the digital health industry being so richly valued, what are the factors holding companies back from seizing them? Well, the question is worth considering from different perspectives and roles within the organization.
Engineers and product designers are likely working through ways to fully incorporate and leverage the latest in digital technology. Overlapping them on some issues are decision-makers in product management, looking to optimize the management of the product's lifecycle for maximum market impact. And then flanking these are quality and regulations focused teams, working to ensure compliance and alignment with the latest industry standards and conventions.
No matter the enthusiasm generated by an industry transformed through innovation, healthcare will always remain highly regulated, with exceptions and variance between regions and markets, and even economic models. Healthcare has become a very complex market to keep up with for original equipment manufacturers (OEMs).
Here are six digital health industry challenges identified by participants in both our 2018 and 2020 digital healthcare technology surveys with brief commentary on progress and potential for further improvement in the years ahead:
1. Sluggish Production and Launch Cycles
Since the last survey, healthcare solution providers have taken steps to better align their digital product development cycles with customer expectations. Today, 44% say their development and launch cycle for digital health solutions are less than 18 months, whereas only 29% said the same in 2018.
Consumer businesses are driven by the need for constant innovation. To survive in their fast-paced world, companies have adopted greater agility for managing product lifecycles. Product development cycles for the automotive and transportation markets, for example, are becoming progressively shorter with every cycle. Driven by a culture of innovation and speed, they are now very much in lockstep with consumer electronics, which has historically been one of the fastest-paced markets overall.
Although healthcare solution providers have made significant strides in shortening their digital product development and launch cycles, some larger companies still deal with timelines longer than 36 months. Nearly a quarter of companies with more than $5 billion in revenue still have product development and launch cycles of 36 months or more.
of companies with more than $5 billion in revenue still have product development and launch cycles of 36 months or more.
OPPORTUNITY: Things have improved in healthcare, but consumer-driven businesses offer the industry a valuable template for adopting more agility into product planning, including modular-based designs and competitiveness-based product road maps for best navigating the supply chain and sourcing realities of complex global markets.
2. Hesitation to Take Risks
The healthcare industry tends to be risk-averse. It's conservatism in alignment with the oft-quoted mantra to 'do no harm.' When people's health and well-being are at stake, trust must be preserved.
How do longstanding healthcare OEMs hedge against their innate hesitancy to wade in uncharted waters and embrace bolder product strategies? Partner up!
Enlisting outside expertise is one of the most effective ways to solve challenges with your solution ecosystem. Partners may have strengths in manufacturing capabilities where existing companies do not choose to invest. Also, partners can help identify trends in how markets will progress over time, which can be tied to investment plans supporting product lifecycles.
Although digital healthcare solution providers overwhelmingly agree that consumer demand is driving healthcare innovation and 89% say healthcare manufacturing companies need to act more like consumer technology companies, that's not always the case. Almost 60% say that their company's culture is holding them back from delivering digital solutions as quickly as their users want them.
say healthcare manufacturing companies need to act more like consumer technology companies.
say their company culture is holding them back from delivering digital solutions as quickly as users want them.
Subscribe to the Jabil Blog
Sign up for weekly updates on the latest trends, research and insight in tech, IoT and the supply chain.
In the two years since the last survey, news feeds have been constant with stories of consumer-focused, tech-savvy companies making strides to gain traction in healthcare. Alphabet subsidiary Google is eager to partner their Cloud business with hospital network, Ascension, in a major data storage and processing project, dubbed Project Nightingale, and separately, their announcement at the end of 2019 of intention to acquire Fitbit for $2.1 billion certainly demonstrates the tech giant driving stakes in the ground.
In the diabetes domain alone, the deals have been impressive. Both Apple and Google life sciences company, Verily, have been working with diabetes care solutions innovator, Dexcom. Amazon plans to use its popular Alexa-enabled products to help diabetics verbally check their blood sugar levels. And just last month a blockbuster deal paring Livongo's, data science and technology platform for diabetes management with Teladoc, the industry leader in telehealth. The combination of two of the largest publicly traded virtual care companies will create a healthcare technology giant worth approximately $37 billion. Teledoc's CEO comment addressing the combined entities' synergies puts things quite clearly, "We would either team up or end up competing with each other." If you can't beat 'em....join 'em!
OPPORTUNITY: Now's not the time for timidity. Now's the time to make the case for your expertise and seek engagement with those that strengthen your position.
3. Potential of Artificial Intelligence (AI)
Simply put, AI is on its own one of the most potent accelerators of innovation and emergent capability in healthcare. The analysis provided by AI and machine learning can be purposed to enable a highly personalized healthcare where specific courses of action are recommended or automatically taken based on ongoing monitoring of patient status and compliance with, for instance, a digital twin or via engagement with a digital health monitoring platform.
Three-quarters of digital healthcare solution providers say they are either seriously considering options or already working with advanced technologies for delivering personalized medicine and precision healthcare solutions.
say they are either seriously considering options or already leveraging technology for delivering personalized medicine and precision healthcare solutions.
OPPORTUNITY: AI is the key technology for enabling this extraordinary potential of precision medicine. And as such, is the singular most effective catalyst for helping to drive down healthcare's spiraling costs - all while simultaneously improving patient outcomes. In the context of public health concerns, the delivery of treatments targeted preemptively, to reach the right people at the right time, will result in less time spent in hospitals receiving expensive treatments or risking exposure to infections or other complications.
4. Increasing Value in Contract Manufacturing Capabilities
Consumer impact, or consumerization, may be one of the leading forces behind the increased innovation in healthcare. Nearly half of digital healthcare solution providers also believe innovation will be led by contract healthcare manufacturing companies (CMs) that understand certification and production. Meanwhile, 54% believe "outsiders" like enterprise technology companies or consumer technology companies will provide the momentum for driving innovation in the industry.
OPPORTUNITY: Another opportunity for explosive innovation by CMs is through delivery of additive manufacturing (AM) - sometimes referred to as 3D printing. In just the last few years, additive manufacturing has become essentially a medical technology, enabling extraordinary benefits within a variety of niches, for example in the orthopedics market. Corrosion-resistant and biocompatible structures 3D printed from both polymers and metals and incorporating complex and precise geometries unattainable by traditional machining and manufacturing process are revolutionizing the work being done with patients suffering orthopedic trauma or other health-compromising conditions. Quick design turns with minimal waste and maximum strength, make AM printed implants ideal for next-generation applications with capabilities for customization to a patient's specific anatomy.
Total revenue generation associated with the additive orthopedics market in 2018 amounted to nearly $500M worldwide, with OEMs and contract manufacturers combining to produce over $1B worth of additive implants at market value. There are tremendous opportunities evolving at every turn as healthcare OEMs become more familiar with the exciting potential of additive manufacturing.
5. Changing Regulatory Environments are Easier to Navigate
In the United States, the FDA has become much more accommodative supporting the role of new technology in healthcare. The pilot precertification program, launched by the agency a few years ago has turned out to be just the beginning. Announcements by the agency earlier in 2020 updating four previous final guidances for tech-enabled products-covering mobile medical apps; general wellness and low-risk devices; off-the-shelf software use; and guidance on data systems and medical image storage and communication devices-really anchor the trend.
Amy Abernathy, Principal Deputy Commissioner, has made clear that the goal is not to hinder development of low-risk but helpful technologies within healthcare, saying "We're making clear that certain digital health technologies such as mobile apps that are intended only for maintaining or encouraging a healthy lifestyle-generally fall outside the scope of the FDA's regulation...We are committed to promoting beneficial innovation in this space while providing appropriate oversight where it's merited."
The pace of innovation in healthcare has impressed itself within the regulatory process around the globe. Agencies are becoming more risk-tolerant in their approach to regulating new products, yet without giving ground against threats to patient safety. There's additionally more harmonization between agencies. The landscape is becoming more collaborative, transparent and in many ways simpler.
OPPORTUNITY: Modular design architectures addressing the "non-therapy" portion of a medical device may be the optimal approach for minimizing the complexity of regulatory approvals and improving speed to market. In the pharma space, digital technologies can be leveraged to optimize clinical trials performance by improving adherence and compliance to study protocols, and lowering costs, all in support of accelerating the right candidates to market.
6. Data Security and Privacy Concerns
Survey participants in both 2018 and 2020 affirm being concerned or challenged with regulatory processes like FDA approvals, process certification and more. Likewise, the two different survey cohorts are also in agreement on data interoperability. More than nine in 10 digital healthcare solution providers agree that digital healthcare's collection and the purposing of data should be standardized to enable interoperability between devices and within product platforms.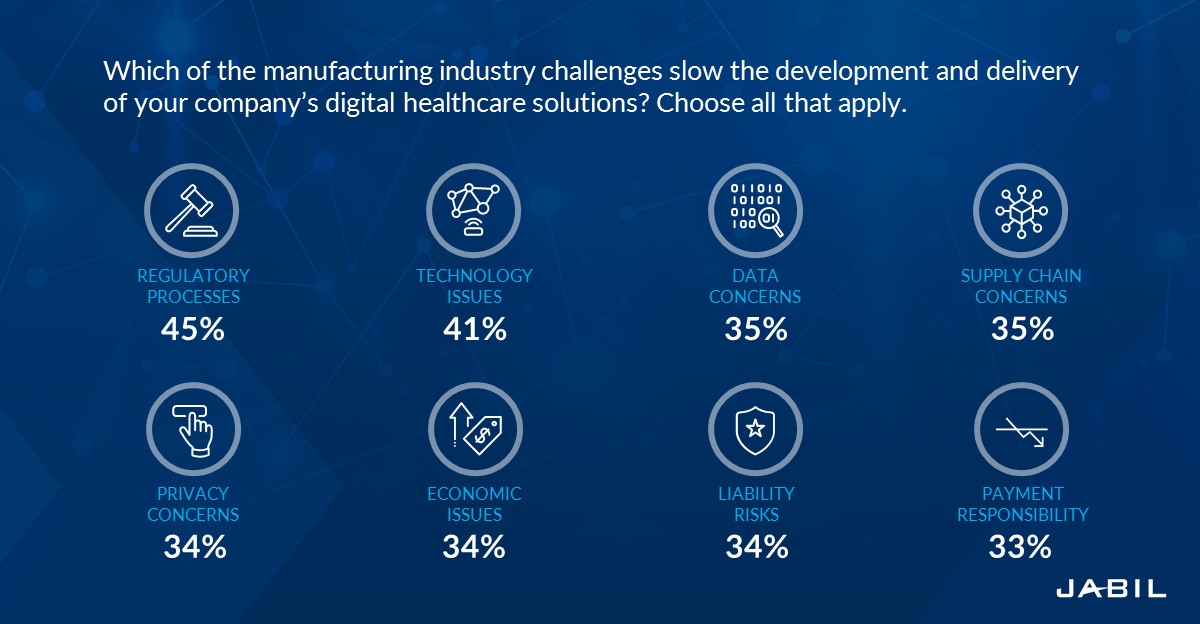 In March, the U.S. Department of Health and Human Services (HHS) finalized two rules to provide patients with greater access and control over their health data. This announcement as well as other related actions from government entities as well as industry consortiums, such as The Sequoia Project are addressing the need for data standards for sharing and patient privacy protections. The healthcare industry is establishing an interoperability model for data, purposing its value for the greater good; it's no longer an option.
OPPORTUNITY: As summarized by digital health technology advocate, innovator and author, Dr. Tashfeen Ekram, "Standardization efforts like Fast Healthcare Interoperability Resources, FHIR, are hugely important to the ongoing industry effort of breaking down data silos and democratizing access to health data across providers and patients."
Loading image ...
The Future of Digital Health Industry Looks Bright
The word 'transformation' is often used when describing the impact of digital technologies on the industry. What were once considered barriers are now opportunities. Digital healthcare's progress from the date of our first survey in 2018 to now tracks an unmistakably upward sloping trend, but as impressive as that graph is, COVID-19's impact on healthcare delivery and legacy healthcare workflows in just the first half of this year is to a whole other degree.
The COVID-19 pandemic has catalyzed a massive shift towards more aggressive leverage of digital technologies in healthcare. Telehealth, virtual care and remote patient monitoring are helping to protect people's lives - and for medical staff, their livelihoods. The entire ecosystem is evolving to address limited resources: the people, places and things which make up our healthcare system. Direct access to our physicians and medical centers has changed. We are being triaged and treated differently and if something can be done remotely, or through a sensor with digital connectivity, it's getting embraced to deliver us safely and with more cost efficiency, through the bottlenecks.
At the outset of the pandemic Seema Verma, Administrator, CMS, the agency in the United States that oversees Medicare, Medicaid, and the insurance markets voiced this transformation of patient care delivery, and with unequivocal language, "I think it's fair to say that the advent of telehealth has been just completely accelerated, that it's taken this crisis to push us to a new frontier, but there's absolutely no going back."
Download the 2020 Digital Health Tech Trends Survey Report
Insights from over 420 digital health decision-makers on the barriers, opportunities and the future of digital health.