6 Barriers to The Future of Digital Health
In 2007, the World Health Organization published a framework for strengthening health systems to improve health outcomes. The title of the report was "Everybody's Business." Because that is what healthcare is. Its scope isn't limited to doctors or people suffering from chronic illness; it affects all of us. One way we can improve our existing systems is through digital health, which has tremendous potential.
Remote patient monitoring alone could save up to $36 billion globally over the next five years. That is why the stakes are high for medical systems across the world to improve their operations and outcomes by implementing digital health technologies.
Furthermore, remote monitoring and patient compliance tracking can ease the burden on overworked doctors, shifting from volume- to value-based care. It increases the possibility of overall better treatment for illness, early detection of symptoms and improved patient outcomes. It can also decrease the total cost of diagnosis and treatment, shorten the time from diagnosis to recovery and empower patients to take control of their own health.
We have had the ability to incorporate sensors and drive technology for a decade, but despite the advantages to doctors, patients and societies, there are several barriers to unleashing digital health. Here are six of them: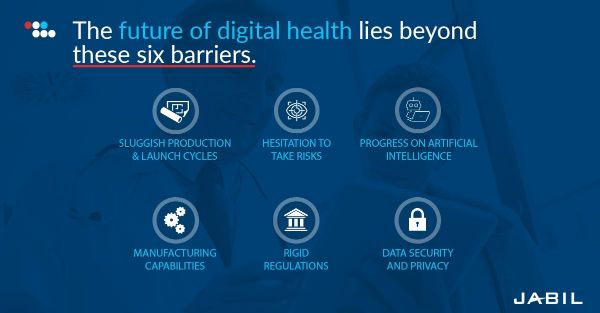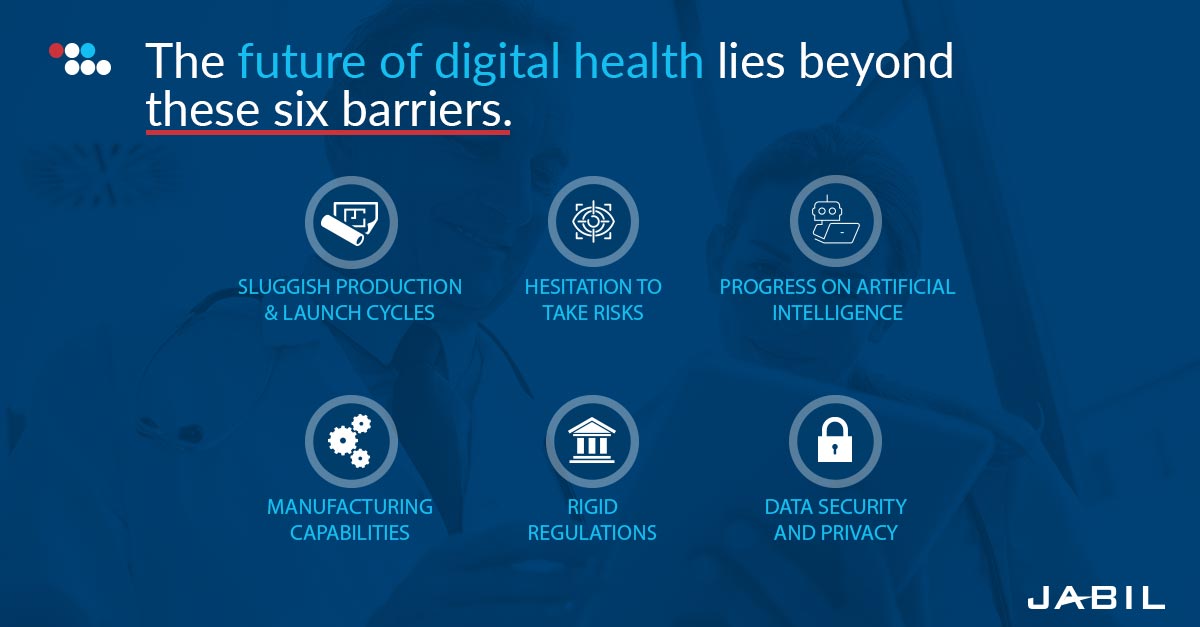 Sluggish Production and Launch Cycles
Digital health product development and launch cycles vary greatly. Respondents from Jabil's 2018 Connected Health Technology Trends survey indicate that smaller companies are more likely to have development cycles under a year. However, only 6 percent of overall companies considered that timeline feasible. Most estimated that it takes one to three years to complete a connected healthcare solution product development and launch cycle. The longer devices idle in the production cycle, the less healthcare can progress. Download the full Connected Health Technology Trends Report.
Many companies are currently straining toward producing a completed product. Almost 80 percent of survey respondents affirmed that they have put a product into users' hands, most of which have only delivered a prototype or only to test groups. Regardless, the industry is positive about the future. Eighty percent of the survey respondents predict that their solution will be fully launched within three years. Part of the delay in the production and development cycle can be attributed to the tendency in healthcare to shy away from risk.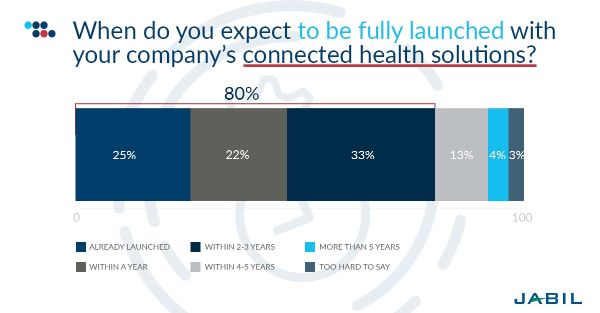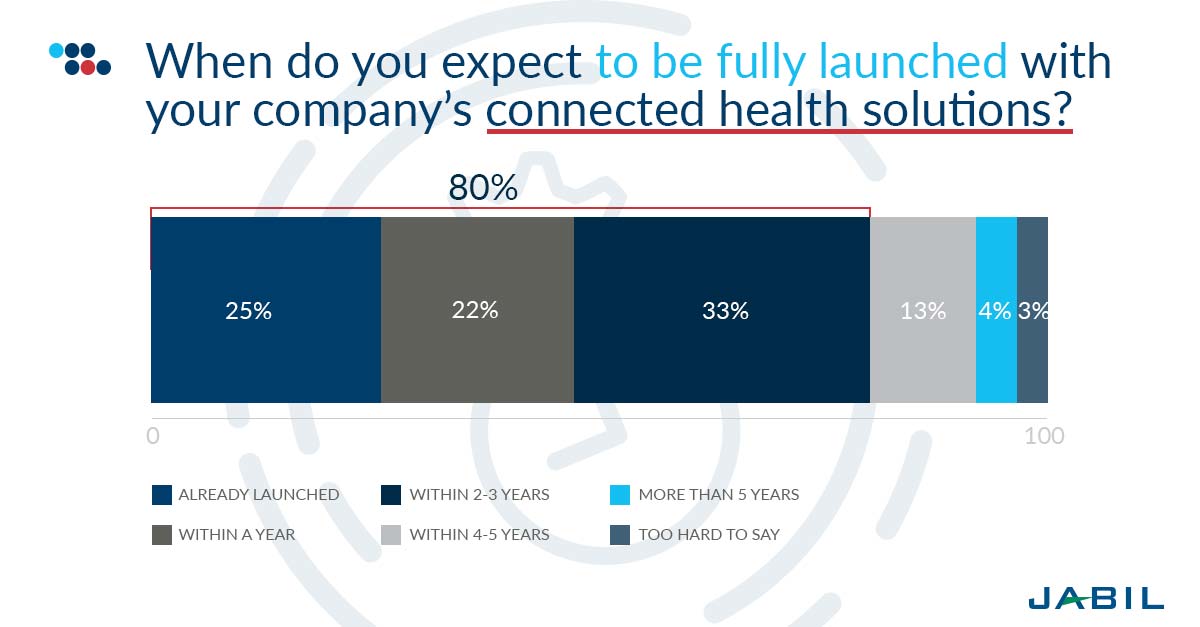 Hesitation to Take Risks
The healthcare industry tends to be a highly risk-averse one. In some respects, this makes sense—after all, people's lives literally hang in the balance. Companies and medical experts cannot expect patients to entrust their well-being to glitchy devices or experimental features; healthcare solutions must be complete and functional. It's no wonder that 56 percent of survey respondents agreed that "healthcare is driven by proven outcomes, not good ideas." But this cautious mindset does present an obstacle to the progress of digital health solutions.
To give one example, although there is a benefit for both healthcare professionals and patients in offering devices that allow people more freedom to control their own health, some medical practitioners may worry about placing so much responsibility on the patient. For instance, a connected inhaler may be able to time and date stamp, but the full onus for taking the medicine and monitoring intake is on the patient. The truly successful people are going to be the ones who actually monitor the patient's compliance, instead of wholly relying on adherence. The connection provides value when it actively monitors.
Offering new solutions in any industry poses a business risk, too. Our research shows that many connected health devices never even make it to market. Companies will hesitate to invest time and money into developing a solution that may never be profitable. There are also many fears about a device negatively impacting the patient in some way, which is one of the concerns of artificial intelligence.
Artificial Intelligence is Still a Question Mark
Some of the areas our respondents identified as the biggest opportunities for digital healthcare to make a difference – such as better treatment for illness and early detection of symptoms – may rely on the reliability and efficiency of artificial intelligence (AI). AI could play a central role in shifting healthcare from being reactive to being proactive and preventative.
Subscribe to the Jabil Blog
Sign up for weekly updates on the latest trends, research and insight in tech, IoT and the supply chain.
However, there are several concerns swirling around artificial intelligence or machine learning when it comes to potential healthcare applications. What if AI learns too much or starts making the wrong connections and consequently forms inaccurate diagnoses?
There are also questions about how an agency like the U.S. Food and Drug Administration can regulate and approve AI, which is, by nature, constantly changing. Every time it updates, is it considered a new device? Does it need to be re-approved? Is there a way to ensure it isn't causing harm?
Before digital healthcare can move forward, these questions need to be resolved.
Inadequate Manufacturing Capabilities
One in five companies indicated that they were forced to pull back a solution from market, even though it solved technology, production and compliance issues. The leading cause? Manufacturing issues. Ninety-five percent of participants admitted to having manufacturing problems. The leading issues cited were that enabling technology has not sufficiently evolved, manufacturing costs are too high and the supply chain is obsolete.
Many companies see the benefits and understand the drivers of connected health, but the biggest pain point I see is figuring out how to make it less expensive. In our Internet of Things (IoT) world, products move quickly. Consumers expect upgrades and new features on a regular basis, which is one reason the healthcare supply chain needs a revolution.
Given the significant degree of difficulties associated with this obstacle, it follows that a company with manufacturing expertise was the top choice for a partner, as well as the large number of companies that wanted a partner with expertise in government approval processes that could help them slice through the red tape of governmental regulations.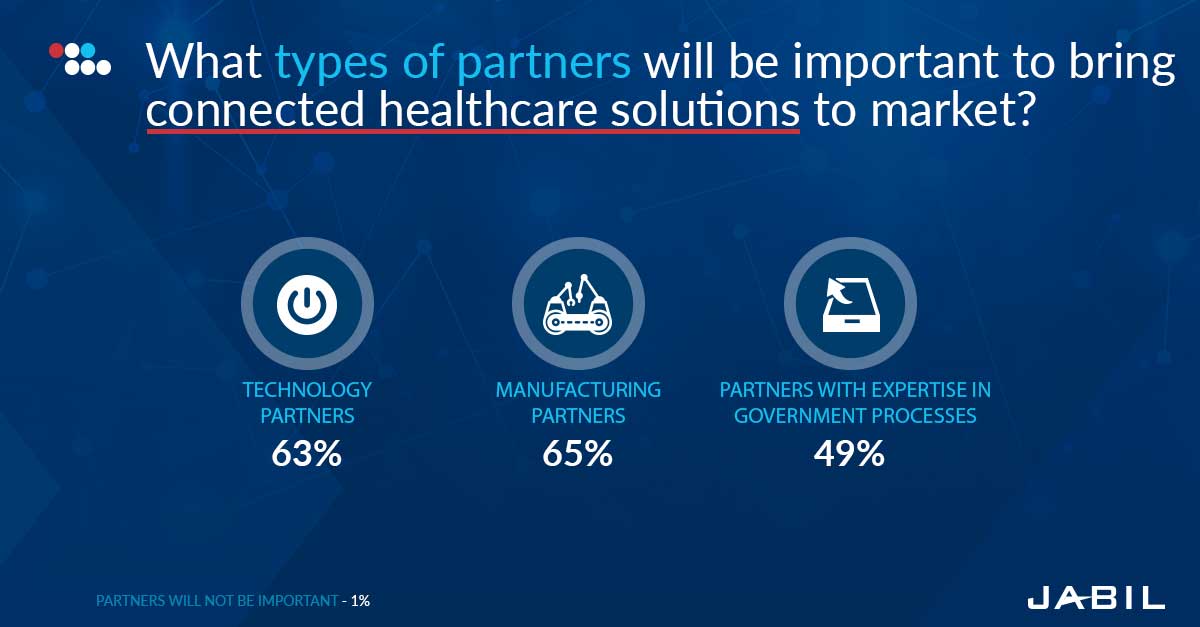 Regulations are Difficult to Navigate
Participants overwhelmingly agreed that industry hurdles are the biggest overall barrier to connected health, and the top industry hurdle is regulatory processes that are too rigid for constantly changing technology solutions.
Devices can receive regulatory approval more quickly, based on their classification. Our survey echoes this sentiment. In-body devices typically take the most time to receive FDA approval, possibly because they are the most physically invasive and may be more integral to a customer's health than other types of devices.
Delivering technology to different regions of the world can also be a challenge; the U.S.A., Europe and Asia, for example, all have different regulatory requirements. Producing a device that is approved by government agencies in different areas of the world can be a laborious and lengthy process.
To speed up the process, the FDA is undertaking the Digital Health Software Precertification (Pre-Cert) Program, which will allow pre-approved companies to market lower risk software-as-a-medical-device (SaMD) without the hassle of undergoing a premarket review of individual products, which is an initiative that Nypro's Senior Director of Technology Ralph Hugeneck discusses in more depth. He also explains how companies can begin conversations with government regulatory agencies earlier in the product development cycle to address concerns.
Of course, part of the reason for stringent regulations is to assuage well-founded fears about data security and privacy.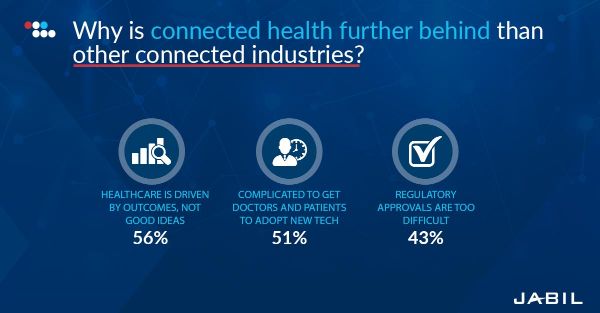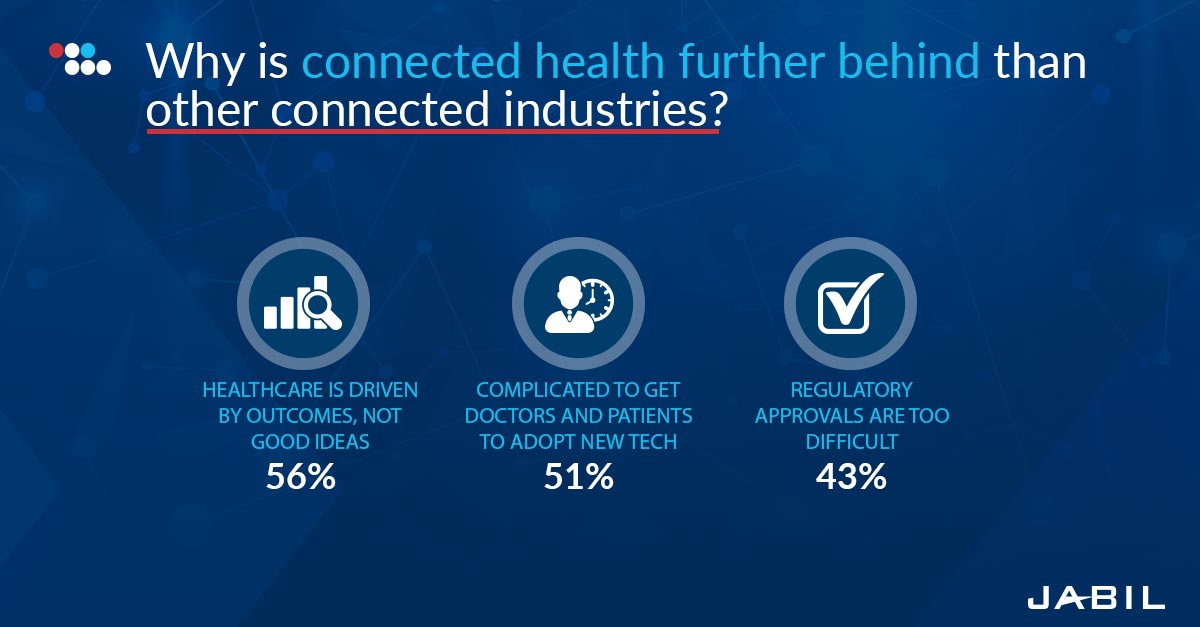 Data Security and Privacy Concerns
Data collection is crucial to both implementing and improving several digital healthcare solutions. In our survey, participants said that data would be most useful in identifying and solving problems with devices and connectivity, understanding use models to guide product development and driving general healthcare outcome research. However, many users have expressed justifiable concerns about poor data security and privacy.
In September 2018, Facebook announced that an attack on its computer network exposed the personal information of nearly 50 million users. Although that number was lowered to 29 million as the company began to investigate, the disclosure of this breach came at what may be the lowest point in the history of consumer trust on cybersecurity.
As reports of these privacy violations flash on their TV screens, consumers can easily imagine something similar occurring with data gleaned by their connected device. Digital healthcare device users might have even greater cause for worry than owners of other IoT-enabled devices. The data gathered through medical devices might involve decision-making that directly affects their physical well-being and personal safety. The potential consequences if, for example, a hacker took control of a diabetic's insulin pump could be detrimental. Users might also worry that private medical information could be sold to an outside source without the consumer's knowledge or authorization.
One of the most efficient ways to sidestep several of these issues I've discussed is to develop a strategic partnership. Whether you struggle with manufacturing, industry hurdles or end-user adoption, a good partner can provide additional resources and complementary expertise.
My advice would be to identify critical partners that can build a best-in-class ecosystem around your needs. You want to be the best in the industry, but nobody can be the best at everything, so pick a partner with proven expertise and resources you can leverage to bolster areas where your company may not be as strong.
The Future of Digital Health
All in all, digital health is the future of healthcare and has the potential to completely revolutionize the industry. All players in the healthcare ecosystem, including patients, providers, payers, OEMs, government and third party healthcare platforms will be impacted.


The obstacles may be daunting, but the cost of healthcare is draining money unnecessarily, physicians are overworked, and people are suffering from a lack of preventative, proactive care. Digital healthcare is not an industry that can afford to lie dormant; these issues don't just affect healthcare professionals or people with chronic illness. It truly is everybody's business.
Download the Connected Health Tech Trends Survey Report
Insights from 211 connected health decision makers on the barriers, opportunities and the future of connected health.