Pharmaceutical Delivery Systems (PDS)
Designing, Developing, and Delivering Products for Optimal Outcomes
Jabil Healthcare helps our customers design, develop and manufacture some of the most complex and innovative drug delivery devices in the market.
Jabil Healthcare's Pharmaceutical Delivery Systems (PDS) business can be sub-divided into two key domains: inhalers and injectables. Our engagement with customers begins with design and development and migrates across the entire product lifecycle to manufacturing, sterilization, and assembly of final product, including the ability to integrate pre-filled drugs into primary containers' delivery devices before they leave our factory.
The PDS market requires the highest levels of competence, experience, and scale from a manufacturing partner. Design specifications, patient safety, regulatory requirements, usability, aesthetics, functionality, and large-scale manufacturing objectives all must be addressed.
In recent years, Jabil Healthcare has earned praise for its innovative work leveraging connected solutions into our customers' product designs. Connected Health continues to be a core focus for PDS, with particular emphasis on clinical trials. We have a proven track record of successfully executing large New Program Introductions (NPI) and ramping into commercial production while simultaneously accommodating rapidly iterating process improvements and reducing risk and overall cost.
Pharmaceutical Delivery Systems Fact Sheet
Auto Injectors
Cold Chain Management
Connected Solutions with Data Management
Device Development Services / Innovation
Dry Powder Inhalers
Insulin Pens
Metered Dose Inhalers
Needle Free Injection System
On Body Delivery Systems (Pumps)
FinPack
Jabil Healthcare's Finished Product Assembly & Packaging (FinPack) group provides drug/reagent product assembly and packaging services to pharmaceutical and diagnostic customers. We have dedicated FDA registered and audited cGMP manufacutring areas in Clinton, Massachusetts and Waterford, Ireland.

FinPack Service Offerings:
- Integration of pre-filled drugs into combination products
- Kitting, packaging, serialization, and labeling of finished goods

Pharmaceutical Delivery Systems Highlights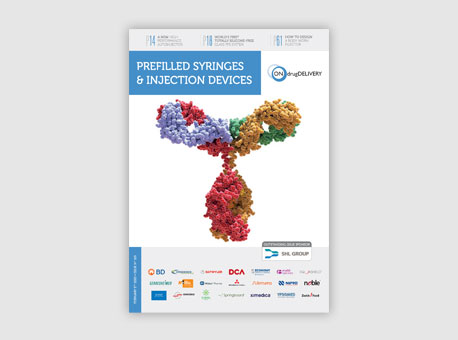 ARTICLE: ONDRUGDELIVERY
Large Volume Injectors: Rise in Biologics Brings Challenges
(Requires Sign-In)