Smart Home Technology Trends Affecting Global Enterprises
The concept of the connected home and building has been around for nearly five decades, continuously tempting consumers with promises of a smart future. Companies, on the other hand, have been waiting for the opportunity to capitalize on this trend to transform how we live, work and play. Now, with advancements in artificial intelligence, connectivity and sensors we are closer than ever to making the connected home and building a reality.
It should go without saying that there is more work to be done. Reports still classify the connected home and building industries in their infancy and expect significant growth to take a few more years. Forecasts show that the connected home and building industries will reach a combined $152.5 billion by 2022, with connected buildings leading in revenues.
Early indicators present growth opportunities in certain segments, opening speculation on what additional technologies might be available in the future. To gain some insight, Jabil recently sponsored a Connected Home and Building Technology Trends survey, to appraise the current state of the industry among decision makers at companies that develop these types of solutions. Here are some of the key takeaways:
There Is Opportunity in Connected Home and Building Investments
Ninety-seven percent of respondents agreed that connected home and building solutions enable new business models, particularly data-driven ones. More than half said they anticipate developing new solutions based on the data collected by their devices. Others highlighted opportunities in recurring revenue models like subscription services and selling through partnerships with connected devices. All in all, there is no shortage of opportunity for companies providing connected home and building solutions.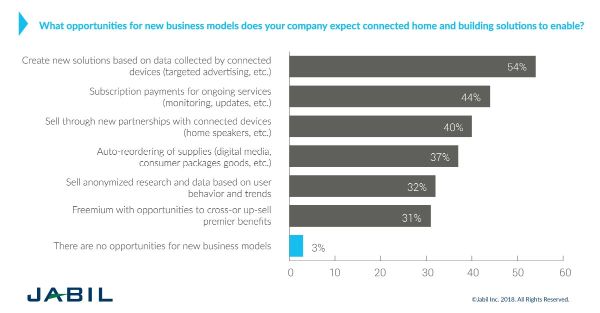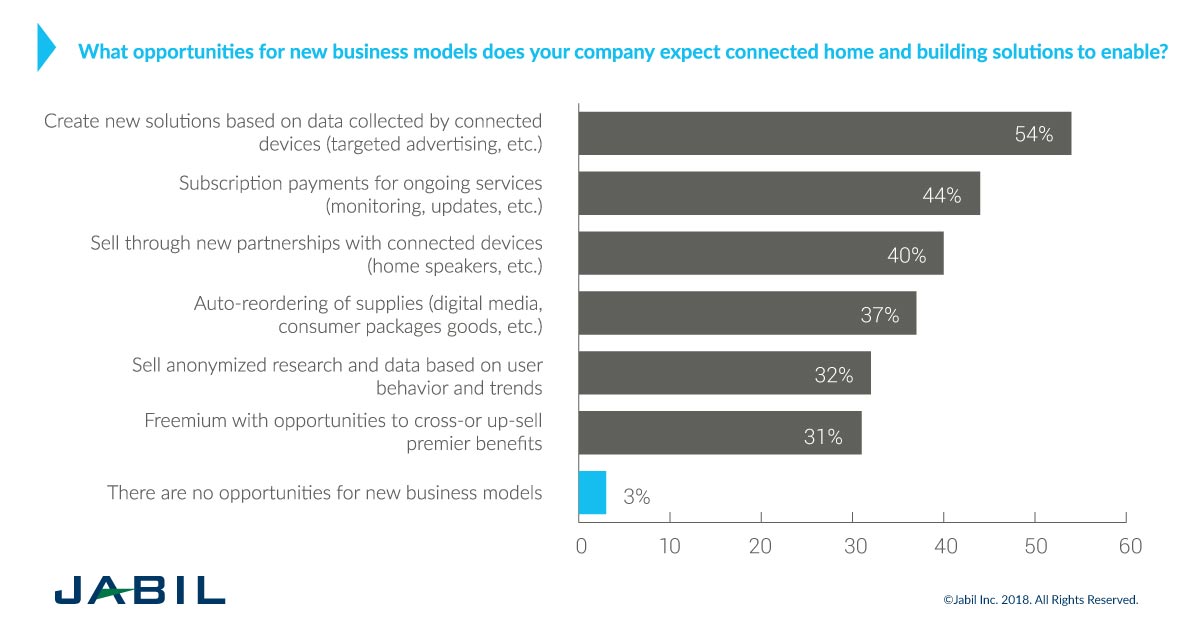 In addition to new business models, companies have good reason behind their investments in connected home and building solutions. Fifty-one percent of respondents are looking to both improve existing solutions via connectivity and deliver new and innovative offerings. Other reasons for investment included customer demand for such solutions, access to new markets and a fear of competitors gaining advantage.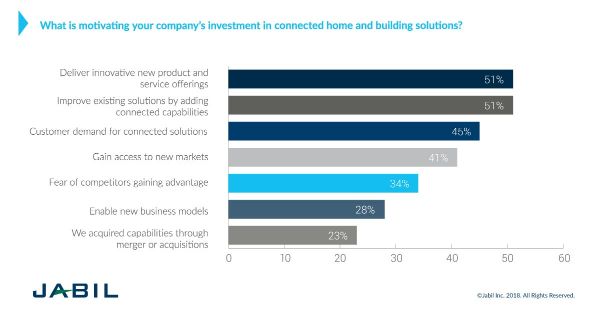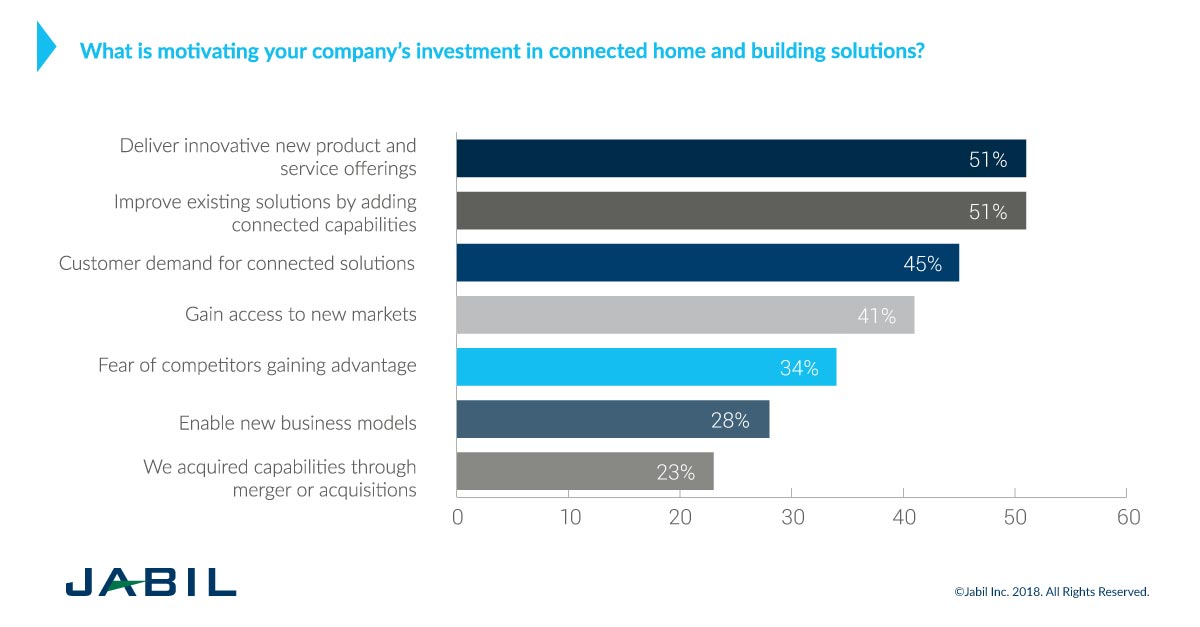 Respondents to the survey listed the top three motivations for connected home and building solution buyers to be increased convenience, improved safety and cost savings. These sentiments were echoed in a survey by PwC, which asked customers their reasons for buying these types of solutions. Leading the pack? Cost savings, improved safety and peace of mind. This is a good indicator that the market is aligned in buying motivations, which allows companies to concentrate their efforts on the solutions with the best potential for return.
Right now, both B2B and B2C companies are focused on connected security — locks, cameras and motion sensors all made accessible by the tap of your smart phone screen. Forty percent of respondents stated security as a solution they were currently developing, while 61 percent of respondents labeled security as the biggest market opportunity. It seems that consumers and companies alike are focusing on more pragmatic solutions like security that physically integrate into the structure of homes and buildings. In fact, research shows that smart security systems are the most popular among renovating homeowners, which may further explain its importance as a core piece of the connected home and building.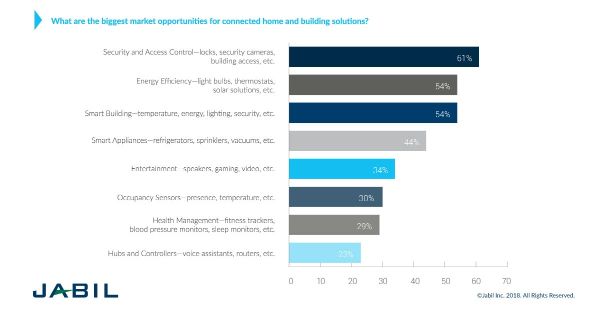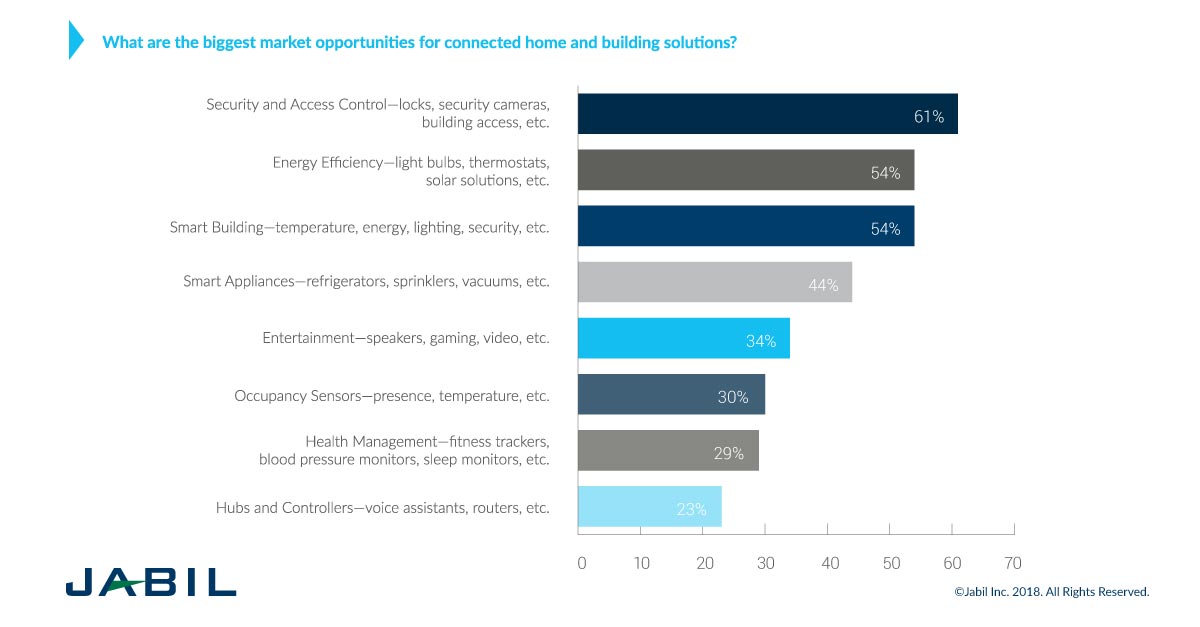 In May 2018, Amazon launched a connected home security system – installation included. Not to be outdone, Google followed up just weeks later with the announcement of its Schlage partnership. A survey from Parks Associates revealed that the incorporation of smart technology in security systems has been on the rise since 2014 and reached a formidable 75 percent of U.S. installations in 2017. Other recent reportspredict that connected home and building security is set to grow nearly 24 percent between now and 2023.
Subscribe to the Jabil Blog
Sign up for weekly updates on the latest trends, research and insight in tech, IoT and the supply chain.
Connected Home and Building Challenges are Wide-Ranging
With a great deal of potential also comes a great deal of intricacy. We've previously discussed the major factors holding back these industries from mass adoption. The ability to deliver on consumer expectation, cost and interoperability were found to be the top challenges respondents identified in developing their connected home and building products. These industries represent a wider spectrum of solutions compared to others with how they impact the many facets of our lives.
The consensus appears to be that several solutions need to be in place to help OEMs overcome challenges. Ninety-seven percent of respondents said they found value in data and communication standards that enable easy connectivity to other systems and standards. Three in four found these types of standards "very valuable."
In developing connected home and building technologies, OEMs believe there is more consumer-focused work to be done as well, primarily in:
Reducing costs and pricing to ensure solutions are more accessible to the public
Creating more intuitive user interfaces
Simplifying installation steps for these solutions to compete with analog products
This is not to say that we are only encountering obstacles. New developments will also contribute to the large-scale embrace of the connected home and building – namely, other new and emerging technologies. Respondents stated that they believe innovations in cybersecurity, 5G, machine learning and artificial intelligence are all aiding in accelerating mass adoption.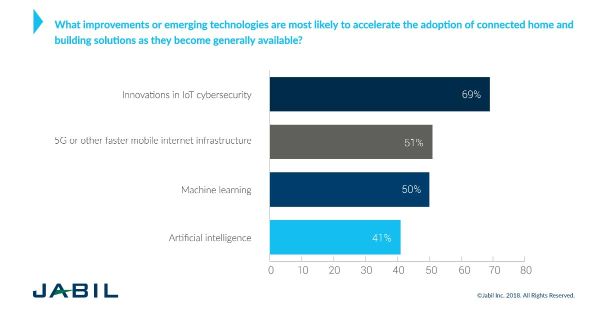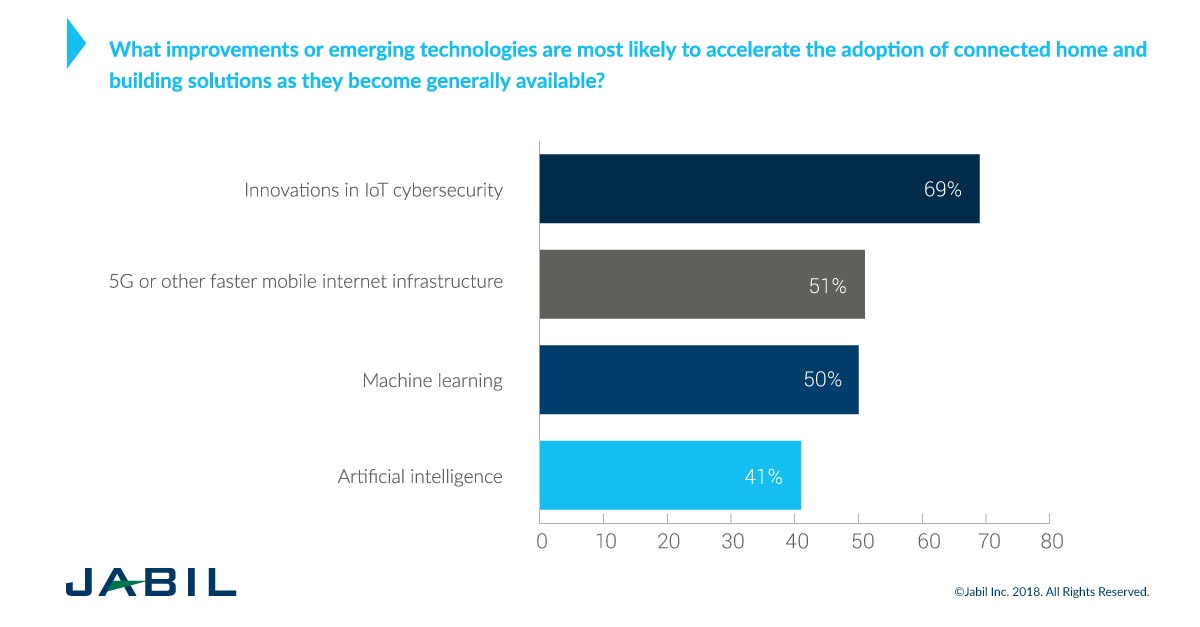 Partners are Key to Connected Home and Building Solution Strategies
One of the most effective ways to solve business or technology challenges can be to get expert help – it is unlikely that any one company will be able to overcome the challenges of complex technology on their own. In fact, 99 percent of respondents stated that they were seeking partnerships in their journey to build connected home and building solutions.
When asked about the types of technology or business partners, respondents focused on five big areas that correlate directly to "smart" solutions. Partners with expertise in data management led the way, with 63 percent selecting them as the most important. Second, respondents highlighted the importance of manufacturing partners with expertise in connected devices that have mass knowledge on the IoT. Third, going along with data management, respondents said partners with an expertise in cloud infrastructure are important.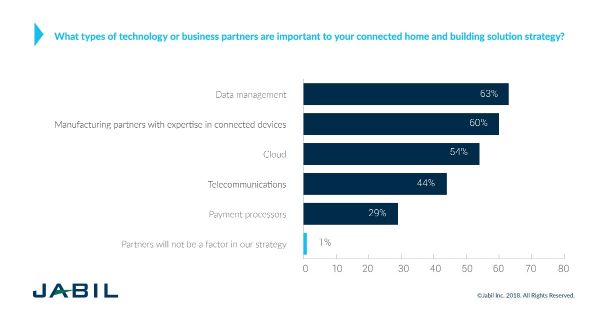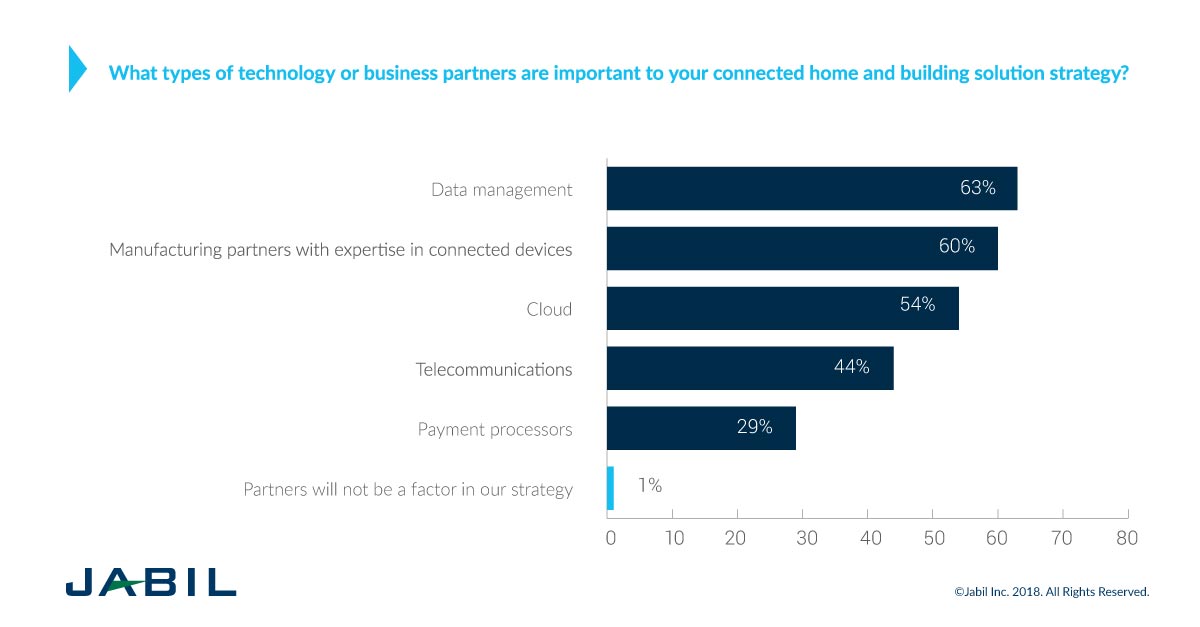 Privacy and Data Take Center Stage for the Connected Home and Building
Data collection is ubiquitous with connected solutions. After all, information is key to the function and usage of devices. Data is collected to monitor activity, identify necessary actions and deliver reports to end-users and the company providing the solutions. It should come as no surprise that 99 percent of respondents indicated that their solutions would be used to collect data.
Most respondents indicated that they will be using data to improve product delivery and the user experience. The most frequently reported data use-cases were to identify and solve problems with devices and connectivity and understand use models to guide product development.
In comparison, some respondents plan on using data from their connected home and building solutions as a source of marketing or direct revenue. Roughly a third plan to use their data alongside other third-party data sources to create cross-selling or cross-branding opportunities. Another third see data as a source of insight for thought leadership and marketing programs. Finally, one in four plans to sell the data they collected as a direct revenue generator.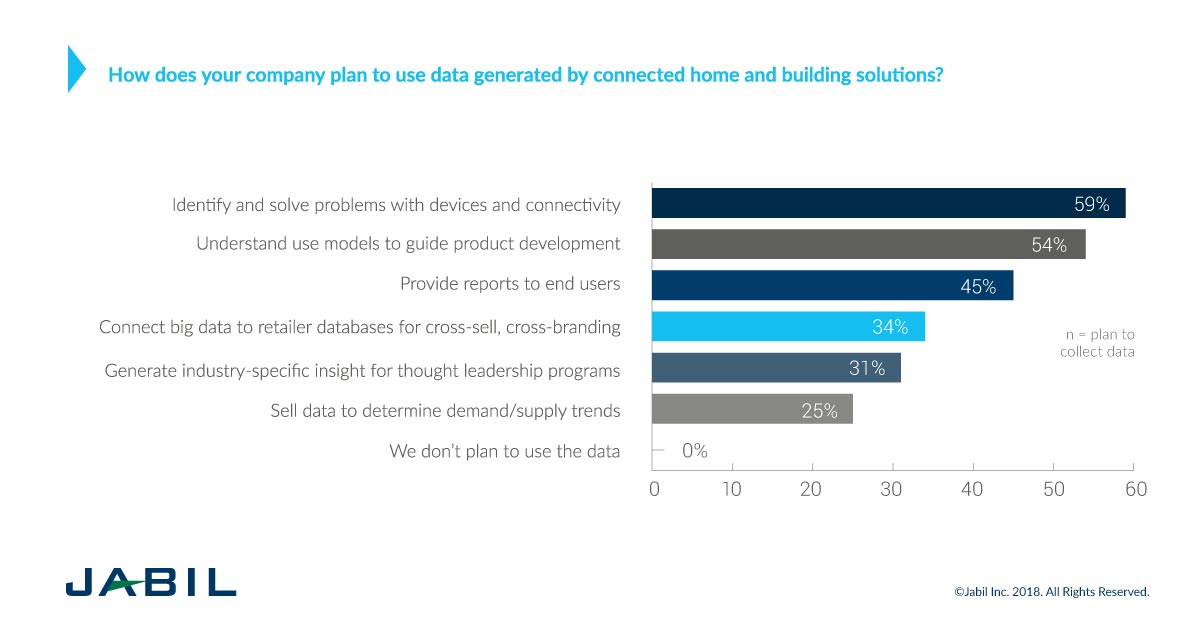 Data security has been a dilemma facing the technology world for some time. Even still, recent headlines have not done much to assuage concern. From Facebook's recent data breach that left consumers with an erosion of trust to the General Data Protection Regulation (GDPR) that took effect in May 2018 in the European Union, OEMs are feeling apprehensive and unsure about where they ought to be headed.
Though most connected home and building OEMs are still planning to collect data, more than two-thirds of respondents stated that they are reconsidering how they will collect and use their data because of recent news about data privacy. Of those, most said they would aim to be more cautious with new rules and regulations and monitor what consumers felt to be appropriate. On the opposing end, those who stated that they did not anticipate modifying their method of data collection overwhelmingly reported that they found it unnecessary due to the strong privacy programs they already had in place.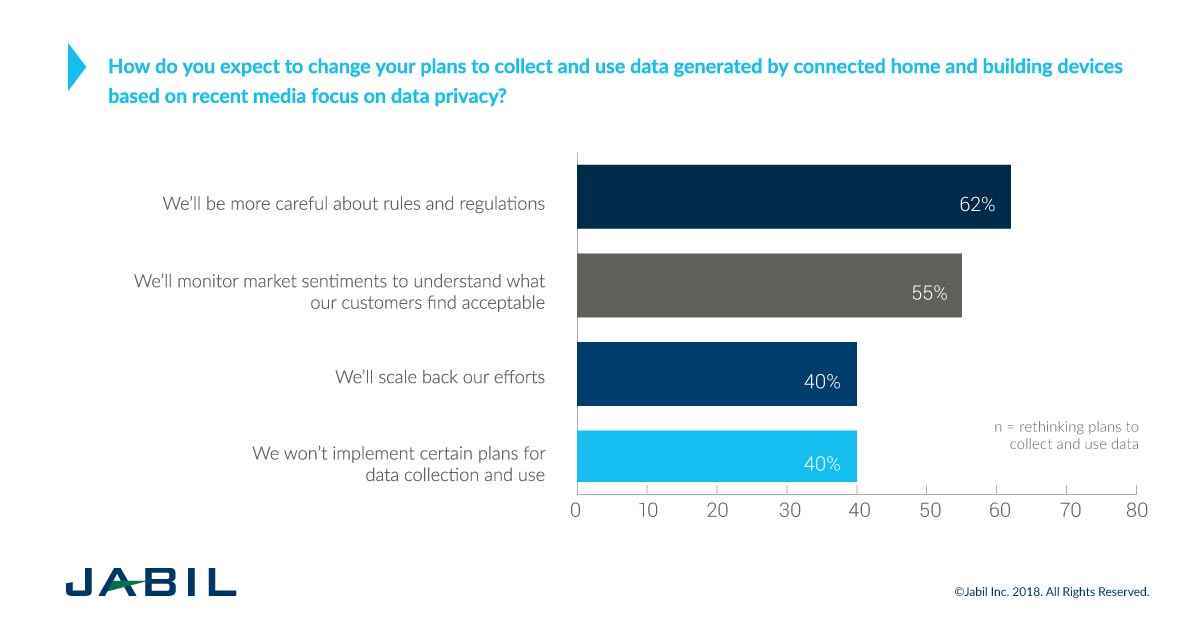 Nonetheless, the matter of securing personal data has become particularly relevant with consumers. The PwC survey revealed that data privacy and security was one of the top hesitations among current non-owners, falling just behind price. In a consumer survey conducted by Deloitte, nearly 40 percent of respondents reported fear about connected home devices tracking their usage. The study also showed that more than 40 percent said they were worried that IoT technology would expose too much about their day-to-day lives.
Brimming with potential but incredibly complex, we have yet to see all that the connected home and building can and will offer. With a seemingly infinitude of pathways laid out before developers, we can anticipate nothing short of remarkable with these solutions.
Survey Method and Participant Demographics
An online survey was sent to decision makers at companies that manufacture connected home and building solutions. A total of 201 individuals worldwide completed the survey. All participants were from companies that had at least 1,000 employees and represented a mix of job responsibilities including engineering, production, operations, product management and more.
Download the Connected Home and Building Tech Trends Survey Report