Smart Home Trends: What's Now and What's Next?
The latest smart home trends show that consumers are ready for the technology, but this readiness comes with caveats for original equipment manufacturers (OEMs) in the smart home industry. And it's a long list. Security, functionality, ease-of-use, connectivity, data privacy and longevity are must-haves for the modern consumer. In both B2C and B2B markets, users want the same things – smart home technology that improves daily living with minimal barriers to entry.
But perhaps the biggest challenge of all? Figuring out how to seamlessly incorporate all the various pieces together, while making it cost-effective and worthwhile for the user.
Do the features of your smart home devices help ease decision-making, solve daily challenges or make life healthier and safer? What is the real benefit to consumers? The days of technology for the sake of technology are long behind us. The scope of available smart home devices and growing concerns over data privacy and use means smart home brands must think differently about how they package and deliver IoT devices.
To get a pulse on the state of smart home technology and future trends, Jabil surveyed 215 decision-makers at smart home OEMs. In this follow-up survey to our 2018 study, we asked questions about technology adoption, smart device opportunities and challenges, revealing insights into the current state of the smart home and appliances industry.
Download the Smart Home Technology Trends survey report.
Here are the biggest smart home technology trends according to the survey:
1. The Global Smart Home Market is Full of Opportunity
A recent global report projects global smart home market growth from $78.3 billion in 2020 to $135.3 billion in 2025, at a CAGR of 11.6%. In line with this and other industry research, 57% of respondents to our smart home trends survey have seen the overall market opportunity more than double in just two years.
In your experience, how has the overall market opportunity for smart home solutions changed in the past two years?
The promising news is that respondents see opportunities across all smart home solution types. With consumers driving the demand for smart home technology and automation, the growth in device production and development between 2018 to 2020 is a good indicator of competition for the future.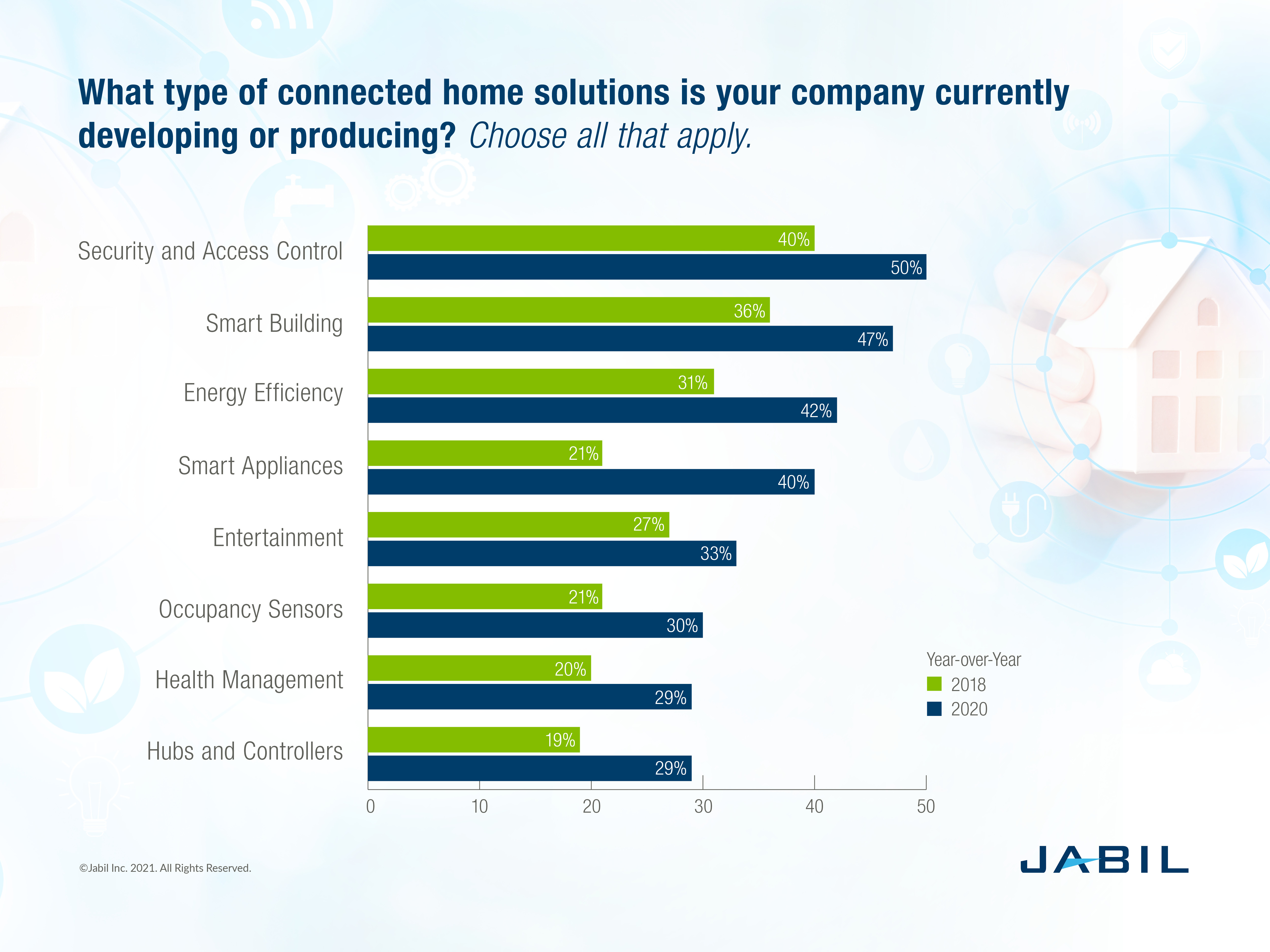 Without a doubt, there are opportunities across all smart home solution types: everything from home security and access control, smart building technologies, energy efficiency, smart appliances, entertainment, occupancy sensors, health management devices and hubs and controllers like the infamous voice assistant. But when asked about the biggest opportunity, nearly half of the respondents chose smart appliances.
The challenge for smart home OEMs is in capitalizing on the opportunity in the right way. Making the leap from trend to benefit puts pressure on manufacturers to design smart home solutions that deliver on simplicity, intelligence and integration. No matter the category, all smart home brands are looking for a differentiator at the right price.
2. Consumers Drive Smart Home Solutions Demand
While there are numerous factors influencing growth in connected home solutions – the power is squarely in the hands of consumers. More than half of our survey respondents say consumer demand for connected or smart products is driving their strategies and product development.
Closely behind consumer demand is consumer awareness of the benefits of connected devices as a key market trend driving smart technology research, development and manufacturing.
Which of these market trends are driving your company's connected home strategies or product development? Choose all that apply.
3. The Pressure is on to Give Consumers Security, Privacy and Confidence
Consumer demand may be a key driver for smart home devices, but there is concern over personal data ownership and the security risks that come with living a connected life. Consumers need to know how their data is being used and understand how this benefits them.
Industry decision-makers see the opportunity that comes with data collected by connected devices. From creating new solutions based on collected data to subscription payments and auto-replenishment opportunities, industry stakeholders are optimistic about the business models connected devices can enable. But consumers are wary of what it all means for them.
What opportunities for new business models does your company expect connected home solutions to enable? Choose all that apply.
Unfortunately, many consumers have grown suspicious of the risks that come when they install door locks, smart light bulbs or change their smart thermostat settings to away. There is already a sense that their every digital move is being tracked and monetized with home automation devices.
Pressure is squarely on OEMs to develop smart technology that puts privacy front and center. The challenge with smart home technology lies in the catch-22 of risk and reward – the more a smart solution knows about you, the greater the benefits. However, with knowledge comes data and power, and consumers are thinking twice about what information they are willing to give up.
4. Connectivity Is Still a Challenge for Smart Home OEMs
Jabil survey respondents chose "easy and reliable connectivity" to be the most important success factor for their connected home solutions. But more than one in three US adults say they experience issues setting up or operating a connected device, according to the Customer and Product Experience 360 Survey by iQor.
For example, if a consumer is setting up a smart lock and the connectivity element of their device takes longer than installing the lock, you're sure to have unhappy customers. When you add to it the challenge of remotely updating the software upon installation, your users may be more inclined to uninstall the device and return it—in fact, 22% did so in similar situations according to the iQor survey. If the promise of the smart home is ultimate comfort and convenience, the introductory user experience can't be pushing the limits. Smart home OEMs must make connectivity a critical element of their user experience.
Still, more than 90% of Jabil survey participants report facing issues with connectivity for their smart home solutions. In fact, nearly half report device-to-internet connectivity as an issue that creates the most difficulties for their company. Without clear frameworks and universally accepted IoT protocols, connectivity will continue to be an industry affair.
What areas of connectivity for smart home solutions create the most difficulties for your company? Choose all that apply.
Perhaps the most important question to ask when developing new solutions is this: why do you want to connect this device? How will your company and users benefit from having the device connected? Presenting connectivity as a feature when there are no tangible benefits behind it will not justify the added cost and could lead to more headaches. Nearly nine in 10 smart home OEM decision-makers agree that connectivity alone is not enough and that it must deliver real customer value.
Fisher & Paykel - Putting Customers First
Fisher & Paykel closely follows the latest innovations to better anticipate evolving consumer needs. "The technologies and trends we're really studying currently are things like smart and connected homes," Kevin Dexter, president of North America for Fisher & Paykel, says. "We strive to ensure there's a real consumer benefit for every technology we invest in, so before we think about putting a certain technology into an appliance, we first determine the actual consumer benefit."
Being human-centered and human-centric is evident in the company's product design philosophy and go-to-market approach. Sleek, modern designs are complemented by practical functionality that adds value without adding complexity.
Connectivity is an increasingly major focus for all appliance brands; it will continue to impact product roadmaps for the foreseeable future. "We're very focused on determining the different ways that increased connectivity and sensors can add more value to the customer by integrating functionality into appliances and across the home," John Davies, design manager for electronics at Fisher & Paykel, notes. Learn more about Fisher and Paykel's philosophy:
FISHER & PAYKEL AND JABIL
5. COVID-19 Means New Implications for Human Machine Interfaces (HMI)
With the global emergence of COVID-19 in early 2020, there has been universal concern about one of the ways the virus can spread: touch. As a result, retail stores and restaurants alike have taken the necessary steps to frequently disinfect and clean high-touch areas like checkout stations. In fact, 69% of retailers say no-touch payments have increased since January and 94% of retailers anticipate contactless payments to increase over the next 18 months, according to an August 2020 National Retail Federation survey.
The same, less-touch concept has already been growing in popularity within the smart home with the smart speaker segment. In fact, more than 3 billion voice assistants were in use as of February 2019, with predictions that there will be 8 billion in use by 2023, according to Juniper Research.
While voice control continues to grow for smart home devices, another is garnering more interest due to COVID-19: gesture recognition. With this ability, devices can recognize and interpret movements without direct physical contact. As a result, we can expect optics and cameras to be more intimately integrated into HMIs in the future.
Nearly half of the Jabil survey participants (48%) believe effective HMI design is the second most important element to the success of their connected home solutions. But more than half report it as their top connectivity challenge.
Which of the following will be most important to the success of your company's connected home solutions? Choose up to 3 of the following.
6. Manufacturing Partners Can Ease the Pain
Everything we've discussed underscores the need for strong partners with expertise across all areas of smart technology design, development, manufacturing and supply chain efficiencies. Such partnerships allow smart home OEMs to overcome product development and supply chain obstacles.
Decision-makers at smart home OEMs who participated in the Jabil survey list the following as their most common product development and supply chain challenges:
The complexity of the supply chain for connected parts
Lack of reference architectures that address both hardware and software
Significant quality and delivery issues with software development
Expected delivery times for connected solutions
Specs for hardware creation are increasingly complicated
In fact, these common challenges coupled with COVID-19 have changed how smart home OEMs approach their partnerships. With 82% of smart home device brands reporting that COVID-19 has had the biggest impact on their supply chain in the past decade, it's fitting that 73% of these companies are now more likely to work with manufacturing partners who can absorb risk more effectively and provide flexibility.
Furthermore, seven in 10 smart home OEM decision-makers agree that their manufacturing partner should engage with them across the lifecycle of a product—from ideation and manufacturing to delivery, data and end-of-life. In times like the global pandemic, manufacturing and supply chain challenges are amplified and having a partner can provide the foundation of your resilience.
Which of the following statements most closely describes your ideal manufacturing partner for smart home solutions?
Engages across the lifecycle from ideation and manufacturing to recycling
Provides specific and deep expertise in one area of the lifecycle
Brimming with potential but incredibly complex, we have yet to see all that the smart home can and will offer. The key now rests in learning how to take advantage of opportunity while still delivering smart technology that delivers on purpose, benefit and value.
Download the 2020 Smart Home Tech Trends Survey Report
Insights on technology adoption, industry opportunities and biggest challenges from over 200 IoT decision-makers at smart home and appliance OEMs.