HMI Design and Manufacturing for Connected Devices
The Human Machine Interface (HMI) technology market is on track to become an $11.88 billion space by 2026, and much of its success can be attributed to smart home technology. More and more devices are beginning to use capacitive touch, proximity sensing, natural language processing and other technologies designed to think, make decisions and learn, making HMI design and manufacturing front and center in product discussions.
For example, home security systems are using AI-driven facial recognition technology to distinguish between known guests, intruders or the residents of a house. Voice assistants are allowing us to control everything from thermostats, smart locks and lights without ever touching a button. HMIs in the smart home are transforming how we interact with devices, threading these technologies seamlessly into our everyday lives and enabling remote monitoring.
What is HMI?
Just as the brain sends signals to our muscles to move, our mouths to speak and our ears to hear, so does an HMI for devices. The human machine interface is the brain of a device, telling it to act when the end-user needs it to. HMI technologies range from the traditional single-touch display mounted on a machine to technologies as advanced as gesture recognition sensors.
Evolving HMIs and related functionalities are growing consumer demand for smart home devices. In Jabil's 2020 Smart Home Technology Trends survey of 215 IoT decision makers, 57% of participants said opportunities for connected home solutions have more than doubled in the last two years. Furthermore, production and development of these devices across every category has increased in the same timeline.
Download the 2020 Smart Home Technology Trends Survey Report.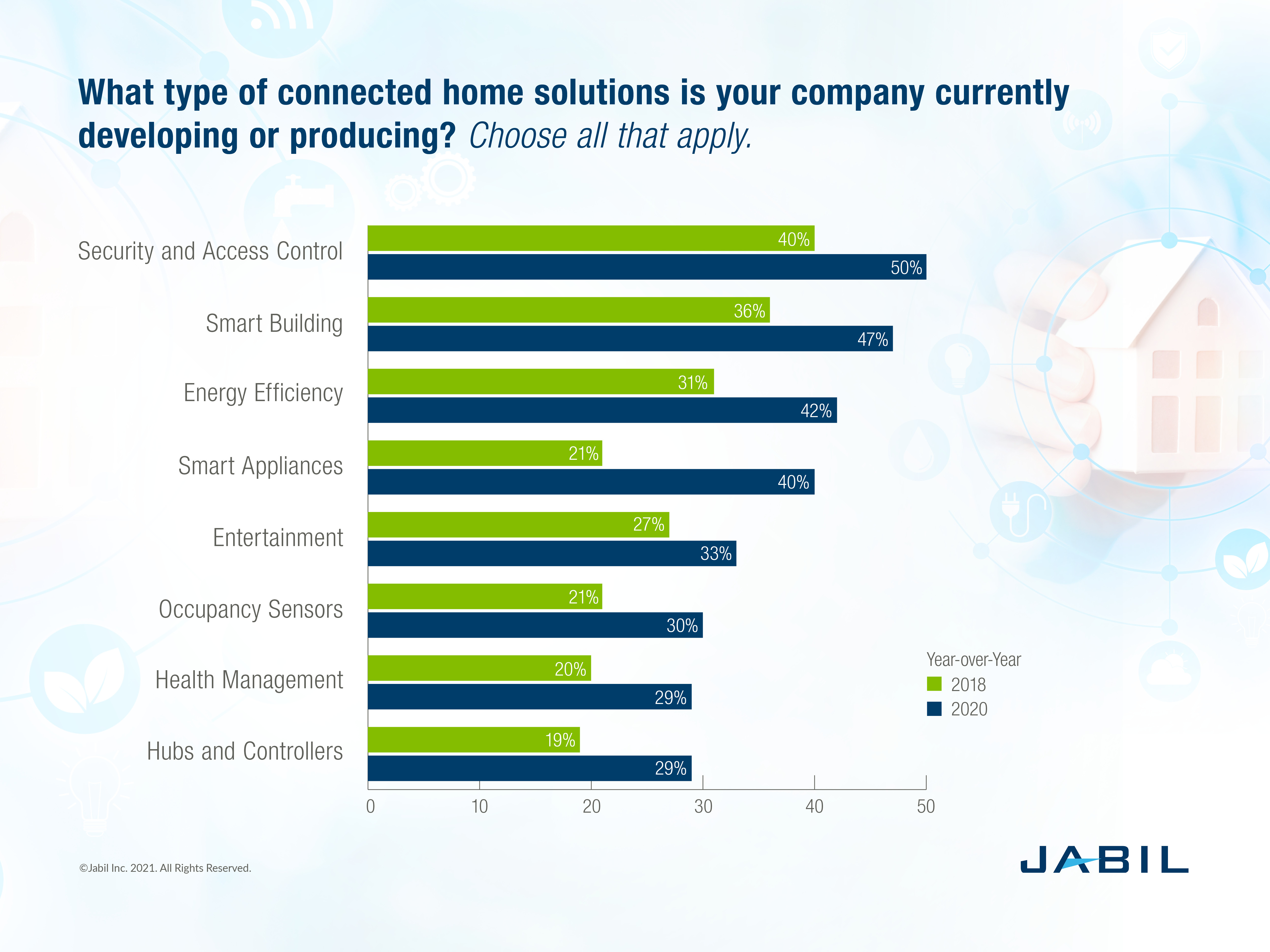 Four Types of HMI Technology
1. Multitouch and Display Screens
Touch screen functionality is made possible with capacitive sensing technology sensors that can detect and measure anything that is conductive or has a dielectric different from air. Multitouch technologies allow you to control a device with a simple swipe or touch. A mobile device is a good example.
For a screen or any device to be considered capacitive, it must consist of several components.
A capacitive screen is made of an insulating layer that can also be transparent, such as glass or plastic. Suppose the insulating layer has a thin trace of the transparent conductive material used to form electrical patterns inside the insulating layer. When you swipe a capacitive touchscreen with your finger, you cause a change in a specific region of the magnetic field on the screen, measured by the circuit and used to trigger a function; for example, on/off, volume control or light dimmer.
2. Voice Recognition
Voice recognition, also known as speech recognition, is simply software that can decode human voices. While voice assistants like Google Home and Amazon Alexa are simple to use, they elegantly conceal HMI technologies. Engineers have designed voice recognition technology to analyze, filter and digitize the information they receive. The device must be devised to tell voices apart, understand pitch in speech and articulate requests when background noise is present.
The more a person interacts with voice-activated devices, the more trends and patterns the system identifies based on the information it receives. The data gathered can determine user preferences and tastes, a long-term selling point for making a home smarter.
3. Gesture Recognition
Instead of twisting knobs or tapping on a touch screen, gesture recognition involves a motion sensor that perceives and interprets movements as the primary data input. For example, let's say your hands are dirty from cooking, but you need to scroll on your phone or tablet to see the rest of a recipe. Gesture recognition technology would allow you to swipe and maneuver an HMI screen without touching the device.
The technology is complex; it uses motion sensors that interpret movements as the primary data input source. By utilizing 3D sensing technologies like Stereoscopic Vision, which captures an image the same way human eyes do, gesture recognition within devices can accurately depict motions from a human the same way people do. With the impact of COVID-19, gesture recognition is an area of growing interest.
4. Wearable Electronics
While most people use wearable devices to track their health patterns and physical activity, they can also serve as a smart home essential. A true smart home consists of devices that can interpret data to understand your preferences and anticipate your needs; all smart technology should be able to respond to your dynamically changing actions.
Wearable devices like smartwatches, body monitors and fitness trackers can send a signal to your smart home network when you've entered the perimeter of your home. The device can act according to that signal by powering up the living room lights, TV or air conditioner.
Designing an HMI Solution for the Smart Home
Modern HMI design for the smart home requires a clear understanding of its users. Engineers must first decide on the visual language of the IoT device. For instance, should the device use icons or colors? It's vital to make informed indicator decisions early on, so users can operate the device intuitively.
Status indication is essential for HMI in the smart home. It's not only about determining if a device is on or off; it has to perform many other functions and understand the end-user on a sophisticated level. An electronic status indicator is a light used to signal a function of a device with the end-user. Light can shine through the device and communicate with the user in multiple ways: light pipes, HMI panel mount indicators, an LCD display or capacitive touch sensor displays. Electronic status indicators can determine how well or how poorly an end-user engages with a smart home product.
Engineers need to consider communication functionality in HMI system design as well. Usually, the less text and the more visual cues used for the HMI, the easier it is for the consumer to understand it. The brain processes visuals faster than text, so using them instead of words whenever possible can ramp up visual communication and eliminate language barriers.
Form follows function. Many smart home and appliance brands want to start the design process by creating device aesthetics. However, it's wise for engineers to keep a clear focus on the actual device interface first. The graphical user interface (GUI) and user experience of a device are most important when designing smart home products.
Semantic Studios suggests using these seven attributes as a checklist to ensure the device has a compelling user experience:
Useful: Does the information fulfill an actual need? If not, what's the point?
Usable: Is your experience intuitive to users?
Desirable: How does the interface make users feel? Design, color and the complete package should evoke positive emotions.
Findable: Do users have to work too hard to navigate their way around the interface or panel? If so, keep perusing the design until the most effective user experience has been determined.
Accessible: Can a diverse group of users operate the device? Your interface should work well for people with disabilities.
Credible: Do users feel like they can believe what you and your product are telling them?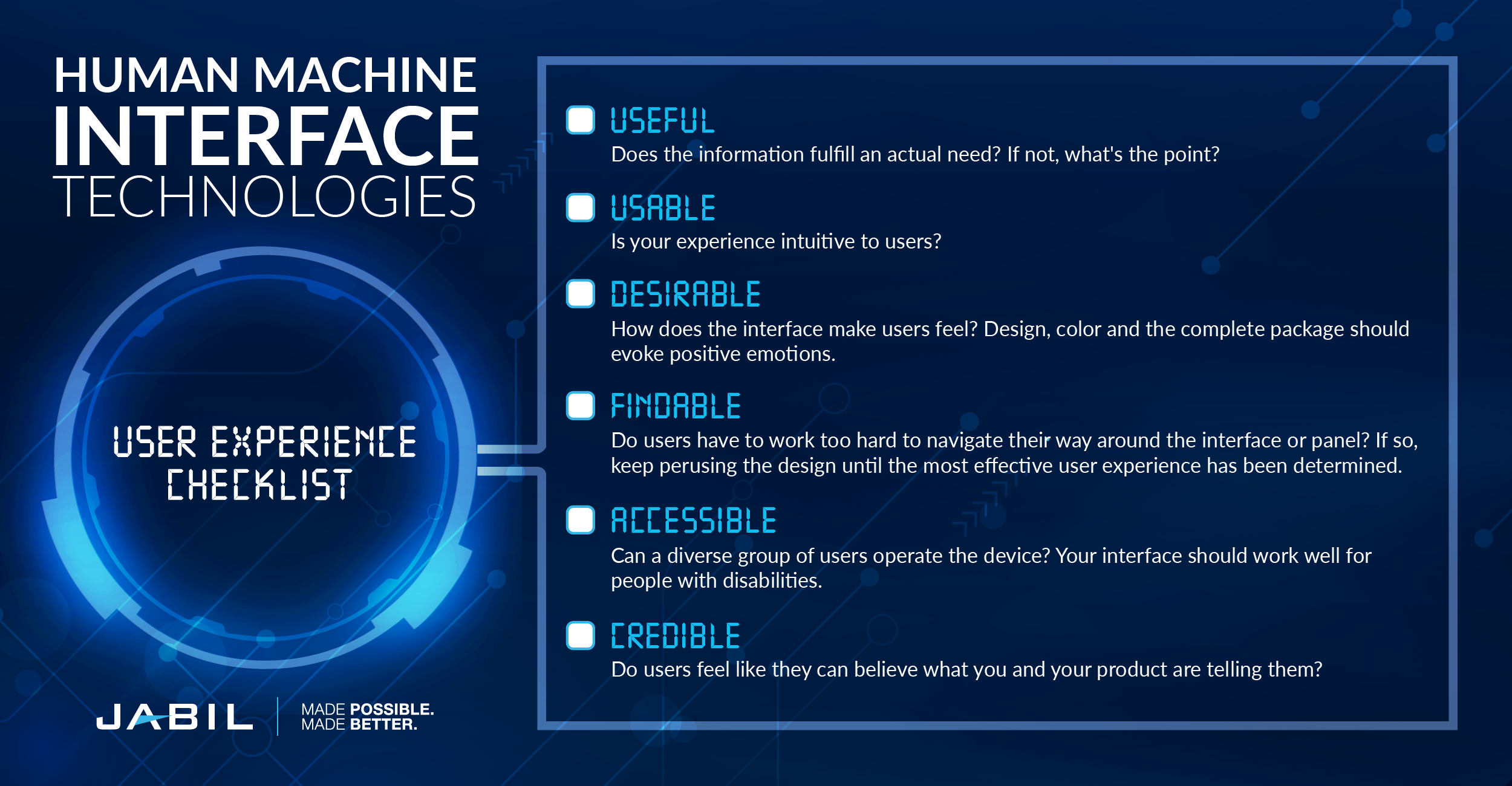 When designing a human machine interface, keep these tips in mind:
Provide real-time feedback to help reverse or rectify a situation.
Include incremental safety-critical steps instead of having them all take place on the same screen or at once.
Differentiate between the error messages involved with overriding safety-critical and non-safety-critical actions.
Ensure tasks require some level of active involvement from the end-user while minimizing repetitive or passive actions.
Once the interface design and HMI software is complete, engineers can focus on the HMI aesthetics. After all, the look and feel of an HMI is what initially attracts a consumer to a product and will impact user experience, satisfaction and customer loyalty.
Smart home and appliance engineers utilize many materials during HMI development, including:
Stainless steel is exceptionally durable and has improved corrosion resistance. It's usually chosen for its visual appeal. Engineers usually use it because of its laser fused profiles.
Composites, which are available in an assortment of colors and finishes and are highly usable in flat front panels.
Carbon fiber, which offers an incredibly high strength-to-weight ratio and is much more durable than stainless steel, but only one-third of the weight.
Fiberglass, a polymer composed of a plastic matrix reinforced by fine fibers of glass that is lightweight, solid, less brittle and more expensive than carbon fiber and glass. It will not rust, which makes it great for the outdoor.
Glass is a high-quality material with great mechanical and optical properties. Very few companies have the equipment large enough to handle large pieces of glass, making it a costly option for smart home and appliance companies.
Plastic, high-tooling costs make plastic material cost-effective when ordered in larger quantities. It is resilient, energy efficient and lightweight.
The choice of materials and finishes can significantly impact the strength, durability and suitability of HMI technology. But to make HMIs smart, the right connectivity infrastructure needs to be realized.
Subscribe to the Jabil Blog
Sign up for weekly updates on the latest trends, research and insight in tech, IoT and the supply chain.
Solving for HMI Connectivity
Connectivity brings the most challenges to engineers and Original Equipment Manufacturers (OEMs). In Jabil's Smart Home Technology Trends Survey, 95% of participants said they are facing connectivity issues. Of those, HMI connectivity was the most frequently reported challenge.
For certain household devices, there may not be a clear value proposition for why the appliance should be connected. It is critical to discuss whether or not connectivity is a requirement. If it is, the next step is to consider the network infrastructure.
Determining where to house data harnessed from connected solutions can significantly affect a network's speed, device connectivity needs and IoT costs. Every IoT interaction has a resulting cost which is buried in the total cost of the product. The OEMs model the intended consumers and their product use and include these IoT costs into the product costs.
All devices that need to access user data or use applications associated with it must first be connected to the cloud. Usually, the cloud is easy to secure and control while still allowing for reliable remote access. Connectivity through the cloud enables residents to access their home appliances remotely, even if they are miles away from home. Moreover, this technology allows for enhanced security and convenience to users by deploying secure cloud platforms.
While the cloud is more prevalent for smart home devices today, the use of edge computing is growing. Edge computing is attractive for OEMs as the cloud can present different challenges around cost, governance, compliance and performance.
For end users, shifting from the cloud to the edge can decrease latency issues. For example, in a centralized IoT architecture, sensor data is processed at the cloud and requires a huge amount of data transfer resulting in latency issues and interruptions in the performance of mission-critical and non-mission-critical applications. With Edge AI architecture, data is processed more quickly and a real-time decision is made in the user environment. The devices are then able to react to the immediate data, then compress that data to send to the cloud more efficiently.
Discussing how much data should be on the cloud and the edge will help smart home and appliance brands determine the consumer's best technical solution. In an industry where cost is king, connectivity discussions (and the intended value) need to be top of mind.
Advancements in HMIs and IoT are impelling the growth of smart homes at an unprecedented rate; 48% of smart home and appliance decision-makers believe effective HMIs are vital to the success of their connected home solutions.
Engineers should always have the user top of mind when designing and manufacturing an HMI terminal for a smart home. A user might be someone who can't walk and can only complete daily tasks by speaking, someone who cannot hear and only communicate through gestures or someone too busy balancing life to remember to re-stock the fridge.
While to most, HMIs are life-improving, for others, they are life-altering. It's up to smart home and appliance companies to see it through that each HMI system is ample, purposeful and that innovation never ceases.
Download the 2020 Smart Home Tech Trends Survey Report
Insights on technology adoption, industry opportunities and biggest challenges from over 200 IoT decision-makers at smart home and appliance OEMs.