Product Lifecycle Management: 4 Tips for Competitive Digital Healthcare Innovations
Product lifecycles typically arc across four distinct phases: introduction, growth, maturity and decline. Product life cycle management (PLM) is the application of different strategies by an original equipment manufacturer (OEM) to optimize their products' sales performance and viability in the market across this finite lifespan and within each of its phases.
For a conservatively managed healthcare company, historically, the average duration for a product's lifecycle has stretched to eight years and even longer. Product lifecycle management is a vital business process tool for healthcare franchises managing the disruptive macro trends impacting the industry, including rapid technology-driven innovation, shorter product development and delivery times, increasing nontraditional healthcare influences and competition, and a shifting regulatory landscape.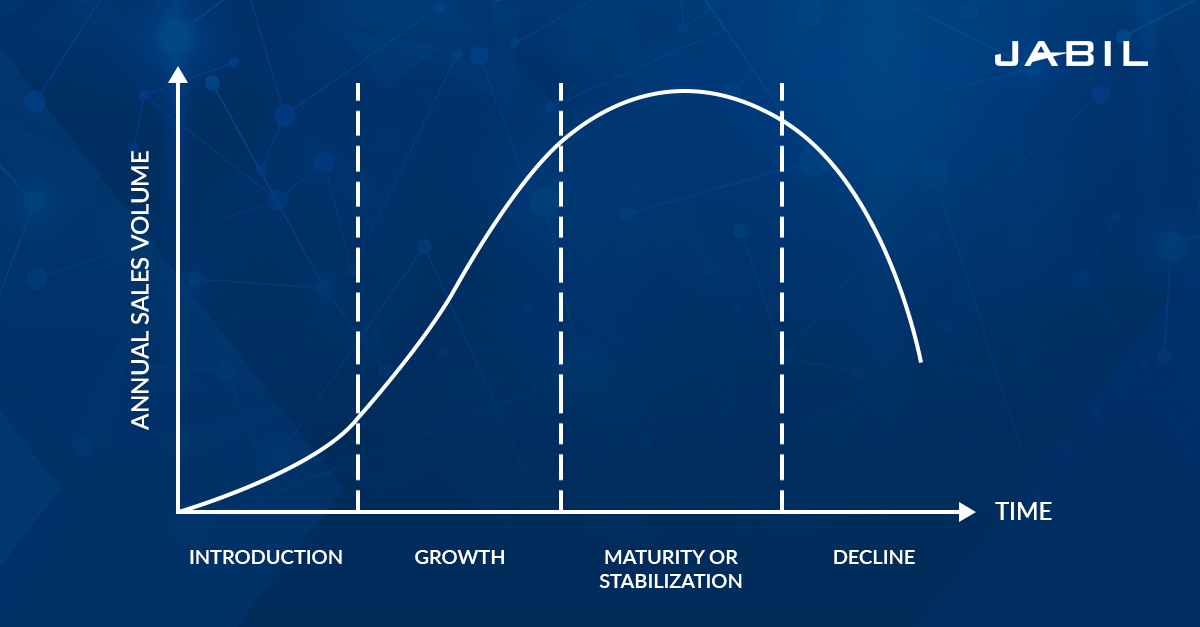 Healthcare can look to other industries, such as consumer tech and transportation, for guidance on winning strategies for meeting market requirements while still proactively addressing potential hazards and harms. Product design that leverages modular product architecture provides the best course for OEMs to ensure their products are keeping pace with evolving technology. The entire lifecycle strategy must have supply chain impacts and issues at the forefront or risk losing traction against faster, more agile competitors.
Today's market requires contract manufacturers to be strategic, proactive and predictive to ensure their customers' production stays on track. Take as an example the coordination required to migrate a complex product from technology A to technology B (e.g., BLE to Wi-Fi) without significant regulatory impact or any product demand shortages. To seamlessly accomplish a tech migration like this, a strategy must be defined and started at product design and then executed through the product's lifecycle.
As healthcare continues its shift to a market addressing patients acting more and more like consumers, with increased demands for what's "current," expectations are changing. Jabil's 2021 survey on Digital Health Technology Trends delivers an unequivocal message: The industry is in the midst of a dramatic increase in new product development and design with electronics and connectivity-enhancing technologies. In Jabil's survey, 90% of respondents said that consumer demand is increasingly pushing for innovation in digital health devices.
of respondents said that consumer demand is increasingly pushing for innovation in digital health devices
Patients are and will continue to push medical device companies to deliver products that support their connected lifestyles. We've seen that seamless technology integration and interoperability are key to delivering the type of preventative healthcare experiences that are increasingly becoming indispensable to the patients' journey to increased health and wellness. It's safe to say that this is a trend with staying power.
Product Competitiveness: Optimizing for the Future
Within a product lifecycle management (PLM) strategy, understanding and building upon the product's "competitiveness" is critical.
Competitiveness in this context means placing risk and change management front and center, proactively developing the entire product lifecycle strategy so that it's both proactive and predictive and conceived with full awareness of macro trends. Products are not static entities frozen in time; they respond organically to market changes and must be adaptive to intelligence garnered from supply chain management.
Predictive planning helps protect — and ideally build upon — a product's competitive edge by:
Addressing dynamic velocities of technological innovation
Ensuring legacy component availability won't disrupt product launch or production
Incorporating changes to the product roadmap, proactively and predictively
Avoiding the risk of losing the product market share to more agile competitors
Accounting for changes in your disease domain
Put another way, there are four critical trends in healthcare that should drive the PLM process. All these dynamics must be navigated in tandem — particularly the first two interlinked requirements.
Accelerating Time-to-Market Requirements
Tip #1: To stay relevant, you need to be agile and efficient in incorporating accelerating innovation.
Historically, very long product cycles, relatively slow evolutions in therapy and regulatory concerns have established a "status quo" market environment for medical device manufacturers.
Meanwhile, pushing back on this hesitancy to change is the "digitalization of everything." In fact, there are really no industries immune to the hyper-fast evolutions in technology. So, healthcare and medical device design, as has been the case with automotive and consumer tech, now must adopt a shorter product development process in order to keep pace with the speed of technology.
Innovation Incorporation Expertise
Tip #2: To stay competitive, you need partnerships that deliver market intelligence and global supply chain insights — in essence, an inside scoop, for both short- and long-term PLM systems.
Comprehensive product lifecycle management now requires being proactive, but perhaps more importantly, predictive to avoid interruptions in the manufacturing process. In today's environment, design- and engineering-focused product teams require strategic insights for managing risks in their supply chain, with an eye towards components or parts scheduled for end-of-life (EOL).
At the same time, predictive analysis helps to identify the technology changes that are on the horizon so that necessary modular redesigns get traction early enough to help the OEM maintain leadership and competitiveness in their market.
Worldwide Regulatory Environment in Dynamic Phase
Tip #3: Focus on emergent opportunities as the regulatory side of the business adapts to healthcare's innovative disruptions. Regulatory concerns have always been at the forefront in healthcare, but in the context of an industry being reshaped by innovation, now's the time to face the challenge with eyes open and forward-facing.
Regulatory processes continue to be the most frequently reported challenge slowing the adoption of digital health devices, according to the Jabil survey. More than half (55%) of Jabil survey participants affirm being concerned or challenged with regulatory processes, certifications and approvals. This finding has extra implications considering digital health solutions are likely to be updated more often than non-digital solutions.
More than half of Jabil survey participants affirm being concerned or challenged with regulatory processes, certifications and approvals
2021 has been a dynamic year for growth and adoption of digital health technology, due largely to the unique impacts of the COVID-19 pandemic driving remote patient monitoring and telehealth utilization, as well as recent and significant U.S. government actions, such as the 21st Century Cures Act from 2016 and the associated rules released in March of 2020 by CMS and the ONC.
In September 2020, the FDA unveiled the Digital Health Center of Excellence. During its rollout throughout 2021 and beyond, the center is focused on advancing digital health technology, including mobile health devices, Software as a Medical Device (SaMD), wearables, and technologies used to study medical products. The center is also engaging with internal and external partners to create best practices for creating digital health devices and reimagining digital health oversight and regulatory processes. While it isn't responsible for making authorization decisions, the Digital Health Center of Excellence is a clear sign that the FDA is embracing the market's shift toward digital health.
In the European Union (EU), the Medical Device Regulation (MDR) will soon be replacing the Medical Device Directive (MDD), which means new definitions, classification rules and requirements. Regulatory requirements are complex, and the landscape is actively shifting, particularly in application to digital health solutions. Modular design architectures, which address the "non-therapy" portion of a medical device for more timely product performance enhancements, may be the optimal approach for minimizing the complexity of regulatory approvals.
Upgrade the technology, even when underlying therapy remains the same
Tip #4: Recognize that healthcare is being reshaped by a confluence of impacts deriving from the shift to VBC, increasing consumerization, and the pandemic-inspired embrace of remote care and connectivity-enhanced medicine.
Growth in remote patient monitoring, wearables and point-of-need (not just point-of-care) devices has significantly influenced design options and requirements for new medical devices. These markets are being driven by the desire for more functionality with increased portability and mobility. At the same time, wearable fitness monitors and other sensor-enhanced devices and clothing have ushered in a new generation of mobile health-savvy consumers, who are not only eager for engagement with health metrics tracking but also comfortable with offering their product data up to the cloud.
All these connected devices generate a continuous stream of health data purposed for patient support, predicting or preventing poor outcomes and otherwise harnessing perspective for greater therapy insights and improved health. Close to half of digital health solutions providers, 43%, are seriously considering their options to use the data they collect through devices to create additional revenue streams. These devices also check a significant number of boxes on the value-based care wish list.
of digital health solutions providers are seriously considering their options to use the data they collect through devices to create additional revenue streams
As product designers and engineers push their capabilities into next-generation devices, reducing form factor size and optimizing power consumption, the challenge then shifts downstream. Remember, miniaturization, for example, is a trend felt across all industries, so the impact is also significant for supply chain, sourcing and component availability.
Consider this exciting example of the potential for smaller form factors to improve patient experiences: A dialysis device traditionally intended for in-center use, can now be reduced in size with enhancements to both power consumption and connectivity requirements so that it performs exceptionally well in a home environment. Its miniaturization has allowed for better patient care at a lower overall cost. It's also providing necessary care to a vulnerable patient population while minimizing the transmission risk of COVID-19.
Additionally, miniaturization has become a major catalyst in the highly rigorous and competitive clinical trial market. Smaller form factor, unobtrusive wearables (with innovative sensor and connectivity enhanced designs) are improving product data collection and supporting much higher adherence in clinical trials. That's a lot of technology to fit on a wristband or connected injector, and that requires sophisticated design, component integration and assembly. All digital health devices require product road map competitiveness modeling and analysis.
Follow the Jabil Blog
Sign up for weekly updates on the latest trends, research and insight in tech, IoT and the supply chain.
Digital Health Solutions: Meeting the Moment
With the right intelligence and product architectural strategy, medical devices and other healthcare products can be easily updated with new components or technology before facing major obsolescence challenges. This is only possible if the thought and strategy have been put in place at the outset of design so that maintaining technological currency can be done with a minimum impact on production and — ultimately — sales.
This is what drives successful product lifecycle management. Companies with highly talented designers and supply chain teams can deliver heroic workarounds to keep a dated product in the hands of customers, but when a competitor comes along with a new product with fewer supply chain headwinds, they'll get off the blocks much more efficiently. Being aligned with current standards of technology keeps you in the game. Building a framework for anticipating future standards likely ensures you will prevail.
Effective product lifecycle process competitiveness analysis delivers significant savings in materials, accelerated time to market, freed up working capital and increased gross margins. Fulfilling any of these is a significant accomplishment in challenging market conditions. Delivering on all four may just be the difference-maker for OEMs looking to build momentum into healthcare's exciting digital future.
Download the 2021 Digital Health Tech Trends Survey Report
Insights from over 200 digital health decision-makers on the barriers, opportunities and the future of digital health.