Formula 1 3D Printing: Jabil and Alpine F1 Team Drive Performance
For a race car driver, there is no greater accomplishment or challenge than competing in a Formula 1 (F1) racing circuit. As they loop some of the most difficult racecourses on Earth, drivers are constantly looking for an advantage that can shave off valuable milliseconds toward the finish line. For manufacturers, Formula 1 3D printing car parts and components can be a trophy-clinching advantage.
For more than 70 years, F1—the highest class of international motor racing for single-seater formula racing cars—has delivered some of the most famous auto races in the world, with circuits ranging from Europe to South America to Australia. But F1 racing is unique in that it is founded on innovation.
The equipment in most sports—let's say, soccer (aka football)—has stayed relatively similar over the past century. Uniforms may have changed with updated materials, but there haven't been substantial performance-enhancing alterations to the balls, the goal nets or kicking. This isn't the case with F1. While spectators may enjoy the sport or its entertainment value, for manufacturers each race is a weekly opportunity to demonstrate new and improved automotive capabilities.
The need for speed—and innovation—is why Jabil and Alpine F1 Team (formerly known as Renault F1 Team) have been collaborating for years to bring additive manufacturing innovation to the fastest Formula 1 car(s) in the world by 3D printing auto parts and components.
Alpine F1 Team and Jabil Partnership
An Additive Manufacturing Partnership
Alpine F1 Team started using additive manufacturing for rapid prototyping more than 20 years ago. While they appreciated the ability to 3D print a functional prototype in 24 hours or less, they realized that 3D printing could do more. They began exploring its wider capabilities and experimenting with new material options. Applying additive to their vehicles, they conducted wind tunnel testing and began producing lighter metal F1 race car components. They measured the positive advantages and established a network of partners to help them capture the full benefits of 3D printing technology.
That's where Jabil came in.
Jabil is no newcomer to additive manufacturing. The company has made significant industry-leading investments in additive manufacturing in multiple areas, including printer technologies, engineered materials, dedicated printing facilities and the digital platform that powers it all.
Jabil's Additive Manufacturing Network—including a growing footprint of 3D printers—assigns manufacturing workloads to the most ideal production location. With more than 120 manufacturing plants harmonized with digital production systems, Jabil partners with companies to share the benefits of a globally distributed manufacturing network (an advantage in F1 racing, where drivers may be in the Middle East one week and Europe the next). The system can secure a design file to ensure products are consistent and certified when produced with Jabil's quality management systems. This has translated into numerous advantageous for manufacturing F1 components, especially in three areas:
1. Meet Rigorous Design Standards and Create Complex Geometries
F1 racing is governed by a strict set of rules that determine key technical capabilities, such as aerodynamics (to provide downforce) and tire usage. Some capabilities, such as traction control and other electronic driving aids are banned. The result is a daunting set of engineering challenges that require constant innovation with the pressure of the ultimate deadline—the next race.
That's why 3D printing components plays a significant role in the development of single-seater F1 racing cars. F1 single-seaters are an engineering marvel. They drive at high speeds through diverse and challenging courses, striking the precise balance between strength, safety, agility and aerodynamics.
Additive manufacturing is uniquely suited to meet this challenge because it enables design freedom that more traditional manufacturing does not. Inherent in the use of 3D printing, the engineering teams enjoy the benefits of greater design freedom, unconstrained from limitations of traditional manufacturing process. Design for additive manufacturing (DfAM) exploits this process to deliver innovative, lighter and stronger 3D printed parts.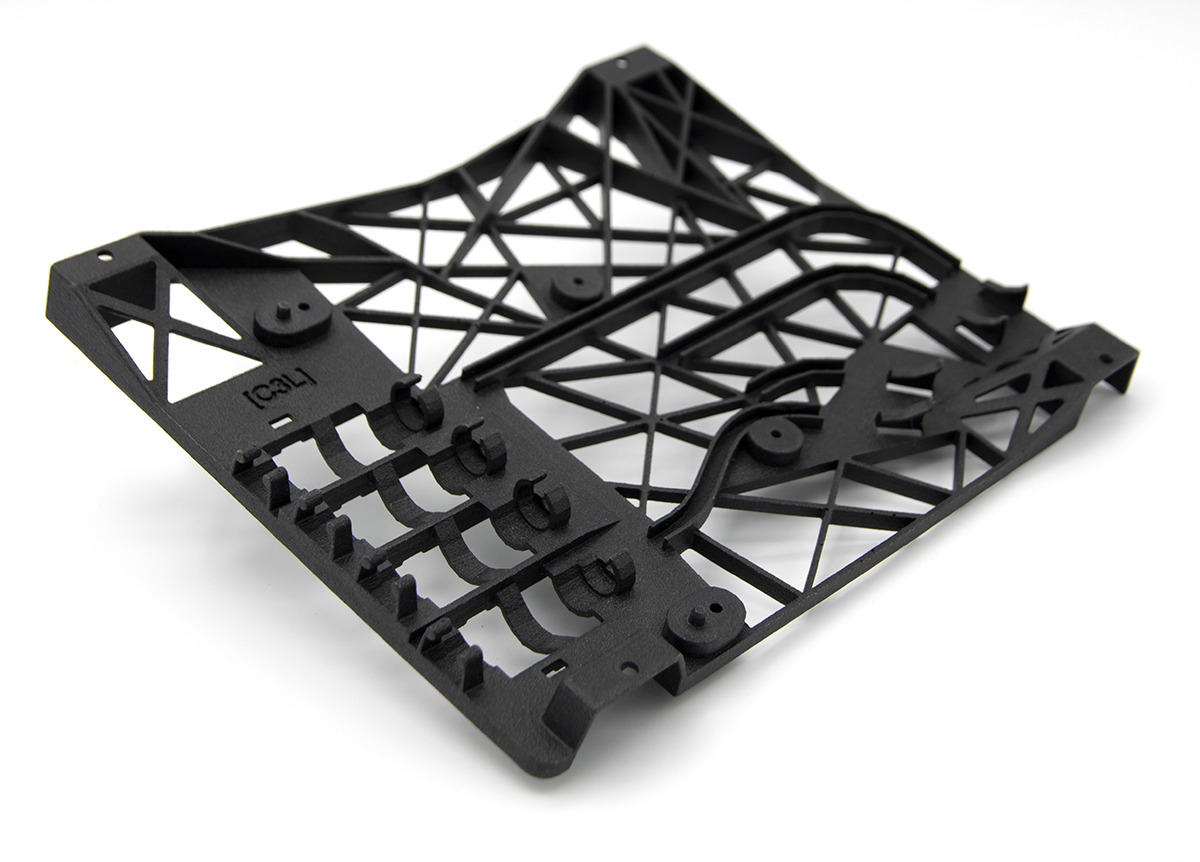 3D printing also makes it easy to "mirror" designs if they are required for both left and right applications or for making iterative modifications. With CNC machining, molds would have to be created whereas with additive manufacturing, designers and engineers can create new stronger and lighter geometries such as lattice structures. And 3D printing even allows for the part number itself to be embossed of the component during a single manufacturing cycle.
In the world of high-performance racing, this means that an F1 car can meet both the stringent technical rules of the governing body and competitive design goals, helping spur drivers a little closer to seeing that checkered flag.
The relationship with Jabil enables Alpine F1 Team to take advantage of new leading-edge design and manufacturing processes, as well as purpose-driven engineered materials. Not to mention very fast turnaround—usually within days.
2. Provide Turnarounds Tighter than the Sainte Devote
The first turn of the Circuit de Monaco—nicknamed the Sainte Devote—is a famously tight right. In fact, the sharp, difficult turns are a factor in making the circuit one of the most demanding tracks in Formula 1 racing. It's considered one of the greatest test for driving skills in F1.
When it comes to manufacturing F1 vehicles, the turnarounds are equally tight. And they require tremendous manufacturing skill to navigate.
The 23 races of a Grand Prix season take place almost weekly. Manufacturers using additive application can identify an issue one week and then have a working solution the next—in time for the next race—gaining a significant competitive advantage. Of course, this requires extremely fast turnaround for design and manufacturing. Thankfully, additive manufacturing turns that challenge into a feasible reality.
With 3D printing capabilities, manufacturers can quickly conceive designs on state-of-the-art CAD systems, including fast cycles of engineering analyses for disciplines like structural integrity and aerodynamics. The designs are instantaneously transferred to 3D printing facilities and created in days if not hours using 3D printing materials like advanced polymers or metal. Gone are multiple traditional steps such as the need to create molds which take additional time and investment.
3. Experiment with New and Custom Materials
F1 racing vehicles have to withstand extreme conditions; they must be very strong but still lightweight and aerodynamic. Although carbon fiber is a commonly used material, 3D printing offers the opportunity to experiment with new or custom materials for even better vehicle performance.
"A renewed push in additive manufacturing technology has seen the emergence of new materials and capabilities, and that is the drive behind the partnership with Jabil Additive," Ian Goddard, head of Technical & Innovation Partnerships at Alpine F1 Team, said. "So that they can bring their expertise, production capabilities and quick turnaround into our fast-track part lifecycles."
When it comes to materials, the Jabil Engineered Materials (JEM) group has extended the applications for additive manufacturing by delivering innovative polymer with enhanced properties such as increased strength, flame retardancy, conductivity and lubrication. These materials are proven on a wide variety of 3D printer platforms to ensure consistent printability. They are also qualified in ISO-certified facilities to meet and exceed the demanding requirements of highly regulated industries, including healthcare and aerospace. JEM is applying these materials to solve the challenges facing Alpine F1 Team and open up new opportunities that move increasingly more prototypes into production-grade parts.
For example, Jabil has partnered with Alpine F1 Team to make high-temperature-resistant engine and brake parts. Because the ducting is subjected to extreme conditions, it must be strong but since it's part of an F1 vehicle, it must be light or it will impact speed. Thankfully, by using a carbon fiber reinforced PEKK polymer that is specifically engineered to withstand high temperatures, Jabil can manufacture high-performance 3D printed car parts using laser sintering machines.
"Alpine F1 Team is making great use of high-performance 3D-printed parts and materials in a way that I haven't seen other F1 teams or even other industries take advantage—yet," Steve Kubiak, Process Engineer at Jabil, shared. "And we're always working on new materials to extend the range of solutions 3D printing can deliver."
Additive Manufacturing: The Future of F1 Vehicles
Jabil's focus and investments—from printers to materials to processes to digital manufacturing platforms to support those processes—have expanded the range of additive manufacturing applications and solutions for high-performance components. Alpine F1 Team is a perfect partner to exploit the advantages of additive manufacturing: unique geometries that maximize target functionality; lightweighting; fast turnaround to meet very short deadlines; and advanced materials to exceed stringent heat and durability requirements.
"Jabil Additive is playing an important role in moving their customers beyond just prototyping to mainstream additive manufacturing part manufacture for all," Goddard said. "Considerable progress is being made in terms of future possibilities and working with Jabil, alongside our other long-term additive manufacturing team partners, ensuring that we can remain at the cutting edge of the future of additive manufacturing for all.'"
One thing is for sure: with additive manufacturing, Jabil and Alpine F1 Team have their eyes on the prize.
Jabil's Additive Manufacturing Capabilities
Many industries are discovering the agile benefits of additive manufacturing – whether to avoid intense tooling costs and timing, gain advantages in weight and shape or iterate during the design and prototype phases.
Learn More