Five Ways In-Mold Labeling Improves Brand Packaging
Sustainability goals and the need to attract consumer attention are just a couple of the drivers that are triggering in-mold labeling (IML) to trend recently.
Finding its way into the packaging mainstream in the 1980s, IML — the practice of fusing a pre-printed label onto a package during a molding operation — has taken on significantly more importance as consumer packaged goods brands, or CPGs, deal with increasing environmental and economic conditions.
CPGs desire a more sustainable, e-commerce-ready solution with high impact aesthetics. With IML, brands can create a hybrid between rigid packaging and a flexible pouch providing lightweight, high-barrier packaging. This allows a CPG to make its package more efficient and deliver a dynamic message at the same time.
Potential IML applications are broad and in high demand for many packaging platforms. From the context of sustainable packaging, it opens up the potential for this technology to be used in many more markets than it once was. CPGs can now more easily meet sustainability goals they have set for themselves with IML.
What Is In-Mold Labeling?
In-mold labeling is a technique used to fuse pre-printed graphics to packages during the molding process. The result is a high-quality and highly functional label that is permanently bonded to a package.
The label is much like any other label, but in the IML process, it is bonded and formed into a wide variety of sizes and shapes. There are multiple molding processes that can be used in this application, including injection, blow and thermoform molding, using materials like plastics, biopolymers, paper or paperboard.
IML is used in many consumer products, including home care, personal care, and food and beverage packaging applications.
Jabil's new FusePack wipes container is a great example of how IML technology can be leveraged. FusePack offers significant weight reduction compared with competing formats, helping brands achieve the same volume of traditional packaging with a reduced carbon footprint.
This innovative technology platform breaks traditional packaging boundaries by pairing a rigid injection-molded frame and a flexible in-mold label sidewall. This results in a lightweight yet strong package that reduces carbon footprint and minimizes material usage while improving e-commerce performance by adding product protection during handling, resistance to environmental conditions and overall durability.
A typical 85-count wipes container can weigh over 90 grams, but the hybrid FusePack wipes package reduces that weight by 70%. Combined with its nestability for transport, you're looking at a significant carbon emissions reduction.
Why Would Some CPG Brands Not Use IML Given the Benefits?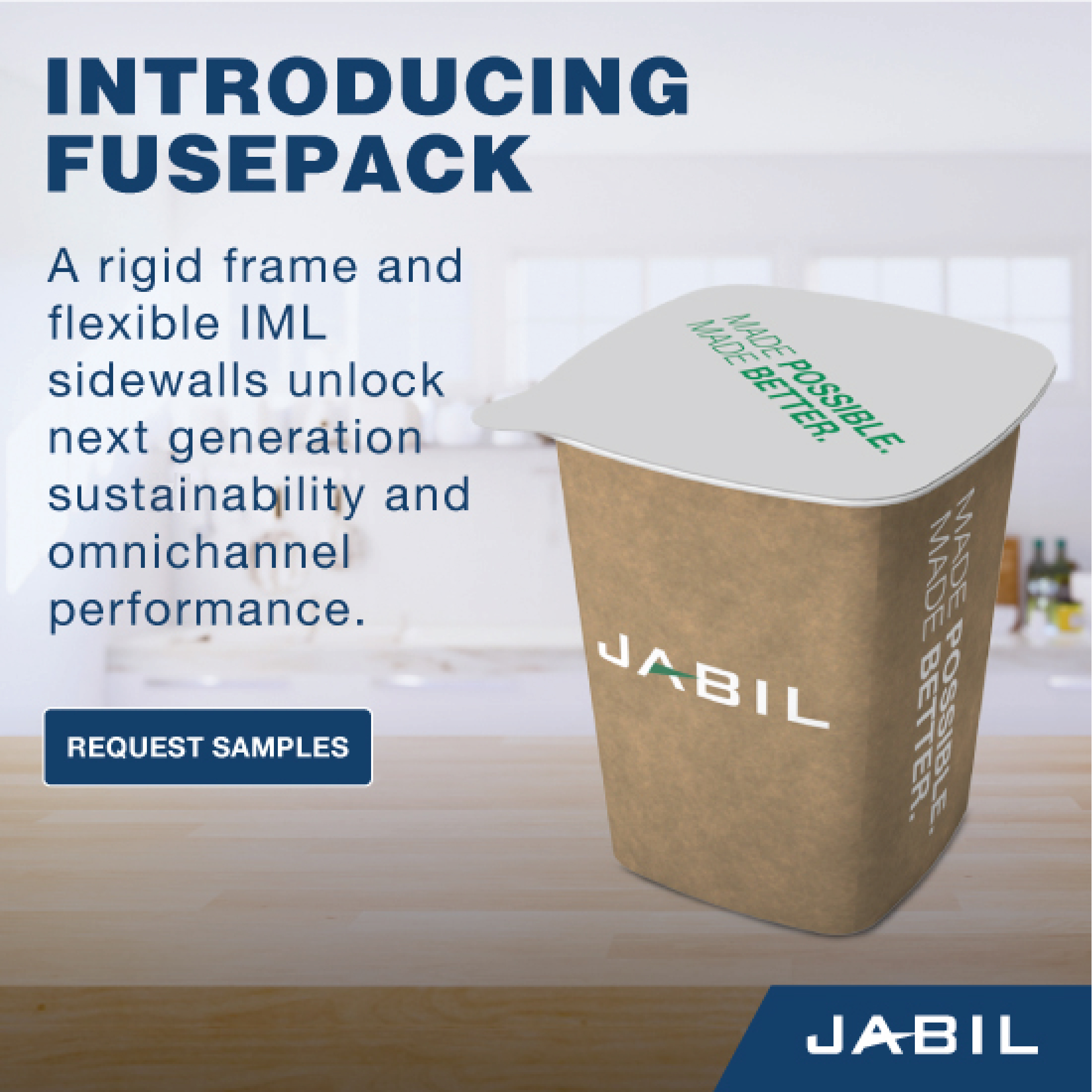 Lack of process knowledge, access to technology and lack of intellectual property can present barriers to IML adoption. Not every brand has the equipment in place to leverage the material science that comes into play either.
For example, a company might have access to its own polymer science capabilities, including polymers, paper and metals. A manufacturing solutions provider like Jabil, on the other hand, can bring everything from materials science and design to manufacturing and supply chain expertise to a project.
Jabil is a global leader in IML, growing with and into the technology through our investment in large capacity systems to meet the needs of large global brands. Partnering with a manufacturer to implement IML helps CPG brands add value through the quality of product design and the scalability of production.
Here are five additional ways IML can improve your brand's packaging:
1. Get Full Coverage, High-Definition Graphics
In-mold labeling enables edge-to-edge, 360-degree, top-to-bottom graphics coverage. Basically, wherever you can put the label, you can put graphics. IML also creates the opportunity for extremely high-definition graphics with lots of color combinations (even metallic) because the label is printed on a flat roll, then shaped to fit the structure.
IML provides significant aesthetic and functional advantages to create higher-impact graphics, especially on non-round packaging. Using IML, you can print your graphics directly on to a flat roll, then put into the shape through the molding process as opposed to printing on a piece that is already shaped.
Brands can apply much higher quality and higher-definition graphics than ever before. The label is full coverage, meaning it isn't just attractive but also a highly functional component of the package.
2. Leverage Special Package Dimensions (Non-Round)
There is growing demand for different-shaped packages. This can present a dilemma in printing directly on non-traditional shapes. Printing non-round containers can be more expensive than printing round containers. Depending on the material, graphics could also be limited regarding color, vibrancy and transparency. None of that is an issue with IML.
Leveraging IML in non-round applications, packages can be shaped in any form — square, round, oval — without incurring typically high costs to print on pre-formed pieces. This creates volumetric efficiency with no extra costs for the graphics.
This functionality is increasingly significant from a sustainability perspective as large retailers, such as Walmart, push for more efficient packaging. Many brands are moving to non-round shapes because of efficiency on the shelf and in distribution. More density is created when you use cubic shapes rather than cylindrical.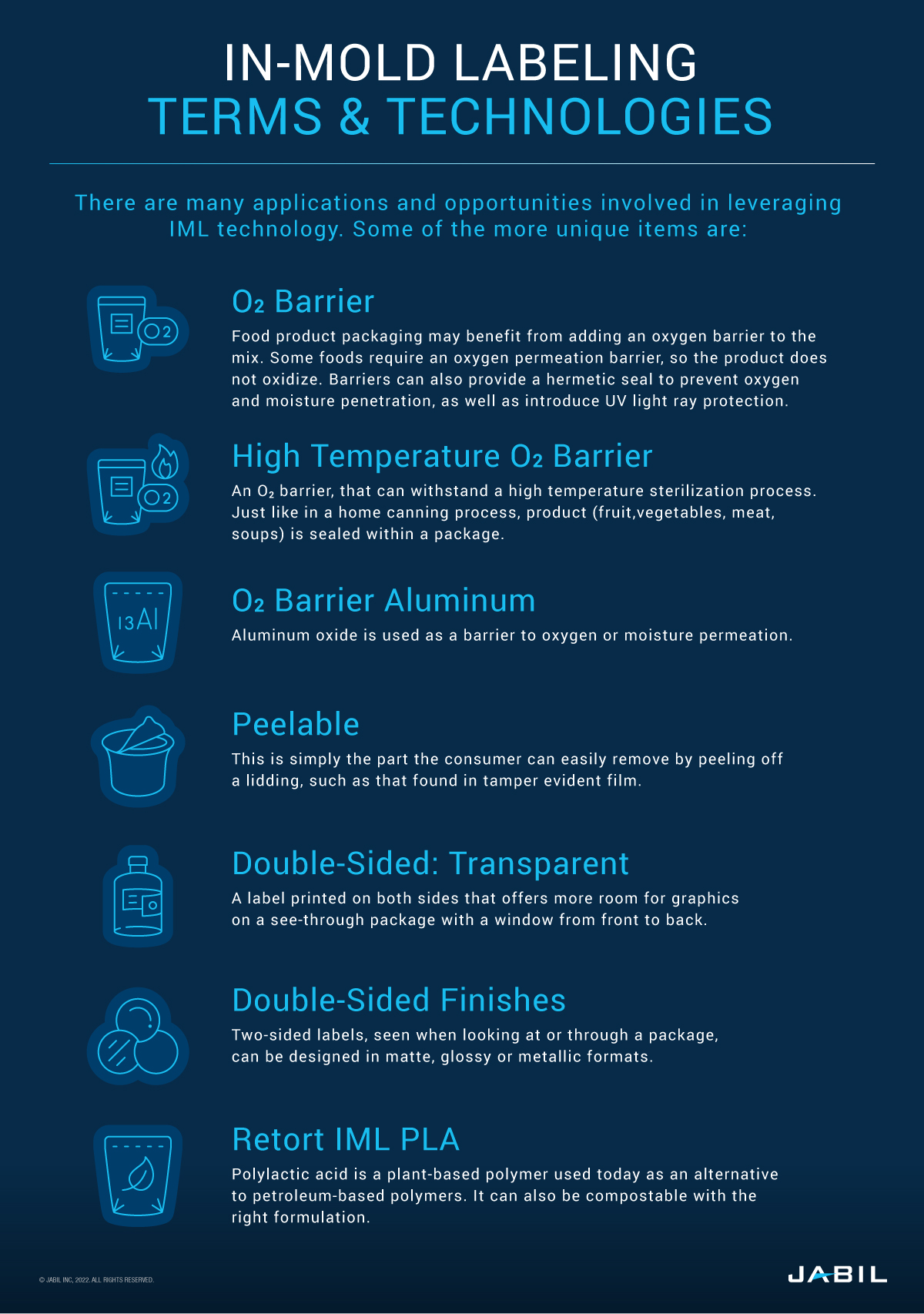 3. Utilize Material Flexibility
An IML label can be made from multiple materials, including plastic, paper, paperboard, recycled materials and bio-based materials.
The flexibility provided by IML packages also enables them to perform well in e-commerce environments where changes in temperature, pressure, shock and vibration can take a toll on a traditional product.
4. Cover Up Alternative Resins
Packages made of post-consumer resins can be limited in color selections. IML makes it possible to create high-impact graphics with limitless colors while covering undesirable PCR colors, such as gray and black.
With IML, the package is not limited by the PCR color because the graphics are put right over the base. For brands, that makes for an interesting way to attract consumers to packages made of PCR.
5. Attain Lightweight, High-Barrier Packaging
The push toward more sustainable packaging has led to the popularity of efficient hybrid packaging made of a rigid structure and a flexible film. This approach enables the CPG to put plastic material where it is needed most and remove it from areas it can be replaced with a film, paper or paperboard.
We have a responsibility as manufacturers to consider the carbon footprint attached to the production and distribution throughout the entire life of a consumer product. We need to recognize the impact we are having on the environment. That customer concern for sustainability, especially in packaging, has brought IML to the forefront as a viable, even preferable, manufacturing method.
How can Jabil help you meet your packaging goals? Contact us.
No matter how complex or demanding the project, we're helping today's innovators solve it. Get started with a trusted partner.