Innovating Connected Health with E-Textiles
There is no lack of challenges in healthcare device manufacturing. Regulatory hurdles, manufacturing issues and end-user adoption barriers make navigation difficult. To further complicate matters, truly understanding the evolution of healthcare connectivity remains elusive.
It's no wonder that connected healthcare has been trailing behind connected industries. In fact, all healthcare decision-makers who participated in Jabil's 2018 Connected Health Technology Trends survey affirmed that the industry lags other connected industries. Download the full survey report.
Connected health presents so many opportunities—better treatment options, earlier detection of symptoms, improved patient outcomes and so much more—that we can't afford to duck the challenges and risks it will take to achieve them.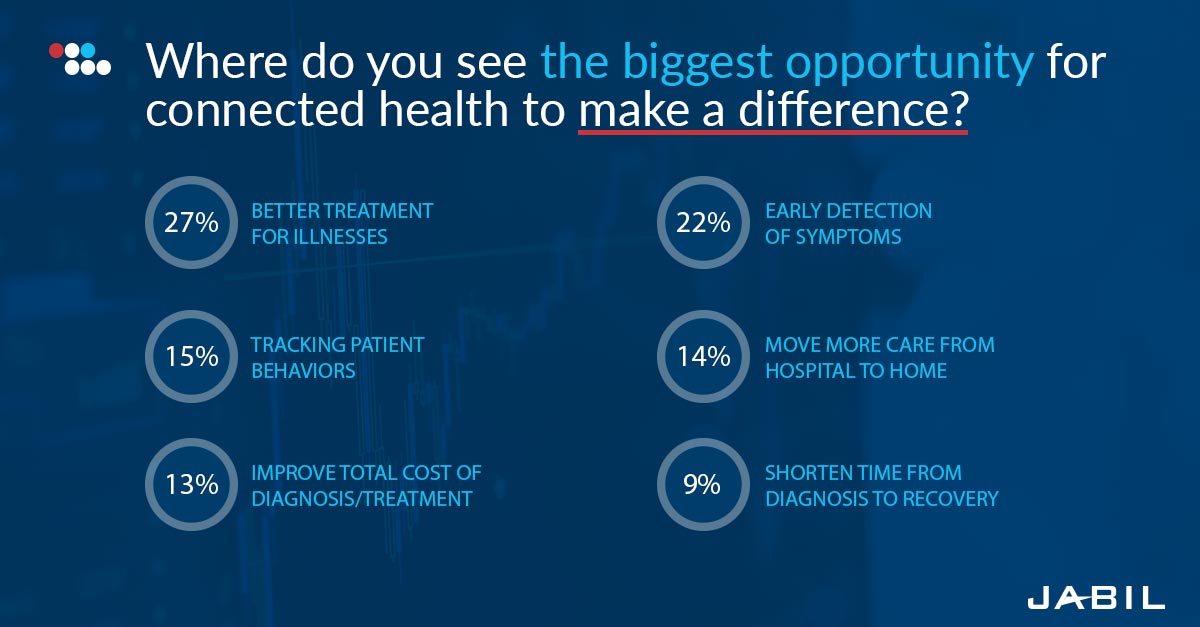 When asked about how connected health companies are currently addressing their challenges, 85 percent of decision-makers say they have a lot of work to do and another 10 percent say they're so overwhelmed by their challenges that they don't even know where to begin. But it's not all dim and grim. Mega trends like the Internet of Things are creating unprecedented disruption in every industry—connected health is just one of them. Transformational innovation is coming.
95 percent of connected health companies admit to facing manufacturing challenges.
Partners may be one of the best resources for overcoming challenges and moving the connected health industry forward, as they can contribute valuable experience and knowledge in unfamiliar areas of technology and business. Sixty-five percent of industry decision-makers consider manufacturing partners with expertise in connected devices the most potentially beneficial partners to their woes. This is natural, considering 95 percent of connected health companies admit to facing manufacturing challenges.
That's what Recovery Force sought out to do.
Reinventing Breakthrough Technology
Recovery Force is an innovative medical device company providing healthcare professionals, patients, and athletes with a next-generation mobile compression solution for enhancing circulation. The company has developed a platform technology with the ability to embed shape-changing memory fibers into various types of garments and footwear to produce therapeutic compressions.
That same technology is also available to sports enthusiasts and athletes, providing enhanced circulation during warm-up and recovery to achieve optimal performance. Recovery Force's patented technology works without bladders, pumps, cords or electrical stimulation to increase patient compliance. Instead, the technology centers on embedding woven fibers of nickel-titanium, also called Nitinol, into textiles. These woven fibers have the unique ability to change shape in real-time to deliver sequencing compressions that increase circulation to the body's cardiovascular and lymphatic systems.
Unlike the technology that tethered people to beds or wall-mounted devices for the last three or four decades, Recovery Force's technology mobilizes patients and consumers, giving them a much better experience and quality of life after surgery, sports performances or other activities.
Expediting the Path from Prototype to Production
As a serial entrepreneur in the medical device industry, CEO Matt Wyatt traces the origin of Recovery Force to a guiding principle he calls the "three Ps:" Purpose, Passion and Prosperity. Although he knew there was a great need for this type of technology, the key was persevering through the challenges to commercialize the solution.
For Matt Wainscott, co-founder and EVP of the company, another important driver was finding the right partner to help fully realize the company's product vision. On top of the added complexities of connected healthcare devices, like the one Recovery Force was so passionate about, they had another unexpected piece to their solution: textiles. Embedding electronics into textiles requires unique competencies and capabilities to ensure optimum comfort, durability, and convenience.
"We needed help to accelerate the technology yet struggled to find the right mix of capabilities. The first company had a textile background; the second had an electronics background, but what we really needed was a total turnkey solution," Wainscott said.
Subscribe to the Jabil Blog
Sign up for weekly updates on the latest trends, research and insight in tech, IoT and the supply chain.
After an introduction to Jabil, "it became apparent that Jabil was the right partner for us," Wainscott said. Recovery Force members collaborated with several divisions of Jabil to bring their product to reality.
Jabil's Radius Innovation and Development helped advance the product design while maintaining the strenuous process of meeting FDA requirements. Radius took lessons from numerous industries, including automotive and sports, to design a user experience that would be unmatched. The Nypro Healthcare operation accelerated the product development process toward a smoother path to manufacturing. Finally, Jabil Green Point provided expertise on the mechanics of putting the active compression into garments.
The results of this effort were 15 different designs for consideration; elements from four or five completely different design ideas were melded into the final product prototype. Ultimately, working with Jabil allowed the new product to be scalable. But this breakthrough technology that couldn't be leveraged previously was made possible through the collaborative efforts of Jabil and Recovery Force.
The collective Jabil team assisted Recovery Force with scaling for volume production by handling electronics integration, battery power sourcing as well as embedding electronics into fabric. In doing so, they ensured the product was rigid enough to include the pulsating wires without compromising flexibility or comfort. Recovery Force's first product is a compression back device that will enhance blood circulation and pave the way for future products.
Gearing Up for High-Volume Production
Recovery Force will begin with low volume production and be fully prepared to move fast and jump into automated assembly as needs dictate. The company's future looks bright with the next steps including the selection of sales channel partners for each of its business segments. Recovery Force will continue working with Jabil on new technology developments and achieving its next FDA clearance for making devices to treat upper extremities, particularly to fight chronic lymphedema and venous insufficiency. In addition, Recovery Force sees great opportunities in the footwear market. There are an additional 15 devices in the product development pipeline that focus on enhancing circulation for all parts of the body.
"No matter how good your technologies are or how competent and how great your processes are, if you don't have the right people, it really doesn't matter," Wyatt concludes.
Download the Connected Health Tech Trends Survey Report
Insights from 211 connected health decision makers on the barriers, opportunities and the future of connected health.