Point of Care Testing Delivers Confidence and Convenience
Diagnostics are on the front lines of healthcare. They are the essential guidance systems of clinical practice, illuminating the path forward in pursuit of matching the right patient with the right treatments at the right time. Sophisticated point-of-need (PON) and point-of-care (POC) diagnostics are meeting the demand for innovative solutions that fulfill the trend toward a practice of healthcare that is not only more preventive and personalized, but convenient as well.
Advances in reagent technology and test processes have dramatically increased the ease-of-use and availability of high-accuracy molecular medical tests for implementation away from traditional healthcare settings, making it possible for medical testing to be accomplished where it's needed and when it's needed.
At Home with Next-Gen Testing
Today, an incredibly broad range of analytes can be measured using point-of-care testing (PoCT) technology. Perhaps the biggest selling point for the technology is its ability to fulfill a drastic reduction in turnaround time. Types of PoCT include blood glucose testing, rapid cardiac marker testing and infectious disease testing.
Unlike testing done at the central lab — involving sample collections, transport steps (risking cross contamination) and long wait times — point-of-need and point-of-care diagnostics provide much easier and more convenient means for securing the valuable insights upon which medical treatment decisions rely.
Lucira co-founder and Chief Technology Officer Debkishore Mitra confirms this trajectory:
"We are entering a period of third-gen testing, first-gen being central labs and second-gen being POC settings (doctor's offices, ERs, etc.), where the testing can be done at the patient's home. Lucira Health's COVID-19 test is proof of this shift - we're generating trust in this market, and that in turn drives adoption. We're thrilled to be at the frontline of innovation in this exciting new phase of testing."
From consumer-friendly at-home pregnancy and glucose monitoring tests to more complex automated laboratory-based systems, point-of-need tests are irreplaceable for their capacity to provide quick-turn results for ascertaining prescription response, identifying potential adverse events, providing predictive insights and better clarifying downstream resource requirements.
Testing Access and Availability
Access to diagnostic testing has been an assumed part of healthcare in developed countries for many decades. It's a familiar drill: Doctor's orders deliver you to a queue within a healthcare facility or lab in order to have an accurate blood test done, and then you wait while the results are forwarded to your physician.
While diagnostics testing protocols like these remain unchanged and are standard practice in many places (and will be for some time), the global response to COVID-19 has heightened awareness and demand for much more seamless access to testing that is accurate, timely and safe.
Safe & Seamless Diagnostics
Patients and healthcare providers alike benefit from decentralized testing. It keeps healthcare workers away from sick and contagious patients while enabling patients who are not readily mobile (or should be quarantined away from others) to get tested in isolation. Along with improved accessibility comes the need to make the tests so simple to use that the experience becomes as common a part of everyday life as off-the-shelf home pregnancy tests delivering expectant news in the bathroom!
All these critical requirements were brought even more prominently to the forefront by the COVID-19 pandemic. Convenience and confidence in testing will continue to be critical moving forward; not just where healthcare delivery structures are sophisticated, but all around the globe. Even mature healthcare markets have struggled to gain true patient-focused testing accessibility with molecular-level accuracy.
Lab-Grade, Wherever You Are
An August 2021 New York Times article chronicles the challenges and frustrations with current COVID-19 testing tools and protocols.
According to an infectious disease researcher at the University of Illinois interviewed for the article, "Getting a lab-performed PCR test is your best bet for an accurate COVID-19 diagnosis, but appointments can be difficult to get, and sometimes it takes so long to get the results that they are useless." He went on to say, "Ideally everyone would have frequent PCR testing with rapid results reporting, but that's obviously not possible."
While I understand the interviewee's frustrations, I vehemently disagree with their use of the words not possible.
It's very possible! In fact, here at Jabil, this is exactly the inflection where we help support our customers: Making innovation possible.
Today, point-of-need testing is delivering just what the doctor ordered. The literal definition of point-of-need testing is meeting and testing the patient where they are; this could mean at home, but also in the office, airport, school or at an event. And it's being done now with lab-grade results, helping people move on to the next appropriate and necessary steps in their care and allowing them to continue their lives with the least disruption and inconvenience.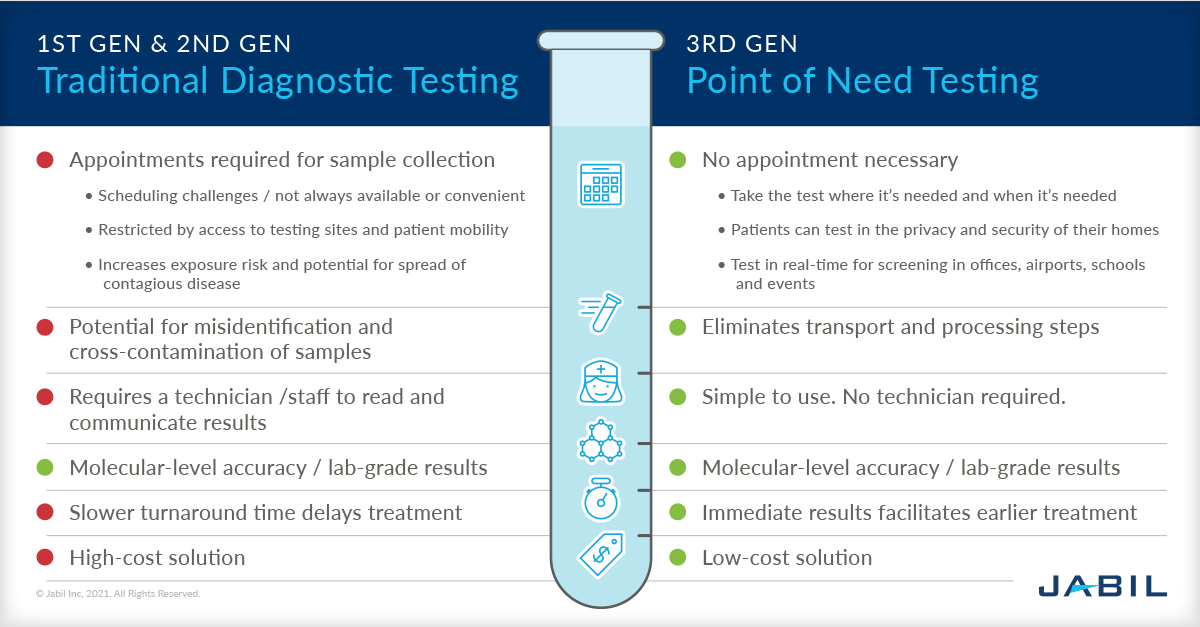 What is a PCR test?
According to the Cleveland Clinic's definition, PCR means polymerase chain reaction. It's a test to detect genetic material from a specific organism, such as a virus. The test detects the presence of a virus if you have the virus at the time of the test. The test can also detect fragments of the virus even after you are no longer infected.
The polymerase chain reaction (PCR) test for COVID-19 is a molecular test that analyzes your upper respiratory specimen, looking for genetic material (ribonucleic acid or RNA) of SARS-CoV-2, the virus that causes COVID-19. Scientists use the PCR technology to amplify small amounts of RNA from specimens into deoxyribonucleic acid (DNA), which is replicated until SARS-CoV-2 is detectable if present. The PCR test has been the gold standard test for diagnosing COVID-19 since authorized for use in February 2020. It's accurate and reliable.
At-Home PCR Quality Testing
Yes, getting lab-grade capability in a point-of-need environment can be an elusive target. Patients with negative antigen tests and symptoms or known exposures are often pushed towards traditional, centralized lab-grade PCR tests. Few at-home, self-administered tests are available, much less provide the level of assurance that tests like Lucira Health's solution provides.
Upon release earlier this summer, Lucira's test, called "Check It," was the first and only over the counter at-home test with PCR-quality accuracy. Immediate results are available in 30 minutes or less, giving peace of mind to people who might otherwise have felt intimidated by the risks of going to a testing center or clinic. The test relieves them of any requirements forcing them to leave the security and protection of home or other trusted environment. In addition to being able to detect the alpha, beta, delta, gamma and lambda variants, Lucira's at-home COVID-19 test kit can also detect the mu variant (scientifically known as B.1.621).
Approvals by both the FDA and EU for point-of-need testing during the pandemic came with rigorous expectations for making the testing experience seamless. Device users need to feel confident that anyone — not just clinical lab technicians — can execute the test and produce accurate results in the home setting. Customer-friendly user instructions and product usability are a critical part of the new testing environment in point-of-need. Industrial design organizations, like Radius, are a vital partner for helping to navigate this new, uncharted territory. By leveraging broad human-machine interface (HMI) expertise in consumer tech as well as healthcare, Radius facilitates user proficiency, even at the infancy of an innovative, ground-breaking product.
Improving ease-of-use activates synergies that drive even more adoption of point-of-need devices and technology. The phenomenon pushes more patients to understand that they too have the credibility to conduct a medical test, further elevating their ownership of healthcare, a trademark of the efficacy and value-based care model that is growing in the U.S. and Europe. As this patient-focused environment grows, patients become consumers who feel empowered to own their health and ask for the right diagnostic test to create the best therapeutic solution.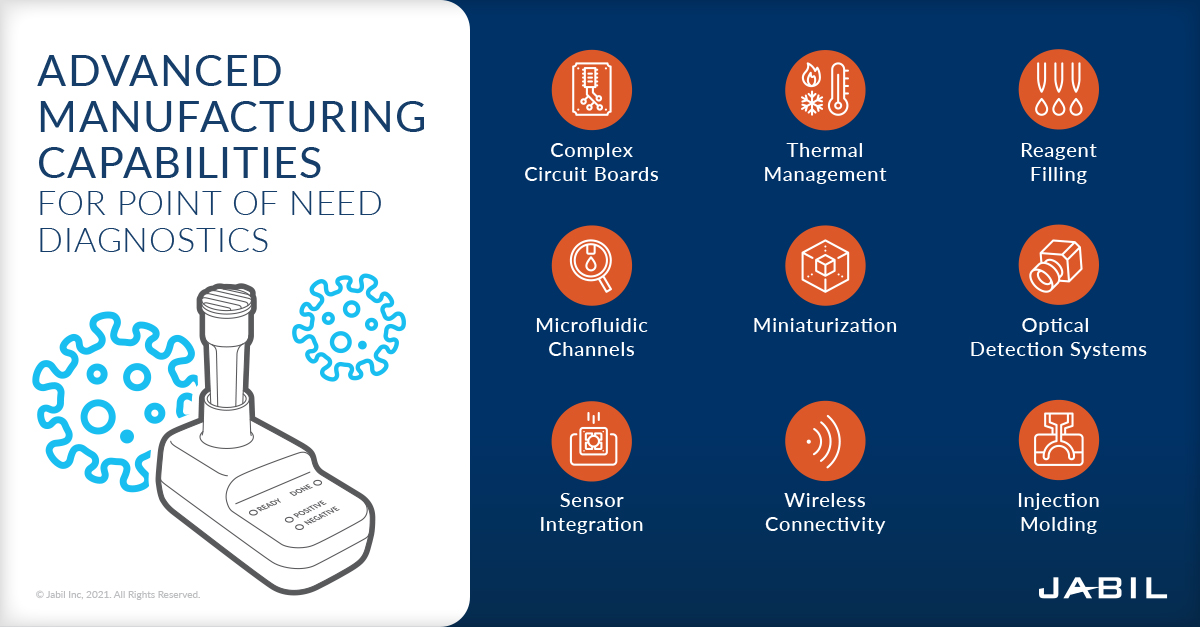 Jabil Healthcare Gets the Job Done
To get a molecular level of specificity, Lucira's test includes complex circuit boards, freeze-dried reagents, microfluidic channels and more. Addressing all the unique challenges presented by these technologies and advanced processes requires a manufacturing partner with the breadth, capability and verticalization offered by Jabil.
Consider the fact that Lucira's at-home test is replacing technological functionality that in the central lab is roughly the size of an office copy machine. "Check It" gets the job done in a single device the size of a computer mouse.
Jabil's specialized miniaturization capabilities were put to the test to "replicate" the large networks of tube and pumps found in lab-grade molecular diagnostic instruments, ensuring that Lucira's test will be as effective and reliable as the lab system's much larger tubing structure.
The size and scale changes necessary for implementing these test processes successfully in an at-home handheld device require a comprehensive blend of manufacturing capabilities. Sophisticated optical detection systems embedded within the self-contained cartridge enable a luminescence readout from inert chemicals within the assay. It used to be that this level of molecular testing was a standard existing only within a hospital or centralized lab.
Ensuring the device's high precision performance in mobile settings requires an additional layer of Jabil's innovative expertise and execution so these solutions can be packaged safely and dispensed in very accurate volumes for the user to take and test right at home. The ability for manufacturers like Jabil to complete this process at staggering volumes — and reduce costs — is also changing the nature of the industry. Technological sophistication at this scale suddenly becomes available outside the billion-dollar pharma sector.
Low-Cost Diagnostic Solutions Drive Adoption
"An accurate diagnosis is the first step to getting effective treatment," says Dr. Tedros Adhanom Ghebreyesus, World Health Organization (WHO) Director-General. "No one should suffer or die because of a lack of diagnostic services or because the right tests were not available."
Point-of-need testing delivers a solution to the issues highlighted in the Director General's statement and does so at a lower cost than historic testing models. Increased ease and access to testing that is accurate will only improve the health of those being tested, lowering the cost burden of those suffering chronic disease and providing improved controls for managing viral outbreaks. Whatever premium might currently exist in the market for fulfilling a far more robust distribution of diagnostics testing will not be the problem for long. As more and more testing shifts to PON, manufacturers can scale up production while scaling down cost.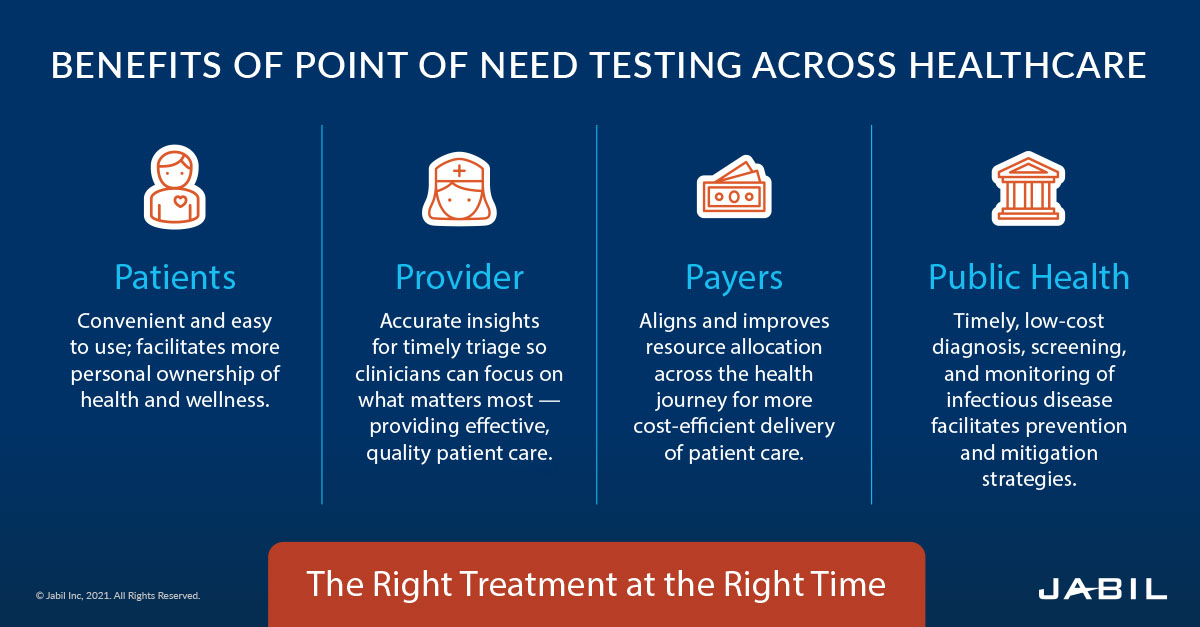 Point-of-Care Testing Lights the Way Forward
Point-of-care testing has been invaluable in the battle against the current pandemic, which will only help us be better prepared for the next. Patients will move into the future with even more confidence in their ability to conduct at-home, molecular-level testing. Convenient and easy-to-use off-the-shelf diagnostics products are transforming healthcare, delivering simplicity to complexity, and supporting patients seeking a more active role managing their health and well-being.
The technical accomplishments and market acceptance for COVID tests has catalyzed the sector. Diagnostics companies will start expanding their PoC testing portfolio to address additional respiratory illnesses and flu variants and other viruses like sexually transmitted infections.
Manufacturing partners like Jabil, operating at mega scale in cost-efficient regions of the world, with abilities to optimize supply chain management and other cost-lowering solutions — while still delivering highest quality and execution — will be key to driving further growth in this market.
At the center of the PON testing evolution, however, is the patient — who is also, not incidentally, a cost-conscious consumer, motivated by low test-at-home pricing and reimbursement policies. As their ability to conduct tests quickly, discreetly, and accurately increases, timely diagnosis will align proper therapeutic response and drive a corresponding decrease in spread of disease.
Overall, it has become clear that accessible and accurate level testing is more than just a target for the developing world. Truly decentralized PoCT is about to change the nature of the diagnostics industry, and by extension, how we collectively wage the battle against many different disease state lifecycles and health challenges across the globe.
Contact Jabil Healthcare
No matter how complex or demanding the project, we're helping today's technology innovators solve it.

Get started with a trusted partner...