Fulfilling the Promise of Precision Medicine Solutions in Diagnostics
Advances within molecular genomics and sequencing technology are driving an acceleration toward more personalized, precision medicine solutions as well as catalyzing increased demand for robust, reliable point-of-need diagnostics. As these macro trends continue to converge, there are dynamic opportunities for delivering innovation to market, but commercialization can be daunting.
The manufacturing workflows for precision medicine products and applications are multifaceted, requiring adept management of complex technologies and supply chains. As each generation of novel in vitro diagnostic devices (IVDs) delivers more functionality (often within smaller and more portable form factors), complexity only increases. And as the last few years have demonstrated, urgency and massive demand just ratchet up sourcing challenges even more.
Molecular Diagnostics Are at the Center of Precision Medicine
According to the Centers for Disease Control and Prevention (CDC), 70% of today's medical decisions depend on laboratory test results. For patients to be diagnosed and treated effectively — whether it is COVID-19 or seasonal flu; a urinary-tract infection or a rare cancer — diagnostics need to be abundant in supply and also affordable. Better outcomes result when you actually know what you are treating. Additionally, knowing who you are treating is even better, and ideally, sooner than later.
This is at the core of precision medicine's great promise, whether it is delivered as a point-of-need (PON) test, point-of-care (POC) device, or via next-generation sequencing applications, liquid biopsy or companion diagnostics (CDx). Armed with the insights gleaned from molecular analysis, cell biology techniques and sophisticated imaging procedures, healthcare providers can tailor specific patient treatments, avoiding costly trial-and-error loops and better aligning care delivery within value-based models.
Expanded Diagnostic Testing for COVID-19 and Beyond: Accessibility Is Everything
Diagnostic testing for infectious diseases (such as caused by the SARS-CoV-2 virus) can be antigen based ("rapid antigen" tests), which look for protein markers on the outside of the virus, or they can be molecular based (including PCR, LAMP, NAAT, CRISPR), which identify and analyze nucleic acids or proteins at a molecular level and are considered to be the best methods for identifying and characterizing a microorganism and/or measuring infectious burden.
Throughout the COVID-19 crisis, diagnostics OEMs have been under extraordinary pressure to develop and better ensure availability of critical diagnostics testing devices. The path to peace of mind and surety, the arc for a return to normal, is built upon what these technologies offer. In just a few years, people have developed familiarity and confidence in these devices. Lower cost solutions and broader reimbursements, increased ease of use and off-the-shelf accessibility will only continue this trajectory.
Participating in a Milken Institute Future of Health Summit 2021 panel discussion, Amy Abernethy, former FDA Principal Deputy Commissioner, addressed the healthcare industry's current inflection point, saying, "The pandemic taught us how much we needed to do in real time." Additionally, she emphasized medical product supply chain resiliency as being a highest-level priority for the future playbook, citing the urgency for "getting treatments to people who need them." Fast and accurate diagnostic testing can save lives, but devices must be compact, reliable, available and accessible at a cost that does not impede their adoption.
Delivering Molecular Specificity at Point-of-Care and Point-of-Need
Small, portable, lab-on-chip devices are capable of integrating entire traditional laboratory diagnostics onto a single disk the size of your hand. To deliver precise, molecular-level specificity, POC/N diagnostic tests typically include complex circuit boards, optical detection systems, freeze-dried reagents, microfluidic channels, heating components and many other tools. The core detection techniques powering these smaller form factor devices include polymerase chain reaction (PCR), isothermal amplification and immunoassays, like lateral flow testing — and, increasingly, next-generation sequencing (NGS).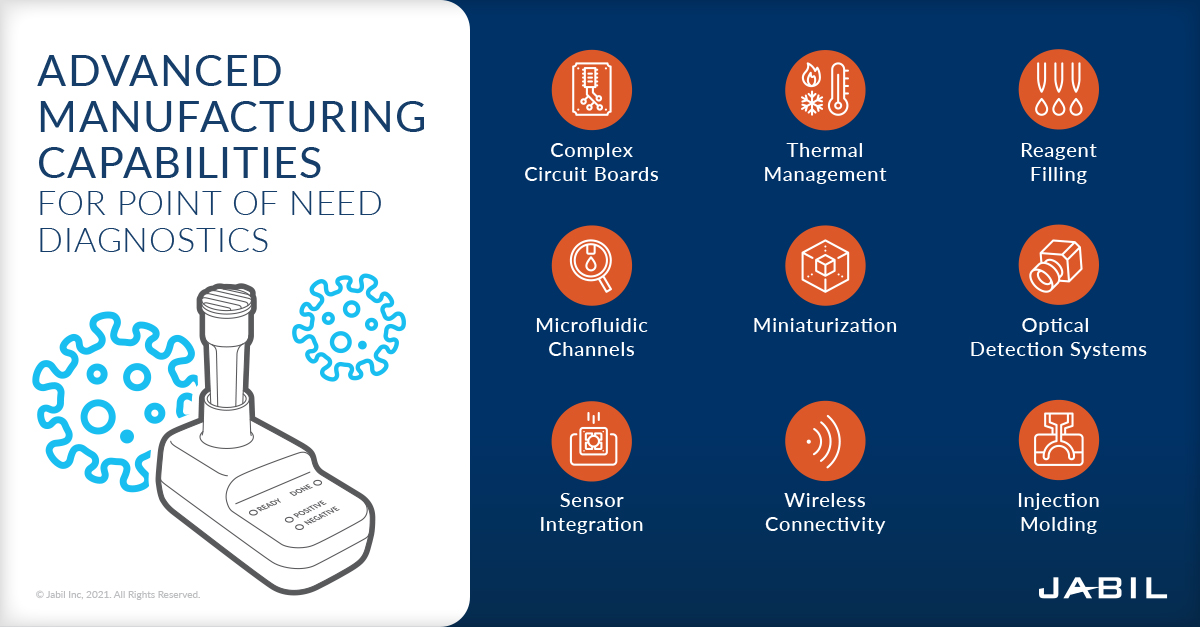 Improvements in sequencing technology and a better understanding of genomics have increased the efficiency of biomarkers in disease detection. At the same time, the dramatic decrease in sequencing costs is driving utilization even more broadly. In 20 years, the price of sequencing DNA has dropped from hundreds of millions of dollars per person to approximately $600 today, with some predicting that the $100 genome is not far behind.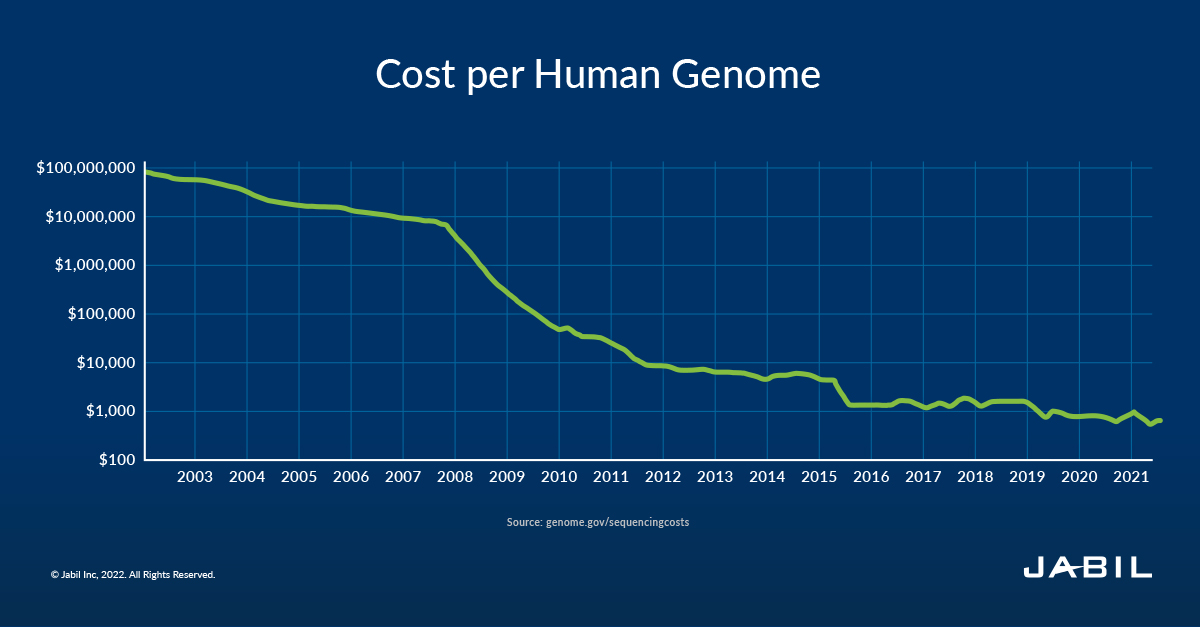 NGS-based Dx tests are now widely used for the early diagnosis and discovery of various infectious diseases (like SARS-CoV-2), as well as in precision medicine, with its powerful technology leveraged for companion diagnostics and liquid biopsy tests. Low-footprint and portable, easy-to-use NGS platforms, capable of providing accurate, rapid test results, are a significant development for ongoing pathogen surveillance — determining how a virus is evolving and the consequences of those changes. The workflows can be performed alongside traditional testing methods and used to optimize infection control strategies.
Molecular Diagnostics — By the Numbers
Based on a recent report from leading research firm Markets & Markets, the global molecular diagnostics market size is projected to reach USD $31.8 billion by 2026 from USD $17.8 billion in 2021, at a CAGR of 12.3%. In 2020, the reagents and kits segment accounted for the largest share of this market - growth driven largely by the recurrent usage of consumables, which include the tests' sequencing chips, flow cells and reagents.
Per the Public Health Supply Chain and Industrial Base One-Year Report, as of January 2022, the FDA has authorized 423 tests and sample collection devices for SARS-CoV-2 under EUA (Emergency Use Authorization), including:
291 molecular tests and sample collection devices,
87 antibody and other immune response tests,
45 antigen tests,
1 molecular and 3 antigen prescription at-home tests,
69 molecular and 1 antibody authorization that can be used with home-collected samples,
3 molecular and 14 antigen over the counter at-home tests, and
9 molecular and 25 antigen tests and for serial screening programs.
Yet even this impressive list cannot itemize just how broad the potential medical and commercial applications are for the underlying technologies. Infectious disease testing is and will continue to be front and center, however, with PCR and NGS techniques being leveraged as mutational biomarker testing methods for cardiology, fertility and oncology (including liquid biopsy), the overall demand landscape is expanding exponentially.
Building a Forward-Facing Diagnostics Medical Device Supply Chain
Pre-pandemic, many of the raw materials utilized within the molecular diagnostics supply chain were only being produced in amounts appropriate for clinical research and other niche applications — nowhere near the capacity required for sustaining production volumes running into the multi-billions.
Demand for molecular diagnostics devices is higher than ever before, driving intense competition between OEMs in pursuit of the same reagents and associated consumables required to bring their product solutions to market. Lab-based molecular assays in precision medicine diagnostic devices typically require more than 20 different reagents, raw materials, consumables and other critical components. Major shortages have been reported in RNA-extraction kits and reagents including enzymes and primers, as well as glass vials, syringes, resin supplies and other production materials.
A Jabil and IndustryWeek survey of supply chain decision-makers confirmed these challenges, with 90% of respondents from the medical equipment industry reporting unexpected disruptions to supplier operations and 41% experiencing significant negative impact to operations since the COVID-19 pandemic began.
Commercial success hinges upon a dependable and robust pipeline of specialized suppliers to ensure a resilient, scalable method of production. In order to best support customer innovation in the sector, Jabil's Diagnostics team is taking a more active role in the process, as a partner from concept to commercialization, with a hands-on approach developing a supplier base aligned with Jabil's own broadening molecular diagnostics technical capabilities. Supply lines have been established and actively vetted for a range of novel IVD device requirements, like oligonucleotide primer and probe sets (used in PCR-based amplification to guide the activity of polymerases in order to amplify gene-specific sequences), as well as reaction enzymes, buffers, and lyophilized reagents.
For companies looking to bring precision medicine diagnostic product solutions to market, the infographic below captures broad guidance from Jabil's Precision Medicine leadership team for meeting the unique challenges of the molecular diagnostics supply chain.
Loading image ...
Fulfilling the Promise of Proactive, Precise and Personalized Medicine
Moving forward, Jabil is well positioned as the industry continues to fulfill the demands of healthcare practice, transforming from one-size-fits-all toward more targeted solutions in which the right patient will get the right treatment at the right time. Even before COVID, the Diagnostics team was focused on next-generation technologies and supporting customers moving into point-of-care and point-of-need environments, including full cartridge assembly for DnaNudge in the United Kingdom and reagent filling and handling as well as lyophilized services and cold chain management for Lucira Health.
Now as our customers shift and broaden their portfolios, we are able to work together with, in essence, a shared blueprint, repurposing device platforms and technologies to meet market demand with existing adjacent capability. Jabil's Precision Medicine team has also established itself as an end-to-end reagent solutions provider, so our ideal customer can come to us when they are just making that transition from lab bench to commercialization.

Jabil's goal is to provide one-stop-shop partnership value from the beginning, as early as initial innovation strategy and design through to commercialization — addressing all the requirements for an OEM's product and answering questions like, what supply is coming from where, and what the lead times look like, to make it that much easier for a customer to decide to work with us.
In just a few years, attitudes about how healthcare is accessed, delivered and transacted have been fundamentally changed, and Jabil customers are eager to address the market's new normal. Central to the shift are value-based cost and efficiency initiatives converging with a practice of medicine geared towards more individualized prevention, diagnosis and treatment.
Legacy processes revolving around a slow-turn, massive central lab are being transformed by a range of technologies delivering rapid test results without sacrificing sensitivity or accuracy. Equally important, these devices are doing their job where and when needed, enabling near patient solutions in a near real-time approach, which means better decision-making and ultimately improved outcomes for the patient, their healthcare providers and the broader community. Just the results we have all been looking for.
Contact Jabil Healthcare
No matter how complex or demanding the project, we're helping today's technology innovators solve it.

Get started with a trusted partner...