What's in Store for Rethinking Retail? Customer Experience.
In a market flooded by endless product options, retail success comes down to one thing: customer experience. But delivering a memorable and consistent retail customer experience in an omni-channel world is easier said than done. The transactional relationship between retailers and their customers have largely evolved and new expectations are in place. Physical and digital experiences must flawlessly connect, operational efficiency must be achieved and data must be effectively utilized to develop useful customer insights.
On one hand, the consumer base is more diverse than it's ever been. Between all the segments—who have different perspectives and savviness with technology—it's hard to generalize assumptions and needs. While baby boomers may still prefer to interact with cashiers in a traditional store, Gen Xers may prefer a self-checkout experience. Millennials may prefer to do all their shopping online, whereas Gen Z may solely rely on social media for their purchasing needs.
In addition, your costumers are the same ones using technologies like the smart phone. When their experience in one industry is stellar, it creates a domino effect in expectations for another industry. Therefore, customers no longer judge retailers simply on the retail experience alone, but also on the experiences they're having outside of retail.
EXPERT INSIGHT
"The retail customer experience has changed immensely in the last few years. Consumers were very loyal to brands in the past but are now very fickle. In addition, the internet and social media provide a direct channel between brands and their consumers. Retailers must embrace that the 'old ways' no longer work. Consumers are looking for interaction, insight, education and entertainment."

-Tim Hughes, Author of "Social Selling - Influencing Buyers and Changemakers"
While retailers are having an easier time catching up to these expectations in an online setting, brick-and-mortar retail is still struggling. But the importance of customer experience can't be overstated. In fact, nearly three quarters of shoppers say customer experience trumps price and product quality when it comes to purchasing decisions, according to PwC. Furthermore, retailers put potential revenue at risk when they fail to improve the customer experience. By how much? Depending on the type of retailer, 11 to 25 percent of your revenue may be at risk, according to Retail Touch Points. Retailers are clearly in a transitional phase as they evolve and cater to different customers and their needs. It's all about finding the right formula for serving your customers.
Customer Experience is a Priority for Retail Executives
With the spotlight on customer experience, what are the tangible benefits? Organizations that lead in customer experience outperformed laggards on the S&P index by nearly 80 percent, according to Qualtrics. These organizations also retain a higher share of wallet and have customers that are seven times more likely to return and purchase more from them. In addition, their customers are 15 times more likely to spread positive word of mouth. It's no wonder then that customer experience is a priority for retail executives.
No matter the type of investment, all data points to the need to improving customer experience, which has a direct correlation to sales, margins and return shoppers. In this effort, 96 percent of retail executives believe that providing personalized and convenient retail experiences build loyalty, and 95 percent of retailers are implementing or considering technology to improve customer experiences, according to Jabil's 2018 Future of Retail Technology survey. Download the full report.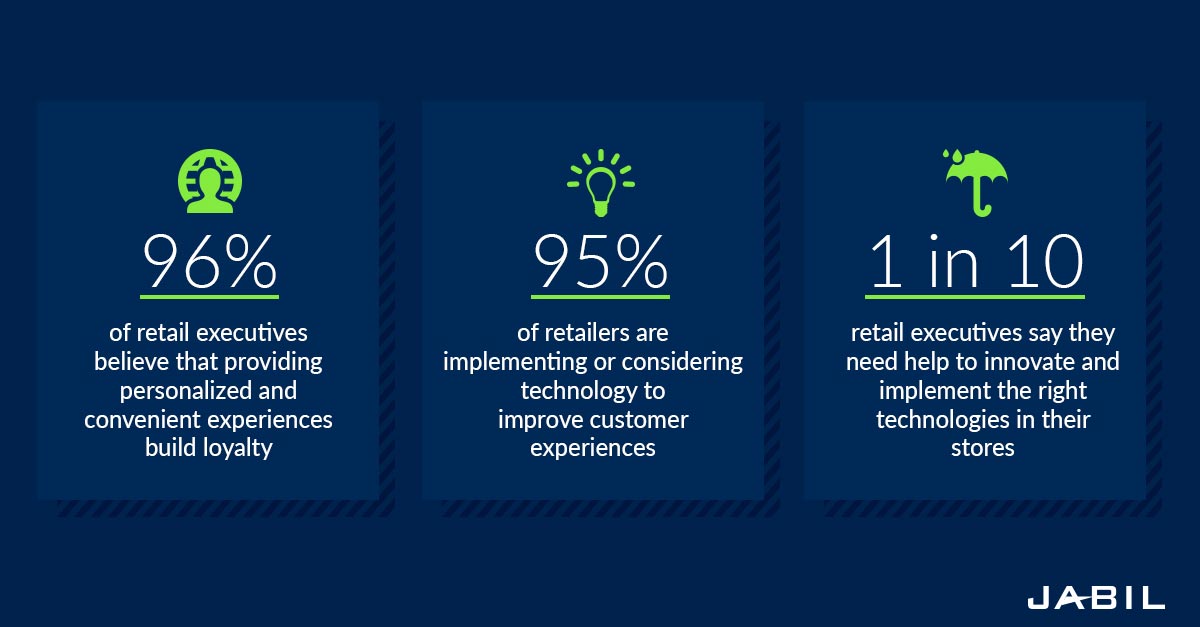 Still, one in 10 retail executives says they need help to innovate and implement the right technologies in their stores, according to the survey.
Improve Customer Experiences with These Seven Technologies
When asked about their technology investments to improve customer experiences, Jabil survey participants list the following as their priorities in improving the customer experience:
Omni-channel retailing that combines the digital and in-store experience (58 percent)
Personalized interactions (56 percent)
Delivery innovations (55 percent)
Smart or cashierless registers (41 percent)
Kiosks (35 percent)
In-store experiences (27 percent)
Smart shopping carts (24 percent)
It is important to mention that you don't need to leverage all of these technologies to deliver a memorable customer experience. The right mix depends on your retail business model. But with the generational diversity of the customer base, it makes sense that most organizations are focusing on technology that enables omni-channel retailing. It is critical to provide a consistent experience across users, platforms, environments and devices. A deeper look into the next priority reveals the tie-in. Consistent experiences don't just mean that everyone receives the same ones. To make a real impact, they must also be based on personalized interactions. Basing the touchpoints on a customer's historical behavior and purchases makes the interaction more valuable for all parties involved.
Retailers are also experimenting with delivery innovations, whether a customer is ordering from their couch or on-the-go. For example, Uber Eats, a food delivery service available in more than 350 cities, enables users to order from their favorite restaurants and have it delivered to their front door. Amazon, on the other hand, has begun placing 3,000+ lockers in 50 major US metropolitan areas, where consumers can easily pick up their orders or complete returns, without any hassle. Traditional grocery stores have also begun implementing home delivery or store pick-up services.
In addition, retailers are piloting several enhanced self-checkout technologies to improve the in-store customer experience. This initiative originated with the self-checkout concept, where the consumer scans and bags their own items as they leave the store. This technology gave consumers more control and reduced retailer costs. But even this method has evolved with the deployment of handheld devices, granting consumers even more control. As an ancillary benefit, this frees retail associates to focus on the real customer service needs. Some of these trial programs have gone well, and retailers are expanding them, while others have stopped the programs completely. These types of checkout experiences heavily depend on the retail environment, the type of clientele and how you tailor the self-service experiences.
Subscribe to the Jabil Blog
Sign up for weekly updates on the latest trends, research and insight in tech, IoT and the supply chain.
Retailers are also utilizing specialty kiosks to improve customer experiences. While department stores have been employing this model since the 1960s, this "store within a store" idea has evolved to attract more consumers. Specialty kiosks, specifically, have matured and are becoming a staple in fast, casual restaurants. Mass merchandisers and drugstores are ripe for this technology, especially for high-end personal items to help avoid shrinkage problems. Enhancing the customer experience and value propositions at the point of sale have been challenging to do without increasing labor costs or shrinkage. However, this technology enables a symbiotic relationship: it opens another revenue channel that retailers might not otherwise be able to leverage. And it allows brands to control the experience a little more than in a standard distribution model.
From the moment shoppers push open the glass doors, they crave entertainment. In-store retailers are crafting a unique customer experience by inventing events, from in-store cooking classes to exclusive store hours and private "behind-the-scenes" tours. Successful retailers are allowing customers more time to enjoy the in-store environment in a memorable way, building the foundation for return-visits.
EXPERT INSIGHT
"As technology advances, retailers need to rethink how they engage customers in stores. Leveraging the Internet of Things and augmented reality with a mobile phone, retailers can design memorable experiences that provide convenience to the consumer. It is important to remember, however, that the customer experience is not 'centralized' anymore. Retailers must reshape their customer experience strategy in a decentralized customer environment."

-Antonio Grasso, CEO of Digital Business Innovation
Finally, self-checkout may resolve the biggest bottleneck in stores. While the maturity of self-checkout technology varies, the scanning systems at the point of sale have been around for 15 years and employ tried and true techniques that a standard cashier would use. Coupling these with some of the newer technologies, smart carts can enhance the experience and improve the efficiency of self-checkout experiences. Enhanced self-checkout can improve both operational efficiency and customer experience.
How do these technologies come together to improve the customer experience?
Let's take grocery, a historically tight-margin business, as an example. This specific retail segment faces numerous challenges in operational efficiency, and the rise of online merchandising is forcing it to become even more efficient. In this type of landscape, customer experience is the only differentiator. As a result, grocery chains across the world have started experimenting with new offerings: click and collect, online grocery delivery and even valet parking. Store apps allow customers to keep track of their shopping lists, digitally apply coupons to their purchases and save them all as references for future visits, tying the in-store experience to their digital one.
In addition to technology, grocers are working to make the in-store experience as experiential as possible. With activities like in-store cooking, meal kits, preparation stations and more, grocery chains are looking to deliver more intimate experiences.
Three Steps to Determining the Right Customer Experience Technology Stack
The retail environment is inherently chaotic. Retailers invest considerable thought into the inventory stocked and the designs of stores and the shelf layout. With all this intact, how do you determine the right technology stack for your company? Here are three steps to determining the right retail technology stack to improve the experience for your specific client base:
1. Evaluate your strengths
Many times, my clients feel inclined to look at a competitor to influence their customer experience strategy. But I always advise them to start with their true strengths.
Let me illustrate with an example.
Trader Joe's is one of the most successful grocers in the industry—they have the highest revenue per square foot. The value that Trader Joe's brings is largely in their customer experience. They curate the type of healthy, fresh food that is in high demand while serving as the neighborhood-friendly grocer, delivering good quality at low prices. Customers derive value from an in-store experience that can't be replicated online.
What is the purpose of going online? If a business is known for sourcing the best food, then their competitive advantage in the market is sourcing great food. Why should this grocer try to replicate another's strategy if it doesn't align with their goals?
The key lies at the convergence of your strengths and your customer's desires. Evaluate those and use that information to focus on your core competencies and competitive advantage.
2. Determine your "sweet spot"
I think the biggest pain point for retail professionals is determining how to approach the balance of physical and online stores. There is a sweet spot for it. We are seeing chains that are primarily in physical spaces trying to move into the online space while also observing online-only retailers trying to make an impact in stores.
In the Jabil survey, 19 percent of participants said they were mostly investing in in-store technologies, while 33 percent said they were focused on e-commerce and online technologies. Another 47 percent indicated that they were investing equally in both. For each move, there are strategic advantages.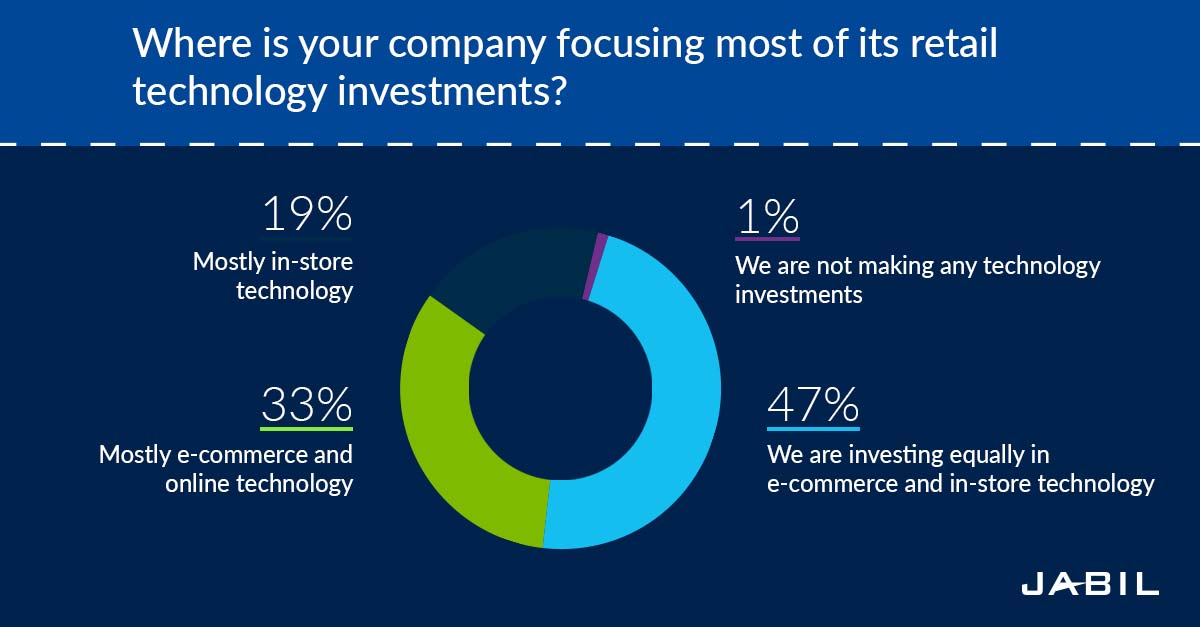 While retail is becoming a more integrated concept across channels, there are certain goods that are better sold in physical spaces. Over the next 10 to 15 years, the distinction and segmentation of online and brick-and-mortar stores will become clearer. Currently, we are in a transitional phase and the best thing to do is utilize your insights on your customers to pinpoint the best approach for you.
3. Rethink retail
Some brands have chosen to go directly to consumer, cutting out the "middle man" by utilizing technology. Concurrently, e-commerce operations have taken many of the traditional attributes of retail online, providing consumers with a new reality of convenience and purchase agility. Finally, consumer preferences are evolving, as well as the way they make purchasing decisions. All of these retail trends are turning everything we previously knew, or thought we knew, about retail on its head. The solution is not a one-size-fits-all.
It's time to rethink retail. To win in today's digital world, retailers must embrace change and gain control of the data to help them construct memorable customer experiences. Whether online or in-store, technology is a loyal friend with untold staying power.
Download the Future of Retail Technology Survey Report
Insights from 312 global retailers on their technology investments, omni-channel strategies and more.