Master the Supply Chain Logistics Evolution
A modern era of innovation is reshaping the logistics and transportation industry, bringing about exciting proficiencies and opportunities. Although many innovations are brand new — some even still in the testing phases — each holds significant promise, as well as strong potential to complement and advance existing technologies and processes.
In Jabil's Global Supply Chain Trends survey of decision-makers at companies with more than $500 million in revenue, 58% of respondents said that logistics would benefit most from improved technology. And it makes sense. Some OEMs are relocating their manufacturing in response to market forces impacting global supply chains, which significantly impact their logistics. Download the full survey report.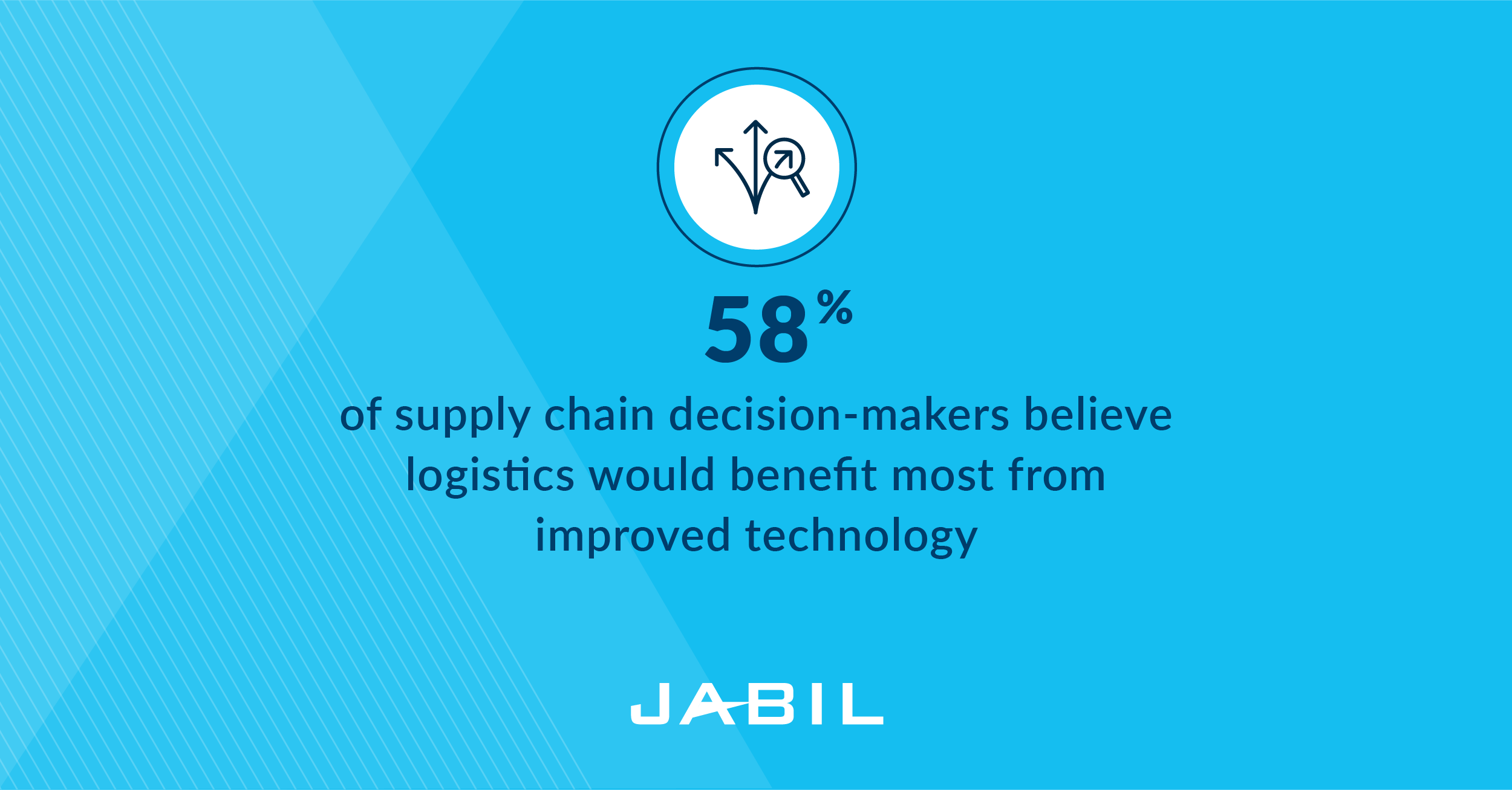 Logistics and transportation are essential elements of global supply chain management. Their ongoing evolution — driven by the Internet of Things (IoT), blockchain, autonomous vehicles, 3D printing, omnichannel commerce and much more — makes it essential for industry professionals to always keep learning. The most effective leaders are those who invest in innovative approaches in their supply chain strategy, particularly with regards to last-mile challenges.
Make the Most of Your Supply Chain Data
For today's global networks, logistics and transportation visibility demands sophisticated coordination across numerous geographies, as well as the integration of warehouse management; accounting; enterprise resources planning; and, of course, transportation management systems (TMS). Indeed, we have traveled many miles from just figuring out how to get something from A to B.
According to Inbound Logistics' 2019 Logistics IT Market Research Survey: "Corporations continue to seek business intelligence solutions that help create a competitive advantage through reduced [supply chain] costs, increased efficiency and better decision-making capabilities. This includes the continued automation and convergence of transportation management, accounting and accounts payable systems. Accounting departments require accurate accrual and allocation of transportation expenses. Supply chain/logistics departments seek greater visibility and timely access to their data to manage and control processes."
Interestingly, workable solutions include everything from simple sensors and smartphones to the age-old electronic data interchange (EDI) and application programming interfaces (APIs). The less expensive tools enable users to scan and sort items, check for special conditions, categorize high-value or timed packages, record a signature and photograph a delivery spot and determine on-time delivery. On the other side of the spectrum, EDI and API offer a foundation for digitizing logistics and transportation procedures to achieve all new levels of collaboration and end-to-end supply chain visibility.
Supply chain management professionals need these kinds of insights in order to detect both risks and opportunities — and proactively respond. Data from bills of lading, carrier invoices and tracking information, for example, is uniquely valuable and should be maximized. Likewise, it's important to capture shipment details including origin, destination, current location, mode, weight and the like. Only when all of this information is considered can you attain a truly holistic view of your logistics and transportation activities.
Perhaps most importantly, you must know what you want from your data and how to ask for it. Dashboards are very helpful here, in that they take the information and bring it to life, transforming it into actionable business intelligence. The metrics then make it possible to clearly see and drill down into the things that are most important to your logistics and transportation goals, such as cost savings, missed consolidations or operational improvement opportunities. In addition, supply chain network optimization can be part of your arsenal.
For organizations that move product in different ways, IoT can be an important communication tool for simplifying transportation complexity. Real-time inventory, shipping, receiving, track and trace and workflow data capture across such multi-party networks via the IoT can create a significant competitive advantage. Nearly half of the Jabil survey participants say that IoT has the most potential to benefit their organization's supply chain.
Move Logistics Forward with Blockchain
Increasingly, logistics and transportation teams are using blockchain — digital ledgers that generate trusted transactional data. Blockchain provides all parties with detailed information on a product's encounters from point of origin to destination, while guaranteeing there is no fraud in the related transactions. The result is that users cannot misrepresent a shipment, its journey or how funds changed hands. Nearly 40% of respondents to the Jabil survey believe that blockchain has the potential to benefit their company's supply chain management efforts.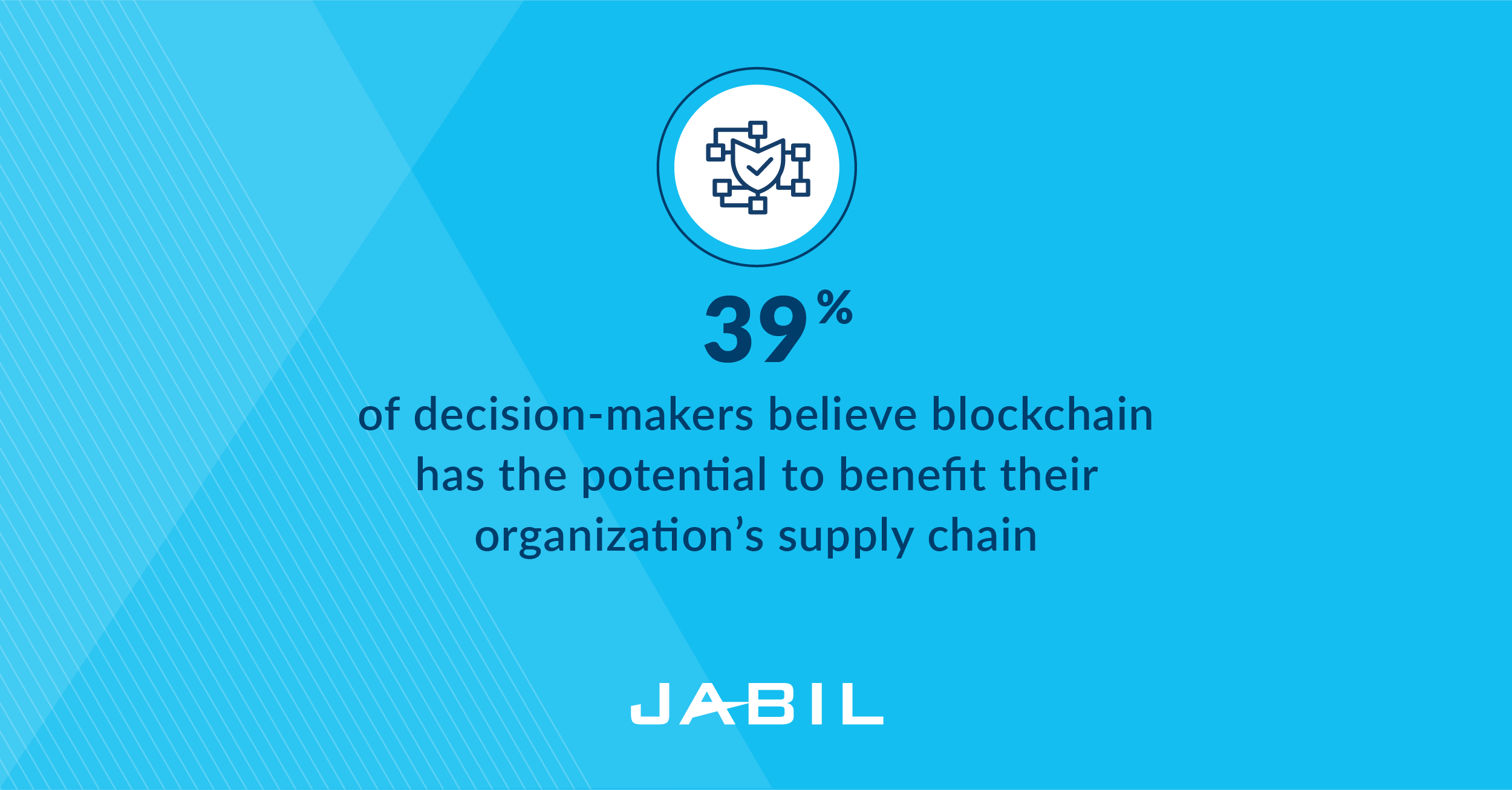 "With these benefits in mind, it's no wonder that the logistics field is enjoying a new level of transparency as a result of achieving this single truth of the status and location of goods," writes Ron Crabtree, CIRM, SCOR-P in the Association for Supply Chain Management's SCM Now magazine.
"For example, when an export consent document is created for a trade bank or government, the exact same documentation format is used from end to end, making fraudulent annotations difficult or impossible to insert. If there are any discrepancies, the import bank can withhold payment until the issues are resolved. With the huge volume of transactions in international trade, this streamlining is a big deal."
Crabtree goes on to explain that blockchain facilitates compliance by, for instance, requiring verification of the gross mass of a container before it can be loaded onto a vessel. Every party in the transaction has access to a container's sequential events and encounters from origin to destination. And from payment- and receipt-verification perspectives, no one can cheat the system by misrepresenting goods, tariffs, taxes or even the entire shipments.
Blockchain also enables failsafe collaboration among shippers and carriers with disparate databases, speeding movements, sharpening accuracy, reducing expenses and sending alerts and updates in real-time. The logistics and transportation opportunities are boundless, as the once laborious process of keeping tabs on each and every piece of your value stream becomes simpler and securer.
Streamline Processes and Attract Drivers with Autonomous Vehicles
Collision-warning systems and adaptive cruise control are finding their place in supply chains, and fully autonomous vehicles are not far behind. While these innovations are unlikely to ever fully replace current logistics and transportation modes, they do have significant potential that industry players must not overlook. Cost savings is one clear advantage; however, there are other benefits well worth considering, including an enhanced driver experience and safer operations.
Automation technologies take control of steering, accelerating and braking, thereby relieving stress for truck drivers, reducing fatigue and helping them feel refreshed. Notably, autonomous vehicles may help fill the logistics industry's talent shortage by modernizing the profession.
Heightened safety is another important potential advancement. A fully automated truck lowers the possibility of an accident — including one due to mechanical failure — because the system monitors the vehicle and sends an alert if maintenance is required.
According to the McKinsey & Company report "Distraction or disruption? Autonomous trucks gain ground in US logistics," what all of this means for logistics and transportation professionals is that autonomous vehicles have the potential to dramatically change supply chain operations: "Industry consolidation would transform a fragmented industry that struggles to attract sufficient drivers into a digitally enabled short list of providers. [Original equipment manufacturers] and new entrants might compete for transportation-as-a-service share. And companies might tap their latent capacity through near-24-hour operations. In the long term, each company should review these changes to the ecosystem and determine where it wants to play — and what it will take to win. This will require an understanding of the technological developments as well as the customer and competitor landscapes."
Report authors Aisha Chottani, Greg Hastings, John Murnane and Florian Neuhaus go on to urge industry professionals to closely monitor the pace of change through autonomous-technology pilots: "Sitting on the sideline could mean watching autonomous technology, and the new value pools it creates, pass by."
Subscribe to the Jabil Blog
Sign up for weekly updates on the latest trends, research and insight in tech, IoT and the supply chain.
Delight Customers with Additive Manufacturing
As manufacturing plants and their distribution centers move closer to end-customers, delivery times are shrinking and organizations are achieving significantly greater efficiencies. Companies can take this a step further by exploring the potential of adopting additive manufacturing.
According to the Eno Center for Transportation, many centralized manufacturing operations are primed to give way to smaller manufacturing hubs near end-users or businesses printing their own products. The report "3D Printers: Changing Transportation As We Know It" lists four key impacts, which include changes to truck traffic patterns and the types of trucks being used (such as smaller vans); a reduction in port traffic and long-distance distribution, which will cause a decline in the cargo industry; a shift from traditional business models to strategies that can quickly shift location and products to serve fluctuating demand; and less air cargo as parts are manufactured right when and where they are needed.
Many retailers may close as more orders are fulfilled by the manufacturer and delivered directly to consumers. To help make this possible, companies should consider exploring the management of 3D printing raw material. Indeed, as these devices become commonplace among the general public, home delivery also will be an opportunity. This is a worthwhile prospect for any provider with the resources to help build this new sector.
3D printing saves time, offers unique and innovative ways to delight customers and alleviates the need to maintain inventories and expensive warehouses. Additionally, both businesses and the environment will benefit from significantly less wasted material during the additive manufacturing process.
"3D printing will offer numerous opportunities to provide new approaches and solutions to existing transportation issues, while also providing efficient ways to work," Eno's Bill Ankner writes. "At the same time, the technology is likely to pose many challenges to the way transportation agencies plan and conduct their business. … These circumstances will require transportation decision makers to be agile and decisive."
Optimize and Conserve with Omnichannel Options
A complete customer experience requires logistics and transportation professionals who can navigate the many intricacies of omnichannel commerce. After all, it's clear that today's consumers expect personal, seamless service, no matter where or how they go shopping.
"The rapid growth of mobile technology and e-commerce has dramatically changed retail behaviors and the needs of the supply chains that support these behaviors," says Eva Ponce, Ph.D., of the MIT Center for Transportation & Logistics. "Omnichannel retailing brings a number of challenges, including the need for more coordination between trading partners, more complex logistics networks that support and integrate multiple distribution channels and delivery models, as well as increasingly high consumer expectations regarding the convenience and reliability of delivery services."
Additional omnichannel challenges revolve around proper inventory management; getting teams aligned, including retail associates; and helping customers have reasonable expectations.
Logistics and transportation professionals should evaluate the way shipments are transferred to a distribution center or retailer; the routes taken; and how important messages and events are managed while a product is in-transit — especially when using a third-party provider.
Furthermore, today's consumers want the ability to go online at any moment and see the precise location of their package, be alerted if there are any problems and get an on-time delivery estimate. With visibility throughout the entire supply chain being crucial to both the business and its customers, omnichannel demands synchronized, real-time data across numerous locations and systems — similar to the challenges mentioned previously with regards to the effective use of data.
Although different from omnichannel, subscription-based retail business models are intriguing opportunities as well. They not only enable supply chain professionals to forecast more easily, but also offer consumers lower costs.
Along the same lines, some companies are educating customers on the value of choosing a particular, fixed delivery day. This makes it easier to consolidate shipments, save fuel and miles on the road and reduce the organization's carbon footprint. Although not everyone will get on board, the benefits of a more environmentally friendly logistics and transportation process would convince many consumers to modify their behavior rather than insisting on instant gratification.
Build Competitive Advantage with a TMS
Gone are the days when logistics and transportation organizations stayed in their own lane. What was once a heavily segmented playing field, in which players focused on only their core competencies, has become a landscape of limitless opportunity. For best-in-class organizations, today's advanced, highly automated TMSs are bringing about significant change and a competitive edge.
Supply chains are moving goods in all new ways. Value streams are becoming more complex yet offer unparalleled opportunity. Partner, customer and competitor landscapes are creating entirely new challenges. More customer orders are coming directly off the manufacturing line and into packaging. Consumers are instantly tracking orders across oceans. And yet, we are only scratching the surface of the logistics and transportation implications.
A best-in-class partner can help you plan, simplify and fine-tune your logistics and transportation model — and enable you to create an easily repeatable system. Choose a partner with end-to-end proficiencies that can deliver to your distribution center, your end customer or anywhere else across the globe. A successful relationship can make it possible for your organization to master inbound and outbound logistics, strategic procurement and sourcing, supplier selection and consolidation, logistics planning, transportation modes, freight, carrier negotiation and much more, while getting your systems performing at a high enough level that you don't need an individual to spend time monitoring them.
The bottom line is this: visibility into the product, package and the journey are a true test of your supply chain performance. It is essential to customer satisfaction and long-term business success.
Download the Global Supply Chain Trends Report
Insights from over 300 supply chain decision-makers at OEMs with more than $500 million in revenue on how they are managing their supply chains in light of market forces.