Supply Chain Visibility Technology is a Game Changer
Back in 2011, many supply chains came to a screeching halt as an 8.9-magnitude earthquake rocked the northeast coast of Japan. The natural disaster and ensuing tsunami damaged thousands of homes and pieces of infrastructure and left the country with $235 billion in damages, according to Business Horizons. These impacts devastated locals but also put companies around the world that didn't have supply chain visibility in precarious situations.
Many businesses depended on suppliers in Japan to keep their entire supply chain running. As a major manufacturing hub, Japan at the time was providing approximately 22% of the world's 300mm silicon wafer supply and 60% of critical auto parts. It was also a primary supplier of lithium battery chemicals, flash memory and anisotropic conductive film used in LCD flat panel displays, writes the Harvard Business School. Prices for many of these items jumped 20% as a result of the natural disasters and shortages hampered global supply chains for years after. Even the world's leading automotive brands had to put products on hold or temporarily shut down operations as they waited for new parts and materials.
Such events showed how fragile supply chains were at the time and how many large corporations were working with their information stacked in siloes. Data is typically housed in disparate issues, if it stored at all; this causes a massive issue with data collection. A lack of data integration and effective data analytics prevented companies from being agile enough to swiftly react to natural disasters and interruptions. It revealed a true weakness in supply chain visibility technology.
For example, some organizations did not have enough supply chain inventory visibility to know which facilities housed the needed buffer inventory to bridge supply gaps. In addition, these companies did not have sufficient channels for collaborating with suppliers to better fulfill customer requirements.
The catastrophe left supply chains in limbo as many struggled to calculate how or if this disaster affected them. The silver lining is that companies learned from this situation. At Jabil, it prompted us to build a digital supply chain control tower in a matter of months, so we could avoid high-risk components, quickly assess parts availability, delivery and other critical risk factors. Since this critical event, original equipment manufacturers (OEMs) have also increased their investments in supply chain data visibility to better support their supply chain management efforts.
What is Supply Chain Visibility Technology and Why is Data So important?
Supply chain visibility technology gives you access into real-time insight into supply chain materials, orders, suppliers and component information. This real-time data analytics is critical for improving supply chain planning, particularly at granular levels; boosting performance; making time-sensitive decisions; and reducing errors.
For example, in the event of a dock strike in Hong Kong, a company with robust supply chain data visibility could sense the interruption and swiftly initiate a business continuity plan to switch to alternative suppliers and adjust schedules as needed to stay on track and meet customer demands. Then, it's as if no interruption ever happened.
Companies are realizing the criticality of this strategic asset and acting on it. According Jabil's 2019 Global Supply Chain Trends study of OEMs, about 20% of respondents reported that all of their supply chains are tracked with real-time status updates, compared with only 3% who said this back in 2015. Similarly, 80% of respondents reported that more than half of their supply chains are tracked this well, compared with 67% who said this two years ago and 48% who reported this four years ago. In addition, approximately a third of respondents reported that they have instant visibility into real-time data — up from just 8% who said this two years earlier — and 57% say their data visibility is close enough to instant to quickly respond to issues that arise. Download the full survey report.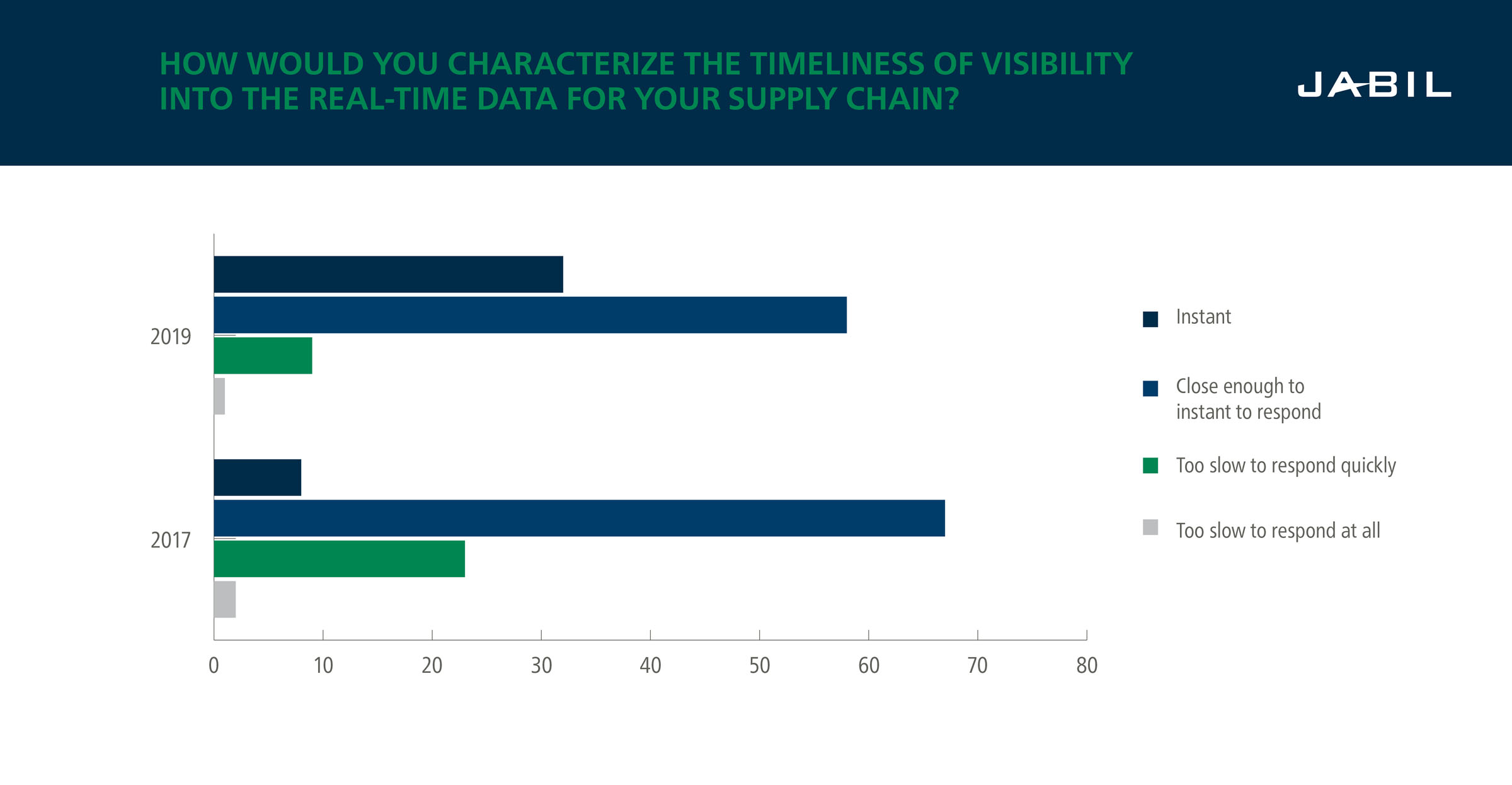 Supply Chain Visibility Technology Enablers and Benefits
From an information technology (IT) perspective, supply chain visibility typically requires the implementation of a digital platform, preferably cloud-based, that supports data integration and information connectivity. This type of software-as-a-service-based application stack provides the underlying foundation or layer on which data and applications can be stacked, so to speak. It is critical that companies only implement one type of this technology to ensure standardization across the organization.
Having one integrated data ecosystem breaks down information silos, eliminates duplication issues and creates a single source of truth from the integrated data. It also brings you closer to an intelligent digital supply chain. When everyone is looking at the same data analytics, they are more likely to be on the same page when making decisions. In addition, decisions can be made more quickly because leaders do not have to hunt for and analyze disparate data sets. This results in fewer missed business opportunities.
Supply chain visibility technology and related data integration and data analytics offer companies a variety of benefits, such as:
Fewer data inaccuracies and related error costs

Improved inventory management, including fewer stockouts, more effective inventory positioning and reduced inventory costs by as much as 20%, according to Purolator International

Enhanced ability to meet customer demand

Better item tracking, logistics and transportation management

More on-time and in-full deliveries

Seamless order delivery and receipt

Improved customer service levels

Greater ability to anticipate risks

More efficient, targeted product recalls when needed

Better information for customs and regulatory compliance

An ability to address root causes of issues, rather than just fixing problems that arise

Improved forecasting by as much as 25%, according to the University of Limerick
But these are just the benefits of having data visibility inside the four walls of a company. Having total supply chain visibility, including awareness of supplier or market issues, can enable improved supply chain planning, more strategic sourcing and nimbler reactions to risks and supply chain disruption.
Supply chain visibility technology also can help companies track quality issues more closely; identify root causes of the quality issues and correct them; pull inventory from other facilities or suppliers to make up for supply gaps caused by quality issues; and, if needed, identify new suppliers that can offer higher quality levels.
Subscribe to the Jabil Blog
Sign up for weekly updates on the latest trends, research and insight in tech, IoT and the supply chain.
These benefits also extend to smaller, everyday supply chain management challenges. For example, through improved supply chain visibility and partner communication, companies are better able to react to small interruptions in their supply chains, such as an equipment failure at a supplier that will delay production by a couple of days, by adjusting their plans accordingly.
Supply Chain Visibility Challenges
Even with all the benefits supply chain visibility technology delivers, there still are challenges to establishing and maintaining it.
First, as with any initiative, companies that want full visibility into their supply chain data need to gain executive buy-in from not just their own leaders but also the leaders of their supply chain business partners. Connectivity from one company to the next is critical to best track products and operations throughout the supply chain and sense and react to changes or interruptions.
Second, companies with disparate data systems will need to merge and organize the data to create a single source of truth. When systems are disparate, the problem is not necessarily data visibility but data access. Knowing where your parts are real-time requires systems and tools that close the gap in last mile data, such as shipping and tracking information from suppliers.
Full, real-time visibility can be a significant undertaking and investment if companies and supply chains have multiple databases. In tandem, companies may need to foster a culture of collaboration and data-sharing to ensure that all teams contribute to the common platform, rather than keeping critical data in their own systems.
Tips for Supply Chain Visibility Success
To overcome these challenges, it is critical for companies to start with an overarching strategy that cuts across business divisions and facilities to promote data standardization for supply chain visibility technology. From there, supply chain and IT professionals will need to add necessary structures to support the standardization plan.
The plan also should include guidelines regarding what information is shared and to what extent. This particular requirement is becoming more and more important. It's always wise to guard proprietary information, but companies may need to decide on a case-by-case basis what other information should be shared with partners and customers. It will be a balancing act to determine how much information is necessary to support efficient operations and sufficient supply chain transparency without oversharing. Customer requirements, confidentiality concerns, market or regional expectations and compliance regulations can help guide this decision.
Although it's easier, and therefore tempting, to limit supply chain visibility to just the operations within a company's four walls, that is insufficient in today's highly connected, global market. Companies need to collaborate with their supply chain partners to promote data connectivity across the board. Failure to do so can restrict a company's return on investment from its supply chain visibility efforts. The University of Limerick reports that insufficient data visibility can result in:
More customer complaints, along with the related costs of rectifying these issues

Loss of revenue from product shortages

Increased inventory costs resulting from inventory build-up

More freight costs as a result of requiring premium shipping options to make up for operational bottlenecks

Decreased productivity because supply chain leaders are unable to recognize and address inefficiencies or identify manual processes that should be automated

Delayed cash flow from delayed order fulfillment, which can translate to a need for short-term financing, missed payments and damaged relationships from the missed payments to suppliers and creditors
To support large-scale supply chain visibility and data sharing, it can be best to establish an enterprise group to oversee the adoption and institutionalization of any technology and practice updates. Alternatively, companies and supply chains could seek the help of a manufacturing services provider that already has the technology capabilities and knowhow to help connect entire supply chains and support data visibility.
Use Your Information Technology Assets
It also is critical to include IT teams in supply chain visibility decisions. As with any other technology initiative, it is wise to first determine the business strategy and then select technology solutions that support this initiative. Choosing technology first and then shoehorning it into operations can jeopardize initiative success and return on investment. The IT team can help company leaders identify what technology options are available on the market to support organizational goals and what best practices should be leveraged to meet goals and requirements.
Furthermore, these professionals are the key enablers for implementation, ongoing operation as well as system security. Supply chains can be a target for hackers, so it is critical that any supply chain data visibility platform is secured on all sides so that a hacker cannot attack the weakest supplier and then infiltrate the whole supply chain visibility system.
As many companies were reminded by the Japan earthquake and hurricane, risks and interruptions are inherent in supply chain operations. Supply chain visibility can be a key tool for any risk management strategy but also deliver competitive advantages by helping to improve supply chain performance and efficiencies while reducing errors. With visibility into supply chain data, companies are better positioned to handle global supply chain challenges such as market shifts, increased product demand, increased labor costs or labor shortages, global trade uncertainty and more.
Download the Global Supply Chain Trends Report
Insights from over 300 supply chain decision-makers at OEMs with more than $500 million in revenue on how they are managing their supply chains in light of market forces.