From Shelf to Box to Front Door: Why Retail Packaging Matters
For decades, retail packaging designers have meticulously crafted packages that pop on the shelf and create positive customer experiences. After all, what matters most is capturing a consumer's attention in the split second he or she glances down a store aisle. That is the moment of truth: the first part of your product that consumers experience.
The Contract Packaging Association reports that 37 percent of consumers will purchase a product they've never heard of because of its eye-catching packaging. The group also asserts that attractive packaging drives more purchases than television ads, online reviews or recommendations from friends. In other words, packaging can be the difference between glory or failure.
However, in a traditional retail setting, packaging's role doesn't end there. Within a given product category, retail packaging must do more than just catch the consumer's eye. The packaging must somehow show that the product inside is superior to competing products. It must convince the remaining 63 percent of consumers that your product is worth testing.
Twenty years ago, perhaps that would've been the end of the story. Today, it's only one part of it. As omni-channel retail finds its footing in business, packaging must evolve to meet changing consumer needs and expectations.
E-commerce Requires Different Packaging Strategies
The U.S. Department of Commerce reports that online sales made up nearly 10 percent of U.S. retail sales in the third quarter of 2018, up from 8.4 percent a year earlier. E-commerce offers consumers a convenient, at-home or on-the-go shopping experience, often with more product information than a consumer could learn from packaging in a store. That changes your packaging strategy and how you approach your goals.
A retailer's website can show pictures of the product and its packaging and provide details about the functionality, features and size of the product in a description. Customer reviews, sales performance and search engine optimization techniques can determine which products a customer sees when shopping online and can help the shopper differentiate between products. Therefore, the visual design of e-commerce packaging is not as critical.
Yet, in many cases, brands tend to use the same packaging regardless of whether the product is sold in a store or online. In Jabil's 2017 e-Commerce Packaging Trends Survey, 72 percent of respondents noted that products should have different packaging for different retail channels, but only 56 percent of surveyed brands have different types of packaging. Brands tend to focus on the physical retail experience, when packaging really matters, and then place the primary package inside another box or envelope for shipping directly to a consumer for online orders. This means that 44 percent of surveyed brands are missing out on key opportunities to meet their customers' needs and deliver an outstanding (and differentiated) customer experience. Custom packaging can enhance brand recognition, create more positive first impressions for consumers, encourage positive social media feedback and drive additional sales. Download the e-Commerce Packaging Trends Survey Report.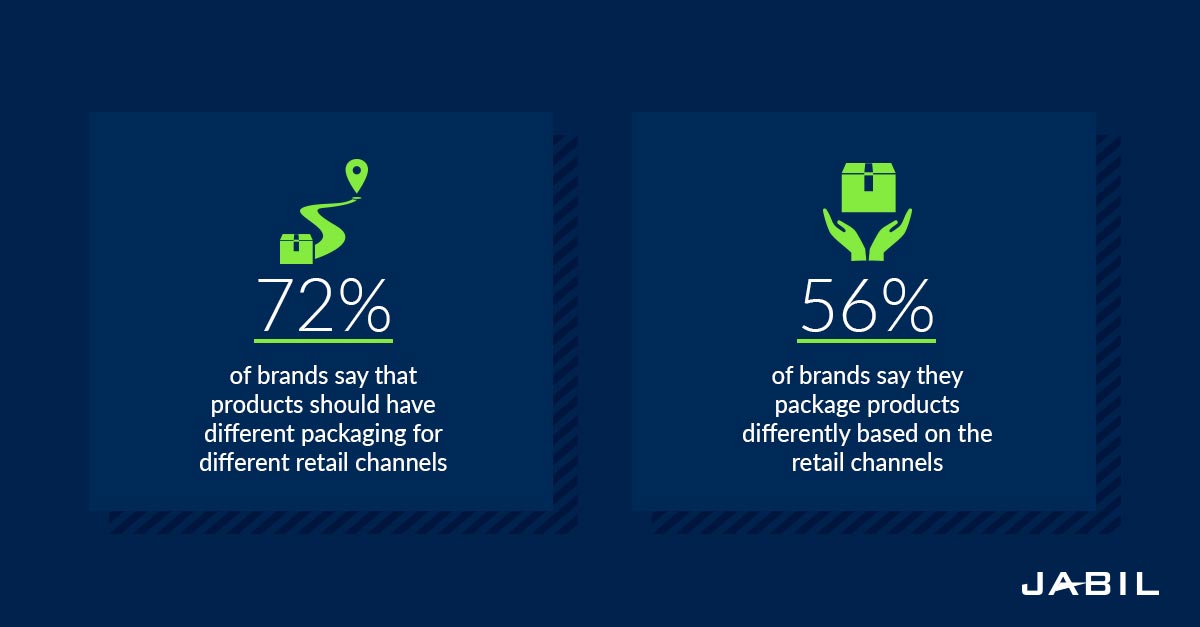 Although brand recognition is important, the main job of e-commerce packaging is to protect the product as it moves through the supply chain to the consumer. In a retail setting, an employee will carefully place an item on a store shelf so that it is in good condition when the consumer first interacts with it. When products are shipped directly to consumers, they are dropped into shipping bins with other products; moved in and out of trucks; and experience temperature, moisture and pressure changes as well as shock and vibration. Though the journey to the consumer is much more rigorous, consumers still expect their products to arrive unscathed. With the trend of unboxing videos—in which reviewers show the original packaging of a product and then open it to reveal the contents inside—and other social media reviews, consumers are highlighting beautiful packaging but also commenting on damaged goods. E-commerce packaging must be durable to meet these consumer expectations.
Forty-eight percent of participants in the Jabil e-commerce packaging survey pointed out that excessive primary or secondary packaging can also bring up environmental concerns among consumers. This is a balancing act, because secondary packaging as well as cushioning protects the product during transit. However, this packaging can seem wasteful to the consumer, who ultimately must dispose of it. Whenever possible, primary and secondary packaging should be recyclable or biodegradable and made from recycled materials.
The consumer experience also can be influenced by how easy it is to open the packaging. Even though consumers are happy to receive their orders, they might be frustrated if they have to dig out additional tools to open them. This, again, creates a balancing act for package designers. Easy-to-open packaging might also be prone to leaks and damage. If packaging designers cannot find a happy medium, brands might need to choose between these priorities. The survey found that food and beverage brands tend to prioritize product safety, while brands with other types of products are striving to balance durable packaging with a positive customer experience.
Subscribe to the Jabil Blog
Sign up for weekly updates on the latest trends, research and insight in tech, IoT and the supply chain.
Packaging Technology Facilitates the Omni-Channel Crossover
New smart packaging technology can help brands deliver positive customer experiences whether the item is purchased in-store or online. Today's time-crunched consumers value convenience. This often factors into the decision of which store to visit, whether to make a purchase online or in-store, and even what types of products to purchase—such as purchasing detergent pods rather than liquid detergent because the pods are easier to carry home. Smart packaging sensors can take product convenience a step further.
Sensors embedded in packaging can measure the amount of product left in a container and remind the consumer to purchase the item again when the package is nearly empty. Or, if consumers prefer an even more automated process, the sensors in the package can automatically re-order the item for delivery, regardless of whether the original item was purchased in-store or online. This means that consumers would not have to worry about remembering to replenish their supplies of pantry staples and household items; smart packaging can take care of that for them. Plus, as consumers continue to use the same types of products, the sensors and the technology behind them can become better at predicting consumption patterns. This will allow the connected packaging system to order a refill at just the right time, rather than too early or too late.
Sensors also can help ensure that a consumer is receiving an authentic product. Because consumers cannot touch and feel e-commerce products before they buy them, it is hard for them to be sure that the item they are receiving is authentic and not a copycat product. Around the world, there are industries that are set up to duplicate products with cheaper materials and even copy their packaging. This makes it harder to identify fakes. Anti-counterfeiting sensors built into smart packaging can serve as a seal of authenticity to assure consumers that they are receiving the exact products they ordered. This type of practice is especially critical in the pharmaceutical and luxury products industries.
According to Jabil's 2018 Future of Retail Technology Survey, only 24 percent of participants are investing in smart and active packaging. Although smart packaging sensor technology can be a costly investment at present, brands can significantly benefit from the technology. Firstly, brands benefit from repeat purchases and brand loyalty. If consumers are participating in an auto-replenishment program, they are less likely to be shopping for deals on competitor products and switching brands. Instead, they'll stick with the brand that delivers convenience. Download Jabil's Future of Retail Technology Report.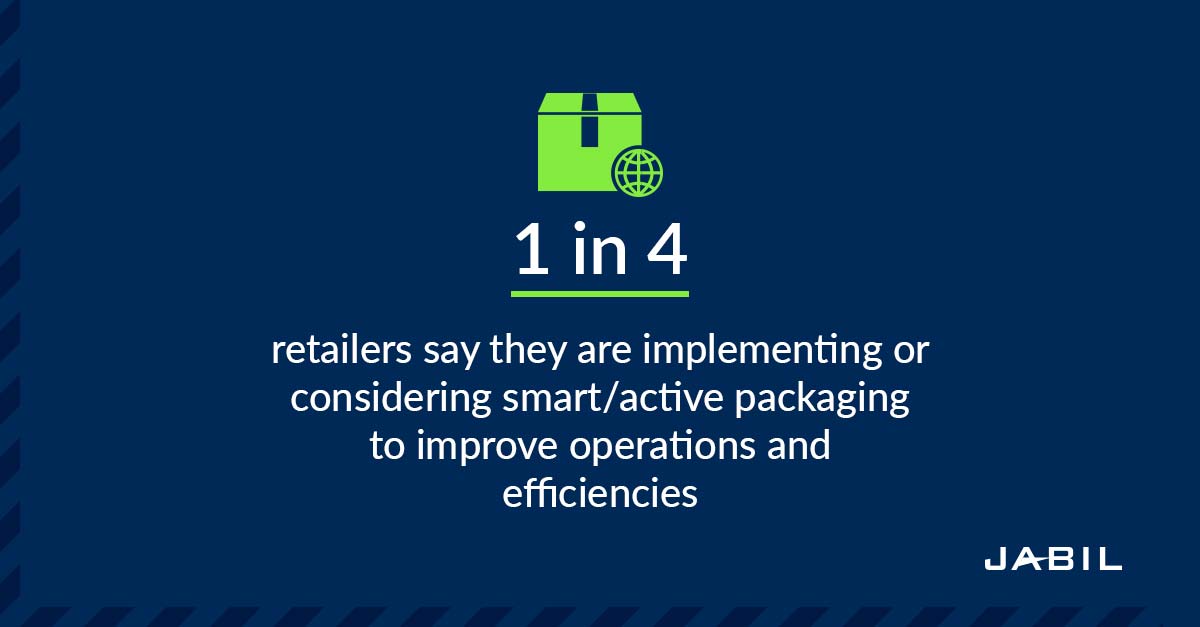 Secondly, smart packaging sensors can collect product insights for brands. For example, information about when a product is used, how frequently it is used, how long it takes for a consumer to use the whole product and how often the consumer needs a refill can all be collected by in-package sensors. This information can uncover additional product insights that can help brands when formulating new products, developing new promotions or releasing different packaging sizes.
Finally, before the product reaches a consumer, sensors can help stores and warehouses better track their product inventory. Embedded sensors can be scanned as products enter and exit the environment, assisting with inventory accuracy. Other sensors inside products can identify fill levels. This can help retailers identify and remove leaking packages from their inventory and avoid selling damaged products to consumers.
The Future of Retail Packaging
Looking ahead, retail packages—whether for brick-and-mortar stores or for e-tailers—will have to deliver consumer benefits and solve customer and industry problems. As the technology catches on, consumers will increasingly hunt for smart retail packaging that offers added conveniences, like auto-replenishment. In addition, as environmental concerns intensify, consumers also will expect primary and secondary packaging that is environmentally friendly. Many major consumer packaged goods companies, including The Coca-Cola Co., Nestlé, PepsiCo and Unilever have made pledges to improve the sustainability of their packaging. The Coca-Cola Co. has pledged to collect and recycle one bottle or can for every package it sells by 2030. Nestléis aiming for 100 percent recyclable or reusable packaging by 2025. PepsiCo is striving to use 25 percent recycled content in its plastic packaging by 2025, and Unilever has committed to 100 percent recyclable plastic packaging by the same time.
Retailers designing store-brand packaging should also keep this sustainability trend top of mind. In addition, they should think about how their packaging can serve multiple functions for the consumer. For example, retailers can package food that is prepared in store in containers that consumers can use to heat or reheat the food. This adds extra convenience to an already convenient food product. Lastly, retailers need to ensure that their custom branding is visible on the packaging. While consumers are enjoying their convenient, elevated packaging experience, you want them to remember what brand made this experience possible. Plus, that branding needs to be visible when the consumer posts a picture of the exceptional package to Instagram, so that others will remember to buy the product too.
Download the Future of Retail Technology Survey Report
Insights from 312 global retailers on their technology investments, omni-channel strategies and more.