Employees Rally to Help Those in Need
With natural disasters comes a need for recovery aid and Jabil employees are ready to jump into action, helping their peers and local communities rebuild their lives. This spirit of inspiration and generosity can be found throughout Jabil sites as employees align their community outreach activities to empower victims of disasters.
When Hurricane Maria struck Puerto Rico in September, employees from many Jabil facilities donated more than $40,000 to help impacted coworkers. These funds supplied generators and medicine, as well as stocked an on-site distribution center where the 400 Nypro employees could get bottled water, food and other necessities for their families. Employees from other Nypro sites also traveled to the island to help get the plants back online and provide a break for employees who needed time to focus on their families.
Around the same time, a 7.1 magnitude earthquake shook Mexico, severely impacting thousands of citizens in the states of Puebla, Morelos and the Greater Mexico City area. Jabil employees from the Guadalajara and Chihuahua sites donated $17,000 to the Red Cross, and also sent first aid kits and food. "Even though we might be hundreds of miles away, those impacted by the earthquake are still part of our community and need our help," said Georgina De Loza, Regional Internal Communications Manager in Guadalajara.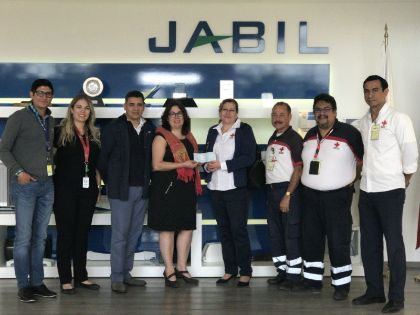 In November, a major flood impacted more than 100 areas throughout Malaysia, leaving some places in more than three feet of standing water. Employees at Jabil Penang facilities immediately began collecting nonperishables, such as food, tea, coffee, towels and powdered milk, in addition to donating funds to help the flood victims rebuild the interiors of their homes after water levels subside.
Just as quickly as disaster strikes, Jabil employees are organizing efforts to provide relief to those impacted whether it's their coworkers in need or the larger community. As Eric Austermann, Vice President of Social and Environmental Responsibility, said in regard to the Puerto Rico relief efforts: "We may work far from one another, speak different languages, and have different cultures, but we're one global team."
Jabil Cares, our community outreach and volunteerism platform, supports localized efforts around specific causes related to Education, Empowerment, and the Environment.