Jabil Sites across Europe Celebrate International Girls
As part of the International Girls in Information and Communication Technologies (ICTs) Day, Jabil sites across Europe opened their doors to young women to gain insights into these industries. This annual day of recognition aims to create an environment where females are empowered, enabled and encouraged to pursue careers in the ICT sector.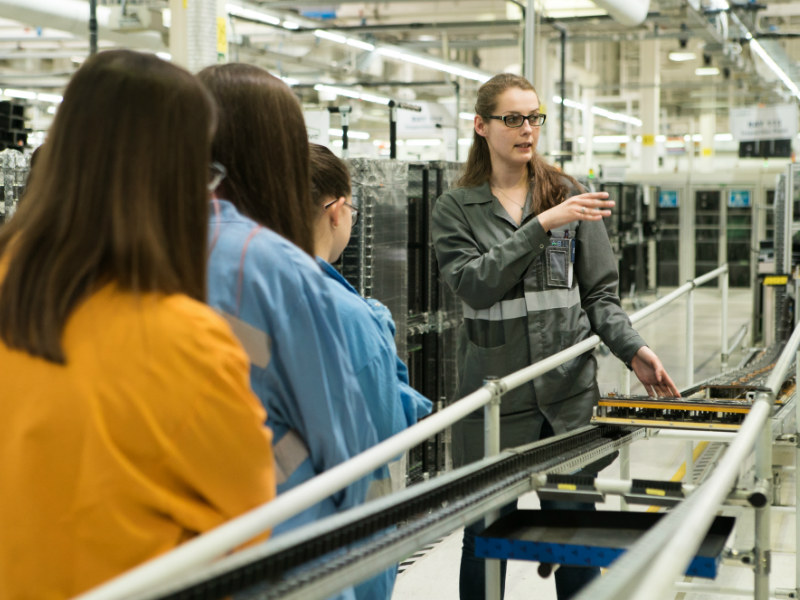 Jabil Tiszaújváros employees lead girls through a facility tour
Events are organized each April by the International Telecommunications Union, a United Nations agency for information and communication technologies. According to this institution, over 300,000 young women have taken part in activities across 166 countries since the initiative was launched in 2012 (ITU, 2018).
Jabil-sponsored activities to celebrate Girls Day were held in Vienna, Austria; Tiszaújváros and Nagyigmánd, Hungary; and Knittlingen, Germany.
In Vienna, the Jabil team welcomed ten girls, ranging in age from eleven to sixteen, to the site. They were given a plant tour and shown how to assemble products. The tour gave the girls insight into the manufacturing process, what it is like to work in a technical role and ultimately what it is like to work at Jabil.
Similarly, at Nypro Knittlingen, students were able to learn technical processes first-hand by constructing their own board game out of aluminium under the close supervision of the tool engineering technicians. Not only did the young women learn what it was like to work in a technical field but also were able to take home their projects to show their families and friends.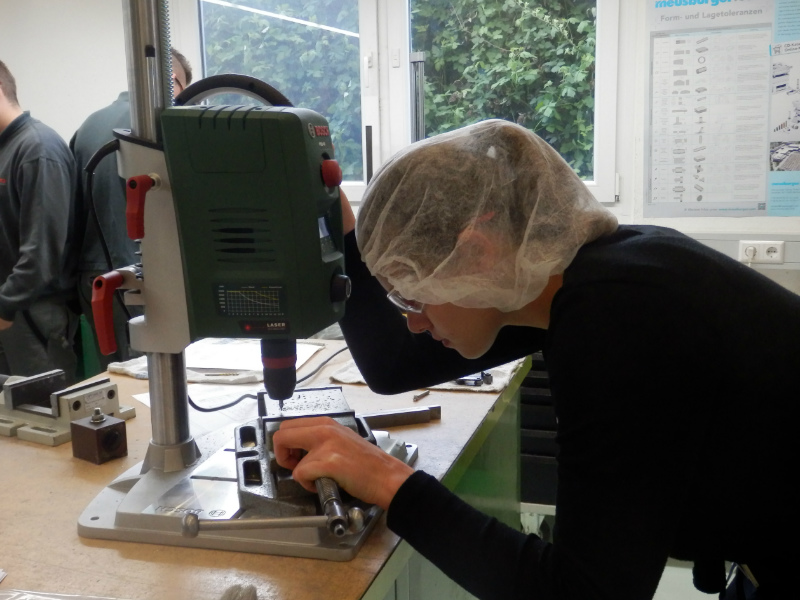 Girls visitng Jabil Knittlingen learn with hands-on projects
At both the Tiszaújváros and Nagyigmánd plants in Hungary, 'Girl Power' was the slogan of the day. In Tiszaújváros, 59 female students from both primary and secondary schools came to Jabil for a day of fun interactive games, technical challenges, presentations, a site tour and connecting with mentors. Presentations by employees encouraged the young women to consider electronics and manufacturing as a potential career path.
This was the first year the Jabil Packaging Solutions site at Nagyigmánd held an event for Girl's Day, and according to Human Resources Manager, Monika Trescsikne, it won't be the last.
"It was great to welcome these young women to our site and showcase our supply chain capabilities. The girls are learning logistics as part of their secondary school curriculum, and seeing what it was like to work in procurement, planning and logistics was an invaluable learning experience for them. Plus, it was fun for the employees," she said.
These Jabil sites, like many around the world, are committed to mentoring and inspiring the future generation.
Jabil Cares, our community outreach and volunteerism platform, supports localized efforts around specific causes related to Education, Empowerment, and the Environment.