Jabil Celebrates Manufacturing Day
It's an exciting time to be student as science, technology, engineering and math intersect with more industries and careers than ever before. Jabil sees this moment to use our manufacturing scale, expertise and community outreach to inspire the next generation.
Robotics Teams
Robotics teams are becoming more prevalent in schools and community organizations around the world. They provide students the opportunity to apply classroom instruction through self-discovery and hands-on learning. Jabil sees firsthand the ingenuity, teamwork and process adjustments these teams make with our community outreach efforts.
We partner with local robotics organizations and encourage our employees to mentor or guide students as they create their robotic devices for competition. They consistently challenge students to be bold in their thinking, look for new solutions and never give up. We're also volunteering at FIRST Robotics Competitions as judges and referees around the United States.
Our Auburn Hills facility (outside Detroit), has partnered with Canton Lightning Robotics Team since 2014, one of the largest robotics teams in the area. Joe Jagadics, a lead industrial engineer at the site, serves as the team's lead mentor and invites them to tour the facility each year to learn about our operations and give them a chance to show-off their award-winning robot.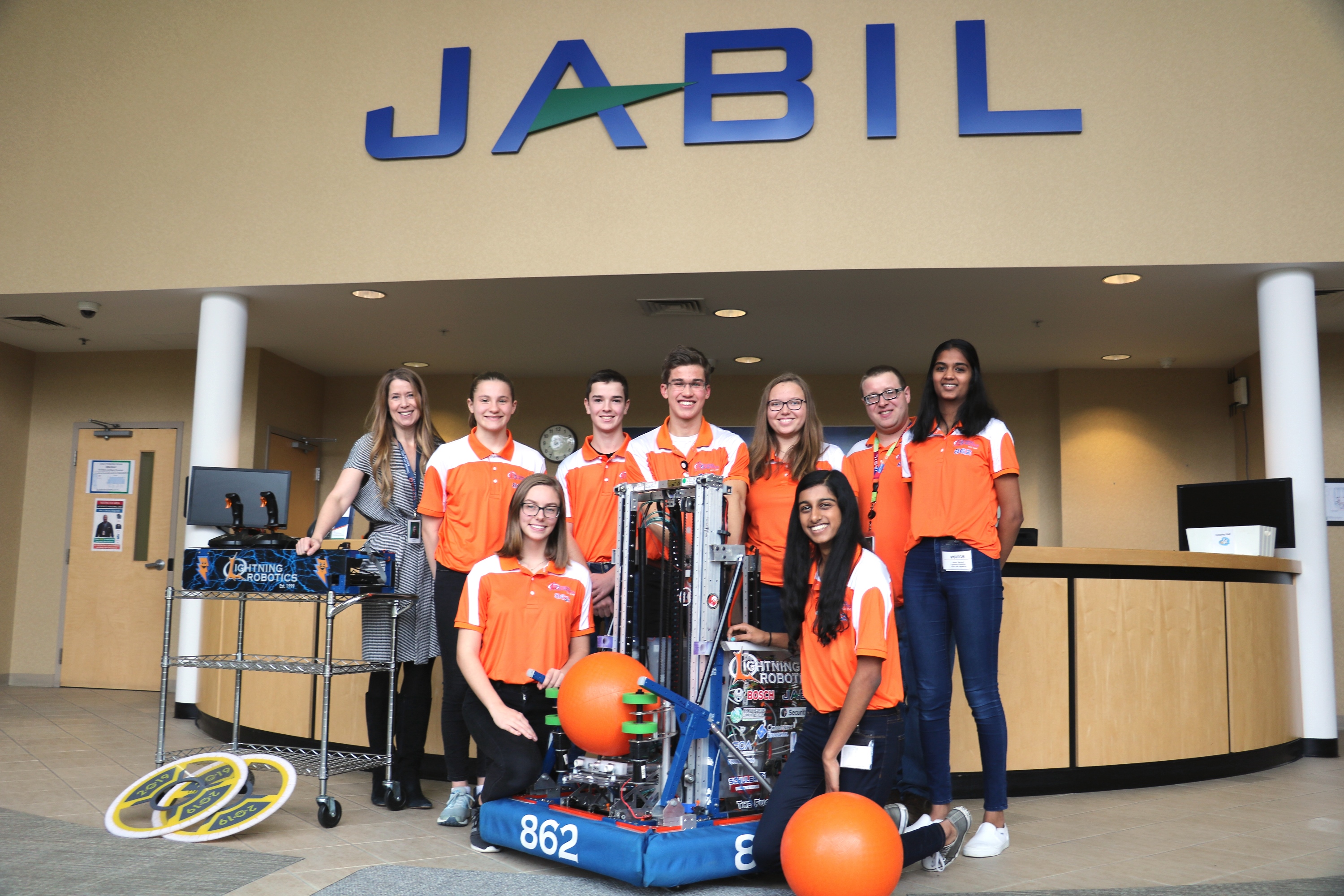 Photo Taken: November 2019
Manufacturing Tours
Our manufacturing operations around the world are impressive in size and technological advancements. They showcase amazing automation, precision engineering and manufacturing scale that will leave anyone awe-struck.
We open our doors to students of all ages to see our manufacturing operations come to life. It offers a great perspective into manufacturing as an exciting career choice given the rapid change in technology, expanded capabilities and markets served.
But most importantly, students get to see our diverse workforce where all voices are heard, and you can be your true self. They can imagine themselves working alongside others to challenge traditional thinking, generate new ideas and work together harmoniously to provide great customer service.
Our sites in Kwidzyn, San Jose, Shanghai, Singapore and Uzhgorod to name just a few, have developed outreach initiatives designed to give students a firsthand experience into our operations. It's quite rewarding to see students ask questions and meet the amazing individuals responsible for building products for the world's most popular brands.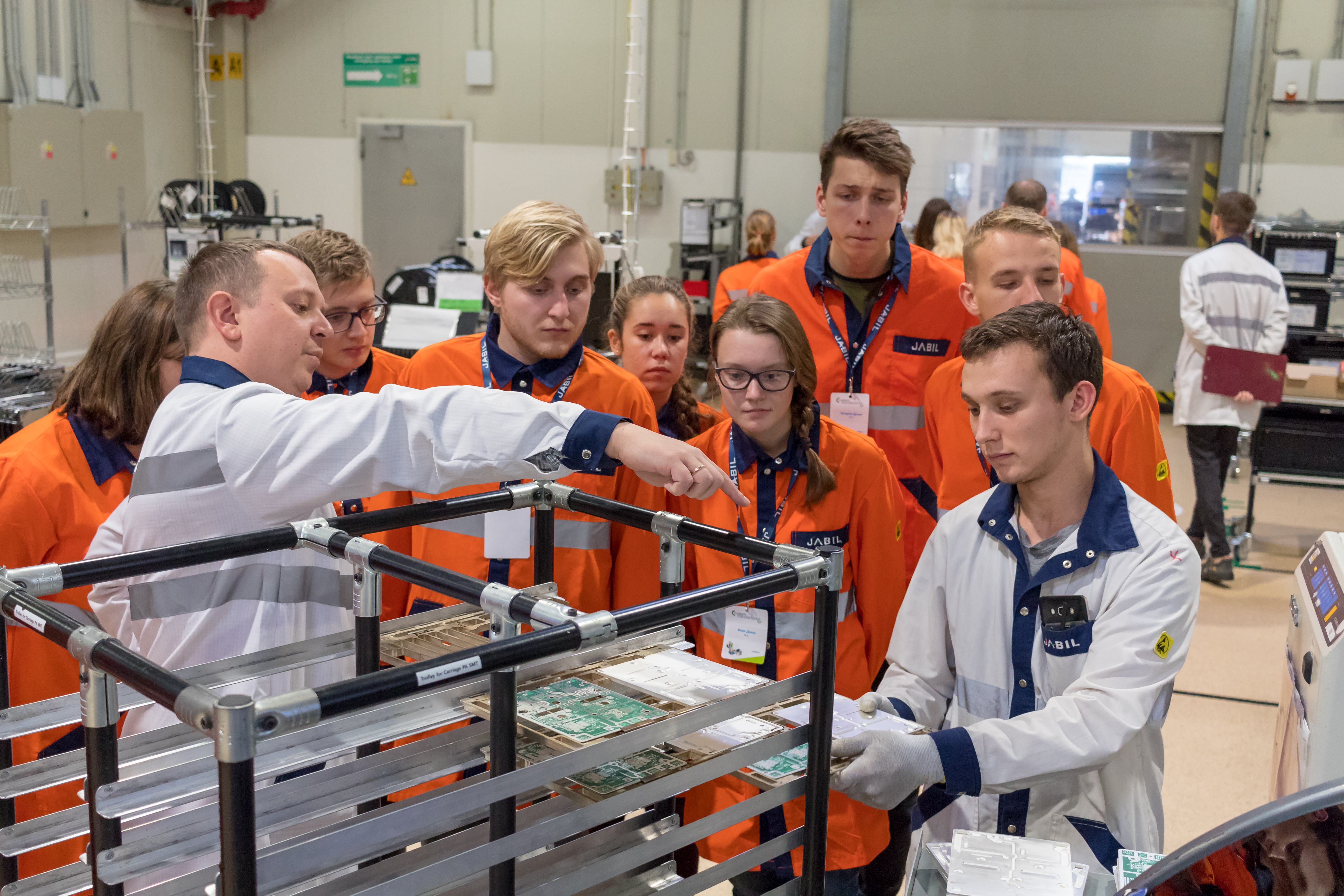 Photo Taken: May 2019
STEM Activities / Guest Speakers
Jabil employees create meaningful opportunities in community schools, recreation centers and different organizations to bring STEM activities to the classroom. This is a great way to reach students and spark their interest in STEM career fields.
These fun and engaging activities are led by our employees who have an excitement for teaching the next generation. They create or teach activities in simple circuit board creation, 3D printing, design and more.
Our site in St. Petersburg teams up with the American Heart Association each year to mentor over 100 middle-school girls throughout Tampa Bay. These amazing volunteers talk about real-world experiences and encourage the students to always try their best.
Jabil volunteer Karen Perez (in the photo below), is actively educating and empowering these young women through her own experiences and helping them visualize a career in science, technology, engineering or math.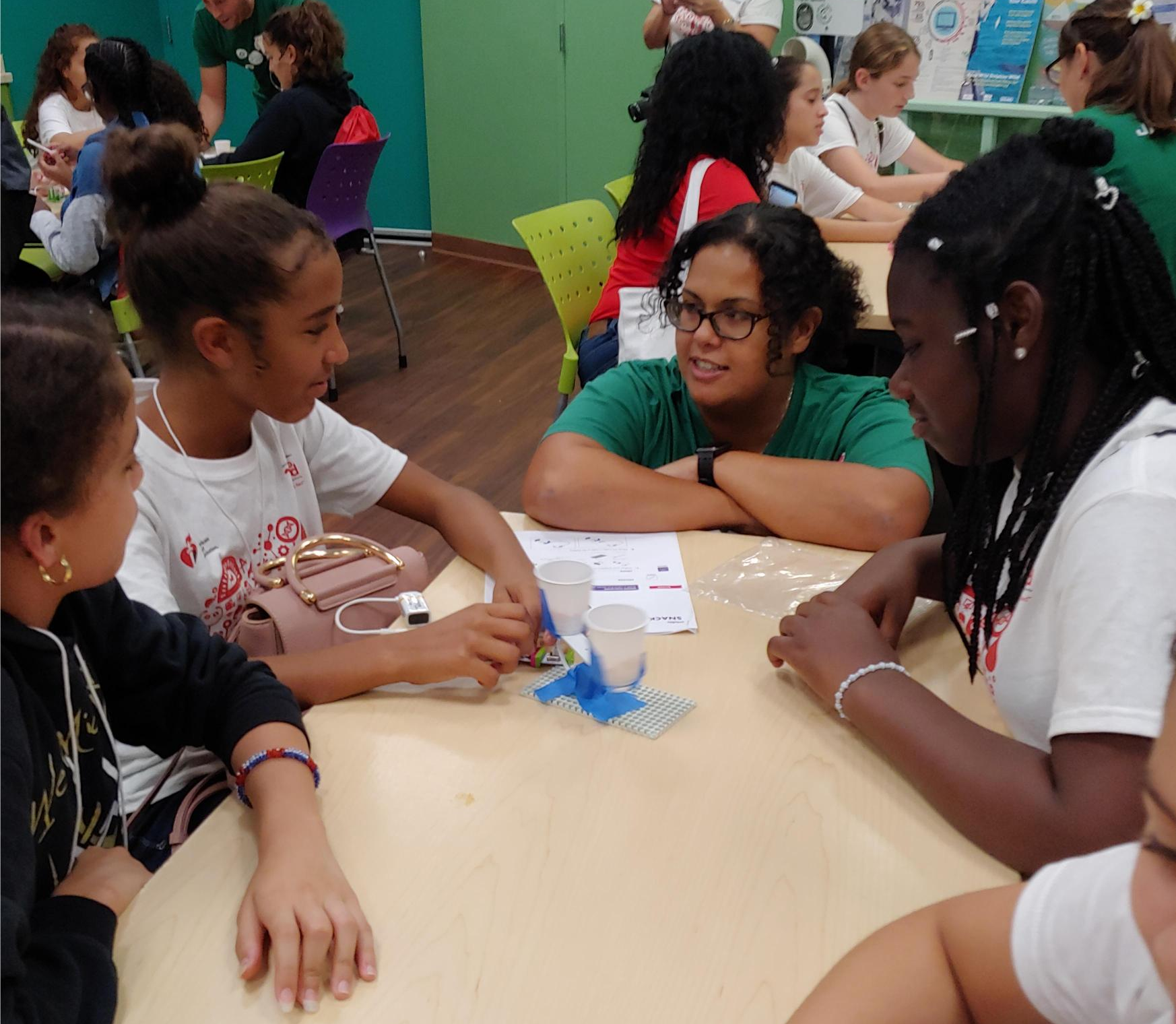 Photo Taken: September 2019
Jabil Cares, our community outreach and volunteer platform, supports localized efforts around specific causes related to Education, Empowerment and the Environment.