Jabil Manaus Connects to do Good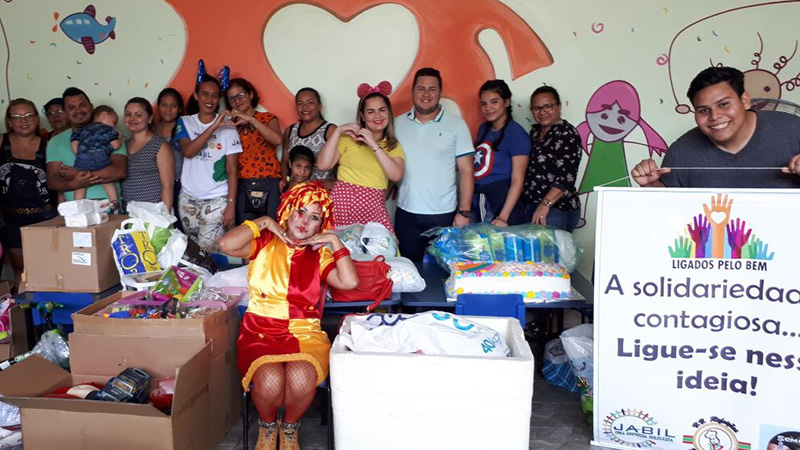 Jabil Manaus has teamed up with multiple local nonprofits to help the less fortunate in their community as the site continues to grow its outreach efforts, with a strong emphasis on empowering adolescents and the homeless.
The facility's volunteer group "Ligados Pelo Bem" or "Connected for the Good," similar to Jabil Wuxi's Dandelion Team, was organized thanks to an increase in availability of transportation from the site to some of the community service events. As Vicente Monteiro, Human Resource Intern, said, "With an easier way to attend these events, there were no longer limits on the employees' passion to help others!"
The majority of Jabil Manaus' Ligados Pelo Bem volunteer efforts help children in need through their work with The Father's Heart Project, an organization that takes in children who have been abandoned or neglected. Employees donated toys and food to help Father's Heart support the 40 children living at the facility.
The volunteers also coordinated with the Transforming Lives Institute, which provides educational assistance to youth by offering a safe, free space for underprivileged students to receive help with school work. The Institute also has a dental office onsite for the children who otherwise couldn't afford to visit the dentist. Jabil Manaus employees donated snacks and toys to the Institute and visited the youth to play outdoor games and make arts and crafts.
In addition to helping children, the employees donated and distributed food and clothing at a homeless shelter downtown to help residents prepare for the colder weather, while the site provided 10 computers and funding to help maintain air conditioning units at the Euripedes Barsanulfo Spiritist Center.
The Manaus site has fully embraced Jabil's cultural value of Integrity through their efforts to improve their community through empowering others.
Jabil Cares, our community outreach and volunteerism platform, supports localized efforts around specific causes related to Education, Empowerment, and the Environment.