Jabil Sites Connect with Local Robotics Teams
Several Jabil sites in the United States have found a way to educate youth of their community in a fun, yet artificial-intelligence kind of way: working with local robotics teams! Jabil Auburn Hills invited teams from local schools to visit their plant to see robotics in action, while Nypro Clinton and Jabil Corporate St. Petersburg have led the way in this community outreach effort by supporting their local robotics teams. All of these efforts align with the Jabil Cares' Education focus area.
The Hemlock Michigan High School Robotics Team, also known as Team Gray Matter, traveled to Auburn Hills to see how cutting-edge technology is transforming electronics manufacturing. As a part of their visit, the students enjoyed a tour of the facility led by John Wahl IV, process tooling engineer. "We were able to show the students some high-tech machines and demonstrate how our work here at Jabil is paving the way in additive manufacturing," Wahl said.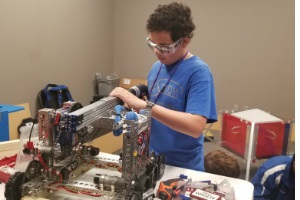 To support students at Middleton High School and East Lake Middle School, our St. Petersburg site helped to introduce robotics programs to empower students to get involved in engineering and coding. Since then, they have competed in local and regional competitions.
Maintaining a long-term relationship with local robotics students, Nypro Clinton has sponsored and mentored Clinton High School's Gael Force team since it began in 1992. Gordon Lankton, founder of Nypro, helped establish the team and continues to attend regional and championship events. Each year, many employees volunteer to mentor the students. "I want to make the next generation of engineers better than my generation. It's all about continuous improvement," said Jorge Martinez Jr., project engineer.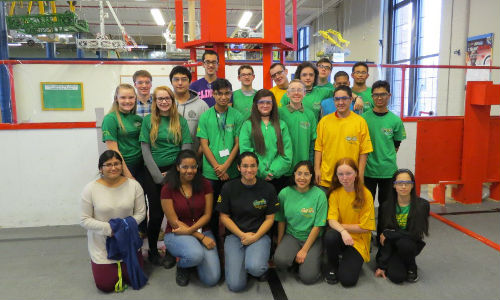 Many Jabil sites have recognized the importance of supporting students interested in science, technology, engineering and mathematics (STEM). According to the U.S. Bureau of Labor Statistics (2017), at the time these students from Auburn Hills, Clinton and St. Petersburg will be entering the workforce, there will be over two times more STEM-related occupations created compared to non-STEM and Jabil wants to make sure that we continue to do our part to excite the next generation.
Jabil Cares, our community outreach and volunteerism platform, supports localized efforts around specific causes related to Education, Empowerment, and the Environment.