Jabil Midrand Employees Bring Hope to Children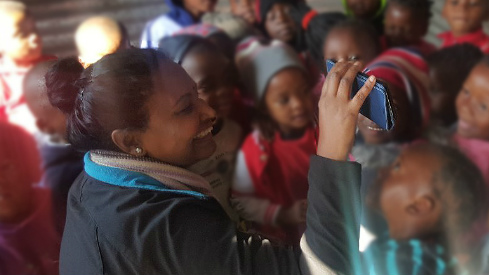 For Jabil Midrand, much of its community outreach connects to Jabil Cares' culture of Empowerment and the cultural values of their country. South Africans from all walks of life celebrate Nelson Mandela and his mission to create a just society that listens to all voices and pursues social justice for everyone. Employees take this community sentiment and Jabil's culture of Inspiration to drive their volunteer efforts.
"In South Africa, we see children as our future leaders – the ones who will be making a difference to the country socially, environmentally and economically," said Jane Naidoo, human resources manager at Jabil's facility in Midrand. "Many children we work with come from disadvantaged backgrounds and don't have the support system to help them grow, so we want to give the support needed for them to reach their potential."
Over the years, the site has focused on helping underprivileged children by collecting hygiene and food necessities and visiting children centers in South Africa. For the last 18 years, employees have assisted Lokoloha Creche, an educational center that offers a safe learning environment for children in poverty by donating food and playing soccer with the kids.
Additionally, Jabil South Africa has supported the staff at the Tshwane Haven Home of Safety in Pretoria, which is a sanctuary for abandoned, abused and sick toddlers and infants. Since 2015, the site has partnered with the Haven with employees regularly donating baby wipes, powdered milk and books. Recently, the Haven had a break-in with many of the children having items stolen, including 17-year old Lulu who lost a table, which she used for her studies.
Jabil Midrand provided a new tablet to the young woman: "It was my privilege to hand over a new tablet donated to her by Jabil. The absolute joy, gratitude and appreciation expressed by Lulu was heartwarming. Made me proud to be a part of the Jabil 'family'," said Ricky Wolter, lead Computer Aided Design (CAD) design.
Jabil Cares, our community outreach and volunteerism platform, supports localized efforts around specific causes related to Education, Empowerment, and the Environment.