Nypro Clinton's Three Decade Commitment to WHEAT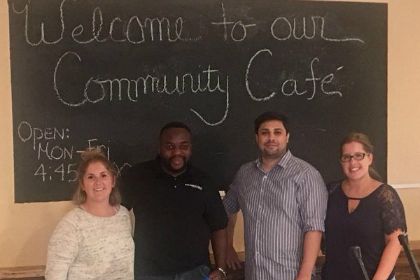 Jabil's Nypro facility in Clinton, Massachusetts, has been supporting a local nonprofit – the Wachusett Health Education Action Team (WHEAT) Community Connections for 30 years. WHEAT helps community members experiencing economic and personal challenges by providing nutritional assistance.
On the first Tuesday of every month, about a half-dozen employees visit WHEAT to prepare and serve a hot dinner to about 60 patrons. Each time, employees work as a team to serve the meal: an employee uses his or her lunch break to prepare the meal, with the remaining volunteers arriving after work to serve the food and clean the kitchen. It's a team effort the site is always proud to be a part of: "It's really a win-win situation because I can have fun hanging out with my coworkers while we're doing something meaningful that helps the less fortunate in Clinton," said Arielle Bosivert, planner for at Nypro Mold.
After Nypro was acquired by Jabil five years ago, the site was empowered to continue its commitment to the community through Jabil's culture of helping others, focusing on Jabil Cares' area of Empowerment. Along with providing a hot meal once a month in the community café, Nypro employees are also generous throughout the year with donations to support WHEAT programs, and most recently, a campus barbecue and food drive that resulted in 760 pounds of food collected for the organization's pantry.The site also collects monetary donations at the annual employee awards banquet and during a yearly health challenge organized in January.
Along with empowering community members with nutritional support, employees also align their WHEAT efforts with Jabil Cares' focus areas of Education by creating awareness both in and out of the facility about WHEAT's work. Each year, Nypro Clinton sponsors the "Reindeer Run", a local 5K road race put on by the nonprofit, with a group of runners participating.
Clinton's decades of working with WHEAT is a testament to the culture of our employees and their passion to supporting those less fortunate in their own community. As Catherine Marino, senior quality engineer, said, "For me, I have always tried my best to help wherever I can, and volunteering at WHEAT gives me the opportunity to show my peers and my son, who volunteers with us, about the importance of giving back to our community."
Jabil Cares, our community outreach and volunteerism platform, supports localized efforts around specific causes related to Education, Empowerment, and the Environment.