2017 STEP Ahead Honoree: Dr. Nitya Vittal Making an Impact Wherever She Goes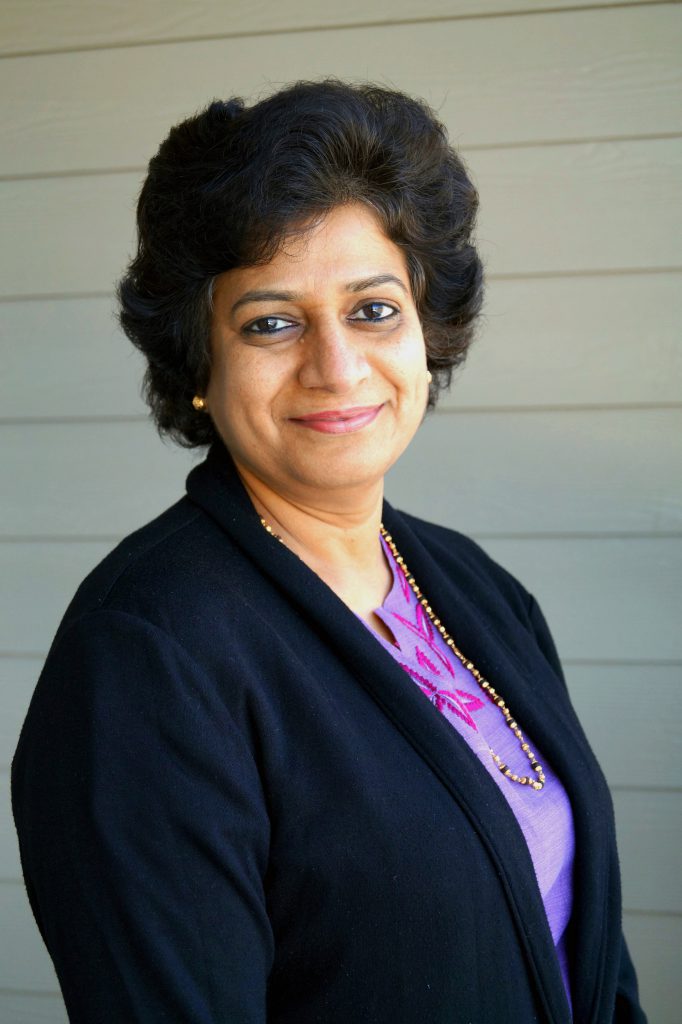 Jabil Joules is pleased to congratulate Dr. Nitya Vittal, Regional Materials Director in Memphis, Tennessee as one of the 2017 STEP Ahead Honorees. "I am very excited and feel motivated that my work and efforts have been recognized," Nitya said when she learned she was nominated as one of this year's two Jabil Honorees.
The Manufacturing Institute has recognized the outstanding contribution that Nitya has made throughout her career in manufacturing. The Science, Technology, Engineering and Production (STEP) Ahead initiative honors and promotes the role of women in the manufacturing industry through recognition, research and leadership.
Nitya holds a Ph.D. in Physics, (electronics) and started her career in electronics microcircuit manufacturing as a Process Engineer. She also worked as an Assistant Professor at The University of Pune, India, showing her passion to lead and mentor from the early stages of her career. Nitya then moved back into electronics materials manufacturing joining Jabil in 2005 in a materials management role. After various roles in Asia supporting and managing materials, Nitya moved to America in 2014 to join the site in Memphis as the Site Materials Manager and has more recently been promoted to Regional Materials Director.
With the theme of this year's awards being impact, it is no surprise that the Manufacturing Institute has recognized Nitya as an Honoree. She has shown commitment in creating impact through her various roles at Jabil. One of Nitya's most noteworthy career achievements has been within the past two years, when she took on the challenge of improving the materials organization in Memphis, by moving over to the United States from Jabil Huangpu China. She has been a key player in the integration of a new project which created new business for Jabil in Dover, New Hampshire. "Nitya has really transformed the materials organization in Memphis and as a result has greatly reduced material handling costs by twenty-five percent," said Brad Ferkol, Operations Director.
Mentoring and leadership are both skills which Nitya has used to make such a significant impact in her numerous roles and with her colleagues at Jabil. Since Nitya joined the team in Memphis, she has taken several of her team members under her wing to help develop them professionally. A key technique of her mentoring skills that has been noted by colleagues is her "quick smile, words of encouragement and sparing admonishment, when needed." Nitya has always focused on personal development by creating a succession plan and identifying members of her team to train and mentor into leadership roles. Working with many different cultures throughout her career has not stopped her doing this. She continues to succeed no matter what culture she is leading and mentoring. Nitya notes, "I am very proud to see many of my planners and buyers moving up to become managers, not only in India, but in other sites around the globe."
When she worked at the site in India, she spent her time being actively involved in environmental awareness programs. These programs were aimed to reach both rural and urban school aged children, using art as a way to spark interest in students. The programs were aimed at showing students how to use art to make a difference in conserving the environment in India. In Memphis, Nitya is a member of the Tennessee Ornithological society where she works with other members on the conservation of birds and their habitats.
"Throughout this journey, I realized that manufacturing is a great equalizer and the goal of customer satisfaction goes beyond language and cultural diversity. It has been wonderful to get the opportunity to be able to mentor and develop leaders across many cultures. I can definitely vouch for 'one world, one Jabil', as this has been evident throughout my Jabil career," said Nitya.
Congratulations to Nitya for being recognized as one of the 2017 STEP Ahead Award Honorees!